There is no better feeling than picking up a brand new pipe. As soon as that device hits your hands, the anticipation of loading your bud and letting it rip is real. But while admiring its array of colors and the curves of its body, you might be a little hesitant to fill your fresh apparatus with milky clouds of marijuana smoke at first. Not for too long, though. Every weed smoker knows that no bowl is too pretty to go to waste. Check out these 10  affordable pipes that are almost too gorgeous to smoke:
1. Jane West Spoon Swoopy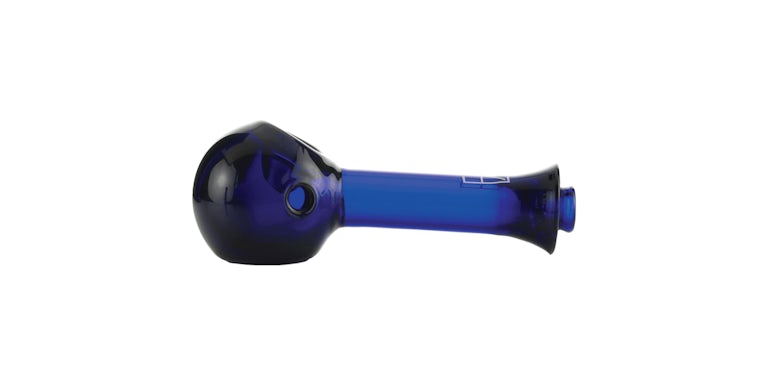 First on the list of showstopping pipes is the Jane West Spoon Swoopy. With its illuminating cobalt blue borosilicate body and large bowl size, the Jane West Spoon Swoopy is quite the charmer. Pull her out at a party or while having dinner with friends, and she'll surely be the center of attention.
2. Zani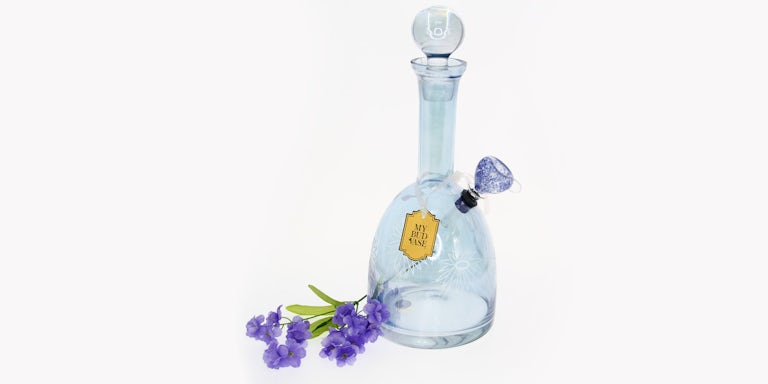 The Zani, inspired by a South African Gypsy, isn't the type of smoking device you want to tuck away somewhere. Embellished with lovely sunflowers and a beautiful blue speckled bowl, Zani by My Bud Vase will brighten up any room and get you pleasantly lit to boot. When you're not bonding with Zani, place a few flowers inside, and she'll also make the perfect dining table centerpiece.
3. Marley Natural Bubbler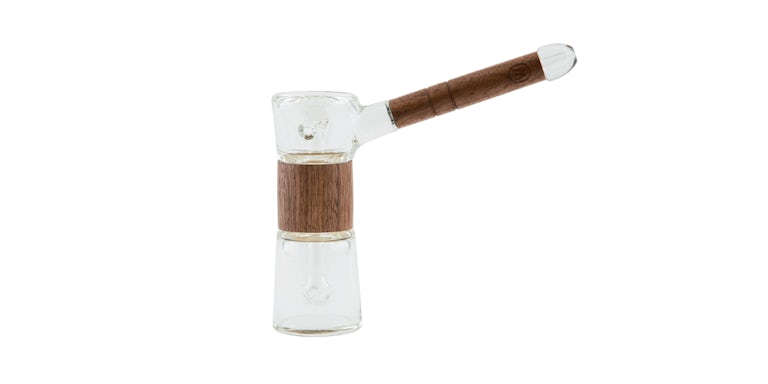 When puffing on the Marley Natural Bubbler, you can't help but feel fancy. The Marley Natural Bubbler features a display-worthy design that consists of black walnut wood and crystal clear handblown glass design. Thanks to its removable parts, cleaning the Marley Natural Bubbler is a breeze. Show it some TLC every now and again, and the Marley Natural Bubbler will maintain its gorgeousness for as long as you'll have it around to enrich the experience of smoking your favorite herb. At $113.00, this bubbler is on the more expensive side of affordable pipes, but its smooth tokes and sleek design makes it worth every penny.
4. Rose Garden Ceramic Pipe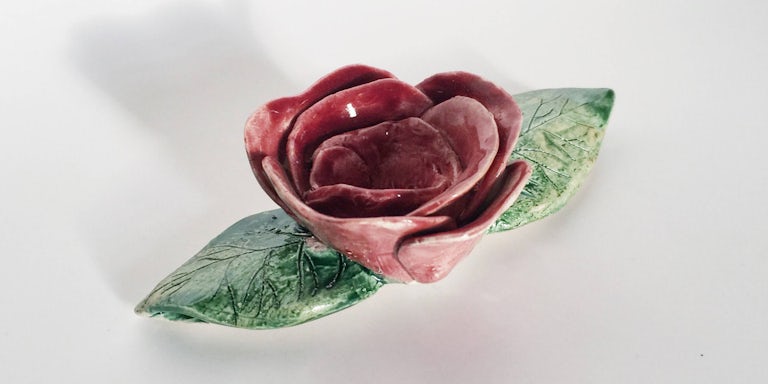 The Rose Garden Ceramic Pipe is one of the more unique showstopping pipes on the list. The beautiful blossomed rose is designed to hold onto your beloved buds, while one of its leaves is used for the mouthpiece. If you've ever wanted to smoke your favorite flower out of your other favorite flower, now's your chance.
5. Mystique Handmade Crystal Herb Pipe
The stunning Mystique Handmade Crystal Herb Pipe is a magical device that will take your smoking experience to higher levels in more ways than one. Rumor has it that Clear Crystal will not only deliver peace and harmony to the spirit and mind but also balance your chakras and fortify your consciousness at the same time. The fact that it holds sheer beauty is just a plus.
6. Dichroic Glass Smoking Pipe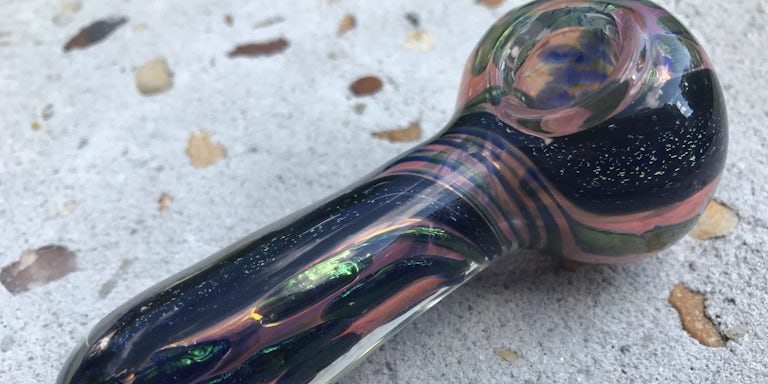 Simple, yet breathtaking, the Dichroic Glass Smoking Pipe, made of extra heavy wall borosilicate glass, is mega durable and unifies a range of ravishing colors. Also fumed with 24k gold, this hand pipe may look and sound expensive but is surprisingly affordable for any cannabis connoisseur looking to enhance their glass collection with one stellar piece.
7. Psychedelic Genius Pipe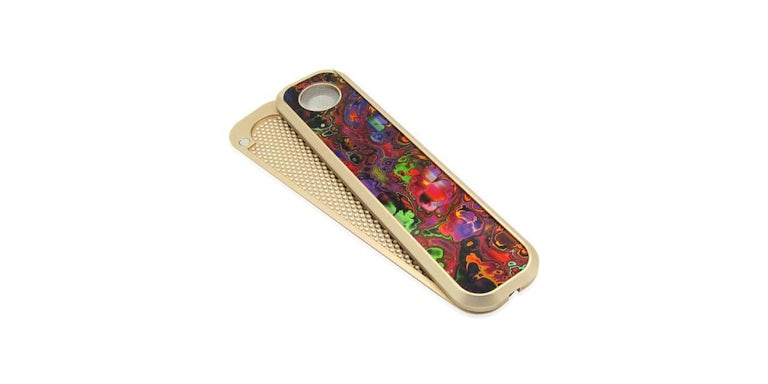 The Genius Pipe is not anything close to your ordinary bowl. In fact, this pipe uses patented dimple technology to filter out toxins and resins and cool down smoke for a more natural and refreshing sesh. Though the Genius Pipe comes in a variety of colors, the psychedelic version is by far the most eye-catching.
8. Unicorn Glass Pipe with Glitter & Crystals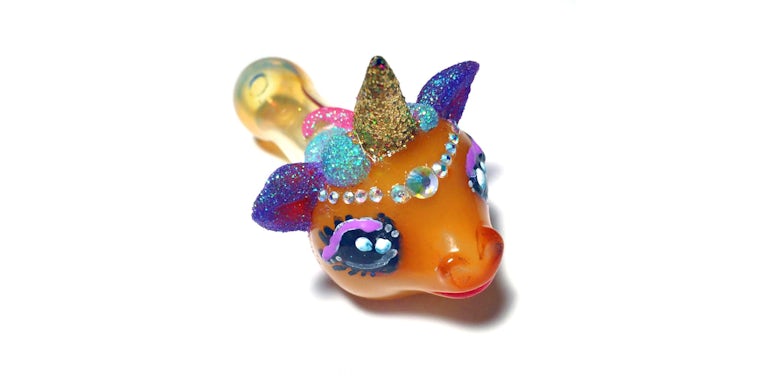 Here is a pipe that honors one of the most popular mythological creatures of all time, the unicorn. Between the glitter and crystals, along with its color-changing effects, this unicorn pipe by Luxe Glass Art isn't just one of many showstopping pipes. It's a glamorous work of art.
9. Seashell Pipe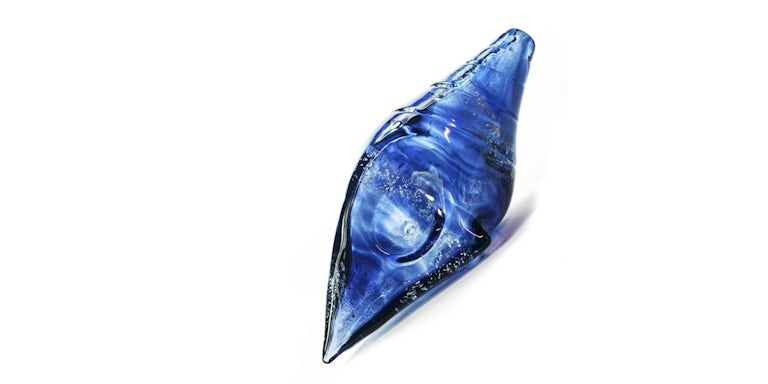 No shell on the shore can compare to this seashell pipe. Blue and beautiful, just like the ocean, when you're not puffing on the seashell pipe, it can easily be disguised as a decor for your desk, bookshelf, or coffee table.
10. Diamond Top Orange Crystal Pipe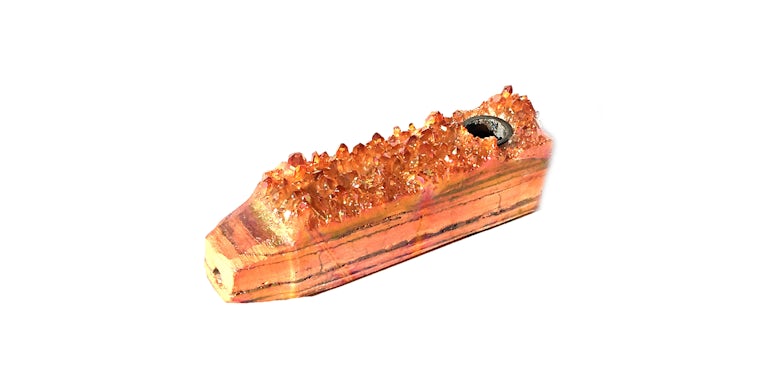 Last, but certainly not least, another lovely crystal bowl, only this one is orange and a lot more elaborate than the other crystal pipe on our showstopping pipes list. Still, it contains all the same spiritual properties, making it ideal for consumers that want to catch a buzz and align their chakras using one enchanting apparatus.