You might have noticed the days feeling a little less gloomy. The sun shines a little deeper into the day, and the mornings aren't so cold. Unless you live in California, in which case, just, ugh… For the music lovers out there, it's not just the beacon call of spring. These brighter, warmer days mean only one thing; the festival season will soon be upon us. Coachella's first weekend is making headlines, as are tons of other festivals, big and small, across the world. Real festival veterans know the trick is preparation, and this year Felix & Ambrosia have your back with festival-friendly CBD-infused sunscreen and CBD flavor drops.
CBD-Infused Sunscreen Is the One Sunscreen You Won't Hate Reapplying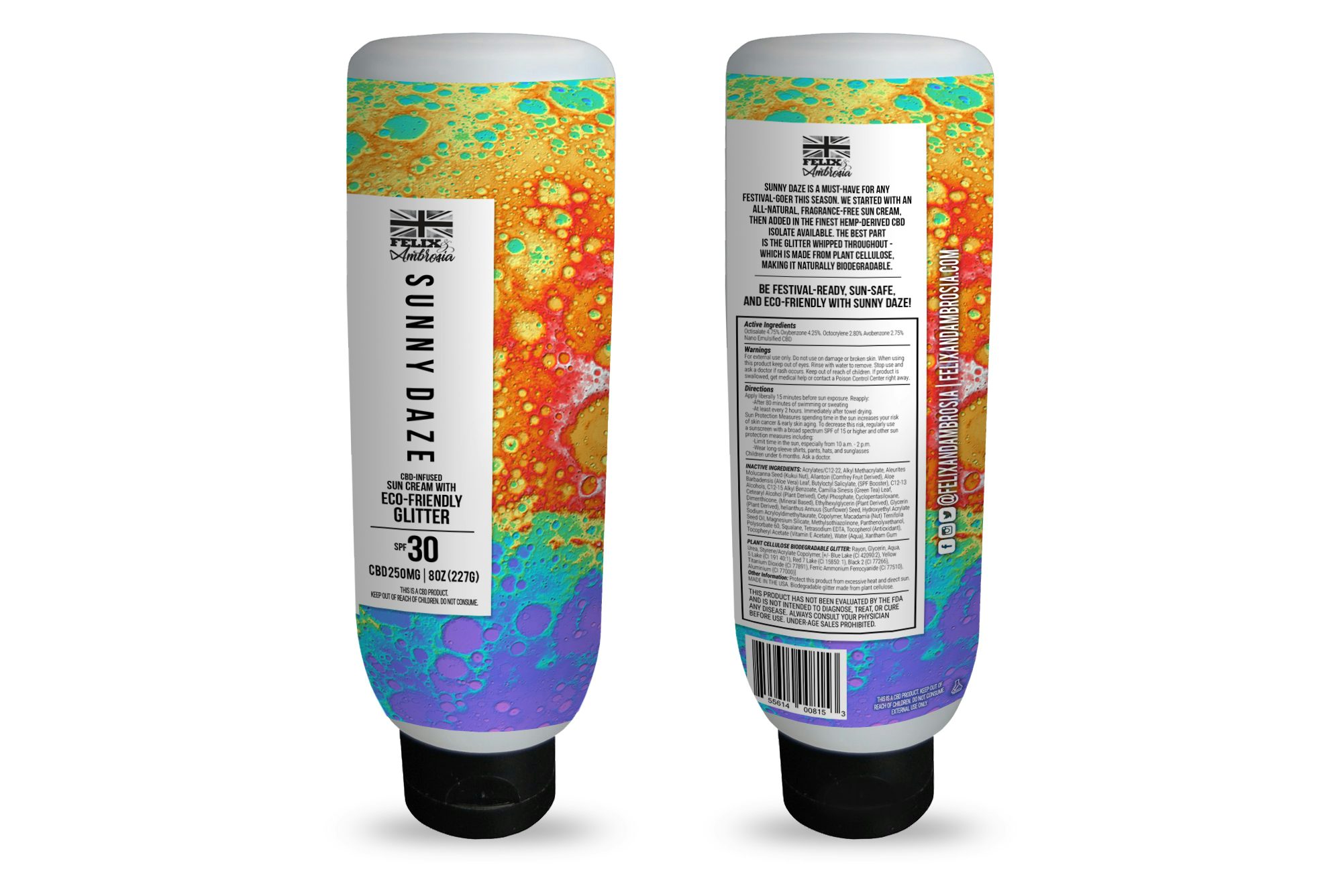 Nobody likes putting on sunscreen. It's a hassle, it's sticky and if you want to be out in the sun you need to be doing it. Like, all the time.  It's recommended that you reapply every 2 hours to protect your skin. The golden rule of sunscreen is to go with SPF 30, which blocks out 97% of harmful UV rays. Even for those with darker skin tones, anything under that is pretty much a waste of time.
More serious risks aside, there are few things that can put a halt to your festival fun quicker than waking up on day two with red, blisteringly sore skin. Everything little movement hurts, and not even your favorite bands are going to be able to put a smile back on your face.
CBD-infused sunscreen protects your skin and enhances your enjoyment thanks to a hemp derived, CBD isolate. Felix & Ambrosia's Sunnydaze is fragrance-free and glitter whipped with an all natural, full biodegradable plant cellulose, making it the most eco-friendly way to sun-safe and festival ready. You might even be putting this CBD-infused sunscreen on more than once every two hours. Get my shoulders for me?
If You're In the Sun All Day, CBD Flavor Drops can help to High-Drate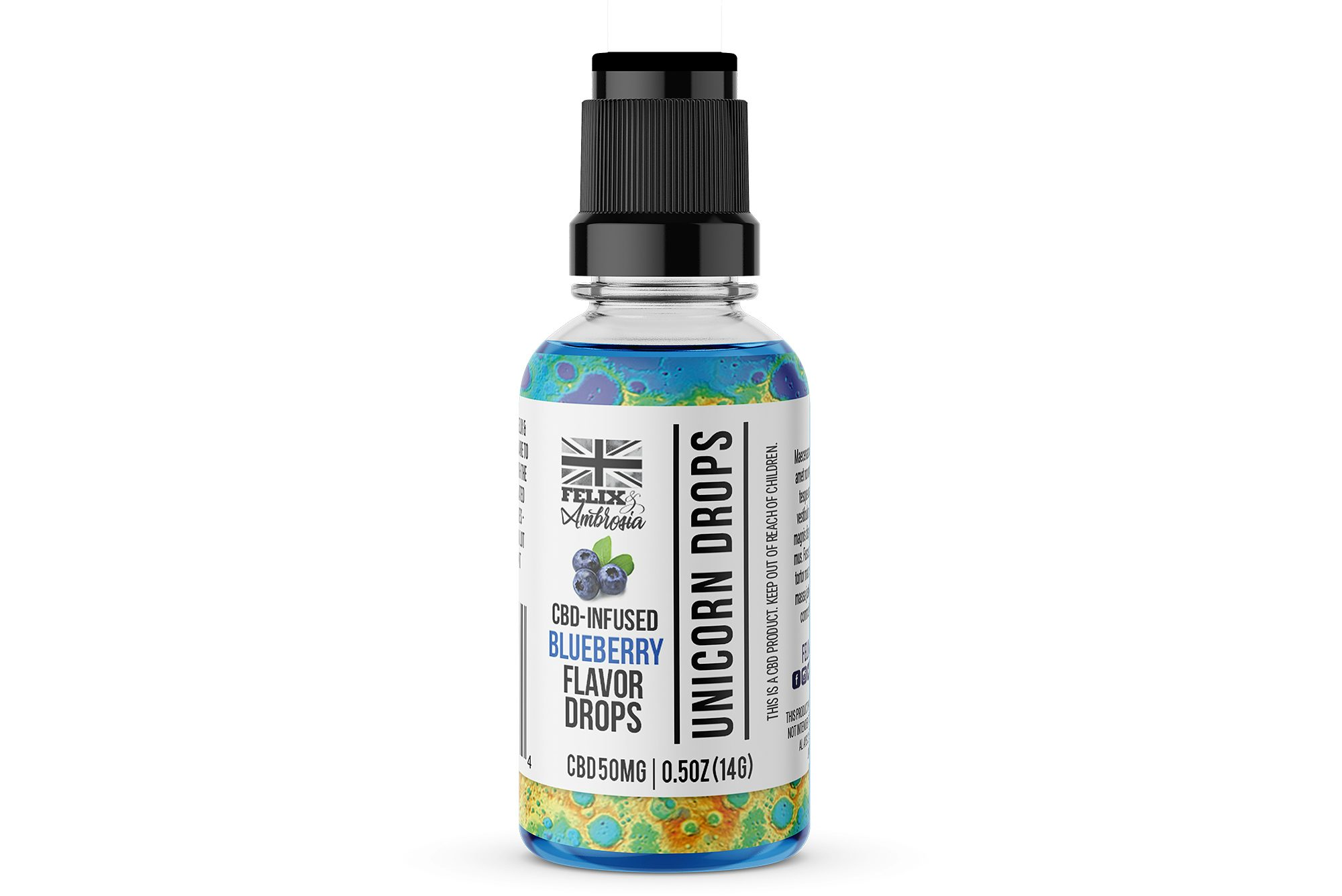 It's a bad pun, but that doesn't mean it's not true. Baking underneath the sun all day is going to dry you out pretty quickly. Let's also not pretend you're not dancing like a maniac, sweating up a storm. If you're choosing to enjoy some adult beverages, the need to drink water is magnified even further.
Nothing is going to put a stop to your fun quicker than a trip to the medical tent because you've forgotten to drink water while you were dancing in a field for 8 hours. If you're choosing to drink, why not go 1-for-1; a water for every alcoholic drink. Or you could skip the drinks (and the hangover) and pick up some CBD flavor drops instead.
Unicorn Drops are the calorie-free way to spice up your water bottle. Top quality CBD isolate is infused into these blueberry or rainbow flavored drops, so drop as much as you like into your bottle for some instant relaxation and wellness.
CBD-Infused Goodies Are the Easiest Way to Keep the Good Vibes Rolling
Whether you're at some mega festival, like Coachella, Bonnaroo and EDC, or one of the hundreds of incredible smaller festivals around the world, CBD-infused sunscreen and CBD flavor drops can take your festival experience to another level. You need to drink water and protect yourself from the sun anyway, why not make it a little more fun? Both the CBD-infused sunscreen and CBD flavor drops are the perfect way to stay relaxed and happy with a minimum of fuss
There are many people who prefer not to smoke or vaporizer, for health reasons or just personal preference. Some festivals aren't going to be too happy about you sparking up, either. Fewer sunburned, dehydrated music lovers aren't going to make anyone concerned though. Drops and topicals from Felix & Ambrosia can be the perfect way to enjoy an eco-friendly, blissed out festival season, all while looking after yourself. Check them out and get ready for the season we've all been waiting for.