Mornings are rough. From your alarm going off to getting yourself together on time before you have to leave the house, the morning is a less than ideal part of the day. But not for those who have discovered the simple pleasures of the wake and bake.
A good wake and bake can help you to relax and increase your appetite and actually eat breakfast—a meal we're often tempted to skip to hit snooze one more time. Many medicinal cannabis users also wake and bake for pain relief, anxiety control, and tremor reduction.
How to Wake and Bake
Waking and baking is simple, really. Before you start your hectic day, take the first fifteen minutes and dedicate it to you. That is, by rolling a joint and smoking it, or whatever your preferred method of consumption is. Voila! There you have it. The wake and bake.
Personally, I like to get a pot of coffee brewing in my French press while I roll a joint of whatever sativa I have at home. By the time the joint is complete, so is the coffee.
With that being said…
Is it Safe to Mix Coffee and Weed?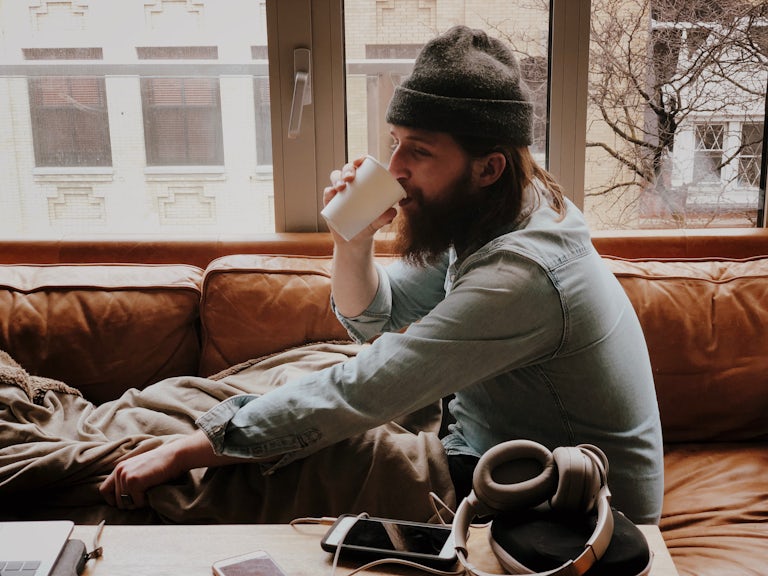 Whether or not to mix caffeine and cannabis is a hot topic. While many people swear by it, others insist that coffee and weed is a dangerous combo.
For starters, both coffee and cannabis are known to cause an increased heart rate. In some people, this effect is barely noticeable. However, for those with a heart condition or anxiety, this could lead to an uncomfortable and even paranoid morning.
If this has happened to you, it doesn't necessarily mean you can't wake and bake with coffee and weed. It might just mean you have yet to find the coffee and weed routine that works for you. To get started, try to find a coffee on the low end of the caffeine spectrum. For example, dark roasts are known to have less caffeine than light roasts.
When looking for that perfect morning cannabis, try a hybrid or even an indica with some CBD in it. Also keep your THC levels on the lower side, like something with a CBD:THC ratio of 1:1, 2:1 or 3:1. CBD helps to counteract THC's effects, producing a more mellow high.
A good rule of thumb if you're using coffee and weed for productivity is less is more. You will probably have a more successful morning with only one cup of coffee and half a joint, especially if you're just beginning to experiment with the wake and bake method. 
How to Pair Coffee and Weed Flavors
To pair coffee and weed flavors, you first want to think about what kind of coffee you like and what weed will complement it. For instance, light roasts are sweeter, more acidic, and have the most caffeine, so you may want a sour, skunky, or earthy indica or hybrid to pair with it. 
Another tactic is thinking about what kind of food you like to pair with coffee and finding a strain with a comparable flavor. For instance, if your bold, medium roast coffee would go well with something sugary, try a sweet tasting sativa or hybrid like Strawberry Cough or Blue Dream.
How to Pair Coffee and Weed Effects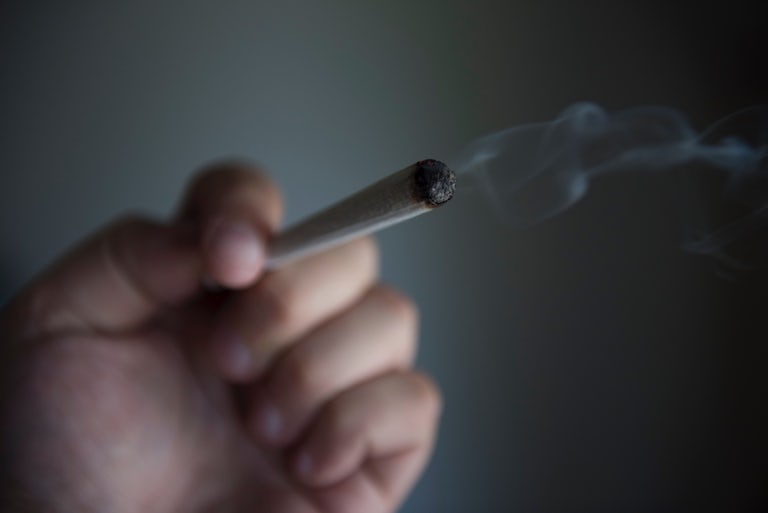 You want to pair coffee and weed effects that work together to create your desired mood. For example, if you're really tired and need an intense pick me up, try combining a high caffeine coffee, like a light roast or an espresso, with a super uplifting sativa strain, like Green Crack or Jack Herer.
Are you afraid you'll become too anxious if you mix coffee and weed? Try a medium or dark roast with an indica or high-CBD strain, like Harlequin or Cannatonic.
Looking to power through the rest of the workday? Go for an energizing hybrid, like Chocolope or Pineapple Express, and pair it with a half-caf light or medium roast coffee, or treat yourself to an espresso drink.
Looking for more strains to pair with your morning coffee? Check out Herb's list of the best wake and bake strains for more choices! 
Best Wake and Bake Songs
So you've got your cannabis and your coffee, but before you start making breakfast, a good wake and bake requires a playlist! We've already done the research and found the perfect wake and bake playlist on Spotify, which includes:
Déjà vu by Boogie.

Drowning by Mick Jenkins featuring BADBADNOTGOOD

Everything Is Everything by Ms. Lauryn Hill

Wrap Sumden by Nelly

Boulders by Curren$y

Still Callin' by Dom Kennedy featuring Teeflii

Fukk Sleep by A$AP RockyFKA twigs

Memo by Young Thug

Watching Movies by Mac Miller

Marijuana by Kid Cudi
Best Wake and Bake Breakfast
Now you've got your joint, your coffee, and your playlist. The only other thing you're going to need for the perfect wake and bake is all the ingredients to make a dank breakfast. 
Cannabis Infused Red Velvet Pancakes
This Red Velvet Pancake recipe is your new favorite excuse to eat cake for breakfast (not that you needed one) for a decadent wake and bake.
Prep time: 10 minutes
Cook time: 1 ½ hours
Serving size: 2 pancakes
Yield: 5 servings
Ingredients
½ cup Magical Butter, melted and divided in half
1 ½ cup buttermilk
1 egg
1 cup all-purpose flour
⅓ cup organic cane sugar
3 tablespoons unsweetened cocoa powder
1 teaspoon red food color
½ teaspoon baking soda
½ teaspoon salt
3 tablespoons powdered sugar
How-to
In a small bowl, combine milk, egg, and butter; whisk thoroughly.
In another bowl, combine flour, cocoa powder, sugar, baking soda, and salt; mix well.
Add milk mixture, and whisk together just until all of the ingredients are combined, leaving the batter slightly lumpy.
Heat your pan over medium heat for 60-90 seconds.
Butter the pan, then pour about ¼ cup batter into for each pancake.
Cook for about 2 minutes or until edges set up, and the top is bubbly.
Carefully flip the pancake, and cook for another 1-2 minutes to cook the pancake through.
Repeat with rest of the batter.
Dust the pancakes with powdered sugar, and serve with your favorite syrups and toppings.
Cannabis Infused Granola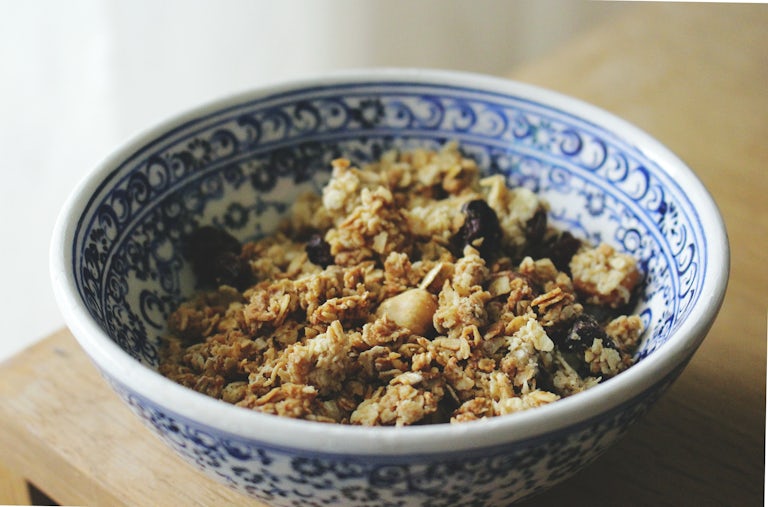 Have you ever tried cannabis-infused granola? If not, then you may want to consider making some Outta-Controlla Granola. Of course, everything is better when you add a little weed to it. This flavourful recipe makes an excellent addition to your wake and bake and is also a nutritious treat that allows you to reap the benefits of the herb.
Thanks to this recipe from MagicalButter.com, you can whip up a batch right from home.
Ingredients
4 cups rolled oats
1/2 cup brown sugar
1/2 cup chopped walnuts
1/2 cup pistachios
1/2 cup sliced almonds
1/2 cup chopped pecans
1/2 cup white chocolate chips
1/4 cup dried cranberries
1/4 cup dried pomegranate
1/4 cup dried cherries
1/4 cup dried blueberries
1 1/2 teaspoon cinnamon
1/2 teaspoon salt
1/4 cup maple syrup
One tablespoon vanilla bean paste
1/2 cup honey
 1/2 cup canna-coconut oil
Method
First, you'll need to infuse your coconut oil. The MagicalButter machine will do the infusing part for you fuss-free.
Next, mix all of the ingredients together in a large bowl. Then, grab a decent size baking dish and pour all of the contents inside of it. Be sure to spread the mixture so that it bakes correctly evenly.
Set your oven to 325° and bake for 25-30 minutes. Be sure to stir at 15 minutes.
When the timer is up, just pull out your batch and enjoy!
There you have it! Everything you could possibly need for the perfect wake and bake. Did we miss an essential part of your wake and bake tradition? Tell us about it in a comment below!