Wellness is what draws cannabis consumers to choose vaping over smoking. Unlike smoking a bowl or doing a dab, with vaping you only ingest the active compounds of the marijuana plant. You know, the stuff that matters most. That being said, vaporizers are perfect for weed enthusiasts that want to enjoy their favorite herb in the healthiest way possible. The DaVinci IQ portable vaporizer offers purity, innovation, and control. So whether you're a medical marijuana patient, a fitness fanatic, an outdoorsman, or just an everyday user, this portable device is the best little vape for you. And it's as smart as a whip.
It is a vape that provides purity, Smart Path Technology, and more
The DaVinci IQ is quite literally the most genius vaping device you'll ever wrap your hands around. It offers just about everything you could want from a vape and so much more.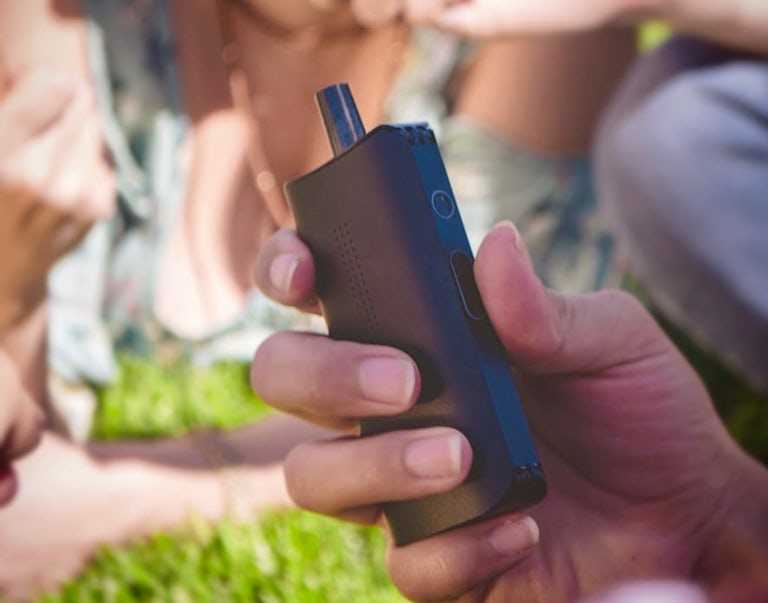 The DaVinci team spared no expense, using only top-notch materials. The IQ's mouthpiece conveys pure vapor due to the air path consisting of 100% zirconia ceramic. Not only is it tasty, but it is also super durable.
Load your herb into the glass lined ceramic bowl, which can hold up to .3 grams of bud, and close it with the zirconia Pearl, which promotes even 360-degree heating, along with precise and consistent temperature. There is also an additional flavor chamber where you can store additional flower, and it acts as a secondary convection vaporizer. That means you can vape two different types of herb at the same time.
The device comes with a 10mm adapter mouthpiece if you prefer to keep your lips off of the vape itself. Speaking of which, that same additional mouthpiece is also compatible with virtually any water pipe that has a 10 mm female cut.
The DaVinci IQ's Smart Path Technology is perhaps the coolest feature of them all. It allows the user to choose from four different temperature paths, which incrementally increase in temperature over a ten-minute time frame, giving you the best session period. If you prefer, you can build your own path directly on the DaVinci app.
By the way, the DaVinci IQ is the first and only device to combine three different functions. Aside from Smart Path mode, there's also Boost mode and Precision mode. With the Precision mode, you get to select a precise temp and keep it for the whole sesh. As for Boost mode, the IQ will gradually heat up to the max temp of 430 when you hold down the top button. And once you release your finger, the device will then begin to cool down in order to save battery.
The DaVinci IQ is all about features.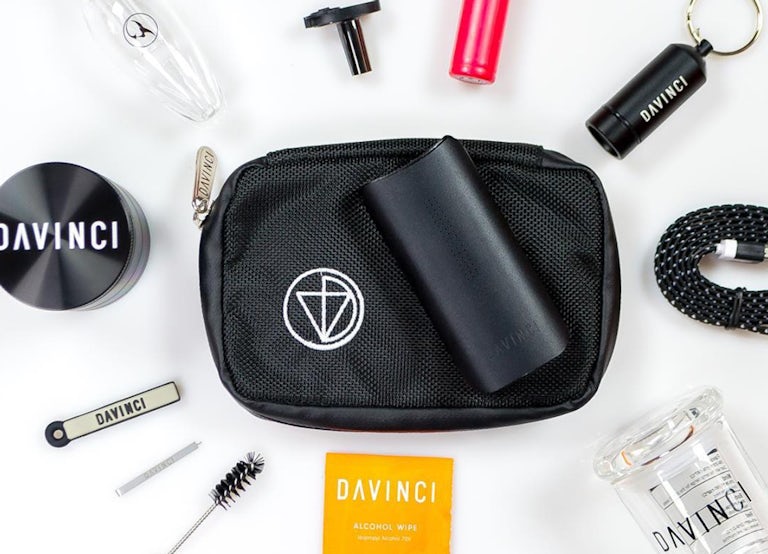 Want your lights to be bright or dim? With the DaVinci app, you can use it to enter "stealth mode," which will dim the device's bright LED lights to be discreet. Want to turn on the device from your app? Well, you can. Really, you have the option of doing everything on the device, as well as the app, depending on how techy you feel that day.
As for the DaVinci's 18650 battery, it's both replaceable and rechargeable. No longer is your vaporizer an expensive paperweight once the battery dies. Just pop a new one in and you are good to go. Not to mention, it'll last you as long as 90 minutes. However, once it's completely drained, it can take up to four hours to fully charge. For a more speedy charge time, you have the option of purchasing a DaVinci external charger. With that, it'll only take 2-3 hours tops to juice it up.
The DaVinci IQ is all about features, that's for sure. For that reason, it has become the best dry herb vape on the market. Aside from the device and the 10mm adapter, you also get a few other extras,
Alcohol Wipes
USB Charging Cable
Chimney Brush
Keychain Tool
Carry Can
Oh, and right now, DaVinci is also offering free shipping and a complimentary airtight glass jar when you purchase the IQ. Or, if you're looking for an updated version, check out a Davinci IQ2 Review. But only for a limited time. So if you want to get the most for your buck, you better act fast.
The price of the IQ is a little steep, $274.99 to be exact. But there truly isn't a better device out there, and that, ladies and gentlemen, is a fact.