Her dispensary membership card says she's Abby Dorsey; but when she's blaring through headphones or on stage rapping about Charlotte's Web, she's Her Highness, Queen of Weestonia, MC Flow.
MC Flow isn't your typical cannabis enthusiast, or your typical rapper, or your typical mom for that matter — but that's what makes her so appealing. As a San Diego-based artist with fifteen years of experience making music and using cannabis as a creative muse, she's proved herself as a someone who really knows her stuff, and there's proof of that in everything she does.
Take her most recent release, Her Highness, for example. Not only was the EP released last 420, but it's also brimming with tracks about anything and everything related to cannabis. 
"Right now, rapping is my main gig," MC Flow told Herb over a telephone conversation, "I started a monthly show in San Diego called Her Highness' High Court. It's a cannabis inspired variety show where I bring in different musicians, and other mediums to celebrate cannabis in a fun and creative way."
The monthly show is a good indicator of what MC Flow's creative process looks like. Take the single, Welcome to the Dispensary, for example. Its an amusing narrative detailing the events of a regular morning that leads up to a visit to Urban Leaf, a boutique-dispensary in San Diego. The song managed to make it onto Kevin Smith's crowd-funded show, Hollyweed. 
While Welcome to the Dispensary's music video alone proves MC Flow's love for cannabis, the song's lyrics alone elevate her to a whole new level:
Here in the dispensary, there's something green for every crowd;
Fat pre-rolls that will make Bob Marley proud;
Shatter, wax, resin extract for the vape crowd;
Two puffs of that and you'll be walking on a vape cloud.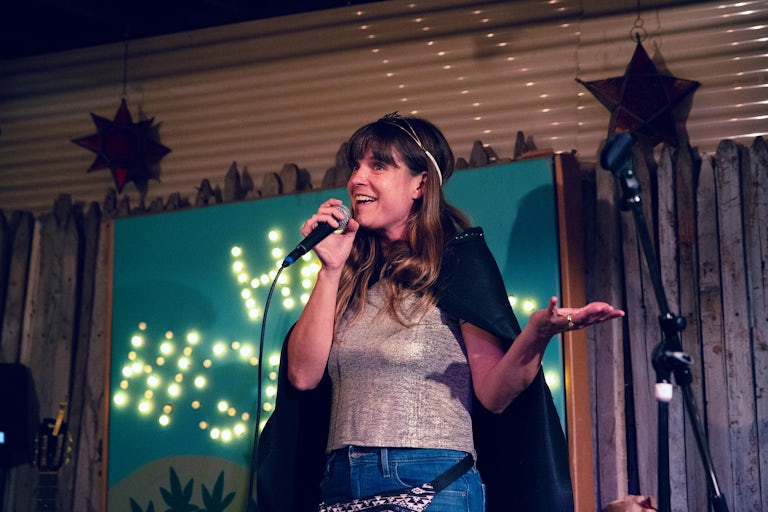 Following cannabis legalization in Calfornia in 2015, the legislative pass was more than just a win for the cannabis-loving side of the MC. She said legalization also allows her musical work to be more accepted and accessible.
"I'm not the first rapper to put weed and rap music together, that's part of hip-hop culture for sure," MC Flow admits, "I definitely noticed a shift taking place and I saw the niche and I jumped on it. Attitudes are changing, people are more open."

Though she modestly put that she didn't bring weed and rap together, she might have been the mastermind behind the first song about medicinal cannabis. The song, off the same EP,  titled 'Oh Charlotte' features a collaboration with longtime friend and Grammy-award winning artist, Jason Mraz.
The song's lyrics detail the story behind the story of the strain known as Charlotte's Web, specifically honing in on the tale of Charlotte Figi — a little girl who lent her name to the strain after her parents decided it to use the cannabis strain as a treatment for their daughter's pediatric epilepsy.
MC Flow explained that Mraz's personal values made him the ideal collaborator for the project that brought Figi's story to a wider audience.
"He was the perfect person to ask once I started working on the Charlotte Figi project because he's also a farmer. He's really into social justice, activism, and he was the perfect person to ask. Luckily, we wrote the song and came on board and we ended up performing it at Red Rocks, [Colorado] which was incredible."
You can watch MC Flow and Jason Mraz performing 'Oh Charlotte' below.