Texas' first medical cannabis dispensary, Compassionate Cultivation, is now partnering with two nonprofit organizations that offer support to epileptic patients. The partnership is intended to help expand epileptic patients' access to cannabidiol (CBD)—a cannabis compound found to help treat epilepsy—in the state.
In 2015, Governor Greg Abbott signed the state's medical cannabis program into law under the Texas Compassionate Use Act. But the legislation is often criticized by medical cannabis proponents for being vastly restrictive.
Roughly 1.8 percent of individuals living in Texas—about 500,000 people—are afflicted with some form of epilepsy, according to an EFCST analysis. However, only those with rare "intractable" epilepsy—less than one-third of those people—are eligible for the state's medical cannabis program, which allows for the purchase of low-THC, high-CBD cannabis products. 
Even for those with intractable epilepsy, medical cannabis is difficult to access in Texas. In a state of over 28 million people, there are currently only about 35 doctors who are legally allowed to prescribe medical cannabis. At least one of these doctors has already specified that they aren't accepting new patients. None of the state's licensed doctors have practices west or south of San Antonio, a city in the Southwestern corner of the state.
Patients can only access a medical cannabis prescription if they're first approved by one of these licensed doctors, and then given a secondary approval from another doctor in the state. This second doctor doesn't require an in-person visit but only needs to sign off on the first doctor's approval.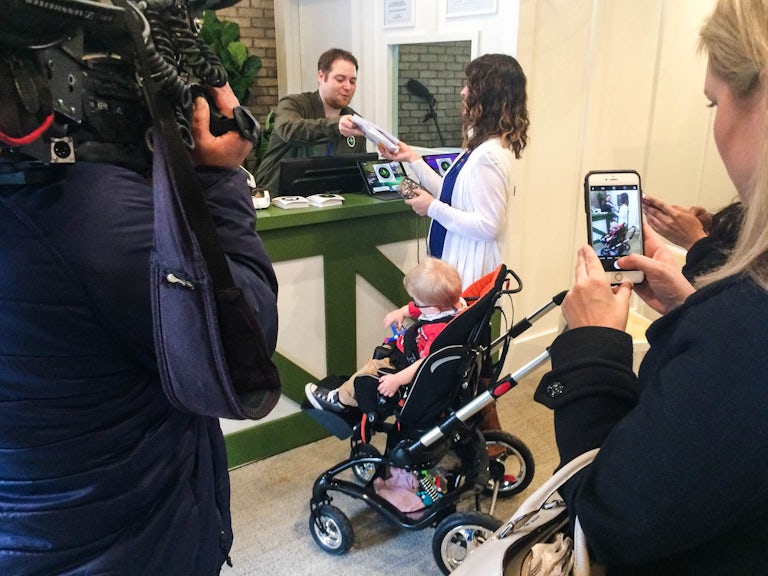 Epilepsy patients in Texas must also prove that they've tried two other FDA-approved drugs unsuccessfully before they can apply for a medical cannabis card. 
There are only three licensed dispensaries in Texas that can legally grow, process and sell medical cannabis products. Compassionate Cultivation was the first of them. According to Texas attorney Susan Hays, this is because Gov. Abbot "forced [the Department of Public Safety] to only issue three licenses," despite there being 43 applicants. All three of these dispensaries are located within roughly 60 miles of Austin and are therefore out of reach for a significant number of Texans. 
After overcoming all of these obstacles, medical cannabis patients in Texas still have to worry about affording their medication. This is why the two nonprofits that have partnered with Compassionate Cultivation, the Epilepsy Foundation Central & South Texas (EFCST) and Epilepsy Foundation Texas (EFTX), are launching a first-of-its-kind fundraising program to help these patients access affordable medical cannabis.
"The program will create a mechanism that will in effect provide subsidies to patients, that will partially or completely cover the cost of the medication, depending on the patient's financial situation," Compassionate Cultivation CEO, Morris Denton, tells Herb. So far, EFCST has pledged to donate $5,000 to the fundraising initiative, and another $5,000 to EFTX, which assists the epilepsy community in Houston, Dallas-Fort Worth and west Texas.
"Our patients are our top priority, and no one should have to forgo medication that could help ease suffering because they're worried they can't afford it," said Denton in a statement.
For one gram of CBD-based medication, patients typically pay roughly $100 to $150 dollars. According to Denton, "the majority of [Compassionate Cultivation] patients currently use around 2-3 grams per month." Neither insurance, Medicaid or Medicare currently offers financial assistance for CBD products.