Brooklyn may be the epicenter of cool, but it's way behind on cannabis culture. While New York explores legalizing recreational cannabis, some brands are already moving in. Citiva, a cannabinoid research company founded by healthcare professionals, is opening the first cannabis dispensary in Brooklyn.
The sleek 2,000-square-foot dispensary is almost complete at 202 Flatbush Ave, right across the street from the prominent Barclays Center, where it will be open to those registered with qualifying conditions. In New York, medical cannabis is limited to severe conditions, like HIV/AIDS, ALS, Parkinson's, MS, epilepsy, and PTSD, among others.
Other big name dispensaries have also been opening in highly visible locations in the city, like MedMen on 5th Avenue in Manhattan. But for now, all 10 of New York state's medical cannabis dispensaries are still flower and edible-free, due to regulations. Spokesperson from Citiva tells Herb they will have oils, vape pens, pills, and topicals available to New York's medical cannabis patients at the Brooklyn location upon opening.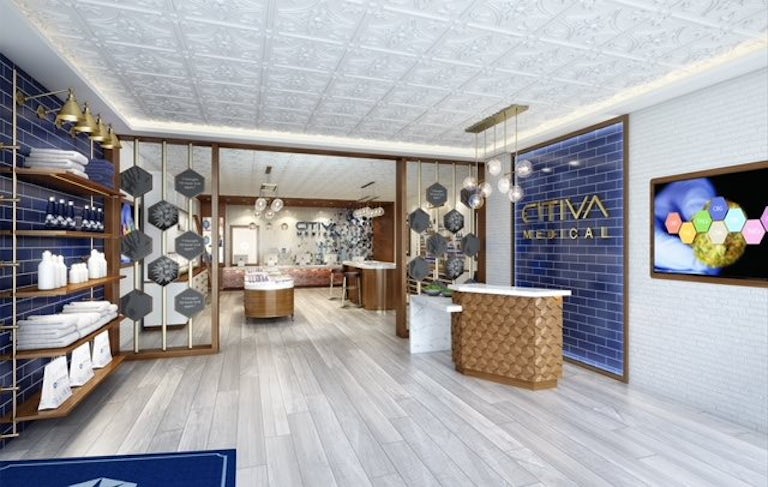 Cannabis in Brooklyn
Cannabis in Brooklyn may be a long way off from cities like LA, Portland, and Seattle, but the culture is growing nevertheless. While Citiva is under construction, Hemp Garden, a hemp-derived CBD store, is opening its third NYC location a wee-bit north in Williamsburg.
Because all of Hemp Garden's products are derived from hemp with less than 0.3 percent THC, they're legal to buy and sell in New York state without a medical cannabis license. Hemp Garden sells all things CBD, from tinctures and vape oils, to flower, edibles, and shatter, the type of products that are still banned in their THC form in the state.
Not to mention, the CBD wellness phenomena has certainly taken Brooklyn by storm. Many of the borough's hipper and wealthier neighborhoods, like Greenpoint, are fully stocked with CBD, from oils at their local health food and vitamin stores to CBD lattes at cafes and kava bars. Plus, CBD vape pen cartridges and other products are available at smoke shops and bodegas throughout the borough and the entire city.
It seems like it's only a matter of time before New York catches up with its sunny rival, California. Until then, New Yorkers will continue to find ways to medicate, and businesses will continue to prepare.