"Marijuana lite" or "CBD cannabis" is becoming popular in Switzerland, Italy, France, and the UK, but what is it? The technically legal herb is derived from the hemp plant, with less than 1 percent THC. Although marijuana lite is packed with CBD, the question remains: will smoking this bud get you high?
What is marijuana lite?
Recently developed in Switzerland, marijuana lite is hemp in the sense that it has less than 1 percent THC, but it looks, smells, and tastes just like high-quality weed. That's because hemp that's used to make fiber is typically grown outdoors, without much care given to the quality of the flowers. Most of the valuable fiber is in the stems of the hemp plant, anyway.
Marijuana lite, on the other hand, is different; most plants are grown indoors using advanced cultivation techniques usually reserved for high-THC cannabis. The results are resinous buds that smell dank and are covered in orange hairs.
The publication Swiss Info spoke to one of the first indoor cultivators of marijuana lite, Werner Bösch, to see how he developed this legal weed. Bösch said he imported seeds from the U.S., which he then cross-bred various times until he created a strain with high levels of CBD that didn't exceed 1 percent THC.
Bösch was able to breed a sophisticated strain of marijuana lite because he had nearly 20 years of cannabis cultivation experience. He left his job in the late nineties to open a headshop and has been involved in the Swiss cannabis scene ever since.
Now, Bösch's strain of marijuana lite, Golden Green, which has 0.6% THC and 15% CBD, is blowing up, and his indoor operation has expanded tremendously. It's not only Bösch though, the marijuana lite and CBD market is worth 200 million Swiss Francs (basically the same in USD) in Switzerland alone, according to the same Swiss Info article.
How is marijuana lite legal?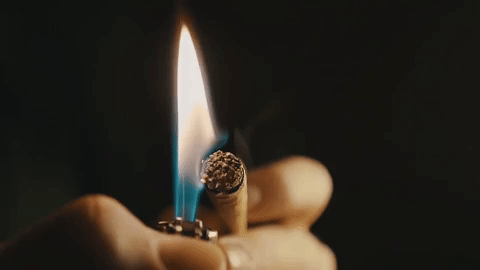 Switzerland legalized hemp with 1 percent THC or less in 2011. The country also decriminalized the possession of 10 grams or less of regular, high-THC cannabis. Marijuana lite was developed in Switzerland as Europeans watched the rise of legal and medical cannabis in the U.S., as well as the international interest in CBD.
Throughout Europe, hemp with less than 0.2 percent THC is legal and can be shipped across borders, typically without any trouble from customs. Therefore, many Swiss marijuana lite companies are cultivating CBD cannabis within these limits and shipping it to places like France, Italy, and the UK, where cannabis laws are strict, but hemp laws are the same as the rest of the continent.
Europeans can buy marijuana lite online or at a local head shop for roughly the same price as black market weed that's high in THC. The Guardian reports that in order to stay compliant, these CBD cannabis companies are not permitted to market their products as medicine.
Even though marijuana lite is legal in Switzerland, it's reportedly driving the country's police crazy. Because it looks and smells just like high-THC weed, which is still illegal to consume in public, Swiss police are often mistaking marijuana lite for the real thing.
"You can't really tell the difference between our product and the illegal street product—the buds are covered with many trichomes, and they are grown organically and tested," Sergio, managing director of the Swiss marijuana lite company, Cannical, told VICE.
If you do get stopped in Switzerland for possession of marijuana lite, you can apparently ask the arresting officer for an expensive potency test of your "contraband." If your bud tests below 1 percent THC, the cops have to give it back. Because of this, many in Switzerland are calling for the legalization of all cannabis.
Why do people use it?
People are using marijuana lite and other CBD products for the same reasons people are using CBD in the U.S.: for all the medical benefits of cannabis without the high. Whether it's anxiety, arthritis, depression, or insomnia, taking CBD can help.
The situation in Europe is very similar to the U.S., where products derived from hemp with 0.3% are "basically" legal in all 50 states. Hemp-derived CBD products are more popular in states with stricter cannabis laws because folks there don't have access to other options. The same goes for France, Italy, the UK, and Switzerland—these countries don't have easy access to other forms of medical cannabis and so people are ordering marijuana lite online instead. In European countries with more lenient cannabis laws, like Spain, Portugal, and Germany, cannabis with more balanced ratios of CBD to THC are becoming popular, like in American states where cannabis is legal for adult use.
How does it make you feel?
Much like CBD oil, marijuana lite makes people feel relaxed without the head high. People report sleeping and eating easier after smoking marijuana lite, as well as experiencing a body high. Many are using it for medical ailments like chronic pain or depression, or to just relax after work without feeling paranoid. Some people aren't even smoking the hemp flower, but making tea before bed or infusing it into butter and oil.
Marijuana lite is taking advantage of a loophole in European law, but hopefully, as cannabis becomes more accepted and the benefits of CBD become better understood, it won't be necessary because the herb will be fully legalized.