One of the lead characters from iconic stoner comedy series Trailer Park Boys is dreading Canada's plans to legalize cannabis next month.
"It'll put us out of a job," Rob Wells, who plays Ricky on the series, told Metro on Monday while "in character." 
Wells' character initially expressed excitement for Canadian legalization and also predicted that Canada would dethrone Amsterdam as the pot capital of the world. However, the statement was quickly followed by dread, as Ricky realized that a legal cannabis market would no longer need him, a black market cannabis grower and distributor.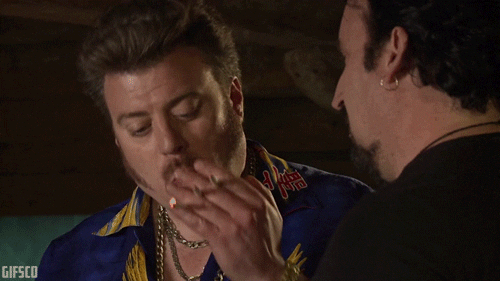 Wells is currently embarking on a European tour with the other two leading members of the Trailer Park Boys gang, Julian and Bubbles, played by John Paul Tremblay and Michael Smith. Aside from live performances, which have taken place across the world, the trio is known for remaining in character, both on and off the screen.
This is not the first time that the Sunnyvale Trailer Park residents have expressed concern about cannabis legalization in Canada. In 2014, Trailer Park Boys released a straight-to-video film documenting Ricky's travels to Canadian parliament to persuade parliament to ditch their plans for legalization, which featured a guest appearance by Canadian cannabis activist Jodie Emery.
Despite Ricky's fears, things look good for Trailer Park Boys. In 2016, the franchise announced a partnership with OrganiGram was in the works to create an official Trailer Park Boys strain. The program has also featured celebrities like Snoop Dogg, a devout fan of the show, and released a new season on Netflix earlier this year. 
If all else fails, Ricky, Julian, and Bubbles can still lean on shopping cart theft, gasoline siphoning, and bootlegging as ways to make ends meet.