Busting down your weed with your bare hands or a pair of scissors is a strategy of the past, which is why rookies and seasoned veterans alike
need a weed grinder for an optimal smoke session. Herb has you covered with a definitive list of the best weed grinders on the market today.
Why Use A Weed Grinder?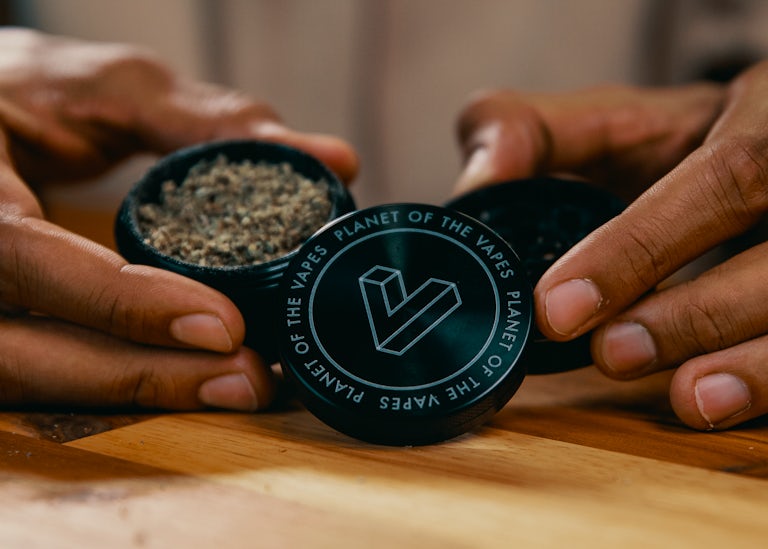 Using sharp teeth and a little hand power, or the press of a button if you're working with one of the fancier electric types, a weed grinder rips your herb apart so that you don't have to spare your fingernails or sacrifice the only pair of scissors you have in the house. As a result, you get perfectly smokeable ground bud without a sweat.
When you're operating without a grinder, you can't get your herb as fine as possible for optimal burning, especially if it's that sticky-icky. Not to mention, you can't get kief, the resinous trichomes that sparkle all over your bud and are mighty potent. Not easily, at least.
You could spend minutes cutting, or worse, picking your bud. Or, you could use a grinder and break down your stash in seconds and get kief, which you can sprinkle over your flower to enhance it. Talk about the icing on the cake.
Grinders also ensure an even burn. If you pack a bowl with chunky bud, then you can't get as full of a bowl pack, and you're essentially wasting it because it can't heat it as thoroughly. Moreover, it's harder to stir, and more often than not, there is still some green left, which you won't realize until you go to dump out the "ashes."
Joint and blunt smokers will benefit from a weed grinder as well. Weed that has been through a fine (but not too fine) grind can be evenly spaced out on papers and makes the rolling process breezy. And they smoke better, too.
Types Of Weed Grinders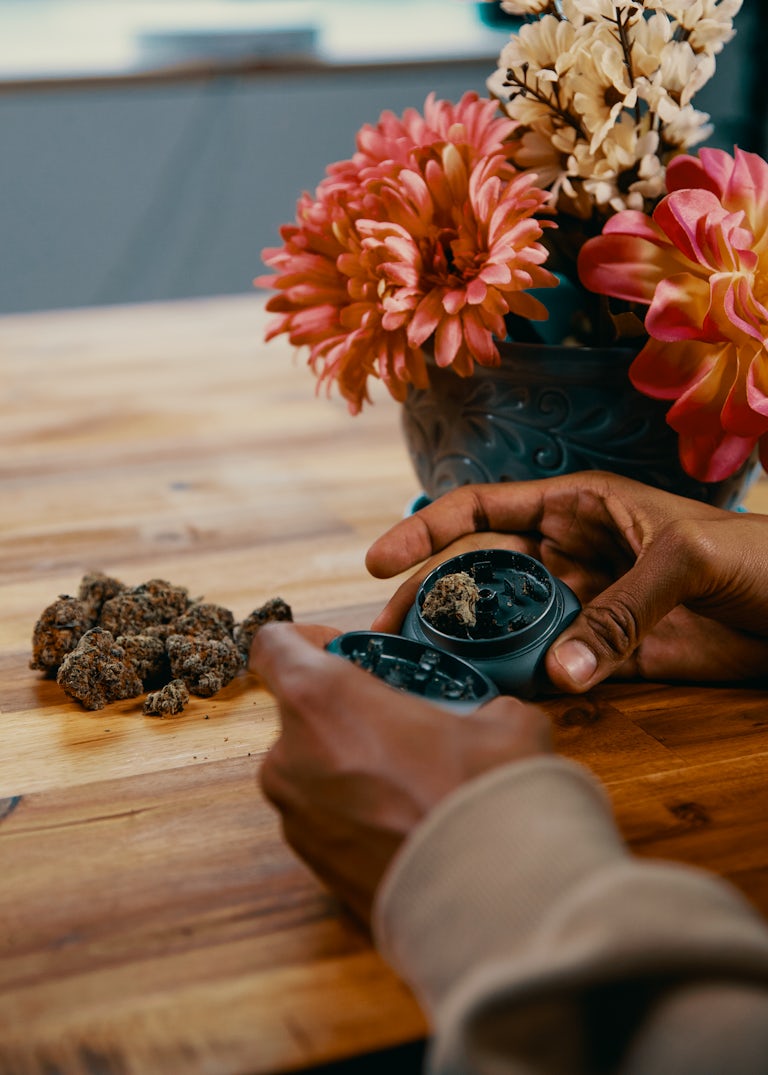 There are two main types of weed grinders: manual grinders and electric grinders. With manual grinders, a little more effort is required. You have to twist and turn using your hands to get the job done.
As for the cost of a manual grinder, the prices vary but most are considered affordable by the weed community. It all depends on the kind, as there are many varieties of manual grinders:
2-Piece Weed Grinder: one compartment for grinding and storing.

3-Piece Weed Grinder: two compartments, one for grinding and one for storing.

4-Piece Weed Grinder: three compartments, one for grinding, one for storage, and one for kief complete with a screen.
Though they aren't popular, there are also 5-piece manual grinders. This type usually has four compartments: grinding, storing, and two for kief. Having two kief catchers can help you catch more potent flower powder since it has an additional screen to trap excess small plant material.
A card grinder is another type of manual grinder that doesn't have any compartments and is slim and portable. Card grinders won't grind as well as other manual grinders, nor will they capture kief, but they're cheap and make for an easy grind on-the-go.
Aside from being made with a different number of parts, weed grinders are made out of different materials, each of which has its pros and cons:
Plastic: cheap, lightweight, provides an OK grind, doesn't last long, and more likely to break.

Wood

: unique, organic, may produce metal shavings while in use and takes more effort to grind.

Aluminum: the cheapest of metals, lasts longer than plastic, weighs more than plastic, easy to use, and provides a good grind.

Titanium: highest of quality, doesn't weigh as much as aluminum, most expensive, built to last, and user-friendly.
Finally, you have electric grinders. Electric grinders do all the work for you, and some will even dispense your weed, which makes them handy for rolling. They tend to be on the pricier side and won't preserve kief, but if you're someone with arthritis or have achy hands, electric grinders take away the strain from the grinding process.
Best Weed Grinder Brands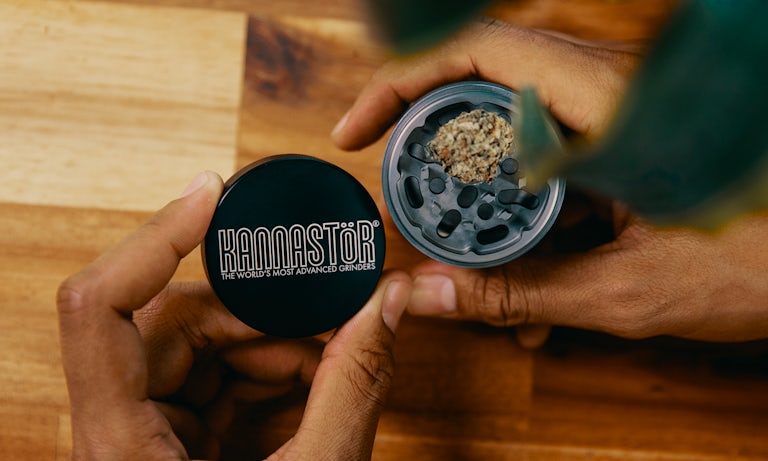 If you thought the selection of glass and vaporizers was extensive, then you've never tried shopping for the best weed grinder. There are thousands available, and they're everywhere, from headshops to Amazon. You also run into risks when shopping for a grinder because you don't know if they're going to work until you buy them. There are few things worse than wasting money on a tool that does a weak job.
Choosing the right brand is everything when you're looking for the best weed grinder. If the brand has a bad rep, then you can expect to get a lousy, useless product. When searching for the best weed grinder brands, make sure to scope the ones with stellar reviews and testimonials.
A few weed grinder brands to love are Black Tie Grinders, Tokyo Smoke, Chewy, Kannastor, Pen Simple, and Santa Cruz Shredder. Whether you want the best grinder for rolling up a paper airplane or the ultimate grinding tool for the dollar, the odds are in your favor that one of these brands can get your flower to the right consistency for the occasion.
Best Weed Grinder With Kief Catcher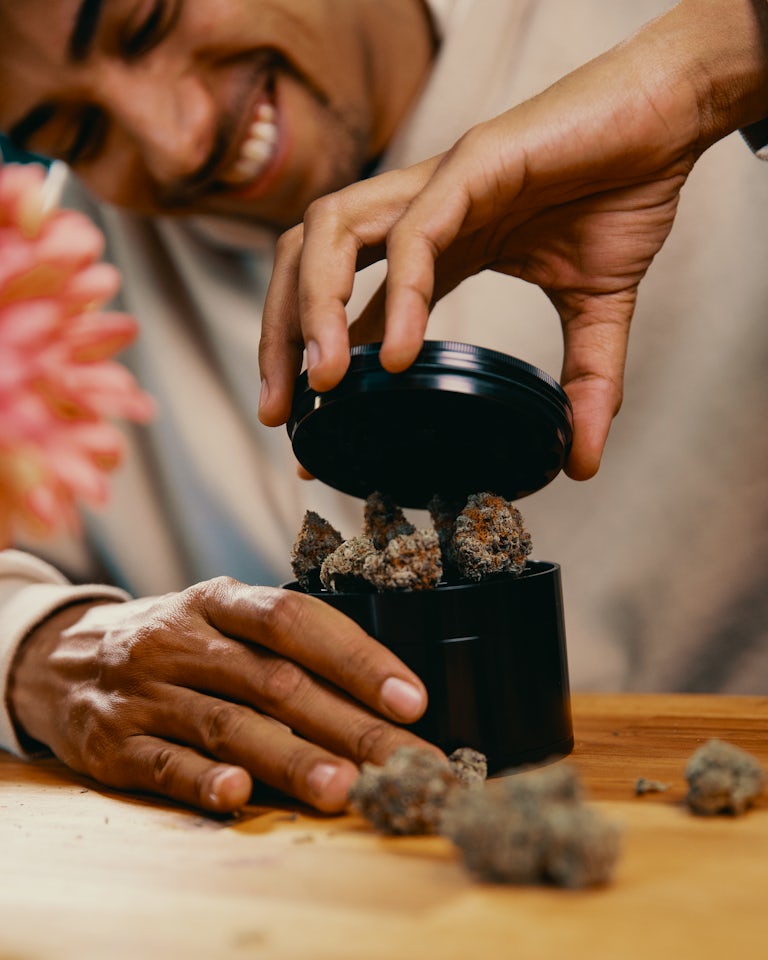 As a reminder, those sparkly trichomes covering your bud that they call kief are the most potent part of the flower. If you want to get the most out of your weed, then you need a weed grinder with a kief catcher. That way, every time you use it, your collection will build more and more until eventually, you get so much that you can pack a kief bowl, or have enough to sprinkle inside of a blunt or joint. There are lots of ways to use kief.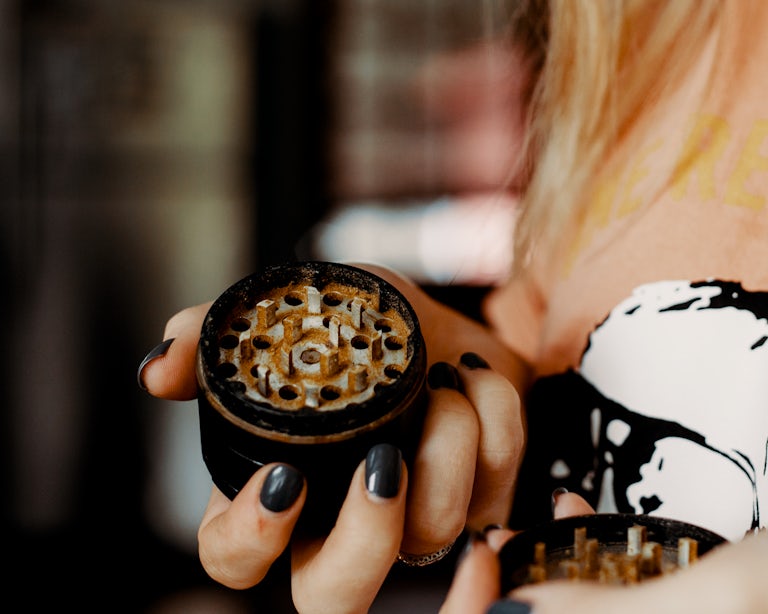 The Medium 4-piece Santa Cruz Shredder is the perfect tool for starting a kief collection. It features four pieces, including a top-quality one-of-a-kind earth magnetic lid, a razor-sharp grinding area, and a compartment for storage with a kief catcher below and a complimentary scooper, separated by a T304 micronic precision woven non-fraying stainless steel screen. It is "the most optimal micron screen size of any grinder on the market," according to the brand. It is also made of medical-grade anodized aluminum, which again, is one of the best and most durable materials for weed grinders.
Best Weed Grinder For Joints
Joints, blunts, spliffs, whatever you roll, a grinder ensures that your herb spaces out evenly on the paper and is easier to roll up. Of course, you don't want to go overboard to the point where your flower transforms into dust or else rolling will be impossible. You want to aim for a more fluffy texture.
Pen Simple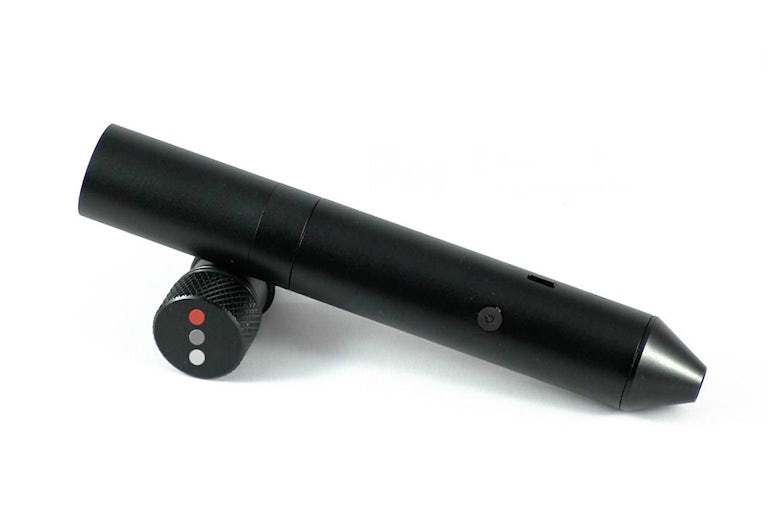 PenSimple is an electronic grinder than not only busts down your bud to the right consistency for rolling, but also dispenses it for you in seconds. With one hand, you can hold the paper, and with the other, you can administer your herb with a press of a button. That eliminates sticky fingers and spills too. Unlike a regular manual grinder, PenSimple preserves your weed until you're ready to let it loose. And it's slim enough so that you can slide it in your pocket and carry it on-the-go
The Best Weed Grinder For Vaping
You definitely need a weed grinder for vaping. The chambers are small, and your device won't work correctly if the herb isn't just right. If you want stronger, smoother vapor and a lot of it, then a grinder is a must.
Vaporizers either use conduction or convection heating, or a combination of both. How your device heats up has everything to do with how fine you need to grind. Conduction vapes work best when it's tightly packed with finely-ground weed, while convection vapes do better with a looser pack of herb that's coarse in texture.
Kannastor GR8TR V2 Jar Body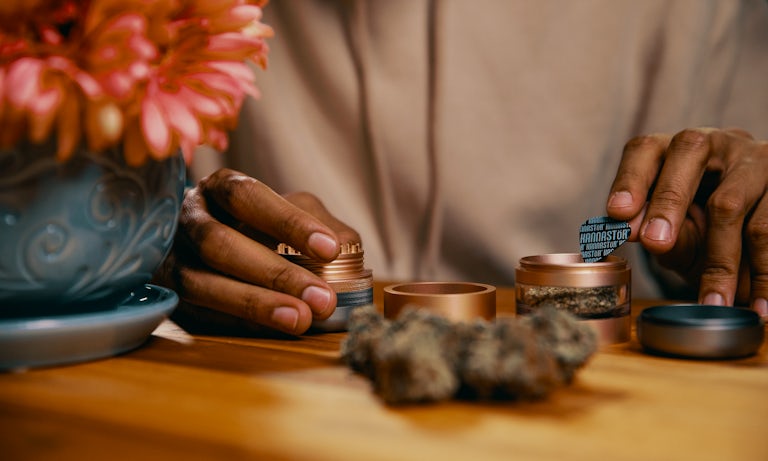 The Kannastor GR8TR V2 Jar Body weed grinder is designed to deliver the perfect grind. It features anti-friction and residue rings, micro teeth, Vape and Standard Easy Change Grinder plates, an Easy Change screen, and is built of 60/61 anodized good-grade aluminum. Also, it includes storage as a bonus, which is convenient when you're a vaper. With vapes, you have to pack them repeatedly, so having a tool to both grind and store your bud can come in handy. In fact, the GR8TR V2 Jar Body can be broken down into a slim and travel-friendly Storage Puck in case you want to carry your flower with you and leave the grinder part behind.
Best Weed Grinder: Design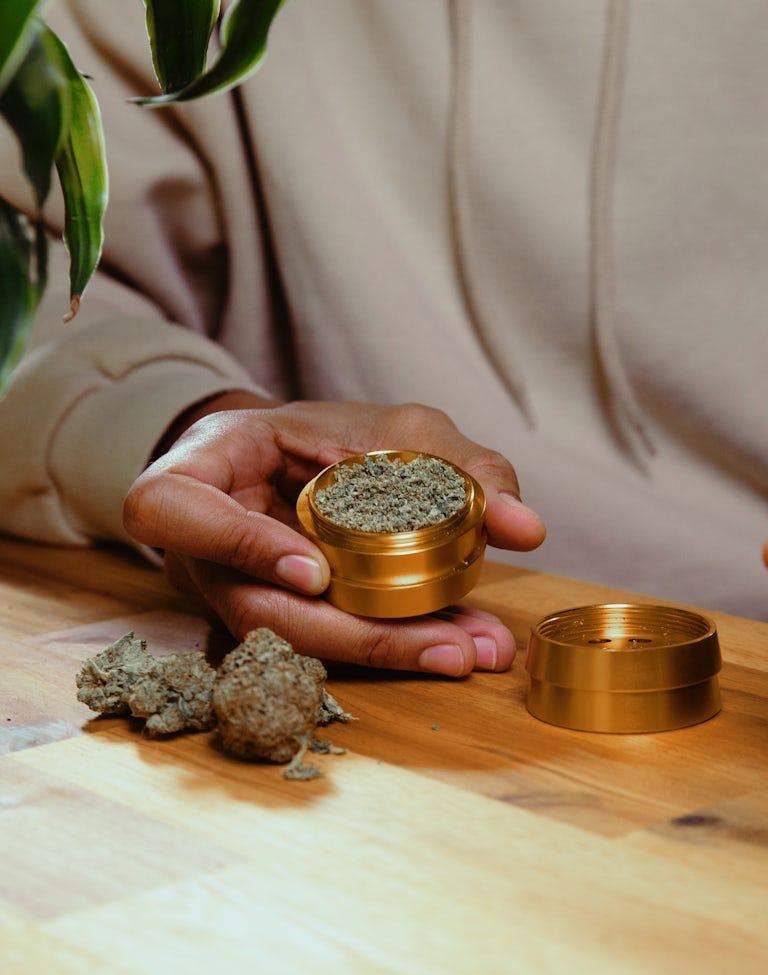 The Sackville & Co Grinder is an elegant gold tool designed to be kept out in the open. It has four parts, including a kief catcher complete with a scooper to help you collect those sparkly trichomes. Moreover, it features diamond-sharp teeth to rip apart even the stubbornest buds, transforming them into fluffy flower that smokes gracefully. Busting down buds has never felt so royal. 
Best Weed Grinder Card
For grinding away from home, a card grinder your best bet. They're low in price, so if you misplace them, it's not a huge loss. Plus, they can slip into your purse, bag, or pocket as smoothly as your debit card. Sure, the grind isn't fantastic, but they do work and keep you in control. You can watch your herb while you grind it and decide for yourself when it's in an ideal condition for smoking.
Tokyo Smoke Dot Infinity Card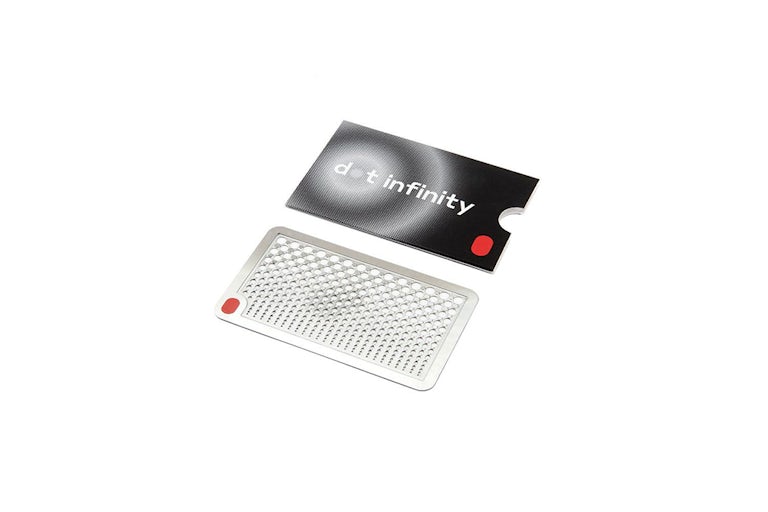 The Dot Infinity Card from Tokyo Smoke is a wallet-size grinder that's made to take with you on-the-go. Of all the weed grinder cards, this is one of the easiest to use. If you don't want any leftover weed crumbs in your bag or pocket, then you can slip the grinder card back in its trendy packaging to use later. Accessible and convenient, you can't beat it.
Best Electric Weed Grinder
When you're too lazy to grind or your hands ache, electric grinders are there to step up and do the labor. They're effortless, portable, efficient, battery-powered, and ready to work on command. Moreover, they operate faster by removing steps from the traditional way of grinding.
Chewy 2.0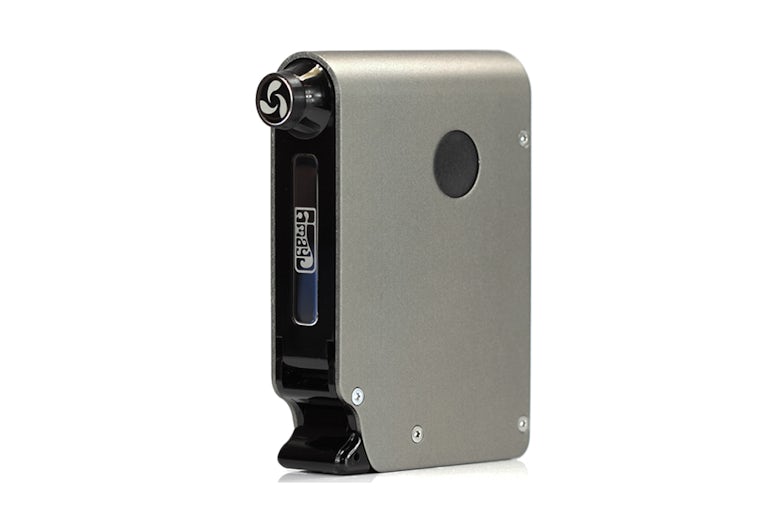 The Chewy 2.0 is the best electric weed grinder for active lifestyles. Portable, lightweight, and compact, Chewy is always good to go. It can hold up to three grams of bud, which is enough to fill 3,000 bowls on a single 9v battery. Using shredding blade technology and a spring-loaded trigger system, Chewy continuously delivers the perfect fluffy grind for glass pipes and rolled cannabis alike.

Best Weed Grinder For The Money
If you want the best grinder for your buck, then it should be both affordable and high-quality. At the same time, it needs a kief catcher so that you can get optimal effects out of your beloved buds. Not to mention, you shouldn't have to break your back to get your herb good and fluffy, so it should be user-friendly, too.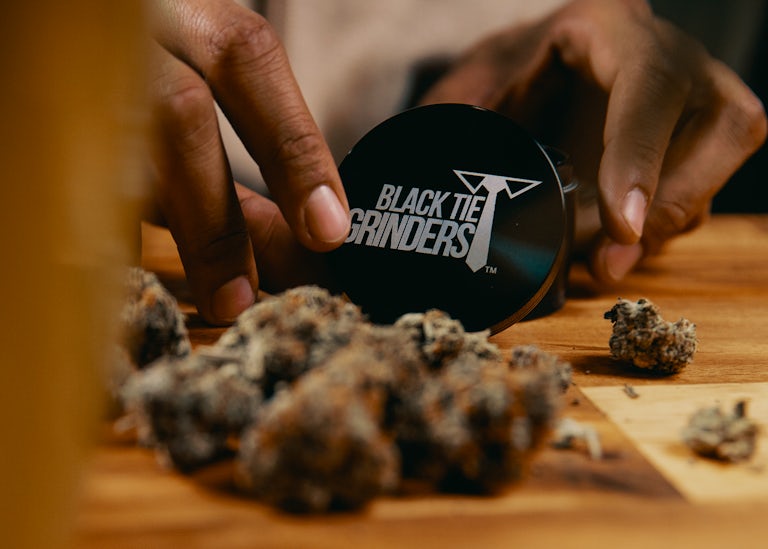 For less than 30 bucks, you can get a grinder that's next-level and grinds as smoothly and superbly as its pricier companions. That grinder would be the Black Tie Grinder. In addition to metal rings to keep the kief filter secure, the Black Tie Grinder comes with two scoopers for scraping up every speck of flower powder off the tool's smooth, round-sided bottom. You get a carrying pouch, too, so that anywhere you go, your new favorite tool will stay protected.