Although cannabis legalization has finally made its way across Canada, Ontarians won't be able to purchase recreational cannabis in physical stores until April of next year. The pushback is due to a legislative change by Ontario's recently-elected sitting government.
Premier Doug Ford, who was elected last June, scrapped the former government's plans to oversee the distribution of cannabis through a government monopoly. The retail chain, called the Ontario Cannabis Store (OCS), would have been similar to the province's current liquor distribution policy, with an exclusive right to sell cannabis.
As a result of the legislative change, the best dispensaries in Ontario were forced to make one of two difficult decisions: close up shop and wait patiently for an official license in April, or continue to operate illegally at the risk of being eliminated from being issued a license, among other, much harsher ramifications.
As it stands, dispensaries who chose to remain open past legalization are operating illegally and are doing so at risk of being shut down. Be sure to give them a heads up if you plan on visiting them anytime soon.
Here is Herb's list of the best dispensaries in Ontario, Canada.
The Best Dispensaries in Ottawa, Ontario
It's no surprise that the nation's capital has some of the best dispensaries in Ontario. As the province's second largest city, Ottawa currently has a high volume of dispensaries still operating. We recommend:
The Best Dispensaries in Toronto, Ontario
In the era of Canadian prohibition, Toronto's cannabis scene birthed some of the best dispensaries in Ontario. Now, in post-prohibition Toronto, most of these businesses decided to close up shop and wait until April. Those that have decided to take the risk and remain open are listed below: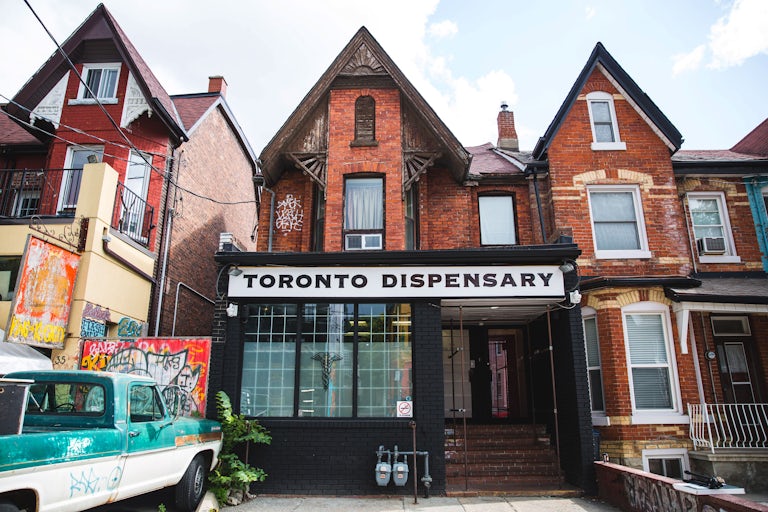 The Best Dispensaries in Hamilton, Ontario
Hamilton is one of the fastest growing cities in Canada, which is why so many cannabis dispensaries have popped up in and around it over the past few years. It's also a city with over 150 waterfalls, meaning there's no shortage of scenic places to light up. Go shopping first here:
The Best Indigenous Cannabis Dispensaries in Ontario
Tyendinaga Mohawk Territory is indigenous land including the townships of Belleville, Deseronto, and Shannonville. There are many beautiful cannabis stores there, often with a huge focus on community. With the most cannabis dispensaries currently operating in Ontario, the territory has far more options than most major cities. Some are recreational centers, even open for business 24 hours of the day.