Finding the perfect device for smoking on the go can be a challenge. You need to take along your bud, your primary smoking device, your cleaning tools, and a lighter. If you prefer to smoke from anything other than a pipe or a joint, things can get even more complicated. Fortunately for those searching for the perfect travel solution, the AlphaPuff Kit has you covered. This handy travel bong lets you bring the weed party with you everywhere.
A bong on the go

Life gets busy. For the cannabis consumer on the go, Alpha-cat has created the AlphaPuff Kit, a complete all-in-one portable smoking kit that not only holds rolling papers and all of your cannabis essentials but also transforms into a handy bong.
The AphaPuff Kit has everything you need from beginning to end. It stores your herb and the magnetic grinder will grind it to perfection. Roll up a joint with the papers and light it with the lighter. And it's a bong! It really does contain everything you need.
Plus, you can adapt its size for what you want. If you want to go to the beach and not smoke a bong it can become much smaller, and only have storage, grinder, papers, filters and a lighter.
Designed to fit into one sleek and slim package, the AlphaPuff Kit is a great way to have all of your favorite goodies in a compact and organized container, making it great for parties, camping trips, music festivals, or anytime you need a complete setup away from the home.
Everything you need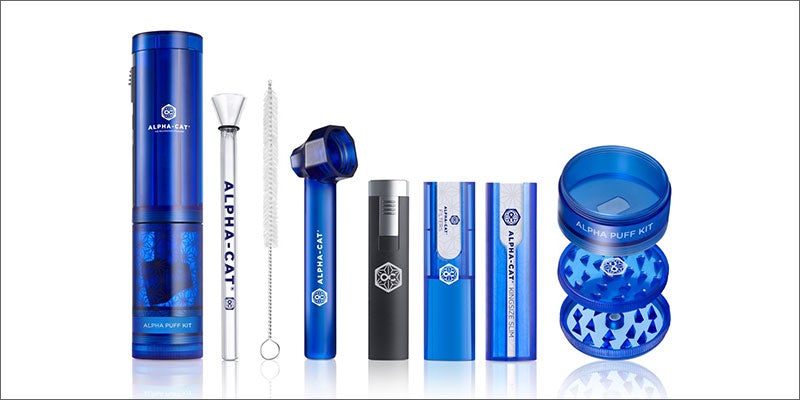 The AlphaPuff Kit includes:
Grinder
Portable water pipe
King-size rolling papers
Filter tips
High-quality torch lighter (refillable butane)
Storage containers (for flower, rolling cones, etc.)
It easily fits into a backpack or decent sized handbag and is a little larger than the standard water bottle. There's enough space for three pre-rolled joints as well as a few of grams of your favorite flower. To use the portable
To use the portable water pipe, all you need to do is supplement with water.
AlphaPuff Kit is made from medical grade plastic, making it perfect for medical and recreation users alike. The portable bong also features a glass down stem, which makes it easy and safe to smoke from.
The high-grade Alpha torch lighter is refillable, meaning that you can stop wasting money on disposables. With its own convenient resting spot inside the AlphaPuff Kit,  it will always be right where it belongs: next to your flower, your portable bong, and your handy joints.
The AlphaPuff Kit retails for $59 and is available at AlphaPuff.com