Fun fact: By 2019, the world will have consumed approx 7.7 million tons of chocolate, according to a Statista statistic. It's safe to say people adore chocolate. After all, what's not to like? It tastes fantastic, comes in an array of flavors, and is surprisingly not all that bad for you. In moderation of course.
Chocolate compliments just about everything too, including your favorite herb. Haven't you ever bitten into a Reese's Cup after destroying a blunt? I rest my case. Chocolate is also the perfect treat on your period, during a breakup, before bed, and for so many other events. So let's take that, and add weed? Sign everyone up, right now.
Weed Chocolate: Benefits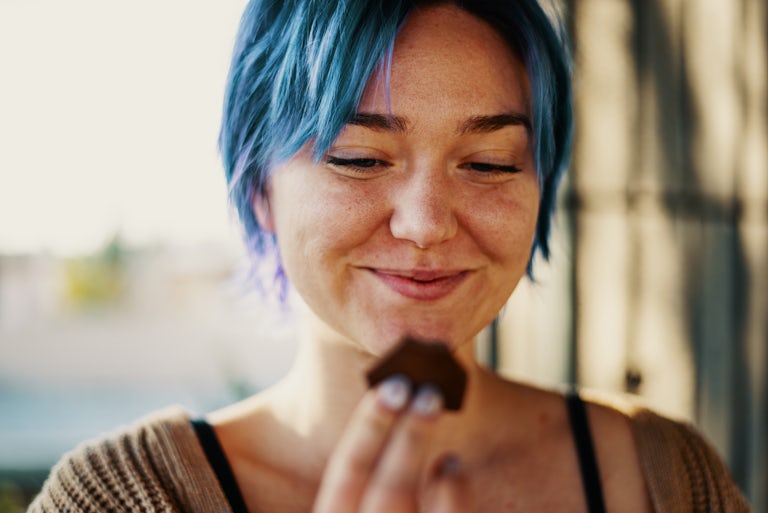 Weed chocolate is so much more than a sweet that gets you high. For one thing, it's a discreet, tasty and smokeless way to enjoy cannabis. It even takes the fuss out of dosing. There are chocolate bars, peanut butter cups, truffles, and all kinds of weed chocolate out there these days. Each bite has a specific amount of THC and, sometimes, CBD along with it, which usually ranges between 3 and 5 mg. That's a nice low and controllable dose. You can find weed chocolate that packs more potency than that if you prefer. Some treats have anywhere from 10 mg to 50 mg THC a pop.
So that's delicious, diverse, low-key, and easily doseable. For those still not convinced, how about this? The combo of weed and chocolate boasts numerous health benefits. Seriously. By now, you probably know that cannabis can reduce anxiety, relieve pain, ease stress, and boost your overall wellness, among other perks. But did you know that chocolate can also be beneficial for your health? Chocolate has been shown to not only lower cholesterol levels but also prevent cognitive disease and reduce the risk of heart problems. Not to mention, chocolate packs more phenolic antioxidants than most foods, which promote healthy aging and have anti-cancer effects. Looking to maximize those effects? Pick up a bar of dark chocolate: the darker, the better.
Weed Chocolate: Side Effects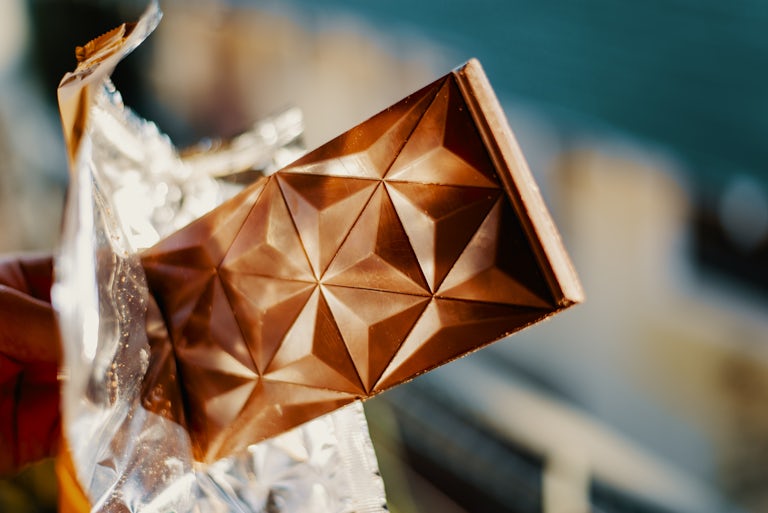 A weed chocolate high is the same as any other edible. The buzz doesn't kick in for a while, anywhere from 30 minutes to 2 hours later. Once they do kick in, they can affect the body and mind for between 4 to 10 hours, and sometimes longer depending on the dose. Compared to edibles like brownies or cookies, weed chocolate is easy to predict. With brownies and cookies, it can be hard to tell how much THC you're ingesting per piece. But with a chocolate bar, each rectangle is individually dosed, allowing you to pace yourself and prevent a high that's too intense.
CBD Chocolate Effects
For benefits without the buzz, there's always CBD chocolate. CBD has the same health benefits as THC but is a lot more gentle for those with anxiety. Edibles with too much THC can trigger anxiety, but with CBD edibles, you feel calm, relaxed, and clear-headed. Though it doesn't get you stoned, it's still not a bad idea to take your time with CBD. Too much CBD is rarely a bad thing, but it can make you sluggish and sometimes a little queasy.
The Weed Chocolate And Weed Chocolate Bars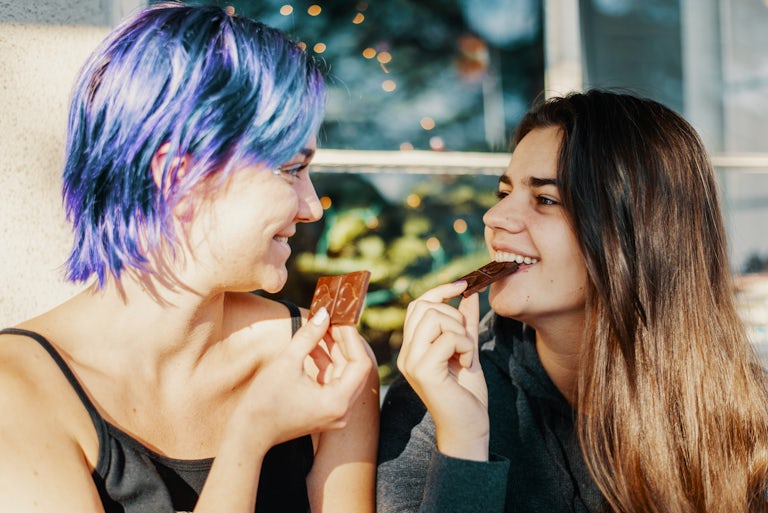 If you want chocolate that brings on the high and the benefits, then you're not limited in selection. The cannabis chocolate market has something for everyone, especially people who enjoy a nice buzz. From cookies and cream chocolate bars to peppermint patties to traditional milk chocolate, here are the best products for satisfying your sweet tooth with weed chocolate:
Defonce Chocolatier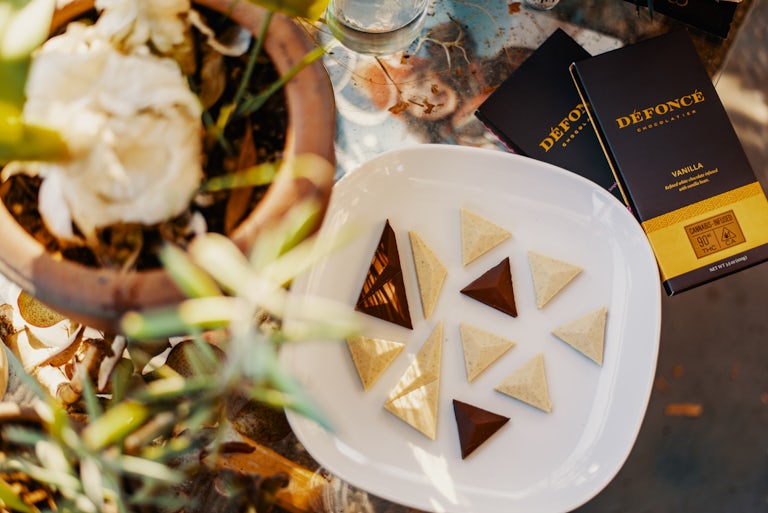 Defonce Chocolatier is the Ghirardelli of weed chocolate. These decadent chocolate bars come in an array of flavors, including Vanilla, Matcha, Milk, Coffee, Mint, Dark, Hazelnut, and Dark +, and contain a total of 90 mg THC a bar (5 mg a piece). What makes these gluten-free chocolates stand out is they feature triangle pieces rather than rectangles: that, and their colorful, polished packaging, and the fact that many of their options are organic.
Chill Chocolate
If you like to combine CBD and THC, then Chill Chocolate, aka the highest chocolate, might be your new favorite brand. Chill Chocolate has a massive selection of flavors and THC and CBD options. For a lot of THC and little CBD, there are six 100 mg THC, <5 mg CBD weed chocolate bars: Cappuccino Crunch Milk Chocolate, 'That's A Spicy' Dark Chocolate, Peppermint Milk Chocolate, Milk Chocolate, Cookie Jar White Chocolate, and Dark Chocolate. For the perfect balance of CBD and THC, you also have two 50 mg THC, 50 mg CBD weed chocolate bars: Caramel CBD Dark Chocolate and Acai Berry Blast CBD Dark Chocolate. Each bite is handmade from ethically sourced ingredients and contains a light 3.5 mg dose of CO2 oil, a high-quality cannabis extract.
Kiva Confections Kiva Bars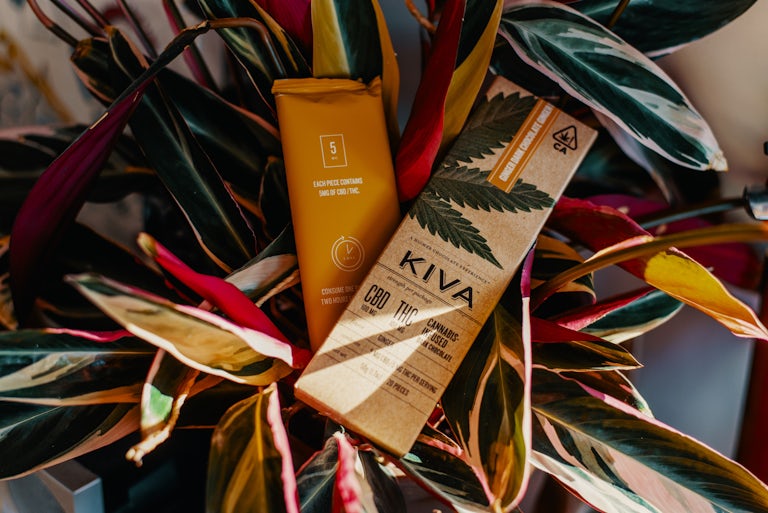 Kiva Confections inspired a change in the edibles market with their consistent potency, doses, and experiences. Their delicious, artisan-inspired Kiva Bars were the first of many Kiva products to release and have since then received copious awards and recognition. Not only do they come in 8 indulgent flavors- Ginger Dark Chocolate, Espresso Dark Chocolate, Vanilla Chai Milk Chocolate, Blackberry Dark Chocolate, Mint Irish Cream Milk Chocolate, Tangerine Dark Chocolate, Milk Chocolate, and Dark Chocolate- but also doses. You can choose between 100 mg THC weed chocolate bars and 1:1 CBD chocolate bars, each of which offers a 5 mg blend of Indica and Sativa a serving.
Supreme Organics Chocolate Things
In addition to weed chocolate bars, there are plenty of other infused chocolate treats. Supreme Organics has a couple of organic, non-GMO chocolate things, one of them being their Almond Butter/Peanut Butter Cups, an ooey-gooey caramel, almond, and peanut butter stuffed treat infused with 40 mg of THC. Another tasty option they have is their Peppermint Patties, also infused with 40 mg of THC, organic coconut oil to be exact. Their most potent weed chocolate is the Dark Chocolate, Caramel, Almond, Nougat Bar (50 mg THC). Lighter options include their Mini Dark Chocolate, Caramel, Almond, Nougat Bar (10 mg) and their truffles (20 mg).
The Best CBD Chocolate And CBD Chocolate Bars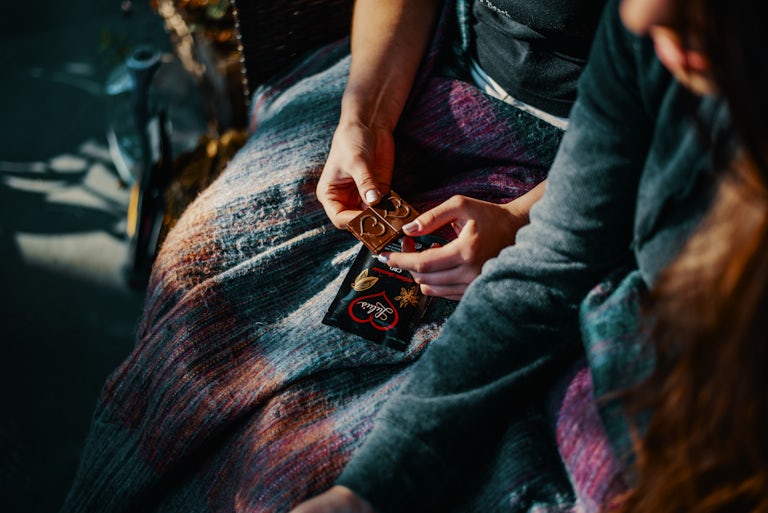 Vital Leaf CBD Chocolate Bars
No high? No problem, Vital Leaf handcrafted, artisanal CBD Chocolate Bars are buzz-free. Every bar is infused with 100 mg of full-spectrum hemp extract, or 10 mg a piece, and sweetened with organic coconut sugar. Available in Dark Toasted Quinoa Crunch, Roasted Hazelnut and Sea Salt, and Classic Dark, as well as a variety pack, Vital Leaf sources only the finest ingredients. If you're craving a smooth and guilt-free treat, then these CBD chocolate bars are it.
LuLu's CBD Chocolate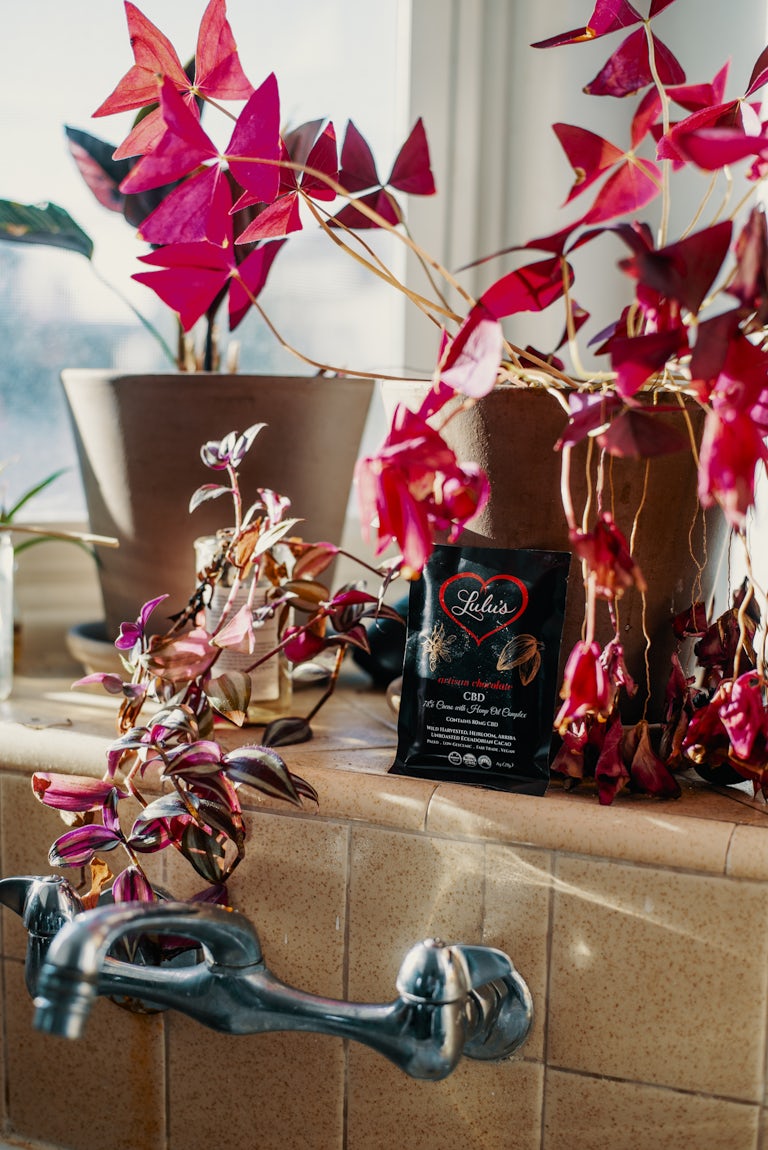 Valentine's Day is around the corner, and nothing says "I love you" like chocolate, especially LuLu's CBD Chocolate. LuLu's CBD Chocolate's main ingredient is love, and they're not only gourmet but also healthy as they're confected using raw cacao and organic sun-grown hemp. Not to mention, every product is certified organic, vegan, soy free, gluten free, fair trade, and sweetened with low glycemic coconut sugar. They were even listed as one of the best CBD products in 2018 by NY Mag. Available in 10, 20, and 80 mg doses, these CBD chocolates support pain and stress relief, relaxation, and a cheery mood.
Baceae Edibles
From pecan tartlets to turtles to truffles, and Mini Patties, Peanut Butter Cups, and strawberry bonbons, Baceae Edibles offer similar treats that you would find in a fancy box of chocolates, only these are better for adults because they come with CBD. Each high-free delight is infused with 10 mg of cannabis hemp and made with 66% dark chocolate. If you can't choose just one, Baceae has the Cannabidiol Collection that includes one peanut butter cup, one turtle, and one truffle. There's also a 12 piece collection that comes with every flavor plus a few other wholesome sweets.