Growing up cookies were always a treat, even if you could only have just one. That one cookie could turn your whole day around, even if it was only oatmeal raisin. Add a glass of milk on the side, and you had yourself a feast.
As adults, a single cookie and a cup of 2% milk aren't quite what it used to be. It takes something a little stronger to ease our minds and bodies from the stresses of the day. But a cookie infused with weed? That's more like it. With weed cookies, you get to relive your childhood a little, cure a sweet tooth, and get high at the same time. Win-win-win.
Weed Cookies: The Benefits Of Infused Baked Goods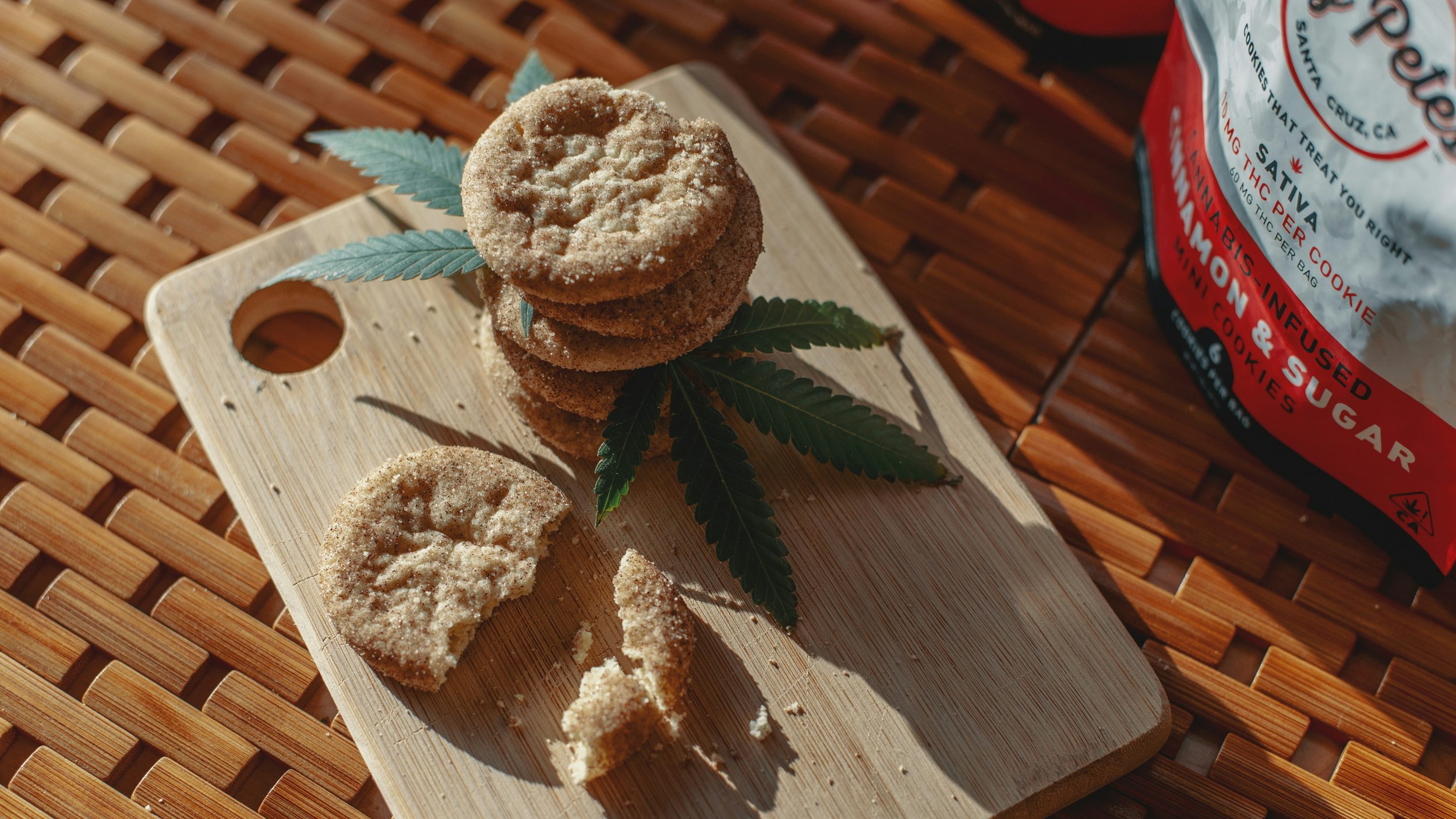 For non-smokers, weed cookies are an excellent way to medicate with cannabis because they come without the clouds and coughing fits. Though they can sometimes have a slight weedy aroma and taste, they are also discreet and delicious. You can eat them just about anywhere without being harassed. On the outside, a weed cookie looks like any other homemade baked good. But inside, there's activated THC, getting you lit on the low.
The edible industry has a ton of flavor options, too. You can have any cookie your taste buds desire, from Oreos to a plain-and-simple sugar cookie, all infused with Mary Jane. Weed cookies also come in a wide variety of doses to help you meet every goal, whether it's to relax without the high or to get baked and murder a migraine. You can nibble on a weed cookie to relieve an array of aches and ailments, or munch on merely for the buzz.
Weed In Cookies: The Effects Of Edible Cannabis
It's important to note that weed cookies are sneaky little snacks. Just like a pot brownie, they kick in somewhere between half an hour to two hours. At what point you'll start to feel something entirely depends on the cookie and you. Everyone metabolizes cannabis differently, and not every weed cookie is baked the same. With that in mind, it's best to take a bite at a time and wait around 15 minutes between each, rather than to swallow it whole, unless you're familiar with how edibles work and know how much weed you can handle. You're going to feel some type of way for anywhere from 4 to 12 hours, so tread carefully to avoid a bad time.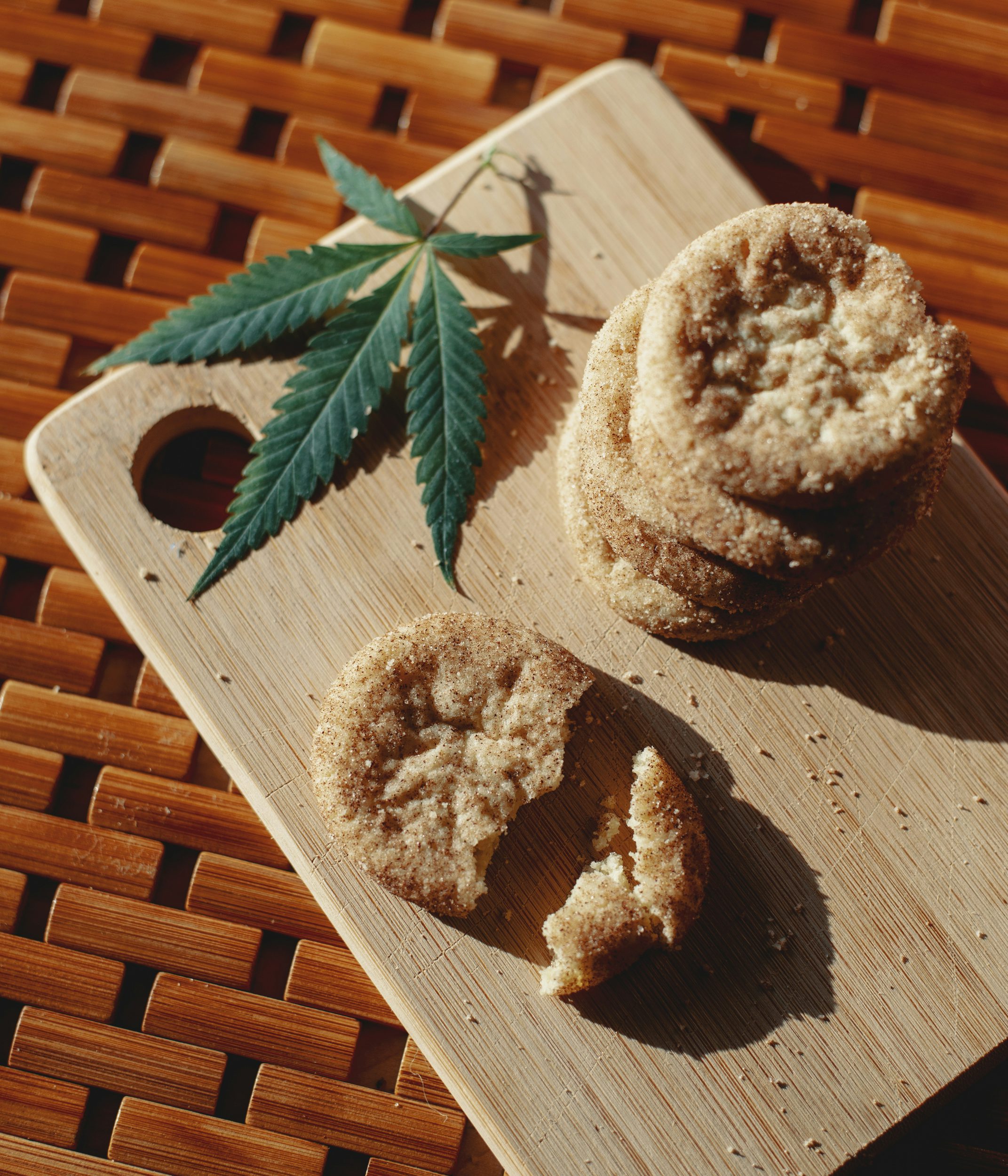 Weed Cookies: Price
The cost of weed cookies varies depending on brand, quality, and potency. And of course, what state you live in and how many you're buying. There's no set price. For example, in California, you might pay $10 for one 100 mg cookie, while in Oregon, you could get a 5-pack of 5 mg cookies for $15. Typically, for a single weed cookie, you can expect to pay between $5 to $20 no matter where you are, maybe more. When buying multiples, you could spend as much as 100 bucks.
Homemade edibles are way cheaper than dispensary edibles. Even if you're baking with top-shelf bud, you still save money when you bake weed cookies from scratch. You can also prepare them to meet your specific needs as far as the dose and ingredients go. Not everyone has the skills or the time to make weed cookies, however, which makes dispensary edibles appealing and convenient for that particular crowd.
Best Weed Cookies For Sale
In legal states, quality commercial weed cookies are everywhere. But as every cookie monster knows, some are better than others. When shopping for weed cookies, it can be especially tricky to tell a Mrs. Fields-quality cookie from garbage. Life is too short for lousy weed cookies, so we've compiled a list of some of the best weed cookies for your stash jar:
Kaneh Co Red Velvet Cookies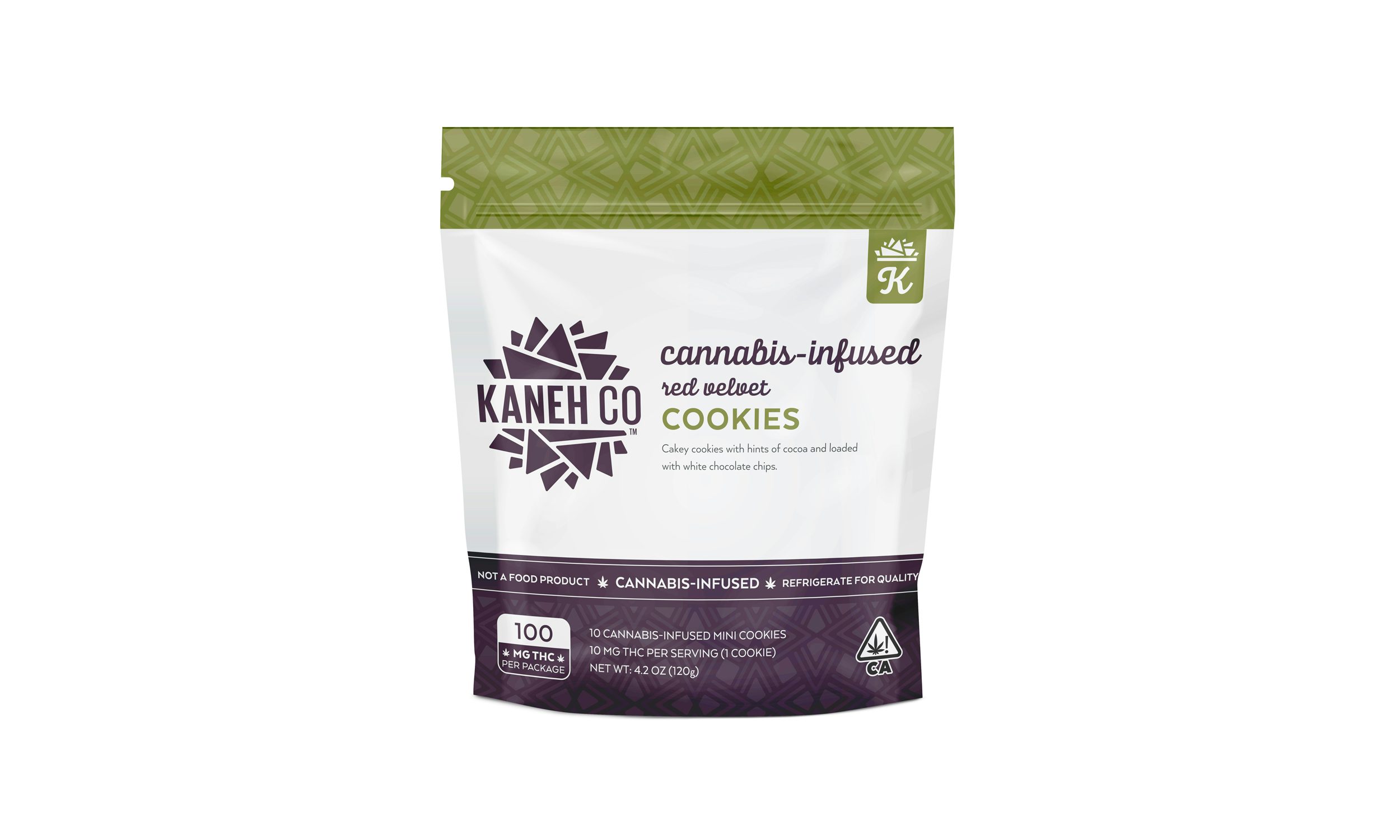 Red velvet cookies are the next best thing to the cake, and they're less of a mess. When it comes to weed cookies, Kaneh Co's red velvet mini cookies, infused with 10 mg of THC a pop, are the softest, smoothest, and the most scrumptious. The only thing that's missing is the cream cheese frosting, but the chewy white chocolate chips make up for it. With every resealable pack, you get ten cakey cookies, totaling 100 mg of THC. That's plenty to divide throughout your day, or if you're feeling generous, to share with a friend in need.
Dr. Norms Large 10 MG Cookie Bag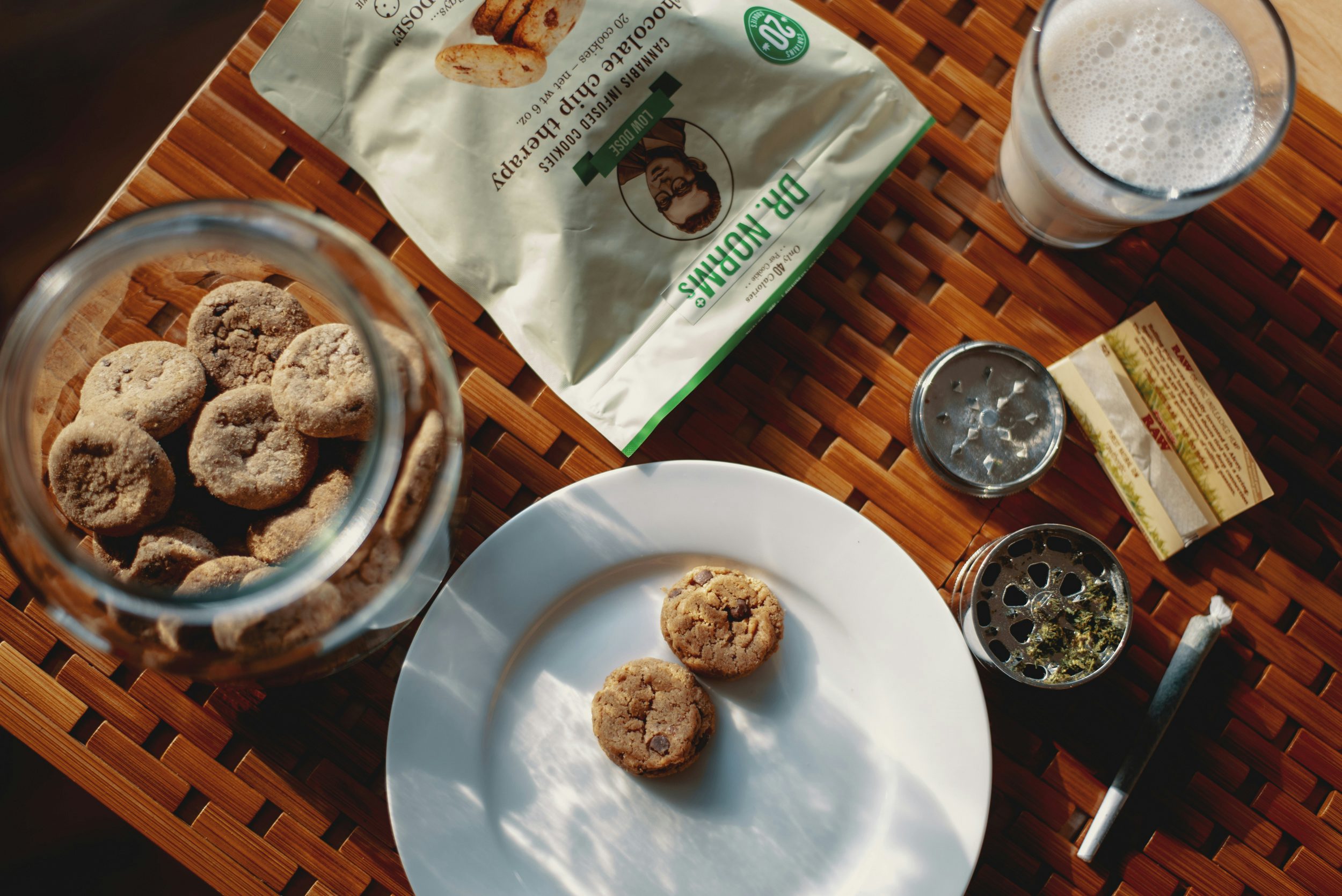 Who can pass up a basic, but tasty chocolate chip cookie infused with weed? Not many people, which is why you're better off getting a large ten cookie bag of Dr. Norms award-winning Chocolate Chip Therapy cookies. Far from basic, these weed cookies come with all the chocolate chips you need plus a little something extra. Crunchy on the outside, smooth and chewy on the inside, Dr. Norms cookies are filled with finely chopped pecans, Heath Bar toffee bits, and 10 mg of THC, in addition to chocolate chips. Ten milligrams of cannabis is an easy dose for edible newbies to manage, and for veterans, 100 mg of THC makes for a swell buzz.
Milf 'N Cookies Luscious Lemon Cookie Bites
Lemon flavored anything is "mouthgasmic" in my book. You get the perfect balance of zesty and sweet, and it's a nice change from the more traditional flavors. For the ultimate melt-in-your-mouth lemon-flavored weed cookie, feast your eyes, delight your taste buds, and chill with Milf 'N Cookies Luscious Lemon Cookie Bites. Infused with 10 mg of THC and lots of love per tart lemon glazed cookie, Milf 'N Cookie Luscious Lemon Cookies Bites are irresistible and make it hard to take it easy on the weed, but not to dose. If you are strong enough to withstand a delectable dessert, then they'll suit you well with their low, flexible dose. For true cookie monsters, however, better brace yourselves, because after devouring a 100 mg bag, you're going to want comfy pants and a couch.
Best Weed Oatmeal Cookies With Raisins:
Korova Edibles Vegan Oatmeal Mini Cookies
Much like cannabis, there's a stigma that goes against oatmeal raisin cookies. It's arguably one of the most hated cookies on earth. But maybe with weed, you can learn to love and appreciate it. The Vegan Oatmeal Mini Cookies from Korova Edibles will convert any anti-oatmeal raisin person with its fine, gluten-free, and organic ingredients, one of which being 10 mg of THC. Featuring child-resistant, resealable packaging, these weed cookies are great to take on the go or to enjoy around the house, or both. They'll stay fresh either way, and you get ten total, allowing you to savor one or a couple at any given moment and still have some leftover for later when you need a lift.  
Best Weed Sugar Cookies:
Big Pete's Treats Cinnamon & Sugar Mini Cookies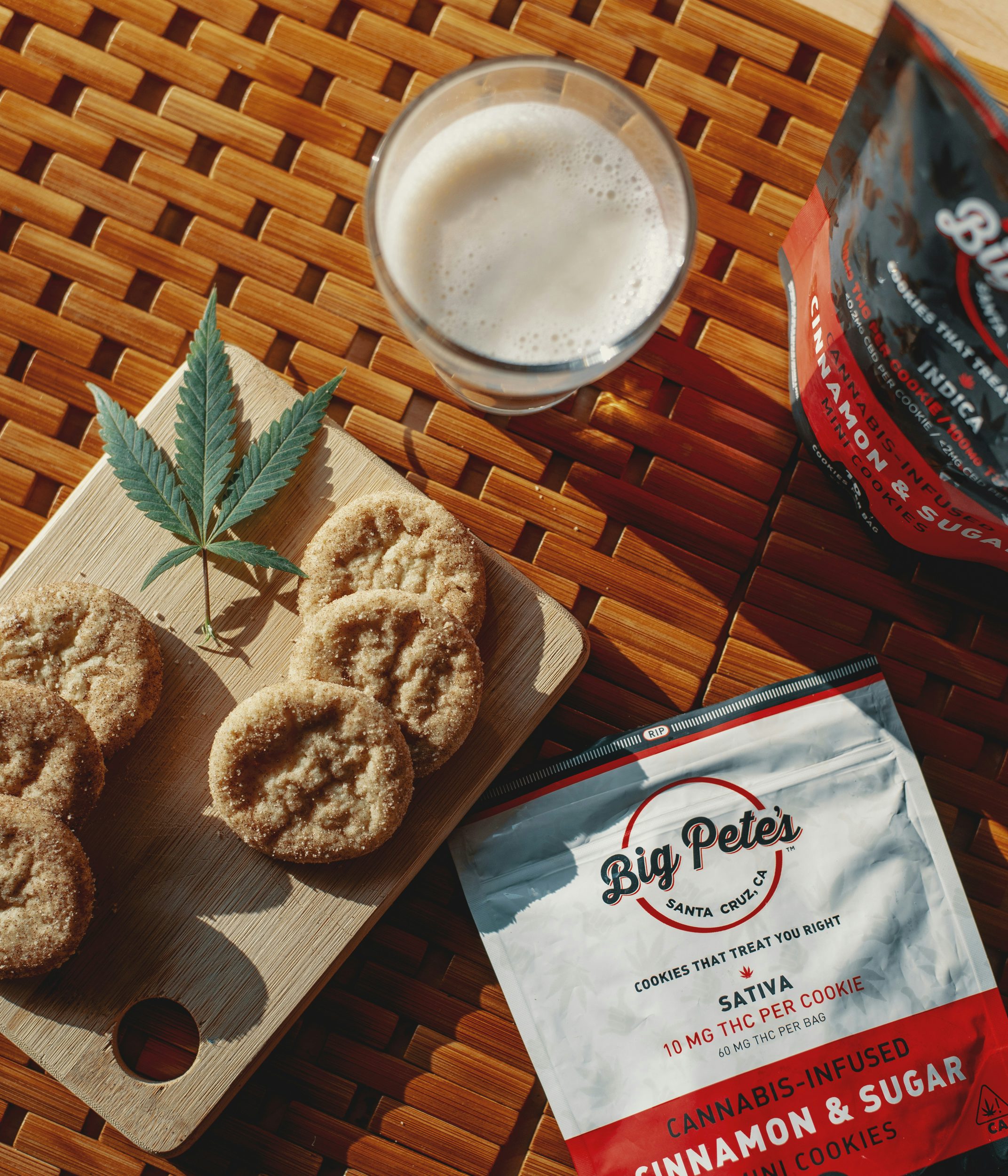 Ah, sugar cookies. So average, yet so amazing. Big Pete's Treats' Cinnamon & Sugar Mini Cookies treat you better, though. They come sprinkled with cinnamon and are infused with 10 mg of Indica, just the combo you need to wind down after a long weekend. If not served on the side of a hot cup of coffee, Big Pete's Treats Cinnamon & Sugar Mini Cookies are a sweet addition to a bowl of vanilla ice cream. Per pack, you get 10, enough for you and a friend. After all, sharing is caring, and a friend with weed is a friend indeed.
Best CBD Cookies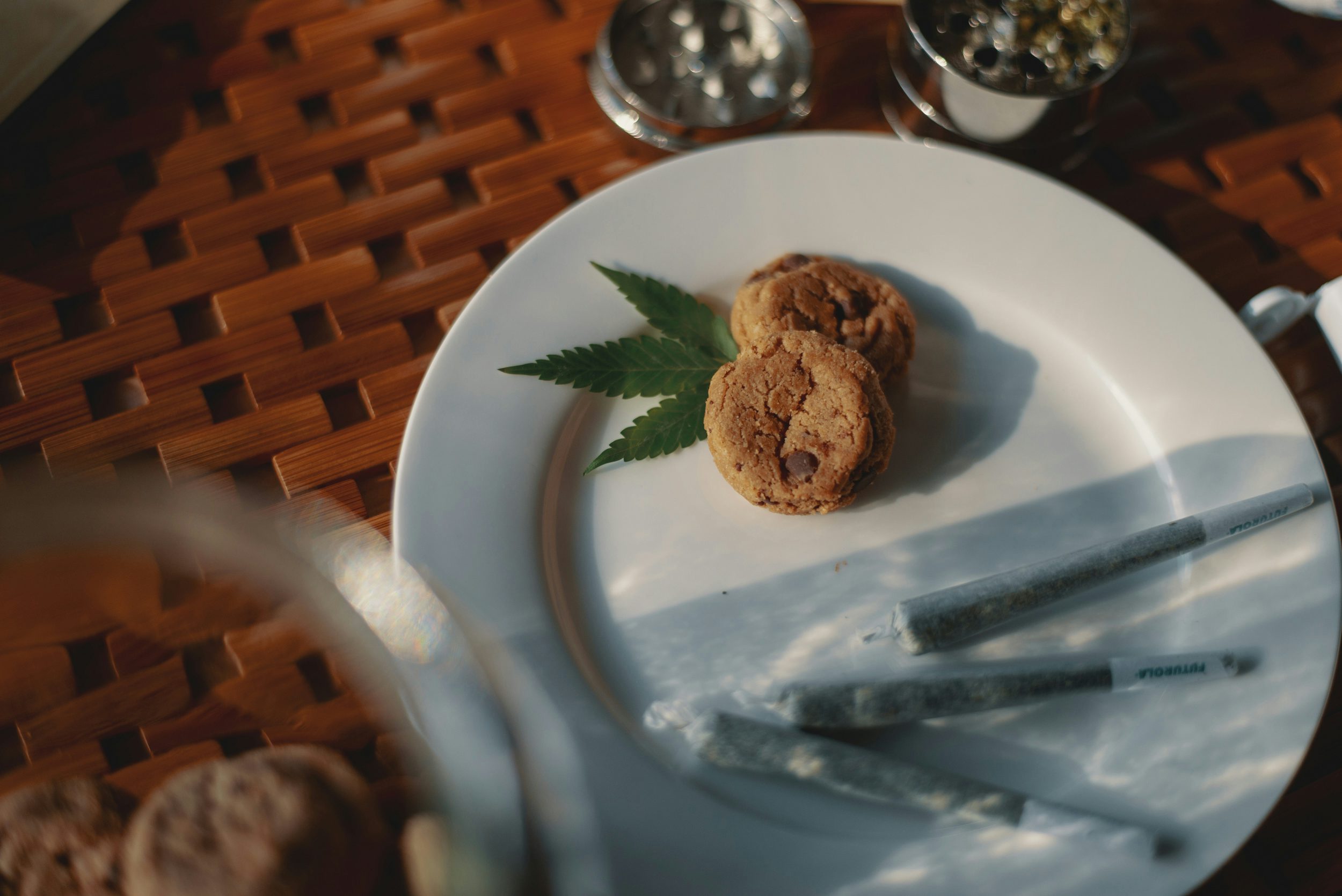 If you want to treat yourself to a cannabis cookie solely for the health perks, then you're in luck. Aside from weed cookies, there are CBD cookies. CBD is a helpful cannabis compound that is not only non-intoxicating, but it's also more accessible, being that it's legal in many states. You can always utilize the benefits of THC and CBD together too, which work better as a team than alone and delivers a less edgy high. Here are the best CBD cookies and 1:1 cookies:
MoonMans Mistress CBD Star Cluster Superfood Cookies
For a nutritious and CBD-rich cookie, MoonMans Mistress CBD Star Cluster Superfood Cookies are guilt-free and packed with potential. Each box contains 5 paleo, vegan, gluten-free, nut-free, dairy-free, soy-free, low-glycemic cookies, infused with 10 mg of CBD a piece. These CBD cookies boast superfood seeds, including flax, which boasts an incredible amount of magnesium, an essential macromineral that assists in preventing problems with the cardiovascular system, and diabetes, and can even help ease the symptoms of a migraine, PMS, anxiety, and more. Plus, there are pumpkin seeds, shown to reduce inflammation an arthritis pain without the side effects, and hemp seeds, an excellent source of vitamin E  and essential fatty acids. MoonMans Mistress CBD Star Cluster Superfood Cookies could be the healthiest cannabis cookies yet.
Venice Cookie Company 1:1 CBD Churro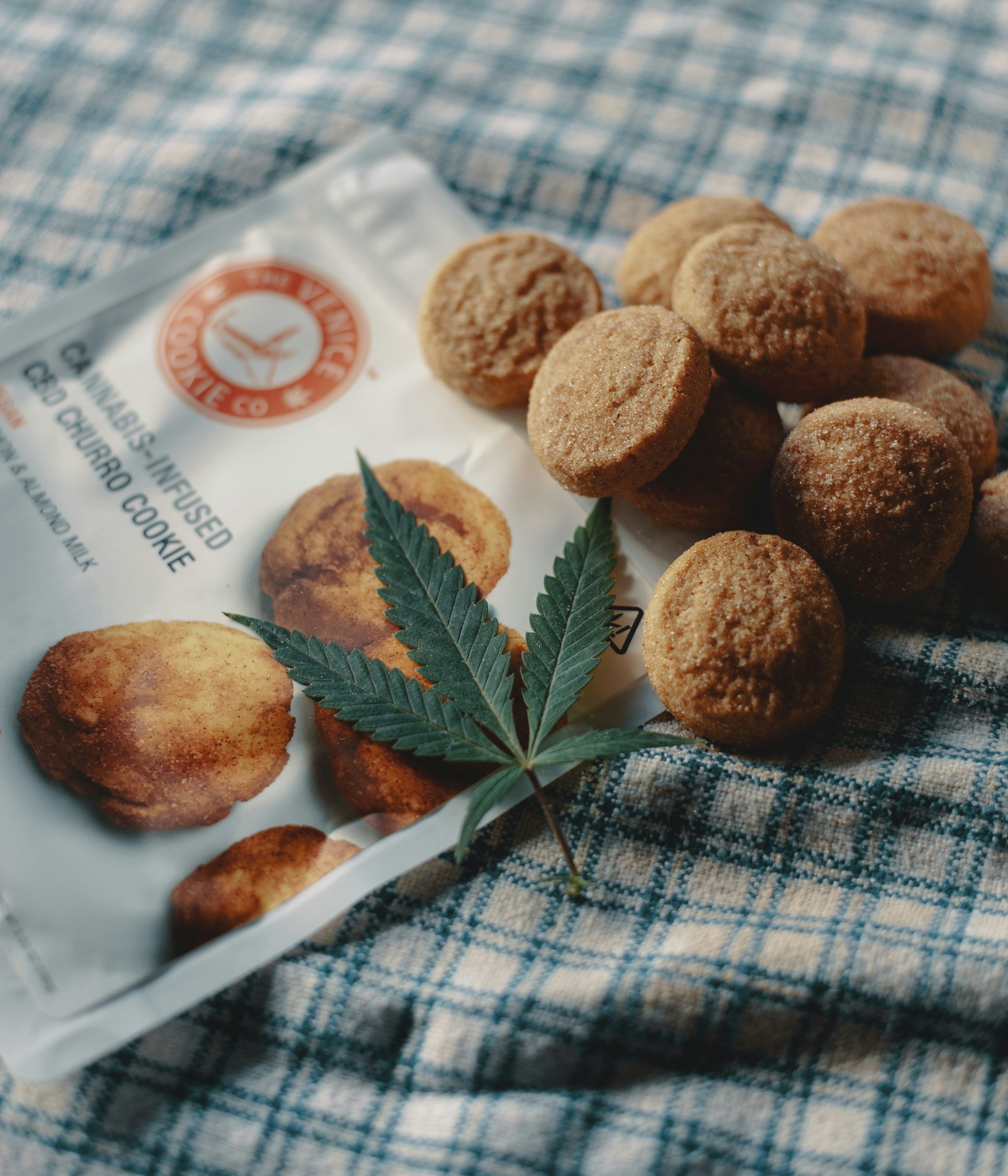 A cinnamon churro is only one of the best fair foods ever. Thanks to Venice Cookie Company, you can have sweet sugary churros rolled into vegan weed cookies, and you don't even have to wait around on the fair to come to town. Each of the ten CBD churro cookies is infused with an equal balance of 10 mg THC and 10 mg CBD and contains almond milk, as well as other animal product-free and natural ingredients. Not to mention, they're sealed tight in child-proof packaging to preserve their freshness and potency, and to keep all the little cookie monsters away.