Disposable cartridges have made it easier than ever to enjoy oil concentrates on the go — in theory at least. With so many independent retailers, cartridges end up coming in a variety of sizes and shapes, which causes all kinds of problems. Some caps don't fit over larger cartridges, meaning your discrete rig is now far from private, drawing attention when you're in public. Fumbling around with different batteries and caps means can also give you away, not to mention all the extra gear you're lugging around. The AirVape OM solves those problems, with a one size fits all keychain case, making it the most discreet vaporizer for oil concentrates.
The Most Discreet Vaporizer for Oil Concentrates
Cover caps are intended to keep your cartridges discreet and private. Many of them, however, have the opposite effect. Bulky, garish and poorly designed, they can give you away. Your concentrate vaporizers massive battery pack bulges out of your pocket, either giving you away or making your "portable" vaporizer anything but.
The AirVape OM is the sleek and stylish alternative to chunky battery packs and unsightly cartridge covers. Whether you're slipping your unit into your pocket or attaching it to your keychain with the sturdy metal loop, the OM is the most discreet vaporizer for your oil concentrate cartridges. The two interchangeable cover caps make sure your oil concentrates stay private, even when you need to medicate in public. Because they fit a huge range of sizes, you don't need to worry about bringing the right one along with you. Check the OM in your bag and forget about it.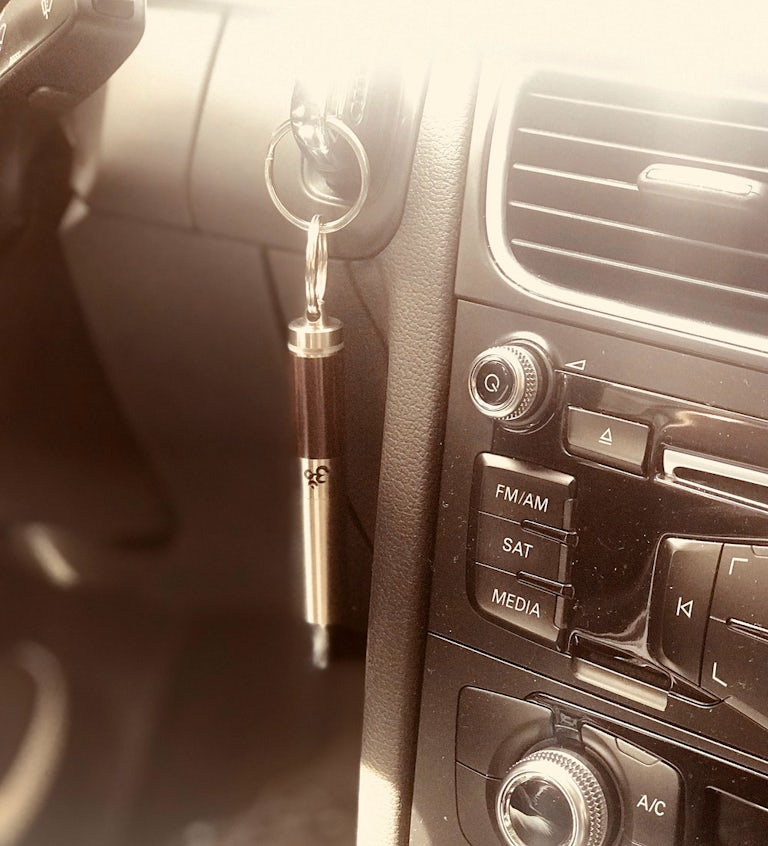 Don't Sacrifice Power for Portability
Regardless of the size of your disposable cartridge, your portable vaporizer need to pack the power to get the most out of it. Many portable vaporizers don't pack enough power, or worse, don't let you customize your experience with multiple voltage settings. Some people prefer hits of different potency, flavor and texture — you need a portable vaporizer that suits your preferences.
With three simple clicks, the AirVape OM switches between its different voltage settings. There are 4.0V, 3.2V and 2.4V settings, whether you like your draws thick and milky or smoother and more flavorful. A color-coded light system lets you know what setting you're on in case you lose track of your clicks. Red indicates the highest voltage, with blue the medium and white for the 2.4V setting. Simple controls mean you won't be fumbling around with complex controls or looking at a tiny digital display. Keeping things simple makes the OM one of the most discreet vaporizers on the market today.
The Most Discreet Vaporizer Option That Won't Break The Bank
For concentrate lovers, disposable cartridges are the most flexible and cost-effective way to enjoy cannabis oils and extracts. What's not cost-effective, is having to purchase cases, batteries and atomizers to pair with the variety of different cartridge options available. The headache that comes with trying to hunt down a cartridge that fits your existing rig isn't exactly desirable either. Even some higher price point vaporizers, like PAX, don't offer you total flexibility. Instead, they only enable you to take advantage of their branded cartridges.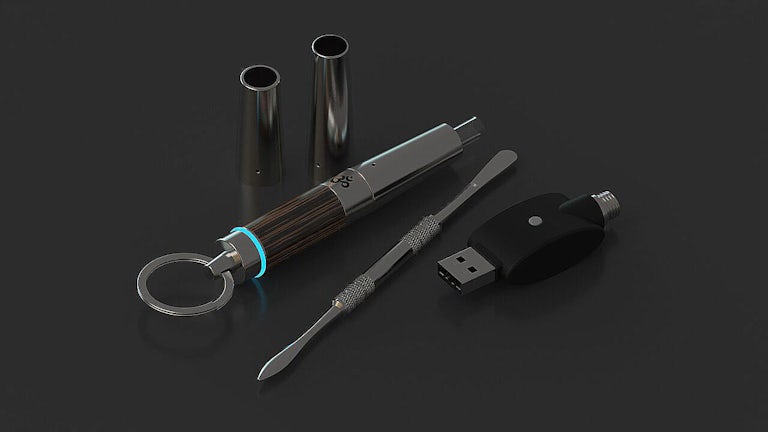 Just because the AirVape OM sits at a lower price point doesn't mean you're sacrificing quality. The variable cap size accommodates the pre-filled oil cartridges on the market today, meaning you're not spending more money to keep your portable vaporizer at its most discreet. The OM comes loaded with a 350 mAh rechargeable battery, so you aren't breaking the bank keeping your vape running when you need it.
The OM's top quality steel construction makes it sturdy, while the dual quartz atomizer goes toe-to-toe with far more expensive and less flexible models on the market. Value-for-money meets the most discreet vaporizer for oil concentrates — not a bad combination.
More Portable Vaporizer Innovation from Apollo
Apollo's team of AirVape NiNJAS are always looking for a way to innovate in the portable vaporizer game. The AirVape OM looks to stand shoulder to shoulder with the most discreet vaporizer options on the market today. If you prefer dry herb, there's also the AirVape X and AirVape XS, with their patented shell case to keep your sessions discreet on the go.