Wouldn't it be nice if, in addition to your vaporizer of choice, you could get everything else you need to get your smoke on all-in-one? Sure, plenty of devices come with extras, like a cleaning tool and a USB charger. But what about a little something to protect your waxes and herbs? Or a handy case to make traveling with your vapes a piece of cake? Ooze vaporizer kits come with all the essentials and are prepared specially for smokers from all walks of life.
Whether you're a concentrate enthusiast or a flower aficionado, the experts at Ooze are here to hook you up with innovations that range from portable and discreet dry herb vapes, to badass eRigs that make dabbing less tedious. They've been in the game since 2007, so if anyone knows what defines a high-quality vaporizer, it's Ooze. Here's a closer look at all the Ooze vaporizer kits and what they have to offer.
The Duplex Dual Extract vaporizer kit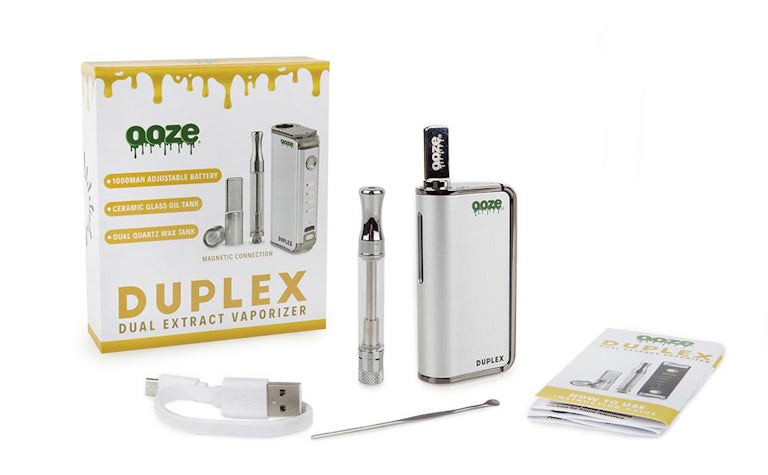 There are a ton of Ooze vaporizer kits, but the Ooze Duplex, available in gold, black, and chrome, is by far the cream of the crop. This wax-friendly bad boy just so happens to hold the title of Best Vaporizer, voted by High Times at Cannabis Cup Michigan. In addition to offering four temperature settings (3.4V, 3.6V, 3.8V, 4.0V), the Ooze Duplex also includes a 15-second preheat mode option. And the device functions with both product-specific coils and cartridges. Not to mention it comes equipped with a trigger-style button, allowing the consumer to work its magic right from the palm of their hand.
Here are all the other extras you get inside the Duplex kit:
Dual Quartz Tank
1000 mAh Adjustable Battery
Ceramic Glass Oil Tank
The Magma eRig & eNail vaporizer kit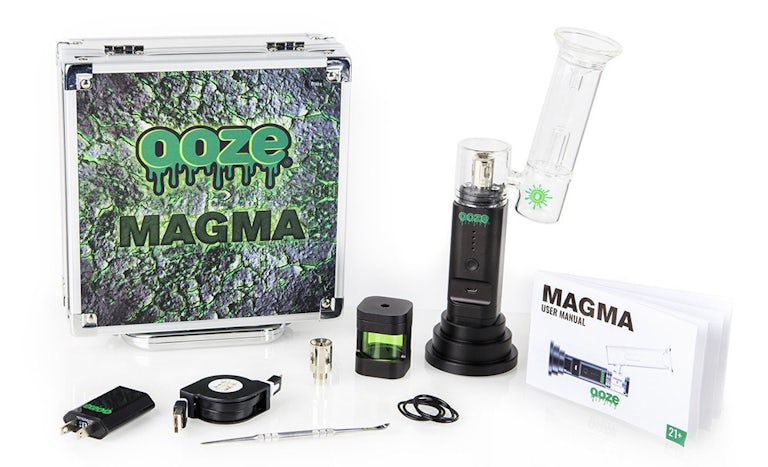 Of all the Ooze vaporizer kits, the Magma eRig & eNail is the most expensive. But it's worth every single dollar. The kit comes with everything you need to puff on your waxes or concentrates, including a sweet carrying case and a dabber tool. But that's not even the half of it. Take a look at what else is included.
Here's what else is included in the Magma eRig & eNail kit:
2900 mAh eNail Battery
Two Coils
Glass Water Bubbler
Glass eNail Connector
Carb Cap
Micro USB Charger
USB Power Adapter
Extra Rubber Rings
Magma Device Stand
Oh, and it just keeps getting better and better. You can also attach the Magma eRig & eNail's base adapter to your favorite glass piece. Just flip it over and screw it onto the head of your bong or bubbler of choice.
The Magma eRig & eNail, available in black and silver, is super simple to use, too. To turn on the device, all it takes is three clicks of a button. Once it begins heating up, which is indicated by its four flashing LEDs, you can then adjust the temperature anywhere from 574F to 842F by clicking the same button twice. And regardless if you're using the Magma eRig & eNail by itself or with a water pipe, you always load it the same exact way. Simply toss your concentrate or wax into the atomizer, and you're ready to go.
The Fusion Pen vaporizer kit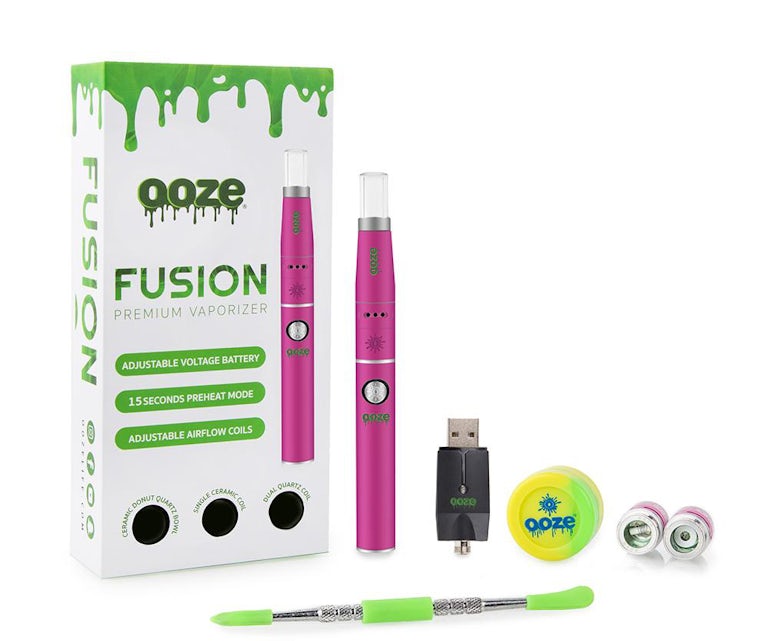 The Fusion Pen kit comes in a variety of colors, from black to pink to chrome. And like the other Ooze vaporizer kits, it too includes everything you want all in one place. The Fusion, which is the newest addition to the Ooze product line, features an adjustable 650 mAh voltage battery that offers three temperature settings: Low (3.6V), Medium (3.9V), High (4.2V), a 15-second preheat mode and adjustable airflow coils. But of course, that's not all.
Here's what else you get with the Fusion Pen kit,
1 Single Ceramic Donut Quartz Bowl
Silicone Container
Non-Stick Dab Tool
Smart USB Charger
The Drought vaporizer kit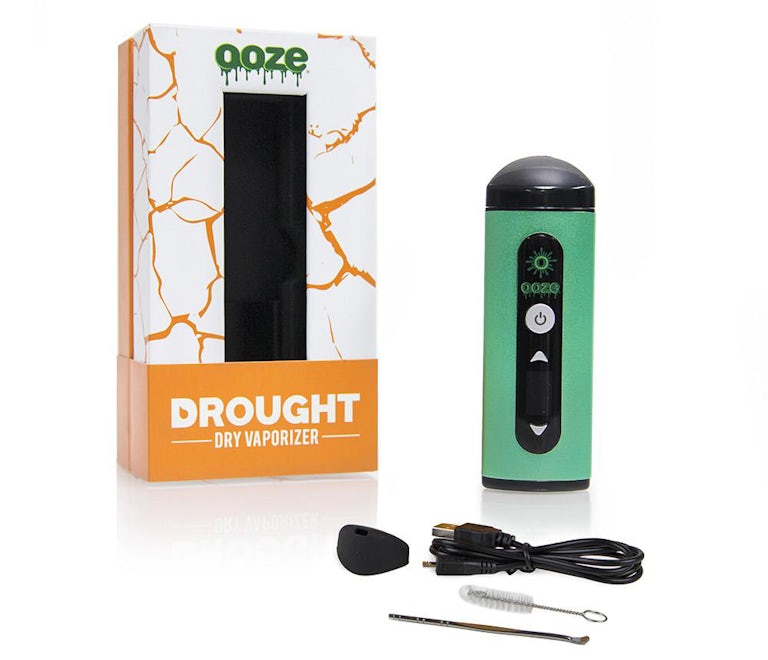 While most Ooze vaporizer kits are designed primary for tobacco, concentrates, and essential oils, the Drought vape kit is made for all you flower lovers out there. Not only is the Drought small and fun-size, but it's also discreet and easy to use. Similar to the other devices that Ooze has to offer, this 4-inch tall dry herb vape allows the consumer to select the temperature mode they desire and make adjustments as needed. You can set the device as low as 320°F or as high as 410°F, which can be viewed clear as day thanks to its digital screen.
The Drought, available in black, green, and silver, also runs for up to 30 minutes continuously on a single 1650 mAh battery, which lasts around two hours before needing any juice. And when the device is not being used, it'll automatically shutoff. But not without warning you first with its five-minute countdown feature.
Here are some other nifty features that the Drought offers:
Air-Heating Technology
Anodized Chamber
Temperature Mode option C° to F°
Silicone Mouthpiece
And here's what all the Drought vaporizer kits come with, besides what's already been mentioned above:
Cleaning Brush
Packing Tool
Manual
Micro USB Cable
The Splasher Vape Pen kit
If you're looking for a sweet and simple way to smoke, then look no further than the Ooze Splasher Vape Pen Kit. In addition to being made with Dual Quartz Technology, the Splasher, available in black and chrome, features a glass tip with a filter, three glass coils, and a 20sec hold time 650 mAh battery. Operating the Splasher is also a no-brainer. All you have to do to get the device ready to use is remove the pen cap, unscrew the visual reaction chamber from the coil and load your extract of choice within, then screw the visible reaction chamber back on, and press the power button five times. To begin vaping, just hold down the button and inhale. That's all there is to it.
Here's what else comes inside the Splasher Vape Pen Kit:
Discreet Pen Cap
USB Charger
Instructions
5"Non-Stick Dabber Tool
Silicone Container
Dab Depot Tray 3 in 1 Bundle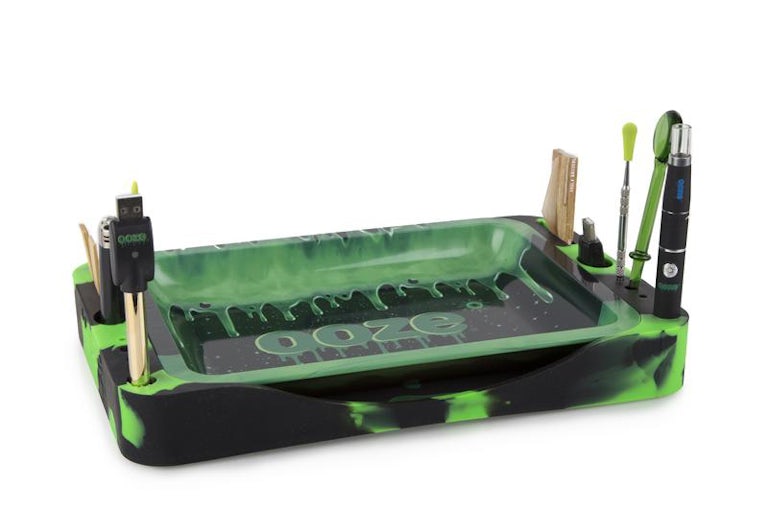 For all the dab aficionados out there, feast your eyes on the Dab Depot 3 in 1 Tray. The Dab Depot 3 in 1 Tray provides the ultimate workstation for concentrate and wax enthusiasts. Not only does it come with a Dab Depot Silicone Tray, but also a Metal Rolling Tray and a Platinum Cured Mat, all of which are built to last.
Here are the features of the Dab Depot Silicone Tray:
Unbreakable
Holds- Vape Pens, Lighters, Papers, Nails, Tools, and more
Dishwasher Safe
Resist Heat up to 600°F
Size: 12" in x 8" in
And here are the Metal Rolling Tray's features:
Bend Resistant
Heavy Duty Design
Curved Edges
Size: 10" in x 7.68" in
Last, but certainly not least, the features of the Platinum Cured Mat:
Easy to Clean
Heat Resistant
Dishwasher Safer
Non-Stick Flexible Design
Size: 10" in x 7.68" in
The Water Bubbler vaporizer kits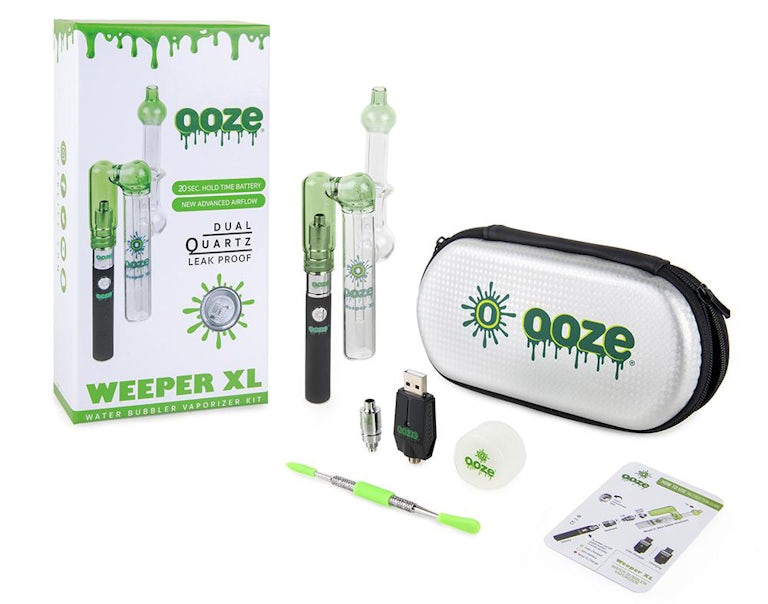 In addition to the other Ooze vaporizer kits, there are plenty of water bubbler vape kits to choose from, including the Stretcher XL, the Weeper XL, the Sludge Water, and the Weeper Water. Each device is equipped with a percolator for cooler, smoother hits. Also, the vapes feature a dual QUARTZ titanium splash guard coil to promote optimal airflow and help avoid messy excess splatter.
Here's what you get inside the water bubbler vape kits, along with the other noteworthy features of the water bubblers:
5"Non-Stick Dabber Tool
Carrying Case
USB Charger
Instructions
510 Thread
20sec Auto-Shut- Off
650 mAh Battery 3.7V
Deep Loading Chamber
Splash Guard Basement
Titanium Coils
Wickless
Splash Guard cap designed to keep glass clean
Dual Quartz Rods
The Gusher Globe vaporizer kit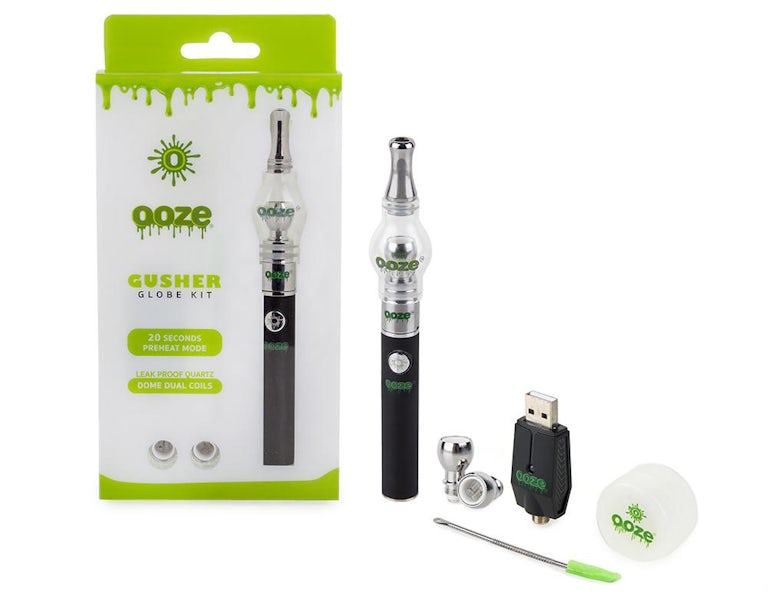 Finally, there's the Gusher Globe, the last of the Ooze vaporizer kits. According to Ooze, this device will remind you of the good ol' days when you would bust open your lunch box to find a fresh pack of delicious Gusher snacks. Of course, the Gusher Globe isn't edible per say, but it'll make your friends super jelly nonetheless.
The Gusher Globe is an attention-grabber, as it features a large and transparent heating chamber. And boy does it gush humungous clouds of vapor—that is, straight into your mouth. The Gusher Globe is also one of the more affordable vapes that Ooze offers. Plus, it comes with domed dual coils for a better burn.
Here are all the other useful features and extras that come with the Gusher Globe:
18mm Female Attachment
3 Dome Dual Quartz Coils
650 mAh Battery
20 sec. PREHEAT MODE
Non-Stick Dabber Tool
Glow in the Dark Silicone Container
SMART USB Charger
Titanium Coils
Wickless
Dome Ceramic Protector
Stainless Steel Tip