There's little about Amos Dov Silver's background to indicate that an ex-yeshiva boy from the mystical city of Tzfat would find himself as head of Israel's most streamlined underground weed dealing operation—with ambitions, no less, to become a global platform akin to the "Uber of weed."
The son of an American expat and a Tunisian-Israeli mother, Silver, now 33, left home at 15 for Jerusalem. After his final stint in yeshiva (a school for Orthodox Jewish boys), he found himself filling overnight shifts at a drugstore. Working the cash register one night, Silver was robbed at gunpoint and endured a bullet. He hardly noticed the injury until the police pointed out the blood streaming down his leg. But as the Israelis say, in a country ridden by war and perpetual strife, life goes on. Silver went on to get married (and later divorced) and to fulfill his three years of obligatory military service in a combat unit.
Through and through, cannabis remained a part of his life—not just something to alleviate the pain of his injury, the stress of military service (he even broke the rules to take bong hits during his guard duty on base), or to have fun with—but an integral aspect of a holistic, healthy lifestyle. "I don't see the difference between using it medicinally or for fun," Silver tells Herb. "It's like any other herbal plant for me, like garlic, onions, and tomatoes. I don't know when I need to eat it because I need the nutrients, or just because I want a piece of a tomato. And I know I couldn't be healthy without weed."
His guiding philosophy is that everyone in the world should have access to cannabis, never mind what the local law may be. And that's served as the inspiration for his company Telegrass, an app which connects weed consumers with black market dealers in Israel.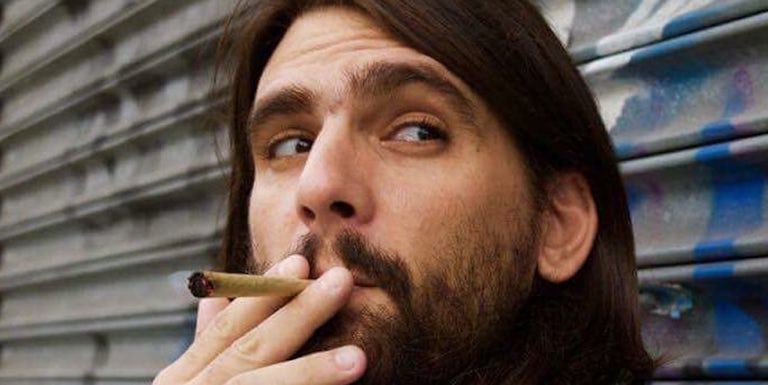 Today, it has about 150,000 users in the country, where most everyone, beside Israel's 25,000 medical marijuana patients, must resort to buying illegal weed. Israel has among the world's highest ratios of weed smokers—27 percent of the population between 18 and 65 toked up in the past year.
In its current iteration, Telegrass runs on the encrypted messaging app Telegram (which is also used by ISIS and others who want to communicate anonymously). The messages are not only encrypted but can be programmed to be erased after they're sent. Users of the platform may identify themselves by usernames rather than their actual names.
Similar to a WhatsApp group, Telegrass offers a range of subgroups, updated every few minutes, where dealers market their product through images, strain names, local geography, and prices. All in all, the platform houses about 30 channels, including one in English, dedicated only to dealing different types or quantities of weed products, as well as 60 other channels for things such as community reviews, growing tips, activism, legal advice, and more.
As for the obvious risks inherent in Telegrass, Silver is unabashedly nonchalant about running what's essentially a crime organization. With dual Israeli-US citizenship (thanks to his American father), Silver has spent the past two and a half years bouncing around the States, from California to Colorado to New York, spearheading Telegrass remotely. He knows that going home to Israel would mean facing law enforcement.
Unlike the average kingpin, Silver's intentions with Telegrass are largely ideological. Though running the platform provides a modest income for the nomadic Israeli expat, Telegrass is more so a means for Silver to advance weed legalization. For him, it's personal.
"I started to be an activist five years ago when [cannabis prohibition] hit my personal life," Silver says. "Someone told the cops that I smoke [weed], and one thing led to another. They took my driver's license away, took me to a psychiatrist, and hospitalized me."
For five days, Silver was locked in the psych ward for admitting to smoking weed while driving. Later that year, after having been arrested for growing a pot plant, he incriminated himself further during an interrogation by admitting to having sold 100 shekels or $25 worth of weed. He was placed under house arrest for nine months in Tzfat, where his father, a medical marijuana patient, stopped using cannabis because the judge mandated that Silver couldn't be around weed. Battling cancer, Silver's father switched from pot to pills to accommodate the court's order. Within two months he passed away—not from the cancer, but from an overdose of morphine.
"Everyday I hear so many stories like my father's, and I see the government and this law [that's] killing people," Silver says. "Every place in the world this is happening, but nobody does anything about it because nobody wants to be against the government."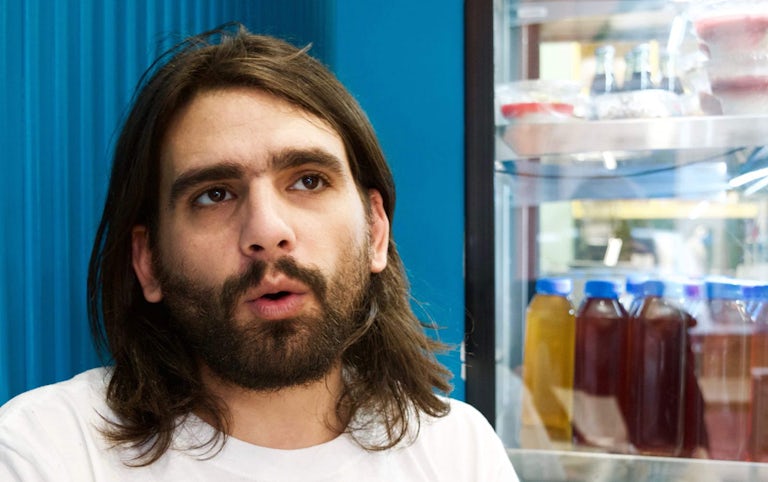 After his father died, Silver decidedly placed himself in opposition to authority. He started posting videos on Facebook of himself smoking a bong. He began to speak openly about his cannabis use as a way to destigmatize it. And in 2014, he organized the now annual "Big Bong Night" in front of the Knesset, the Israeli parliament in Jerusalem. The demonstration, which called for legalization and included a public smoke-a-thon, landed Silver behind bars for "rebelling," only to be piggybacked a few months later by yet another arrest for selling a couple grams of weed to a narc and for possession of 150 grams.
Upon his release, after seven months in prison, Silver fled for the States. At the time, Silver's well-known reputation in Israel's cannabis space had already led his Facebook page to become a hub for dealers. Under fake profiles, weed dealers would tag Silver in posts to bring more attention to their products. He wanted to help, but it quickly became too much: the dealers, the customer complaints, the disputes…all on his page.
"Then a friend texted me," Silver recalls, "'Amos, let's go to Telegram, open a management group, and then you can be free.'"
Telegrass began with fewer than 30 dealers; today it has nearly 3,000. Silver says he never intended for Telegrass to get this big, but now that it is, he has global aspirations.
Although he has no formal background in tech, he's working to develop technology to take Telegrass off Telegram so that it can be a standalone platform like Uber that works anywhere in the world—including in cannabis-legal states in the US where, Silver says, there's a demand for cheap black market weed thanks to high taxes on adult-use cannabis.
Experts, however, question the longevity of such a platform. "If they're facilitating state and federal crime by providing the tech to do what they're describing and fully acknowledging is state and federally illegal, a lot of people will get in trouble," says Christian Sederberg, a partner at cannabis law firm Vicente Sederberg.
Never mind the pot dealing, just providing technology designed to violate or skirt the law could be argued as a separate criminal act, Sederberg says. The company also runs the risk, he continued, of the platform being used for other kinds of drugs.
Jonathan Caulkins, a professor of operations research and public policy at Carnegie Mellon University who studies cannabis policy, suspects the platform "oughta make it really easy for law enforcement to arrest people." In states with sanctioned medical and recreational marijuana, law enforcement is especially on the lookout for people aiming to undermine newly legal markets.
Additionally, Caulkins says, the need for an app which facilitates the black market will decrease as the need for a black market itself decreases. He says this will happen eventually when the US government deschedules or legalizes cannabis altogether. Before then, Caulkins says high tax prices, which are driving people back to the black market now, will stabilize and the cost of legal weed will go down.
Moreover, the illegality of the Telegrass platform would require dealers to work with growers who are also skirting the law and diverting their bud to the black market—which would ultimately deprive consumers of otherwise guaranteed knowledge about where their weed comes from (that it's pesticide and contaminant free, etc.).
These concerns aren't hypothetical either. Silver has already dealt with some of these issues.
To ensure that dealers are playing fairly, Telegrass users can review dealers on their quality and service. Dealers must go through an "authorization" process, requiring a photo ID to the Telegrass administrators as well as a background check.
Still, on a daily basis, the app's administrators—some 80 volunteers—work out cases of theft and harassment, identify dealers who are selling something other than bud (or occasionally psychedelics) and work to expose players who don't follow the rules. That may include releasing their full names, putting them on the "wall of shame" channel, and ultimately turning them into the authorities, Silver explains.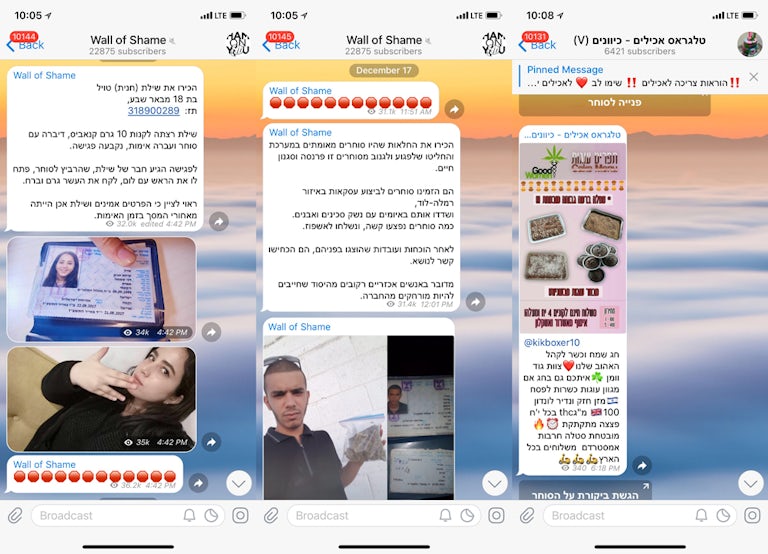 To verify that a customer isn't a narc, dealers may also ask for photo ID, a selfie, a link to their Facebook page, and sometimes a photo of a salary chip. Because undercover cops cannot use their true IDs, anyone who offers the real thing can typically be assumed safe. Customers can delete the media and both sides of the conversation after the deal has been finished, but sharing these details with a dealer can still put them at risk.
On multiple counts, narcs have already poked holes in the system. Two summers ago, Telegrass led to the arrest of 23 suspected dealers, while this past March, 43 suspected dealers were arrested thanks to an undercover agent. "Telegrass is not protected 100 percent because there is human contact, but because of the security of Telegram and the number of dealers on it, it's like trying to dry the sea with a spoon," says Silver. "It's a joke. The time it takes the police to arrest ten people is about six months, and in that time we have 1,000 more dealers."
Currently, the police claim there's an international arrest warrant out for Silver. Laying low somewhere in America, he remains zorem, casually just going with the flow. "The only thing we're responsible for is that the dealer tells the truth about what he sells. I don't care if the dealer sells shit, but he has to say, 'I sell shit and I sell it at this price.' Just say the truth and that's all we need to take care of this system.'"
Silver's aim is a laissez-faire, open market—"the free market as it should be"—and some tzedakah (charity). Telegrass donated 40,000 shekels (about $11,360) to an animal shelter and 30,000 shekels (about $8,500) to a cannabis for autism research group.
"I know that I can't stop doing what I'm doing, it's stronger than me by now," Silver says. "I never know what's actually going to be, so I'm just doing what I believe in and hoping for good."