You have vaporizers for wax, and you have vaporizers for dry herbs. You also have vapes designed for e-liquids. Regardless of what you prefer to vaporize, the options are endless. But if you desire that one perfect vaporizer that does it all, then your choices are limited. There aren't many units available on the market that can suit every need. But there is the Grizzly Eclipse, the most convenient vaporizer on the planet.
The Grizzly Eclipse is not only convenient but also the versatile
Whether you're in the mood for a puff of the sticky-icky or a few hits of your favorite flower, the Grizzly Eclipse's got you covered. And if you ever crave something sweet, like THC e-juice, then you can have that too, all from the same vape. Even though the Grizzly Eclipse is the most convenient vaporizer around, and offers the most experiences, it comes with an attractive price tag that cannot be topped. And it sure beats wasting your moola on three separate vapes.
Each all-in-one vape station includes a dry herb tank, a concentrate tank, and an e-liquid mod, all of which come with a mouthpiece attached. Because the Grizzly Eclipse has separate receptacles, all you have to do is choose the one you want, connect it to the device, and voila, you're ready to vape your way to buzz town.
The Grizzly Eclipse is rare in that it's one of few vapes that allows you to switch your 0.5-ohm coil from watts to volts. There are plenty of units that are compatible with dry herbs and concentrates, but not many leave room for e-liquids. The Grizzly Eclipse, however, is the ultimate package deal.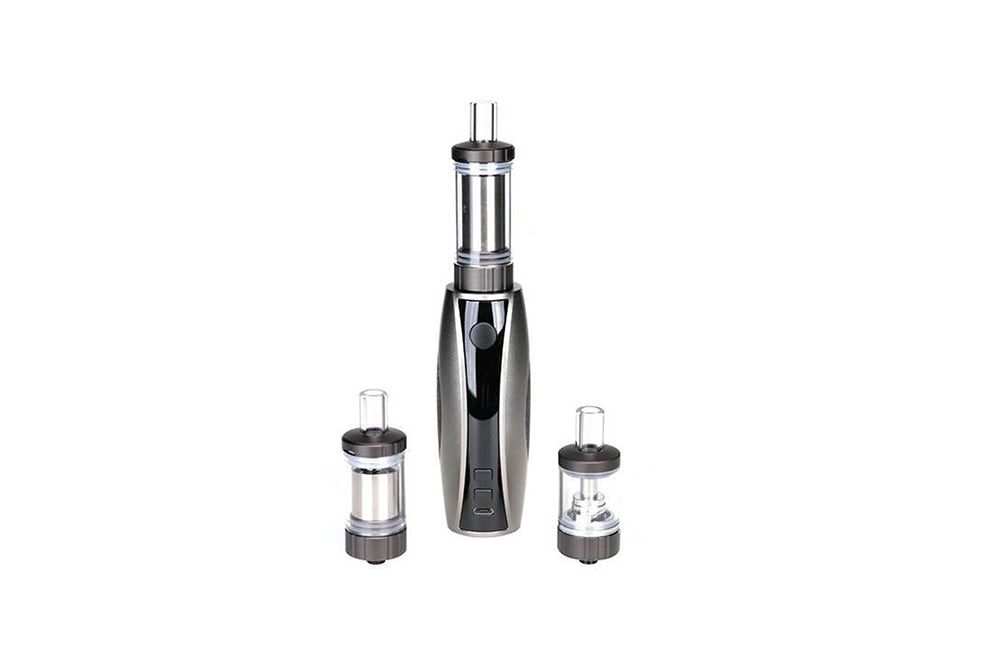 The Grizzly Eclipse is straightforward, powerful, and portable
But does the most convenient vaporizer deliver as much power and quality draws as it does experiences? You bet. The Grizzly Eclipse brings the heat and lots of it. In a mere 20 seconds at that. But don't sweat it, the Grizzly Eclipse's strong heating ability doesn't in any way ruin your delicate flowers, waxes, or oils.
As far as flavors and smoothness go, the Grizzly Eclipse boasts stellar vapor deliverance. Its all-glass vapor path ensures incredible flavor, while its extended mouthpieces guarantee cool, mellow pulls. So you can expect nothing but high-quality sessions from this vape.
Portability is yet another perk that comes with the most convenient vaporizer in all the land. Both sleek and slim, the Grizzly Eclipse's design makes it perfect for slipping comfortably into your back pocket or handbag. But it's also just as comfortable and easy to use as it is to hide. It features only a power button and two other buttons to guide you through a variety of temp settings quickly and effortlessly.
Now you know why the Grizzly Eclipse is the most convenient vaporizer around. From buds to oils to waxes, you can enjoy three of the best forms of cannabis using a single device. Not to mention, you can bask in phenomenal vape sessions at home or on-the-go. And you don't need to study a lengthy manual to learn its ropes.