Childhood wasn't pretty for everyone. But if there was one thing that lit up your world brighter than a sparked bowl, it was your favorite tv shows and movies. From Star Wars to Pokemon to your number one hero Batman, fiction had a way of making life as an awkward, wide-eyed kid all right. As soon as the dishes were done, and your mom or dad double verified that your homework had zero blanks, it was television time, aka the best part of the day. Fast forward 20 years or so, and not much has changed. Many adults still have yet to let go of their most beloved fictional characters and continue to kick it with them as often as possible, only now, they have better ways to do so, like with an herb grinder.
A herb grinder is one of the most necessary smoking tools. After all, it's what gets your sticky-icky in perfect burning condition. That means if you love your ganja, an herb grinder is also something that is going to always be on you. So if you're going to have a bud-busting sidekick, it might as well be your favorite villain, superhero, or mystical, wish-granting orb. Here are eight of the most animated herb grinders that will have you reminiscing over your favorite childhood movies and tv shows that have been your A1 since day one.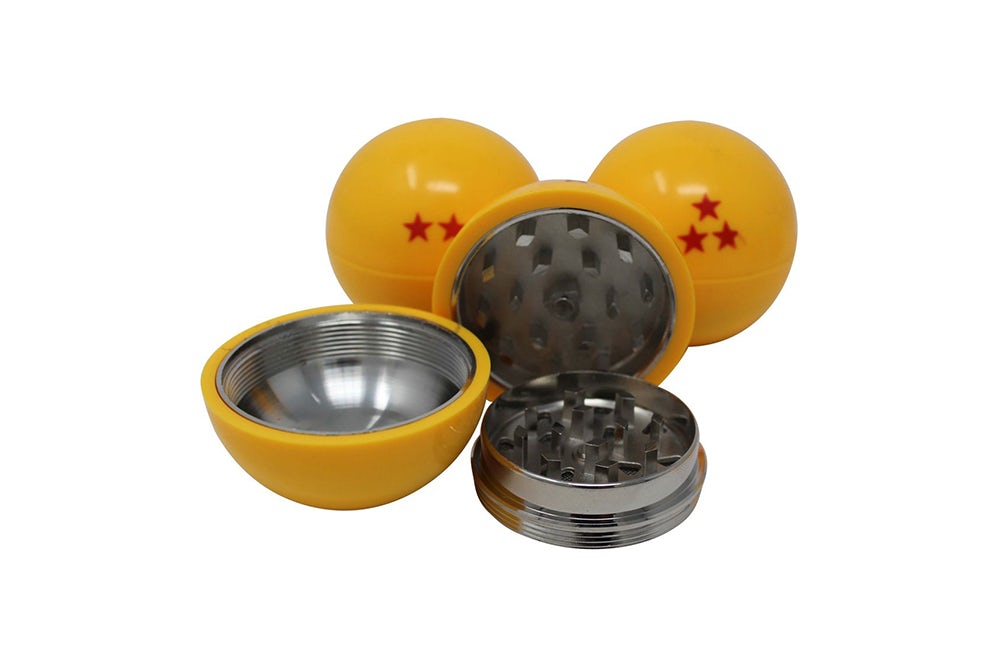 If you have a wish, then the Dragon Ball herb grinder is here to fulfill it. Or, at least break down your ganja ever-so-beautifully anyway, and evoke nostalgia on the side, if you're a fan of one Japanese animated series in particular. The Dragon Ball Grinder features three compartments, along with a magnetic top, to keep your Mary Jane secure until it's time to toke. Its 12 razor-sharp teeth are more than enough to get even the stickiest of icky shredded and ready for smoking. Not to mention, its included scoop and screen will help you collect kief for an extra kick.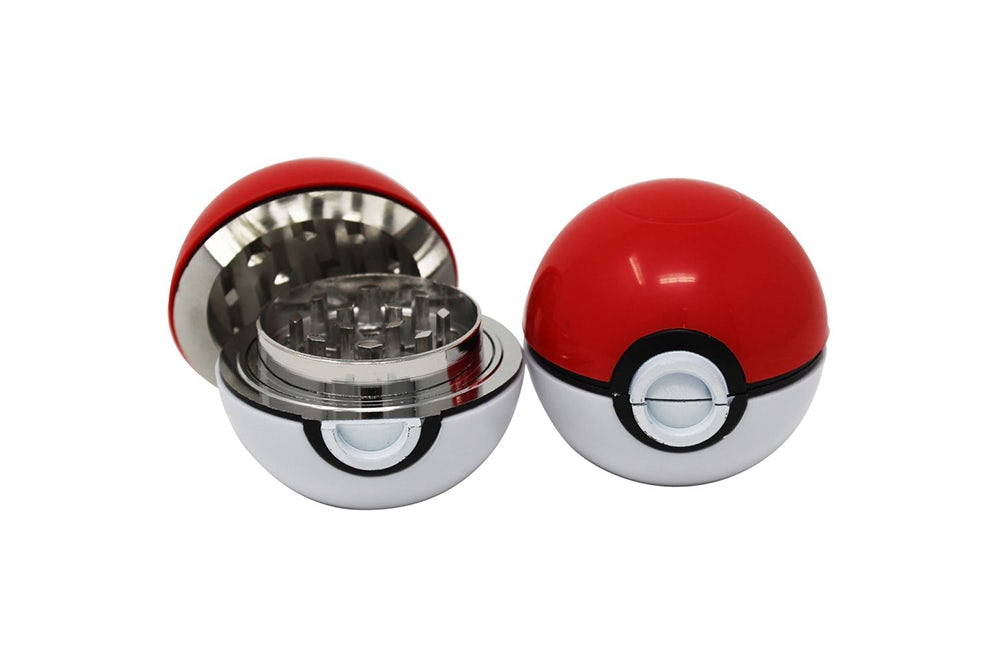 Catch as many highs as you want with the Pokéball Herb Grinder. This 3-part herb grinder should remind you of your training days, back when you were chasing after your favorite and all the rarest Pokemon characters. Of course, this ball won't hold any Pokemon captive, even though its lid is sturdy and magnetic. But it will deliver a quality grind, capture delicious kief, and make sure that the good-good stays intact at all times.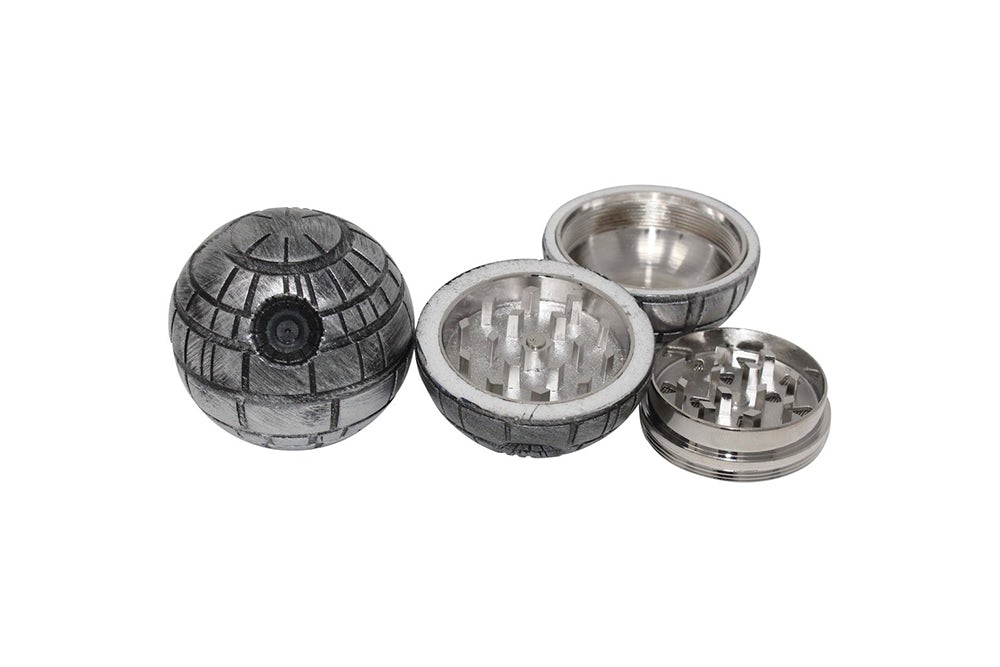 That's no moon, that's an herb grinder. You could call the Space Station of Death Grinder the ultimate weapon when it comes to ripping apart every stubborn, sticky bud that gets in its way. Not only does this 3-part grinder feature 12 mega-sharp teeth, but also a magnetic lid. That way, no nugs ever escape its evil grasp. To top it all off, the Space Station of Death Grinder comes with a kief catcher to trap every bit of resinous, powerful glands. The same ones that get you out-of-this-world high.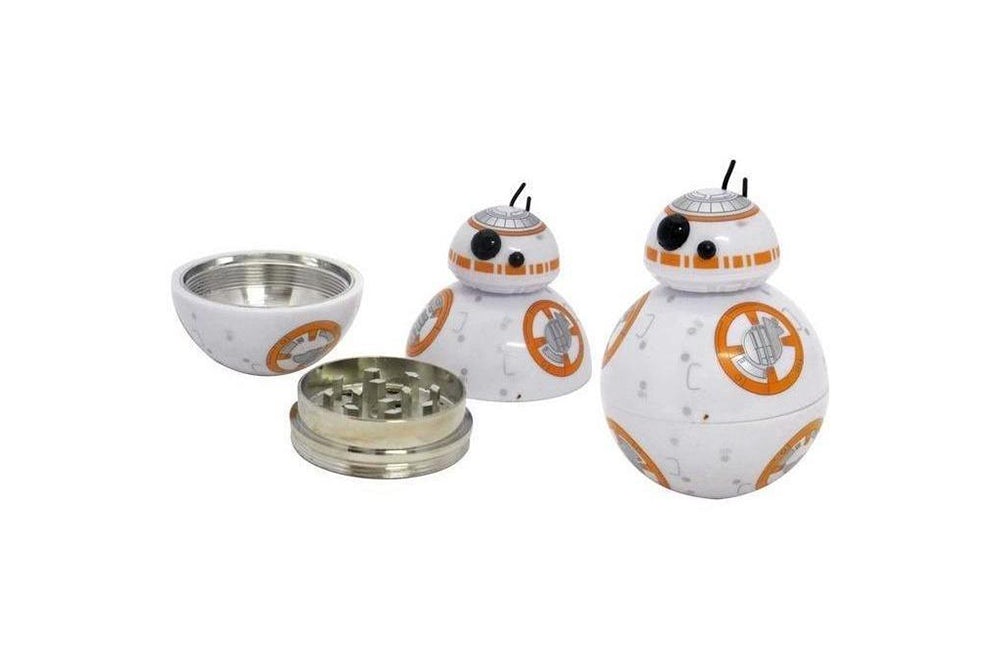 There's no herb grinder as loyal as the 40MM 3 Piece Robot Grinder. The 40MM 3 Piece Robot Grinder's primary mission is to perform a top-notch grind. Although it looks cute and innocent, this sassy 3-part herb grinder, along with a magnetic lid, has 12 sharp teeth and will shred any weed nug apart quick and with ease. Considering its made of durable materials, you can always count on the 40MM 3 Piece Robot Grinder to help you bust down your stash and regain the quality smoke sessions you've been missing to boot.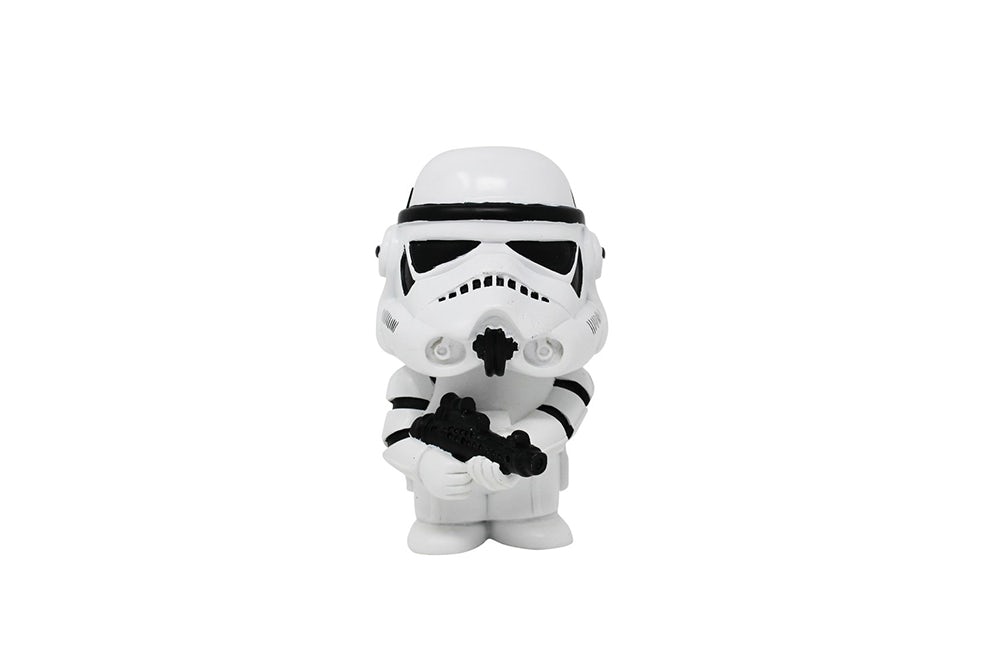 If you're concerned about your weed going astray, then trust and believe the Space Trooper Grinder will make it impossible. The Space Trooper herb grinder is a faithful soldier and only acts on command. Drop in your favorite strain, twist its head, and it'll deliver an exceptional grind that would please even a Sith Lord. Not to mention, it comes with solid armor that makes it fit to survive in any environment, along with a kief chamber that snatches the best part of the cannabis plant.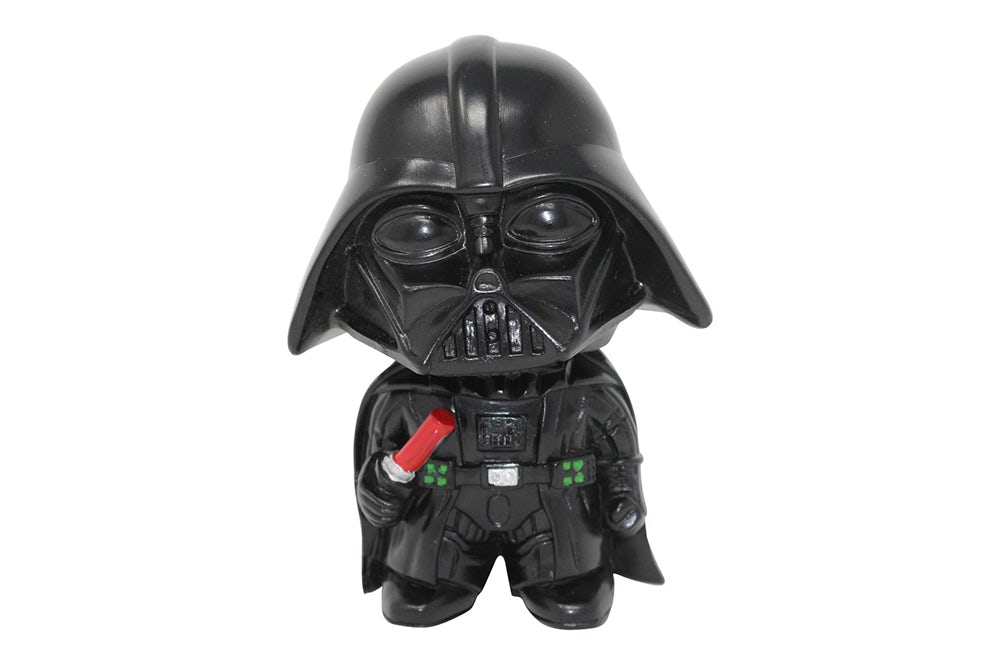 No bud stands a chance against the evil Black Vader Grinder. Once you sacrifice your ganja to this mighty Sith Lord and twist its head, it's bound to get destroyed. But of course, only enough so that you can drop it in a bowl and burn it nice and even. Aside from a mean grind, the Black Vader Grinder also seizes kief that can be used to unleash the meanest rips.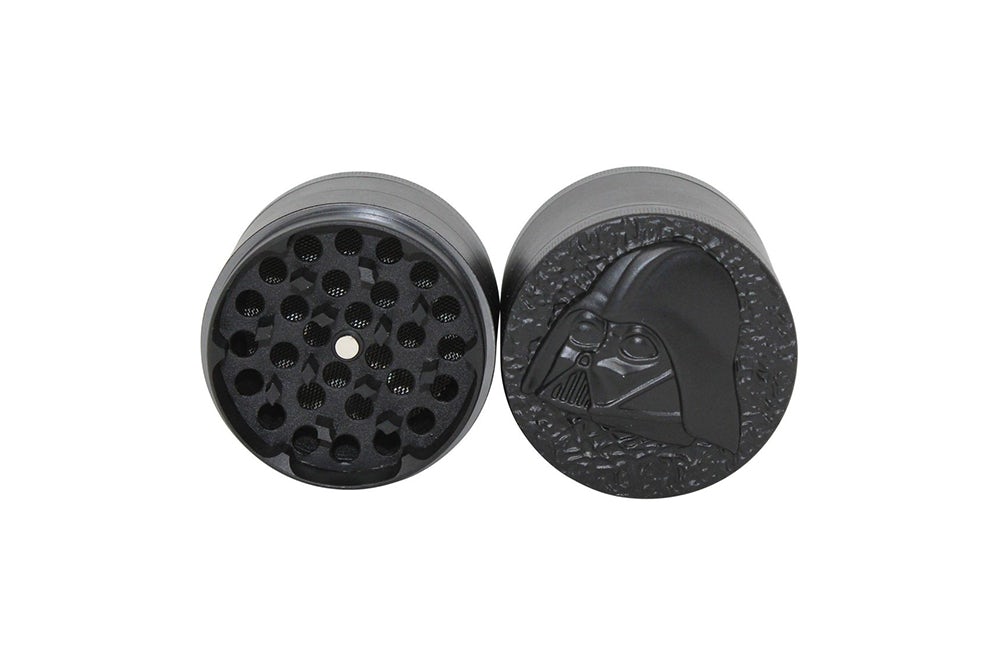 Now here is a grinder that only a villainous pot smoker that enjoys demolishing every bud in sight could love. The 4 Part Vader Grinder 50MM is a vicious herb shredder that spares no mercy when it comes to the sticky-icky. Not only does it have 12 deathly-sharp teeth, but also a kief collector and a black scoop to see to it that you get a full grasp of every potent crumb.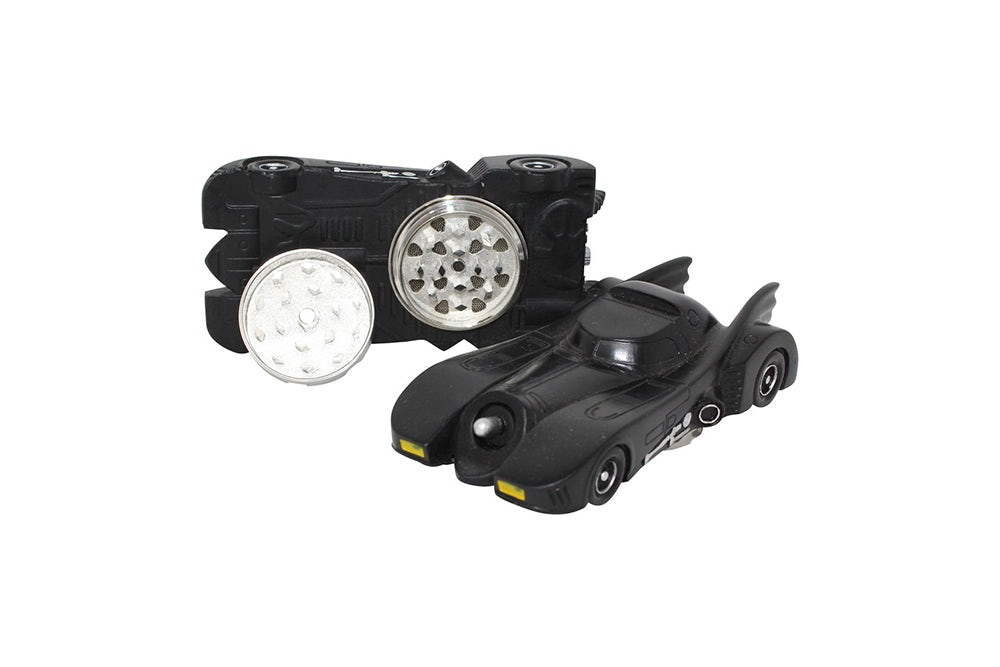 Who wouldn't want to bust down their herb using the same whip that your favorite comic hero cruised around in, saving lives left and right? The Bat Car Grinder 50MM is a hero alright. Where there's an evil weed nug, there's this 3-part herb grinder, taking it on with its 12 sharp, diamond-shaped teeth. And don't worry about the kief, the Bat Car Grinder 50MM comes with a kief catcher to protect every pinch from dirty carpet floors. You know what they say, "you don't need superpowers to be a superhero."
Feel like reminiscing and grinding up your best herb? Check out The Source Of It All to discover these and other childhood favorites.