A Vancouver company called Air Cannabis could find itself in legal trouble, as Air Canada might be taking legal action for copyright infringement. The recent startup has created a very similar brand logo to Canada's biggest airline. This could cause problems because large companies closely monitor trademarks that closely resemble their own. Air Cannabis has been marketing itself as a premium cannabis delivery service, but will they be able to survive legal attacks? It doesn't look good, as the website for Air Cannabis is currently offline. 
Air Cannabis: Dancing with the devil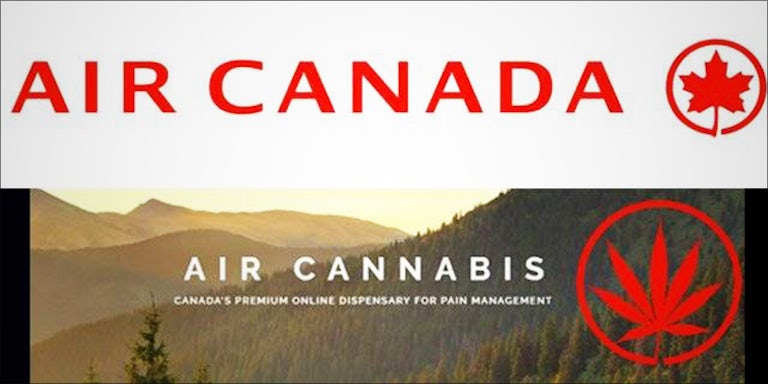 However you may feel about copyright laws, it seems obvious that a successful airline would not want their brand so closely associated with a cannabis delivery service.
Especially considering that Air Cannabis would likely use Air Canada to expedite their packages. This could make consumers think that they are partners in delivering cannabis.
However, a spokesperson from Air Canada has commented on the matter using language that seems very lawyer-like.
We are aware of their logo and have no other comment to provide. – Isabelle Arthur, Air Canada spokeswoman
When companies use language like this, it often implies that they are working out what sort of legal power they can use to their advantage. Lawyers have been consulted on what legal basis that Air Canada could have for a lawsuit, and according to them, it doesn't look promising for Air Cannabis.
Air Canada's logo is among the top 10 in terms of corporate recognition. They've built up a reputation over many years.

They can sue for infringement on the basis that the other mark is being used without authorization and is likely to create confusion in the marketplace, even if the goods and services are unrelated to those claimed by the registered trademark.

If there is no registered trademark, options are limited to a concept called 'passing off', essentially, misleading the public into thinking that the source of the goods and/or services are the same, or are associated in some way. This also requires bringing a court action. – Patrick Fitzgerald, intellectual property lawyer.
With the power of corporate lawyers and lots of influence, Air Canada could easily squash the Vancouver-based startup. But it's almost like they deserved it because using another company to boost popularity of your brand is essentially cheating.
Instead of coming up with an original and memorable name, they used one of Canada's biggest companies to try and make consumers think they were partners. Not exactly a recipe for success.