It's a little tricky to pinpoint what's most impressive about Danielle Russell's long and successful career cooking with cannabis, but collaborating with Cypress Hill's B-Real is certainly up there.
One evening, at a concert in a Las Vegas nightclub, Russell approached rappers Too Short, Flava Flav, and B-Real with a bag full of her homemade cannabis-infused hard candies.
"I gave some to Flava Flav, and I gave some to Too Short," recounts Russell, known as Deliciously Dee. "Too Short ended up taking the bag, so I didn't have anything to put it in. I asked a waitress for a napkin so that I could have something to wrap them in to give to B-Real."
The napkin, which included her contact information, resulted in an e-mail saying: "Hey, Happy Chef, I tried to sample your product, but the napkin stuck to it so bad that I couldn't eat it."
A few e-mails and meetings later, and The Happy Chef (THC), Russell's first cookbook, was published with a digital download code for B-Real's then-latest album, The Prescription. A second, more definitive and updated version of the cookbook followed, which also included the digital download.
The cookbook includes impressive recipes, like Dr. Greenthumb's Guacamole, Cypress Kale, and, Dee's personal favorite, cannabis-infused gummies.
"The first edition came out, and it's geared for beginners. But when I wrote the first cookbook, it was different than all other cannabis cookbooks. I've purchased other cannabis cookbooks that were on the market, and I noticed that they all just mirrored each other. It was always 'four sticks of butter and an ounce of weed.'"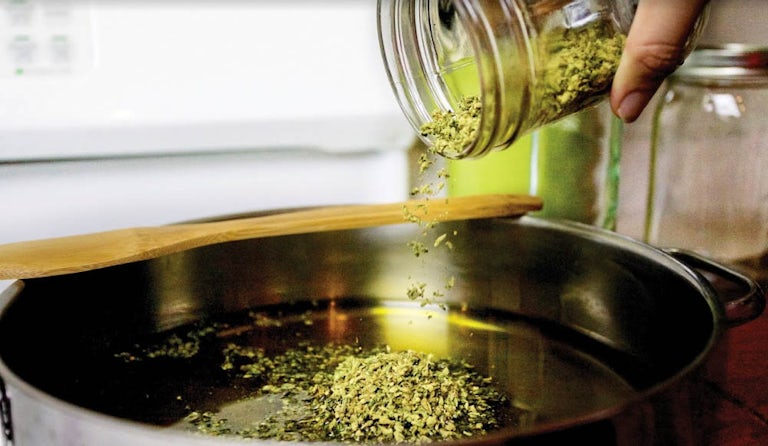 What makes Deliciously Dee's cannabis recipes unique is her approach to dosing. Cannabis has been a crucial ingredient in Russell's cooking for over a decade, which has since placed her as one of the leading medicinal and recreational cannabis chefs in the country. Her belief, however, lies in the healing power of herbs and all things natural. She currently keeps 22 different herbs that aren't cannabis sativa or indica in her kitchen. Deliciously Dee says that she hasn't kept any pills—even Asprin—in her house for over a decade.
Her dismissive attitude towards pills stems from experiencing a personal tragedy. Russell lost her sister to a prescription drug overdose in 2009, which is why she took the natural healing and holistic route.
"I'll get patients that have been on Xanax for over a decade and they'll give me the list of everything that ails them, going through all of their pills and their diet. It becomes very clear why they're having problems. Everything that bothers them is literally a side effect of the pill that they're on. It has nothing to do with their actual disease or their actual condition. There are so many organic solutions that can help balance that."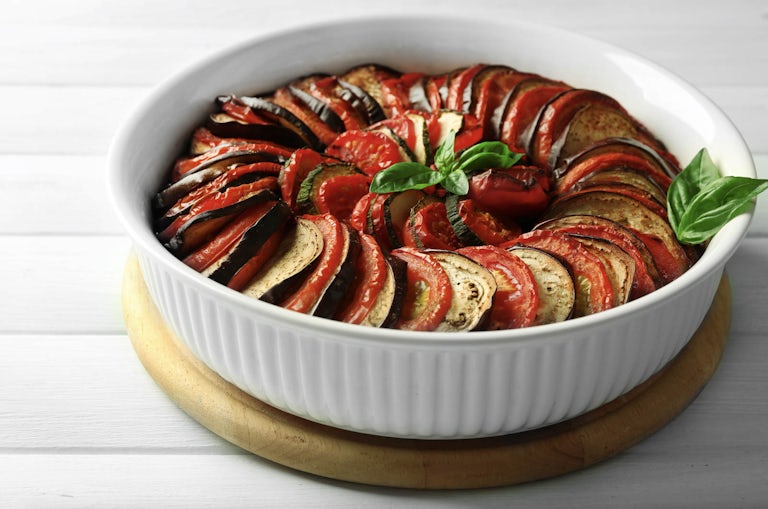 Russell now regularly help patients using the power of her cannabis-infused creations. Her medicinal cannabis kitchen was the first legally licensed distributor of cannabis edibles in Nevada when the state legalized in 2016.
Today, Deliciously Dee makes medicinal cannabis edibles for patients in California and Nevada. She currently operates two kitchens in Nevada, with two more scheduled to open in California. One of the California-based medical cannabis kitchens will open in San Diego; the other will be opening in Los Angeles in partnership with B-Real.
Deliciously Dee has appeared on Netflix's Cooking On High, Snoop Dogg's MERRYJANE, and the YouTube series Smoke In The Kitchen. Her cookbook, The Happy Chef, is available for purchase online.