January is an exciting month all around. For one, it's the beginning of a brand new year. Two, recreational marijuana will finally be legal in California. And lastly, Jack in the Box is going to be launching the Merry Munchie Meal, a combo that's like a happy meal, except it's just for the stoners. No word of a lie. Jack in the box is about to be the first fast-food chain in existence to embrace not only cannabis but also the ones it hits with its hunger-inducing abilities. 
Jack in the Box gives a nod to cannabis with the Merry Munchie Meal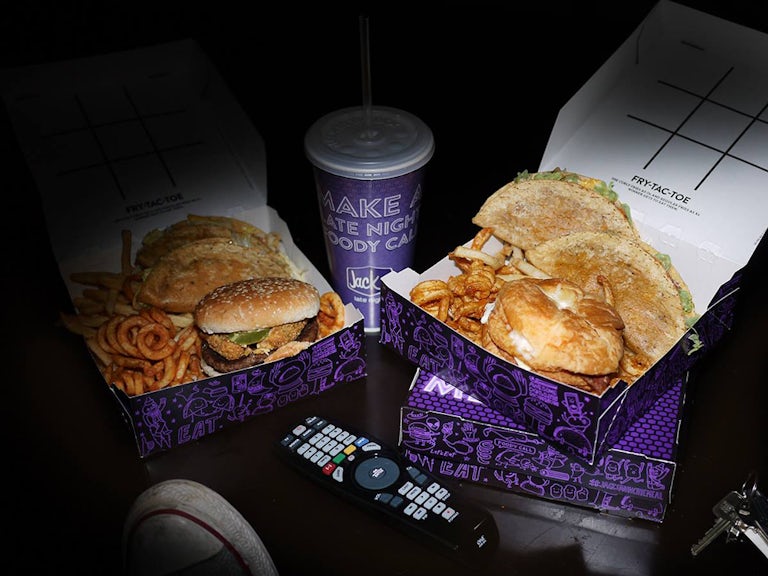 There couldn't be a better time to be stoned in California than now. January is approaching, and along with the new year, the Golden State will be celebrating recreational legalization. On January 18th, Jack in the Box will be launching the Merry Munchie Meal, an adult version of a happy meal consisting of practically every random food a stoner could want after smoking mass amounts of legal pot.
Jack in the Box, along with the Snoop-backed, cannabis-centered digital media platform Merry Jane, is quite literally dedicating the Merry Munchie Meal to stoners. "Launching the Merry Munchie Meal is the perfect way to acknowledge the cannabis culture in our shared home state of California," says Merry Jane's founder and Snoop's very own manager Scott Chung.
This partnership sparks a first in fast-food history. No chain before Jack in the Box has ever so openly embraced the marijuana community. "We are about welcoming all of our guests, no matter what they're craving or why they're craving it," says chief marketing officer Iwona Alter. In other words, high or not high, munchies or no munchies, you're always welcome at Jack in the Box.
The Merry Munchie Meal is the ultimate stoner's happy meal.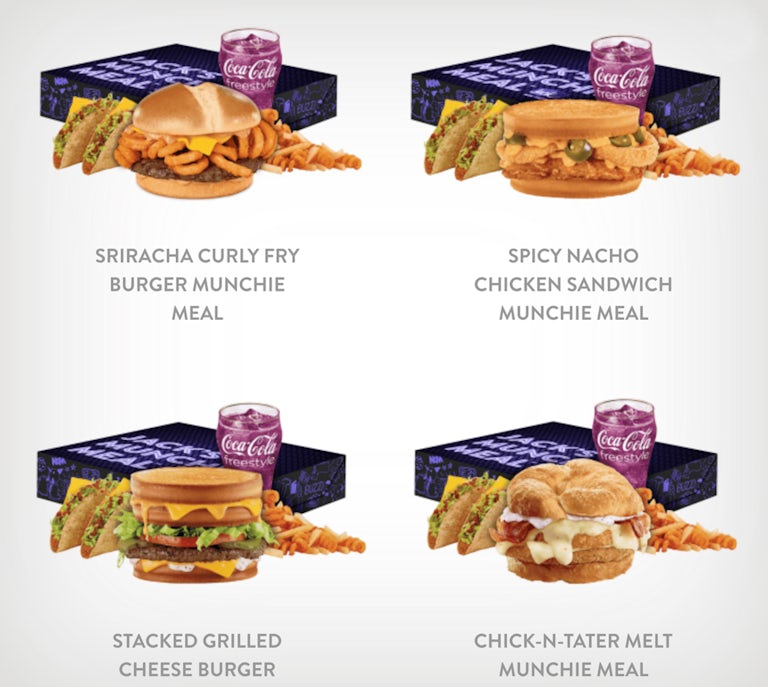 Each Merry Munchie Meal box comes with the most random combination of sweet and salty imaginable. In addition to two tacos, you get five mini churros, three chicken strips, fries, onion rings, and a small drink. All for four dollars and twenty cents. Get it, 420?
For now, Jack in the Box's happy meal for stoners will be up for grabs strictly at three Long Beach, California locations. Also, the Merry Munchie Meal is sadly a limited-time offer that can only be redeemed from January 18th to the 25th.
With California's recreational laws falling into place that same month, there's bound to be a high, overly hungry crowd in Long Beach. Regardless if the Merry Munchie Meal sticks around, or not, perhaps the idea will inspire other fast-food joints to lighten up on the herb and embrace marijuana culture. Jack in the Box could be on to something here. But we'll just let the stoners be the judge of that.