For Amy Anonymous, Smoking Weed With Rappers Is Just Part of the Job
Back in the olden days, like 2011, it was much harder for people to roll into Toronto and get weed. This was true even for rich and famous rappers. Amy Anonymous stepped in and assumed the role as Toronto's marijuana ambassador to the hip-hop community.
It all started with Snoop Dogg.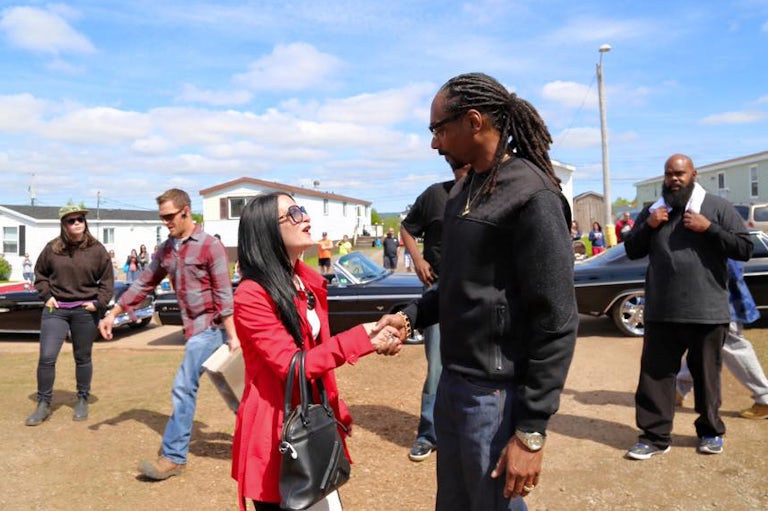 The first rapper Anonymous gifted weed in Toronto was Snoop Dogg. It wasn't official or anything. She'd scored some VIP passes through friends for his show at The Roxx Nightclub, 60 miles north of the city. And she was just determined to meet Snoop, who she'd been a fan of since she was in 5th grade. She put together the best gift basket she could—medicated wing sauce, infused cotton candy, raspberry cannabis gum—and wrapped it up in saran wrap with a big blue bow like the world's best auction item for stoners.
Then, she waited excitedly, her mind racing. The venue was packed. "Everybody was chanting "Snoooooop Dog"  and then BAM! Snoop hit the stage," she writes in a blog recounting the experience. After the show, she stood around the back smoking blunts as Snoop was swarmed by female fans. And then, finally, she had her chance. She was ushered up to Snoop with the gift basket in tow. He inquired what was in it, kissed her on the cheek, and then headed out. Little did she know how grateful he was.
Later, when Snoop Dogg made an appearance in the "Trailer Park Boys" tenth season, the production team decided to call on Anonymous' expertise. (Anonymous had already worked with the "Trailer Park Boys" as a part of an internet show called High Fuckers.) "I know a lot about cannabis, and I can secure cannabis," Anonymous says. "they needed someone who could assist with that."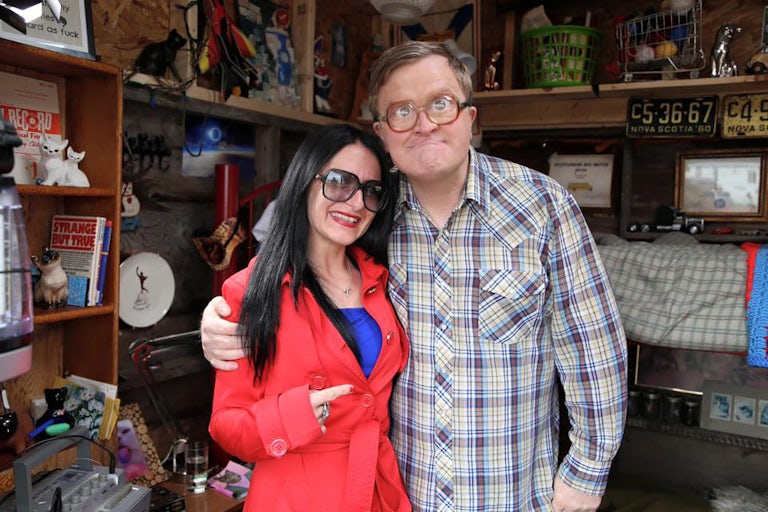 The Trailer Park Boys flew her to Nova Scotia where she hung out and smoked weed with Snoop Dogg for a week. And it confirmed the legend of Snoop Dogg. "People always ask me if Snoop really smokes that much weed. He really, really does. Coming at Snoop with an ounce is like coming at him with a starter."
Now, whenever Snoop Dogg is in Toronto, he or his team get's in touch with Anonymous.
Word spread about Anonymous and she became a regular stop for rappers on tour in Canada
After Anonymous and Snoop hit it off, she met the management team for Wacka Flocka, who were regular guests of her's for awhile. Then, things really picked up. "After that, I don't know what happened. Just word of mouth I guess," she says.
The ASAP Mob, School Boy Q, Action Bronson, Rich Homie Quan, and Ty Dolla $ign have all picked up from Anonymous. "There were really no dispensaries in Toronto. To get cannabis you had to know someone. I kind of became that person. I was just here, I have cannabis and I can teach you about it."
Anonymous taught Machine Gun Kelly and Tim Westwood how to smoke dabs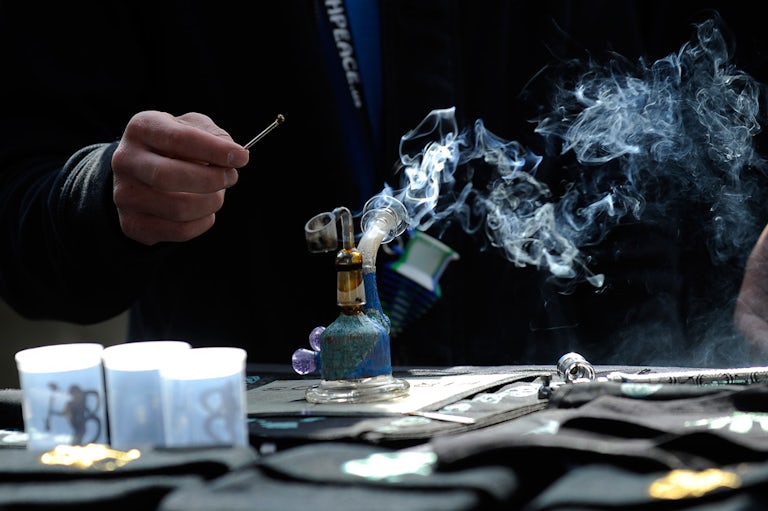 Anonymous' appeal is about more than her supply. She also teaches people about cannabis and, now, occasionally they just happen to be famous rappers and DJs.
Anonymous was an early adopter of dabs so Machine Gun Kelly hadn't even come across them yet when he met her. "When I started doing this, dabbing wasn't really a thing," Anonymous says. "At the time people called it weed crack." When she asked MGK and his entourage if they wanted to hit her dab rig, no one stepped forward. "They were all like 'you do it first!'"
For Tim Westwood, the whole thing was just too much. "At that point, they didn't dab in the UK at all. The whole thing blew his mind."
Ultimately, Anonymous says, it doesn't matter who the people are, her goal is always the same."We're representing Toronto," she says. "We're bringing the best of the best."