Plenty of women smoke weed. We run the gamut from insta-babes to lovable bowling shirt-wearing dirtbags. We are united by our love of the herb, but also by a few things that generally piss us off. Here's an incomplete list of what we come up against when we decide to get high with dudes.
1.  Don't presume that we don't know anything about weed.
One of the last times I walked into a dispensary, I was being indecisive. Usually, I can walk straight in, point to the Blue Dream or Sour Diesel, grab part of an ounce, and walk out. Sometimes I like to hang around and ask questions about the new strains or products that have popped up over the last few weeks, partly because I'm curious and partly because it's my job to know what's happening in the industry. Honestly, finding out on the ground is the easiest way to catch wind of new products. Sometimes I also just want to do a quick stop-n-chat with my girls at the dispensary, and the validity of that is a fair point of contention if you're of the Larry David disposition.
So this one time I'm lingering at the counter—and not, mind you, taking up anyone else's time. The other dudes were free to order from their own budtender. But I was looking around, talking directly to my guy about strains and how I wanted to get a relatively chill midi to get some work done. We talk about my job, writing about weed, and how it was going. You know, shooting the shit, "what do you think of this weird banana strain versus this one"—generally stuff that implies I'm not new to the game. Then one of the guys buying from another group interrupts and pokes my shoulder. "Hey," he says like he's just come up with the world's best idea, "You ever hear of Indicas? They're different from Sativas, they like, chill you out and then you'll be able to work." A mind-blowing suggestion I'd never considered.
2. Stop lighting the joint for us.
It's a sweet gesture, but you're making it canoe. Lighting a joint is an art, and unless you're torching my dab I don't want you anywhere near my face with that fire.
3. Don't think that size means anything about how much we can smoke.
Not only are women smoking at rates higher than men do, at least according to the Cannabis Consumers Coalition as reported by Forbes (53% of ladies compared to 42% of men),  but AFAB tolerance also seems to grow more quickly than that in males (at least in rats). So don't come at us trying to claim that we can't handle smoking as much as you do when the opposite is probably the case. (Not only that but dudes tend to bug out more than we do, so you'll need us to chill you out.)
As the inimitable but often imitated Nikki Minaj said—and I'm being really loose with the interpretation of her metaphors here, cut me some slack and be literal for a second—"He said 'Damn, bae, you so little / but you be really takin' that pipe.'" (I know what she really means, but it helps my point.)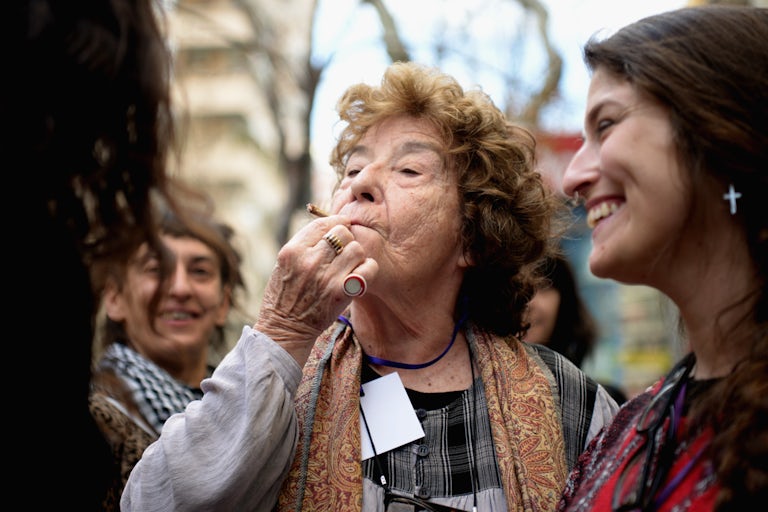 4. Don't warn us about hitting a blunt or explain to us how it's different from smoking a bowl.
Unless we're totally new to the game, in which case you're doing a good job prepping us, we've probably tried the whole gamut of smoking methods. It might be polite to let someone know what the strain is that you've rolled up—at least I always ask so that I know what I'm getting myself into. But if I reach for the blunt without hesitation that means that I've been there before. Don't harsh my mellow.
5. Don't show us where the choke is.
We know where the choke is.