Though doctors agree that Irritable Bowel Syndrome is a serious medical condition, no one is quite sure what causes it. It's mostly diagnosed based on the presence of symptoms such as horrible cramps, bloating, and abdominal pain, along with uncontrollable bowel movements or constipation. And while people with mild symptoms can sometimes manage the condition via diet and exercise, those with more severe symptoms don't have it so easy.
Regardless of the severity, anyone who suffers from IBS can tell you that it's absolute misery, and many say that they struggle to find conventional treatments that work for them. Cannabis, however, has produced some remarkable successes.
Discovering CBD for IBS
Constance Finely is one of them. She has ankylosing spondylitis—a rare genetic disorder which is triggered by a gene also associated with inflammatory bowel conditions—HLA-B27. She was having as many as 50 bowel movements a day, she says, which she didn't realize was abnormal because she'd been living with the condition for so long. Her weight also suffered—at one point she got so thin she needed a coat in warm weather.
These days, she's back to a normal weight and has her symptoms under control after experimenting with cannabis and, ultimately, discovering CBD, a non-psychoactive compound in the cannabis plant said to relieve inflammation and anxiety.
Finley first started with high-THC products, simply because that's all that was available, but she now relies on high-CBD vape pens and oil drops to manage her condition. Like many who have seen their lives transformed by cannabis, she was inspired to start her own brand too—Constance Therapeutics, one of the first medical cannabis companies to make high CBD oils in California.
While Finley's own experience has helped her accumulate plenty of personal and anecdotal evidence to support the idea that CBD can fight IBS, new research suggests she's been right all along. An imbalance in the endocannabinoid system was recently found to play a role in gut disease, and the researchers surmised that cannabis was helping correct it. It's not hard evidence that cannabis cures IBS, but it suggests that anyone who has been using it as a treatment is on the right track.
That track, for Finley, involves a mix of vaped and ingested high-CBD, full-spectrum cannabis. She uses a vape pen for acute symptoms, like painful cramps, and takes a set dose of CBD oil throughout the day to manage the low-level effects of the disease.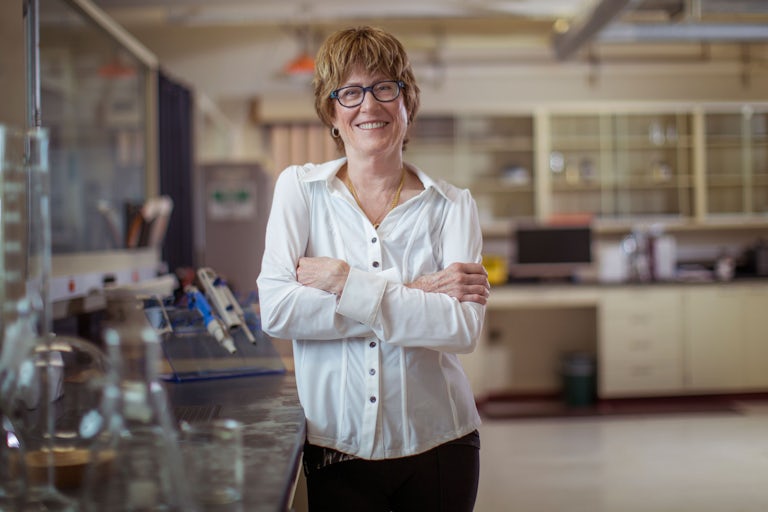 How to Find the Best CBD Oil For IBS
As Finley points out, there's a lot of amazing products out there these days. The most important thing to look for when shopping for the best CBD oil for IBS, she says, is something that's sourced from plants free of contaminants and that contains the full spectrum of cannabinoids and terpenes present in the original plant. She prefers products that still contain a bit of THC as both compounds have anti-inflammatory properties that act via different mechanisms, making the effects more powerful in combination.
As there's limited research on cannabis for IBS, it's difficult to identify the best CBD oil for IBS, specifically, but it's important to look for a product that's consistent and accurately labeled. (Unfortunately, that's not a given.)
In Canada, one of the best CBD oils not just for IBS, but, in general, is Aurora's CBD drops. They won 2nd in the Top High CBD Oil category of the Canadian Cannabis Awards, and at about 13 percent CBD to 1 percent THC, they're right around the ratio that Finley recommends. They also offer a high-CBD flower strain called Cannatonic that can be vaped or smoked for quick relief, something that's important for conditions like IBS which can have acute symptoms.
For patients in California, Finley's actual products are widely available in dispensaries. She sells high-CBD vape pen cartridges and oils and even offers a 39,000 mg, 90-day specialized cannabis treatment program.
It's preferable, Finley says, to buy a full-spectrum product with a bit of THC in it, but for people who live in states where cannabis isn't yet legal, hemp-based CBD products like Green Mountain's CBD capsules and drops are a good bet as they're lab tested for potency and pesticides.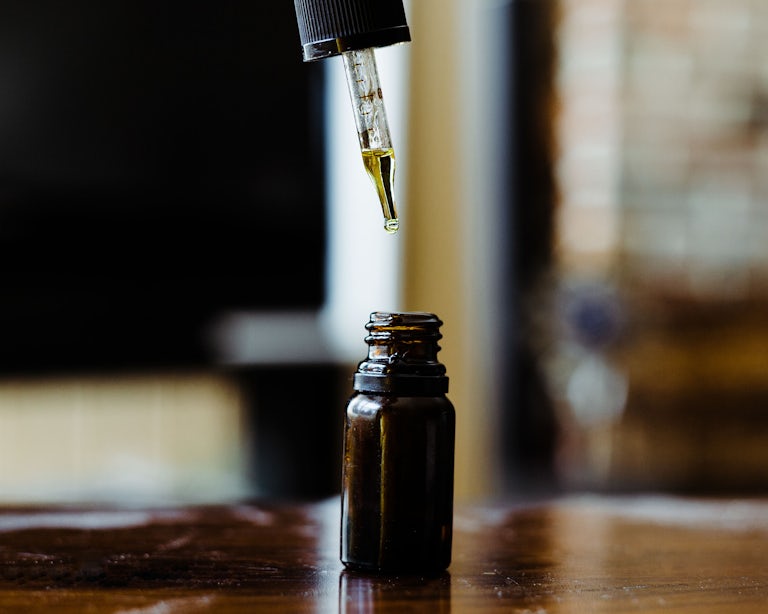 Does CBD Oil for IBS Work?
For Finley, the combination of medicine she settled on works wonders, and she's seen results for a lot of other people suffering from the disease.
Justin Emmett Harney, a web designer in Hamilton, Ontario who developed IBS seven years ago, can attest to that. Before starting CBD, things were not going so well.
"I kept suffering and suffering," he says. "From 2011 to now, I gained about 60 pounds. It wasn't healthy weight. It was all bloating and because my digestive system wasn't moving. It would get backed up to the point where you could see it in my chest on an x-ray."
While he had the opposite problem from Finley, it was affecting his quality of life just as much. No conventional treatments were working, and the bloating got so bad it gave him a hernia. While he started on medical cannabis during that period, he says its effects became truly apparent after he finished recovering from his hernia surgery. He smokes about 2.5 grams of high-CBD flower daily and supplements that with one to two drops of concentrated oil as needed.
CBD for IBS Anxiety
"I find the drops help with the physical symptoms but the vapor helps with the mental systems," he says, noting that people with IBS tend to suffer from severe depression and anxiety due to the disease. That's not really talked about, he says, because of the stigma surrounding mental health, but it's an important aspect of any IBS treatment plan. (IBS is also triggered by stress, creating a sort of feedback loop.)
Finley agreed, saying that cannabis was "very helpful for the misery of her condition." IBS, and other people suffering from stomach issues, she says, not only have to deal with the pain of the condition itself, but the anxiety that comes with being afraid they won't be able to make it to the bathroom. In this way, CBD for IBS can be a holistic treatment, not just alleviating stomach pain—but offering relief from the mental toll that can cause it and makes it worse.
"It sounds insane, but [CBD] really has made me a very different person," says Harney. "And a person I like much better than the stressed out, wound up person I was."