With 420 right around the corner, Nike is getting ready to release a brand new pair of shoes designed specifically to celebrate cannabis' biggest holiday. This year's universe-themed SB Dunk Highs are going with a sleek "spaced out" design that definitely catches the eye. Will you be picking up a pair of these to low-key show off your love for Nike shoes and weed?
It's all in the subtle details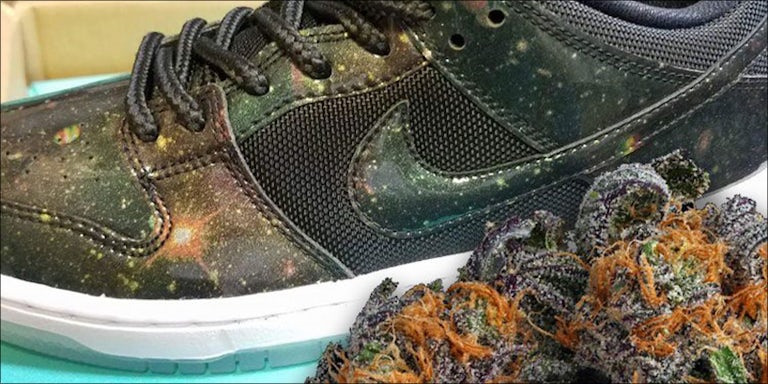 The shoe's green silicon upper design is wrapped with an intergalactic theme: stars, rainbow specks, and clusters of stars dance across the entire shoe. This year's commemorative 420 Nike SB Dunk features a clear outsole and thick white base.
The light-colored bottom of the shoe contrasts nicely against the space themed pattern of the shoe's upper. These Nike's include black mesh panels on the sides and back, including an all-black tongue.
And while all this helps create an eye-catching color scheme, the real star of the sneakers is the patent leather green panels. Talk about the perfect representation of how everyone is going to be feeling following 420.
This year's model seems more focused on the visual experience of consuming your favorite herb. The green immediately reminds any enthusiast of dark green nugs. The star-flecked design references the spaced out feeling you get after a killer smoke sesh.
And the stars all over the shoe's body could also be crystal-complements to the shoe's dark green color scheme. Putting all these visual cues together, the shoes start to resemble crystal-coated, trichome-rich, THC-soaked nugs.
Which design do you think is more accurate to what Nike intended? A spaced out landscape that demonstrates the cerebral high of a good sativa or a design based on actual cannabis flowers?
With the release of this year's 420-inspired SB Dunk Highs, Nike continues what has become an annual tradition of delivering special cannabis-themed kicks around this time of year.