Just weeks into legal sales, cannabis retail shops in Nevada are already facing inventory shortages. On opening weekend alone, some Las Vegas dispensaries saw lines with up to a three hour wait time.
Enter the Vegas Weekend Box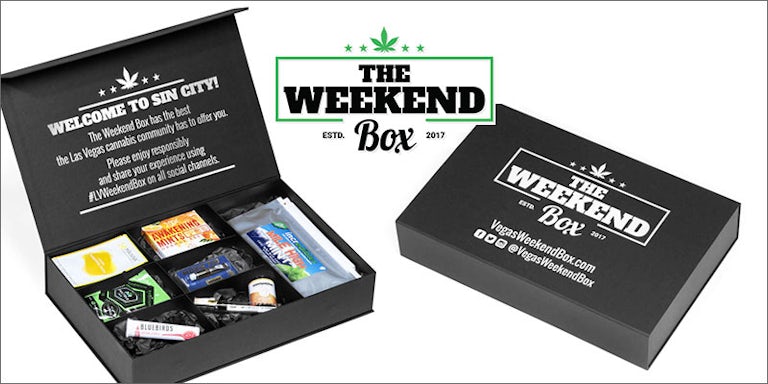 With more than 40 million tourists slated to visit Las Vegas in the next year, that means excitement and big business for cannabis retail stores, but can they handle the influx?
Even if just 5% of those tourists want to visit a dispensary, the lines will be out the door and around the block. – Krista Whitley, Las Vegas cannabis activist and entrepreneur.
While history shows demand will likely subside as the novelty wears off, most canna-tourists will ask questions. They want to be informed, but they also don't want to wait in long lines.
Enter the Vegas Weekend Box a carefully curated selection of the top 10 cannabis products in Nevada.
The beautifully designed box is aesthetically Instagram-worthy offering up an intro or reintroduction to cannabis culture to ensure visitors avoid the pitfalls of many cannabis beginners: Overindulgence.
The Vegas Weekend Box, which sold 10,000 boxes in presale, is just the latest in a series of successful cannabis ventures launched by Whitley.
In fact, her digital media agency, Social Media Unicorn, has quickly become a powerhouse, marketing agency behind some of the biggest names in cannabis including Caviar Gold and Nevada's own Tahoe Hydroponics.
Positive changes for Nevada
Aaaand we're back on track! We made peace with the boxes so we're good to go ?? The Weekend starts TOMORROW – gets yours at the following locations: @thesourcenevada (Rainbow & Sahara) @blum_lasvegas (Desert Inn) @mmjamerica_vegas #ShowGrowLV #vegas #vegascannabis #lasvegas #lasvegascannabis #cannabiscommunity #dixiebrands #mannamolecular #incrediblesmmj #cannavative #tahoehydro #deeprootsharvest #matrixnv #moxie710 #simplypurelv #LVweekendbox

A post shared by VEGAS Weekend Box (@vegasweekendbox) on

The revenue from the retail marijuana industry in Las Vegas will provide funding benefiting the public education system. In the first four days of adult use sales, the Nevada cannabis market earned $500,000 in tax revenue the state's Dispensary Association reported. Those numbers put the state on track to pull in sales of $30 million by the next six months.
Nevada is trailing the nation in education, and as a mother of two girls who are in school, this is a cause I care deeply about. – Whitley
In fact, a recent report found Las Vegas schools ranked 50th in the nation.
Our children deserve better and cannabis consumers deserve to enjoy the normalization of consumption that all of us advocates have lobbied in favor of.
The Vegas Weekend Box, which launches at select dispensaries July 14, will be updated each month to include the latest premium cannabis products.
Share your Vegas Weekend Box experience with us on all social media for a chance to win Vegas Weekend Box swag and coupons using #LVWeekendBox and tagging us @VegasWeekendBox on Instagram.