As an enforcer for the Philadelphia Flyers, Riley Cote racked up over 50 fights and 411 penalty minutes in just four years from 2006 to 2010. So you can imagine that a career like that might require some pain relief. Where Cote has found that relief in the past is in cannabis and he's now encouraging other athletes to give it a shot.
As the co-founder of a non-profit called Athletes for Care, Cote is now working to advance research, educate and provide alternative health care options for current and former athletes. Among those alternatives is cannabis and his co-founders – fellow athletes from all around the sports world – have also experienced the benefits of cannabis and its potential to help athletes recover from injuries and deal with anxiety.
"What brought us all together was cannabis," says Cote, "We all saw the value of cannabis as a healing tool."
When he first joined the NHL, Cote and other players were largely left in the dark by the lack of information they received on cannabis. That knowledge gap was part of the inspiration behind his current work with Athletes for Care and as an advocate for more open cannabis policies in sports.
On a personal level, cannabis helped him to navigate the rigors of a life in professional sports. During his career as an enforcer – the type of player who's often found in the penalty box – Cote used cannabis to help him sleep as well as manage pain and anxiety. "I was fighting for a living," He says, pointing out the pressures that are placed on professional athletes to perform, "When you're fighting guys way out of your weight class on a daily basis there's much more anxiety."
The NHL is unique in that it doesn't take the harsh approach to cannabis that other professional sports organizations do. In fact, it takes a far more relaxed approach to illicit substances in general. The League tests its players three times a year, but they aren't necessarily looking for THC every time. It's a substance which the NHL does not consider a performance-enhancing drug like anabolic steroids, so they're less inclined to frown upon its use, especially when it's done on the players personal time. Performance enhancing drugs, on the other hand, could result in a highly public scandal and a 25-game suspension without pay.
When substances like cocaine, methamphetamine, and cannabis are discovered in a player's system the response is not an immediate suspension as it is in other sports like football or basketball. Instead, Cote points out that a player will receive a phone call and may be expected to undergo a month-long substance abuse program. Even so, it's not likely cannabis will land you in the program.
"I don't know anyone who's ever tested positive for THC alone and been thrown into the substance abuse program," Cote told HERB.
Compared with leagues like the NFL, hockey's approach to cannabis can hardly be considered punishing. In 2016 alone, the National Football League suspended a total of 26 players for cannabis use.
Despite tough regulations and the consequences that follow players continue to consume cannabis. According to some former NFL players as much as 75 percent of the league consumes cannabis, while for the NBA the estimates jump to 80 percent. That's why Cote believes other leagues should adopt the NHL's approach saying, "If you're really concerned about it, treat it as a public health issue and don't ruin a player's career."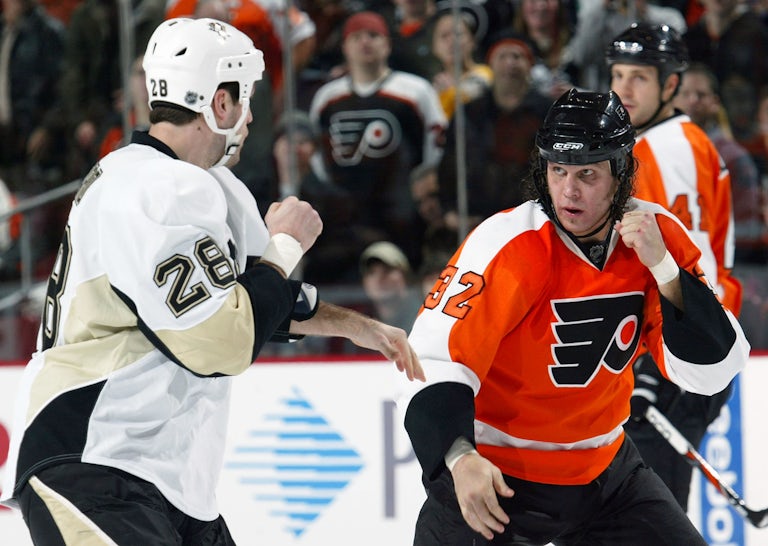 He looks at cannabis as a recovery tool more than a performance enhancer or inhibitor and one which could not only benefit players, but also a team's bottom line.
In many ways, taking advantage of the therapeutic qualities of cannabis for Cote is about, "keeping your investments healthy," he says, "when you've got as $10 million dollar player sitting on the sideline because of an injury, how do you justify that as a sports organization?"
The bitter irony is that many sports organizations have seen the statistics. They've heard the comparisons between alcohol and cannabis; heard athlete testimonials about its benefits. Yet while cannabis remains banned in every sport, every sport also seems to be sponsored by alcohol Cote points out. As something he calls a recovery tool, cannabis for him is about as innocuous as drinking chamomile when compared to the pain meds that are currently prescribed to players. But the hands of many leagues are currently tied when it comes to openly embracing an illegal substance and that's where the issue really lies.
"I don't see any of these major sports leagues changing their policies completely until the federal government does." Says Cote, but that won't slow his activism. He continues to encourage other leagues to prepare for the future and inevitable legalization. For the time being, it's not something that sports organizations are willing to publicly support. But what the NHL has shown for years now is that sensible policy doesn't have to be etched in stone and there's nothing wrong the quiet approach.