Dream Queen is a smooth and spacey Hybrid marijuana strain with an energetic kick. This bud is recommended for daytime use, and can produce up to 23 percent THC. These higher than average levels make it a great choice for consumers with some cannabis experience.
Dream Queen Experience
The effects of this strain are not overly sedating or foggy, but Dream Queen does contain a large amount of THC. This strain often tests with as high as 23 percent of the psychoactive. Novice consumers may notice that Dream Queen can provide a dizzying sensation when consumed in large doses.
While Blue Dream is often associated with a relaxed and laid back high, Dream Queen has a little more pep and plenty of smiles. Sativa dominant, this bud is great to use during the day, so long as this flower is consumed in moderation.
More sedative effects present with large amounts of Dream Queen. Though this flower has some zest, this bud is known to provide a spacey, thoughtful experience all around.
Many report that this strain has a creative side, which may help inspire some new ideas about a project. Those who need to stay functional with Dream Queen may want to try microdoses. Dream Queen might be just a little too hazy for work that requires careful attention and alertness.
Dream Queen would be an excellent strain to have on hand before a big meal. It's not uncommon to get a bad case of the munchies after a little of this bud. High levels of THC may be to blame, as it's well-known that the cannabinoid can make you hungry.
This strain is also quite sociable, and many consumers can expect some silly conversation after a little of this herb.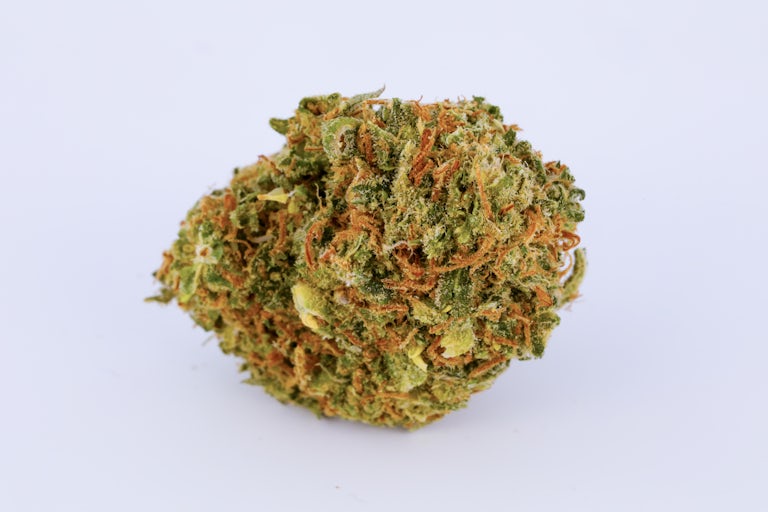 Traits of Dream Queen and Dream Queen Seeds
Dream Queen is a sativa-dominant hybrid cross between Blue Dream and Space Queen, two trendy hybrids known for their potent yet manageable effects. Like Blue Dream, Dream Queen has inherited fast flowering times and is considered easy to grow. This makes Dream Queen an excellent choice for those hoping to try their hand at cannabis cultivation.
Upon first inspection, this strain's most noticeable trait is its taste and aroma. Floral notes and a bright sweetness often reach the nose first with this strain, followed by a grounded earthiness that adds warmth to the aroma.
While the fragrance is enough of a delight for some, Dream Queen flowers are a treat to the eyes. Lively and vibrant, buds tend to feature an emerald green coloration and plenty of deep orange pistillate hairs.
Medical Benefits of Dream Queen
Medical cannabis patients often pick up Dream Queen for a variety of different ailments, including cramps, muscle spasms, and migraines. Many find that this strain is helpful in managing symptoms in pain conditions like arthritis and fibromyalgia.
Medical marijuana patients will definitely think they're dreaming when they feel how this strain helps their symptoms melt away.
Medical cannabis patients seeking relief from ailments like depression, PMS, and chronic stress might appreciate the uplifting and mood-boosting potential of this flower.
Those with muscle-related ailments like cramps and spasms often enjoy the high-THC content in this bud.