Do you love pressing hash or making extractions? Golden Lemons is a sweet and powerful hybrid and is the perfect strain for concentrates. Buds glisten with a sunny coating of THC-laden trichomes. Regularly featuring over 20% THC, this slightly Indica-dominant bud is recommended for experienced marijuana consumers. It produces slightly drowsy effects, though, overall, Golden Lemons provides a highly enjoyable hybrid experience. Whip out this sweet-scented flower when you're hoping for a strong cannabis experience.
Golden Lemons Experience
Bred by DNA Genetics, Golden Lemons is a cross between Kosher Kush and Lemon Skunk. Kosher Kush and Lemon Skunk are also DNA creations. Marijuana enthusiasts will know the for its extremely potent Indica effects. The latter is a spirited Sativa-dominant Hybrid that produces relaxing mind and body effects.
The overall result of the cross is a slightly Indica-dominant Hybrid, providing a nice balance between deep relaxation and upbeat mental clarity. Since the effects of this strain can be deeply sedative, in high doses, you may find yourself stuck on the couch. This would be a good one to save for a hard day or for a chill gathering with cannabis-savvy friends. On the other hand, those with some cannabis experience may find that it is fairly easy to focus and get things done with low to moderate doses of this strain.
Traits of Golden Lemons and Golden Lemons Seeds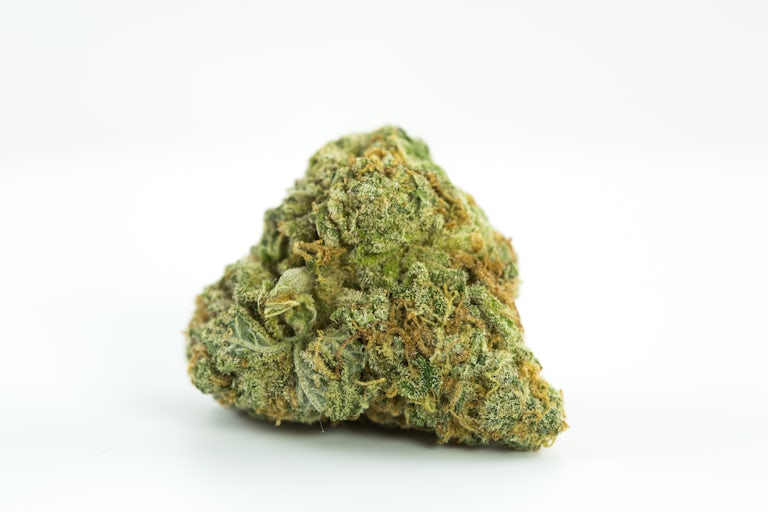 This strain definitely shows off its lineage with a pungent citrus aroma that will remind marijuana connoisseurs of both Lemon Skunk and Kosher Kush. 
That pungency is tempered on the inhale, where a pleasant lemon and citrus flavor mingles with a classic earthy cannabis taste. Those with more experienced palates will detect a spicy herbal tone, a nod to this herb's kush heritage. Between the delicious flavor and the potency, Golden Lemons is a must-try strain for cannabis connoisseurs. The delightful lemon aroma provides an invigorating twist to an otherwise slightly sleepy strain.
While all that glitters isn't gold, these buds certainly are golden. These top-shelf nugs are coated with a resinous layer of golden trichomes and often features THC levels over 23%, making for some real sticky, potent weed. Using a three chamber herb grinder is recommended for this strain. It is a heavy kief producer, and there's no sense letting all of those cannabinoids to waste!
Golden Lemon is also a great strain for producing concentrates, being that the THC levels are very high, and the buds themselves produce ample amounts of kief. According to DNA Genetics, this strain makes lovely clear concentrates. For those who like a little more flavor, the lemon sharpness of Golden Lemons lends well to flavorful extractions.
Medical Benefits of Golden Lemons
Medical marijuana patients searching for a relaxed yet upbeat mental experience will enjoy Golden Lemons.
It may be beneficial for fast relief from chronic stress, muscle tension, pain, and stiffness. Golden Lemons affects both the body and mind.

The effects are long-lasting, which is beneficial for consumers who need serious relief.

Those seeking a remedy for depression may also appreciate the mood-boosting qualities of this funky herb.

Medical marijuana patients who struggle with a lack of appetite may also find some relief thanks to this powerful Hybrid.