Halloween is not only the best holiday if you love candy, costumes, and spooky stuff (and who doesn't?) but it gives weed-lovers the chance to unapologetically devour chocolate, dress like a life-sized joint, and wander a haunted house super baked. Regardless of how you spend the season of scares and sweets, it wouldn't be nearly as festive without some Halloween kush.
Ten Best Strains For Halloween
Ghost Train Haze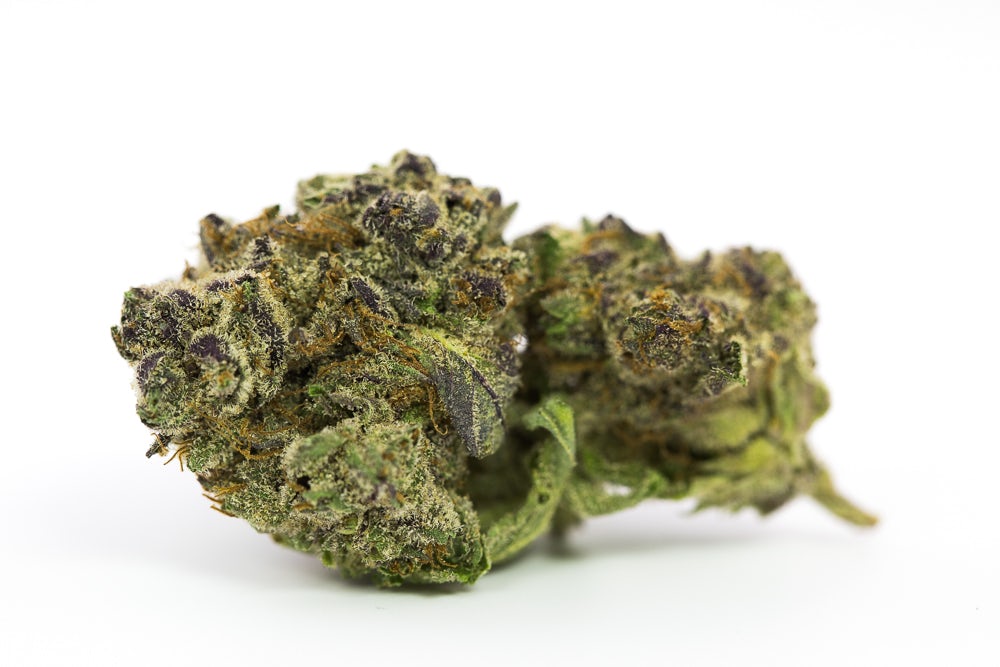 Before heading out to the Halloween parties, smoke on Ghost Train Haze. It's a tasty sativa with spice, pine, and citrus flavors paired with up to 27 percent THC. Ghost Train Haze is precisely what you need to celebrate "Halloweed" until the wee hours of the morning. 
Since Ghost Train Haze is highly potent, newbies should beware. Veterans, however, will enjoy a mix of giggle fits and adrenaline, which make for one wild ride when combined. 
Ghost Train Haze's nugs are dense and covered in trichomes, which serve as a warning to cannabis consumers that this bud is scary-sticky. Do not approach if you are prone to cannabis-induced anxiety as this herb's high THC level will only make you more paranoid and anxious.  
Killer Queen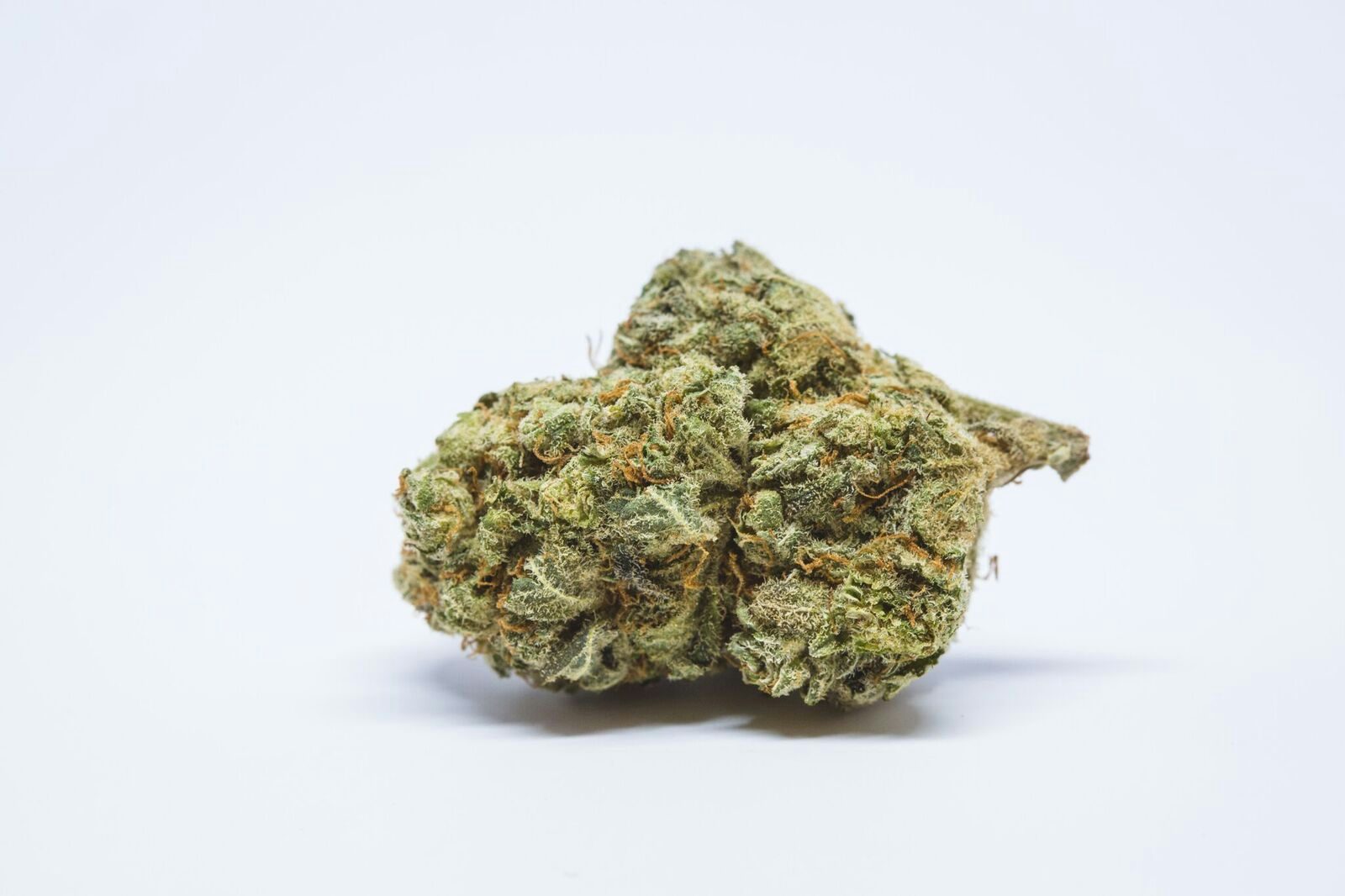 Killer Queen is a creeper. This tropical hybrid has a THC content between 16 and 20 percent and offers an upbeat experience to start. But don't be fooled by this ghoul because before you know it, you feel hazy and sedated, especially after consuming large amounts. That's why she's best suited for nighttime use when you're binging on horror movies.
For cannabis masters looking for an intense psychedelic experience, Killer Queen should be your go-to Halloween kush. Novices should be especially careful as Killer Queen can induce lightheadedness. 
Don't let Killer Queen's innocent-looking fluffy green nugs and beautiful trichome crystals fool you. She is a force to be reckoned with, and her effects will sneak up on you when you least expect it.
Jack Skellington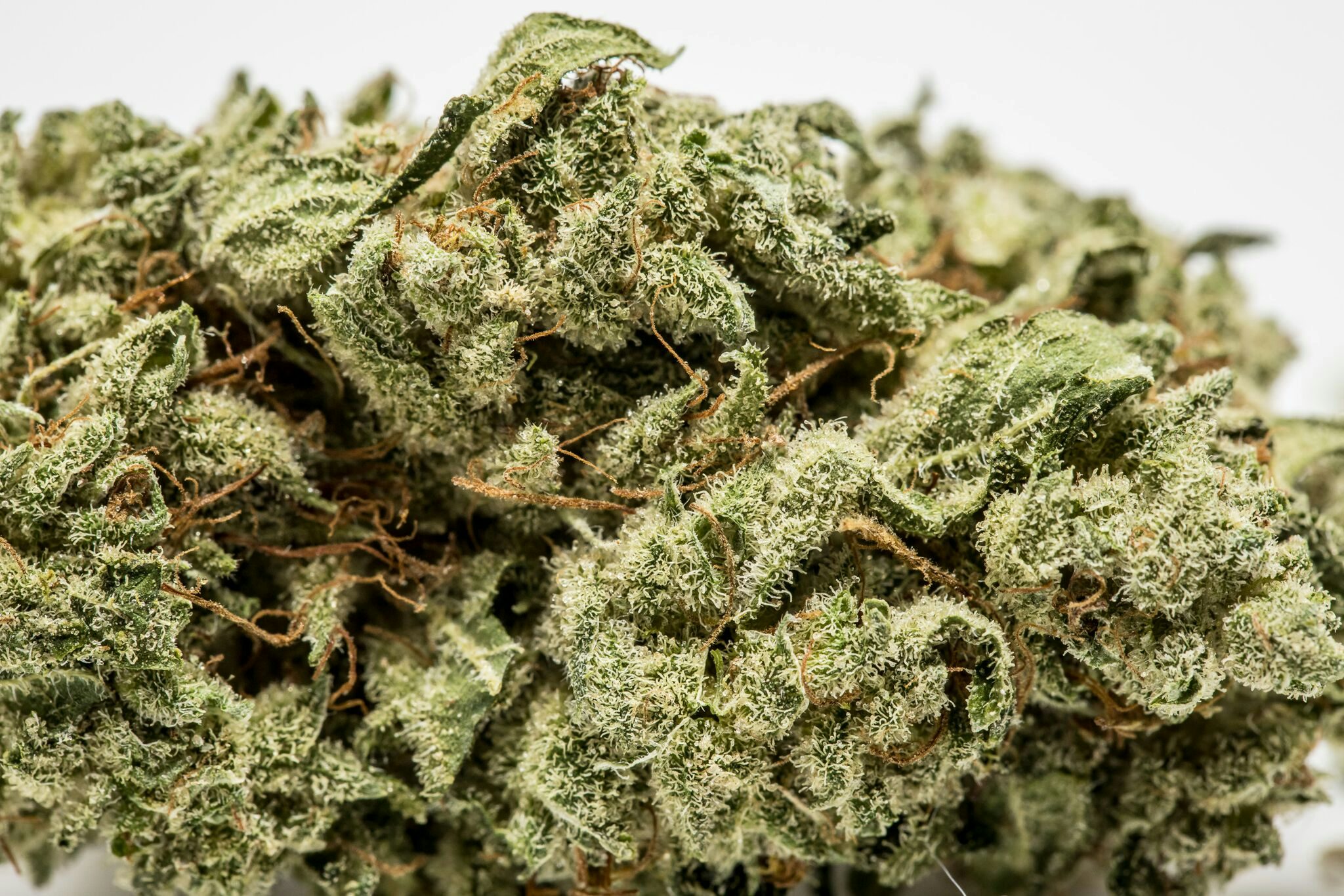 Jack Skellington, the star of the Nightmare Before Christmas, is a Halloween icon. Skellington is also a happy hybrid with a diesel-like aroma, one that will make your favorite holiday magical rather than horrific.
Both cheerful and high in THC (18 percent), Jack Skellington is the right bud to smoke during the day when you're decorating pumpkins or partaking in Halloween arts and crafts. In fact, Jack Skellington promotes focus and therefore couldn't be more perfect for daytime Halloween festivities.
The hybrid isn't the most potent flower on the shelf for experienced consumers. But for rookies sensitive to THC, Jack Skellington can cause anxiety and dizziness, so it's best to tread lightly.
Jack Skellington is, however, one of the most handsome flowers around. Its nugs are bright green with hints of black. Not to mention, they're lanky and spear-like, just like the real Jack Skellington.
Chernobyl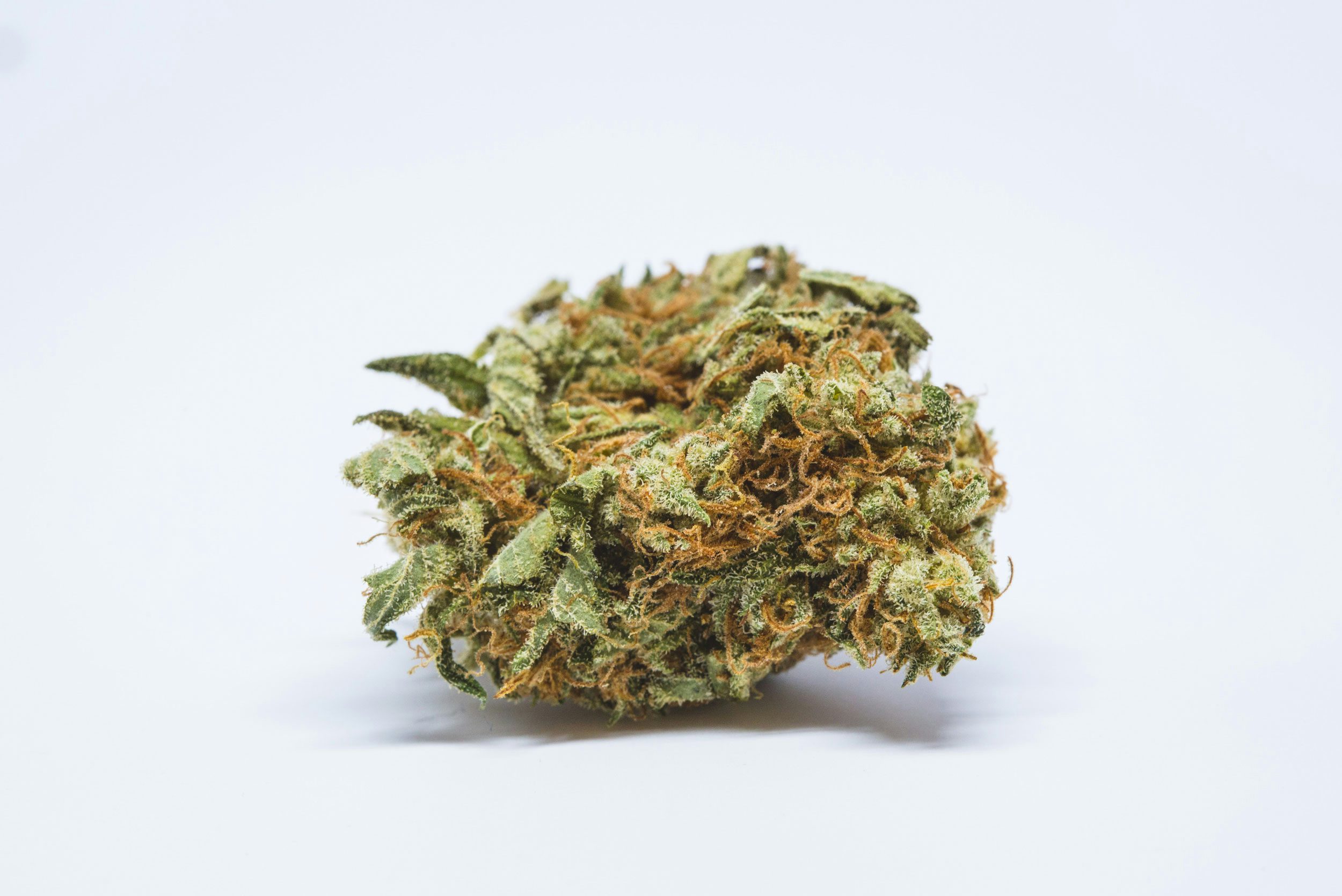 Chernobyl is one of the freakiest, most horrific disasters in history. Several deaths occurred as a result of the nuclear power plant explosion, and as many as 500,000 were affected. To this day, its neighboring town Pripyat, Ukraine remains abandoned. Rumor has it that ghosts and mutants surround the area. Whatever you do, do not Google "creepy Chernobyl photos" while high.
Thankfully the strain is far more uplifting. 
The sativa-dominant Chernobyl produces as much as 30 percent THC and provides a zippy, energetic, and cerebral experience, so it's not something you want to light up before bed. Novices should be mindful during the day too, as Chernobyl can induce anxiety and the dizzies if consumed in high doses. As for veterans, Chernobyl can come in handy for creative afternoon projects, like filling the entire house with Halloween decor or coming up with last minute costume ideas.
Chernobyl's buds are dense, green, and coated in trichomes and orange pistils. And it has a pleasant citrus aroma with hints of lemon-lime.
Jack The Ripper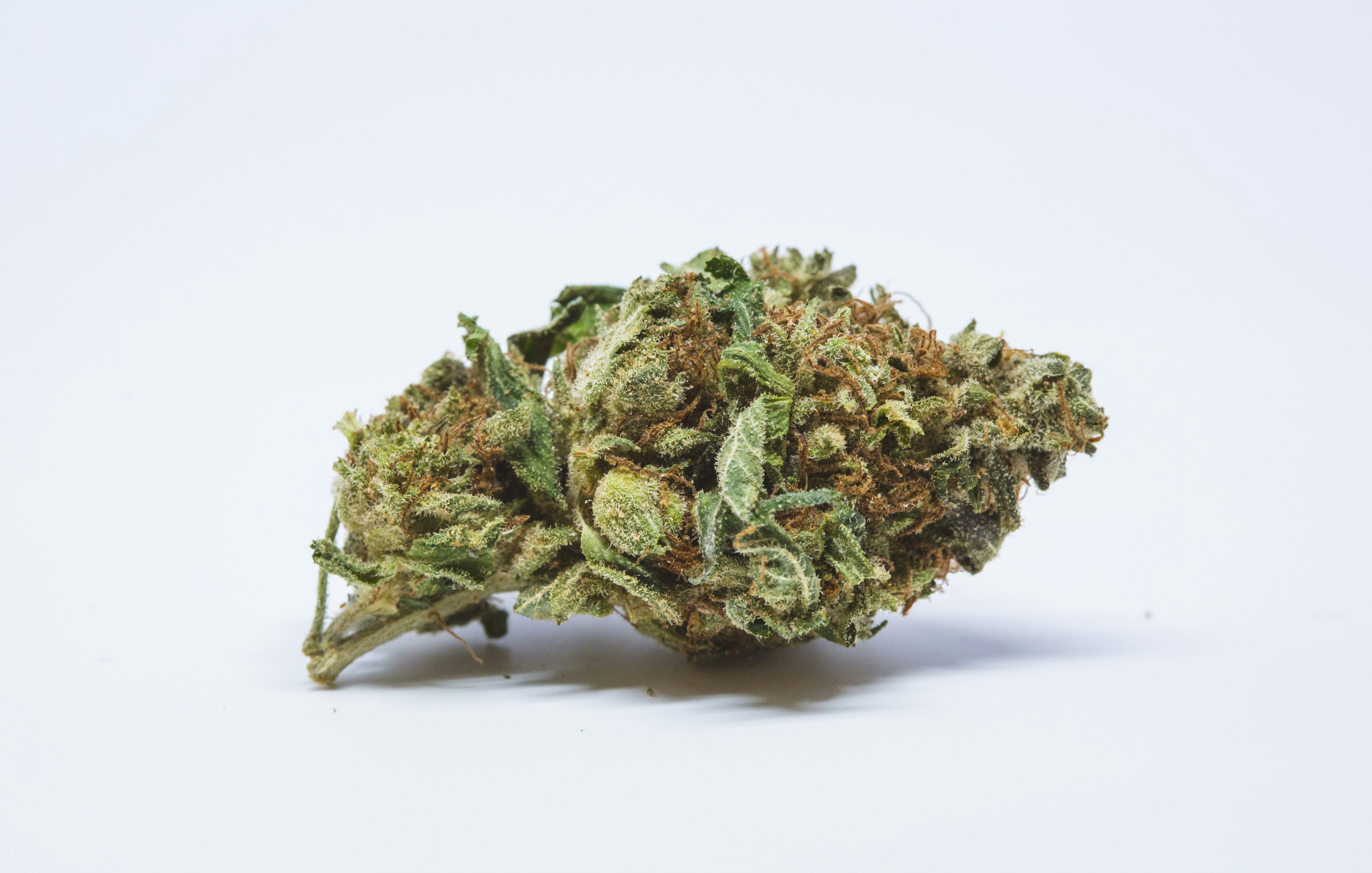 The best strain for a haunted house, or the worst depending on what kind of Halloween you're looking for, is Jack The Ripper. Inspired by the world-famous unidentified serial killer from the 19th century, Jack The Ripper is sour on the tongue with its citrus tang. But that's not the only thing that makes this sativa intense and mind-boggling.
Jack The Ripper is borderline psychedelic, and in high doses, delivers an insanely racy high. Its THC levels are on the lower side and usually range between 15 to 20 percent, but smoke this bad boy before touring anywhere haunted and you'll be terrified the entire time.
The triangle-shaped buds of Jack The Ripper are highly resinous. Not to mention, they're loaded with orange pistils and generous in trichomes, which really give it its dangerous appeal.
Harlequin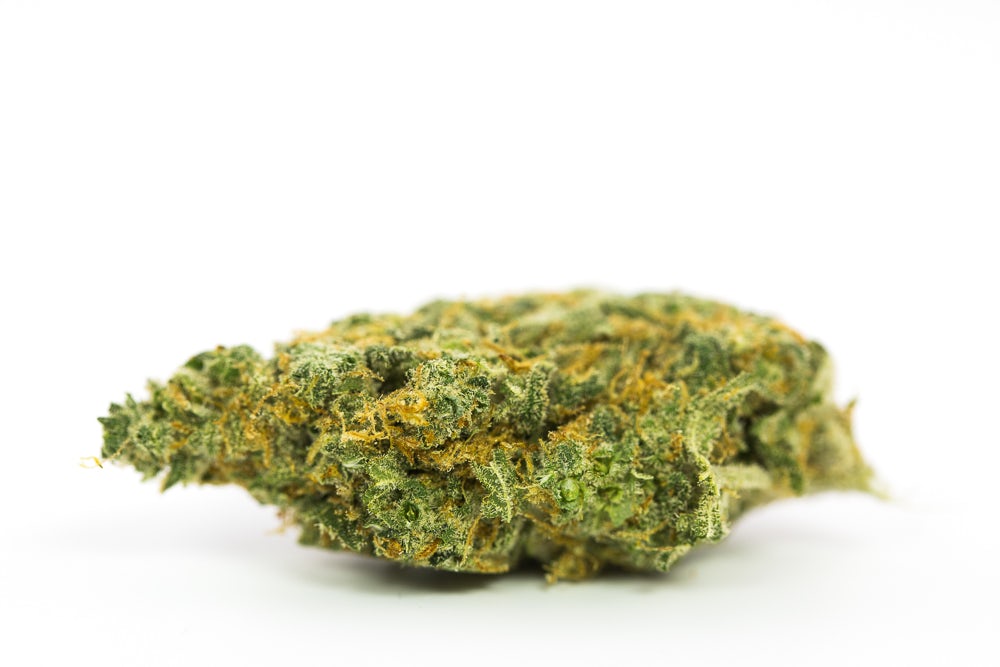 Harlequin is an indica-dominant high-CBD strain that's mild-mannered, upbeat, and pays homage to a mysterious demonic entity that supposedly haunts children's dreams. She's powerful with her mean medicinal punch and fearless with her anxiety and stress relieving effects, and might be the smarter choice before a haunted house or another spooky setup.
Although she sounds freaky, Harlequin is a strain that novices and veterans alike can enjoy. With a 5:2 ratio of CBD to THC, she's effective, but not defeating or highly psychoactive. Moreover, her combination of earthy and tropical flavors and aromas are phenomenal.
As for her buds, Harlequin is trichome-rich, and her leaves are packed and wrapped in orange pistils. She's a beauty, and not hard to break apart either.
Pennywise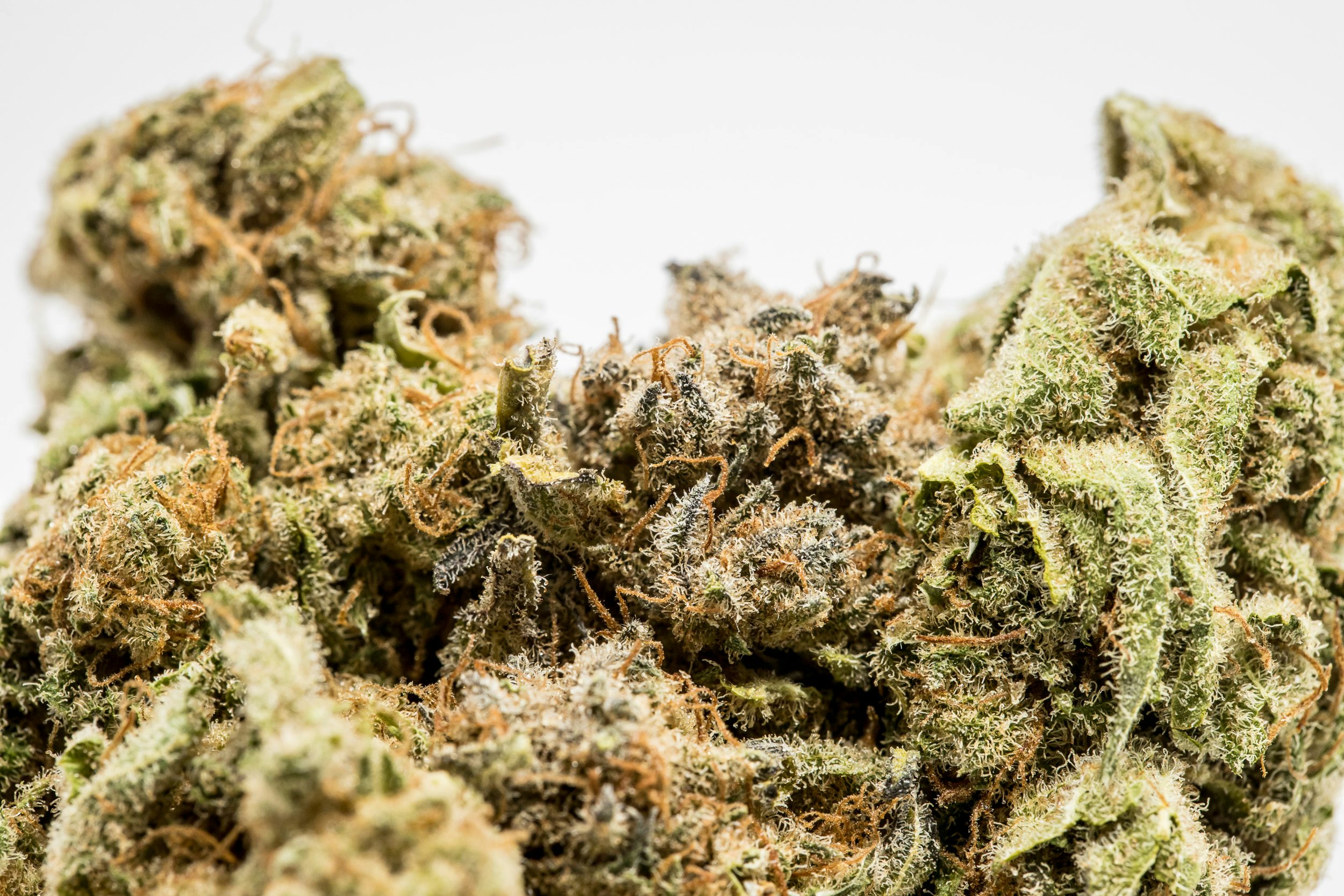 Pennywise could be the spookiest hybrid yet. The fact that it's inspired by the crazy and creepy clown from the movie IT is only half of what makes this mostly indica strain scary. Pennywise is a cross of Jack The Ripper and Harlequin, two spooky strains in their own right.
This hybrid contains an even mix of CBD and THC that ranges between 12 and 15 percent. Despite its alarming name, Pennywise's effects are surprisingly relaxing and often sedative, though it does provide some pep and concentration, making it the right strain to smoke for dominating daily tasks. If you're stuck at work this Halloween, Pennywise will keep your spirits lifted and help you push through your shift.
The aroma of Pennywise is sweet and bubblegum-like, with a hint of spice and black pepper and a base of earth and warm wood. Its buds are both orange and red in color and sometimes feature purple hues. Moreover, they come with a thick layer of glistening trichomes that are as white and milky as Pennywise's painted face.
Black Widow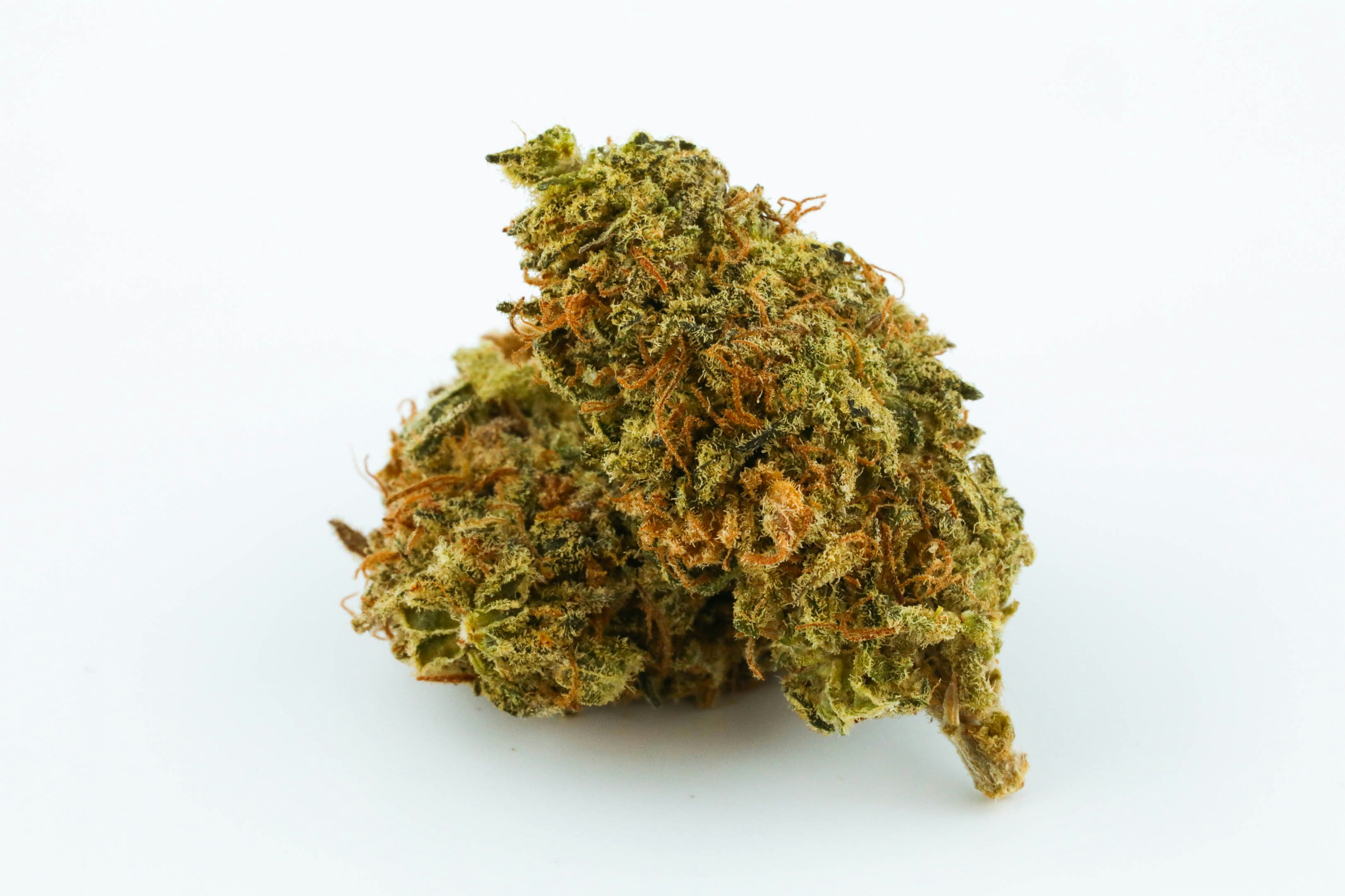 It's not always ghosts and goblins that frighten. Creepy crawlers like the Black Widow, the most poisonous spider in North America, can be just as scary. Fortunately, Black Widow the sativa-dominant hybrid is not deadly. But it is wicked.
Black Widow is highly potent and typically contains 21 to 28 percent THC. You can feel its effects from head to toe, and they are intense. Rookies would be better off smoking a weaker strain if they want to get through Halloween without passing out.
The buds of Black Widow are dense, green, and feature dark purple and orange-red hairs, along with frosted white crystals. Their earthy pine flavor and aroma vary and can be either sweet and subtle or thick and pungent.
Alien OG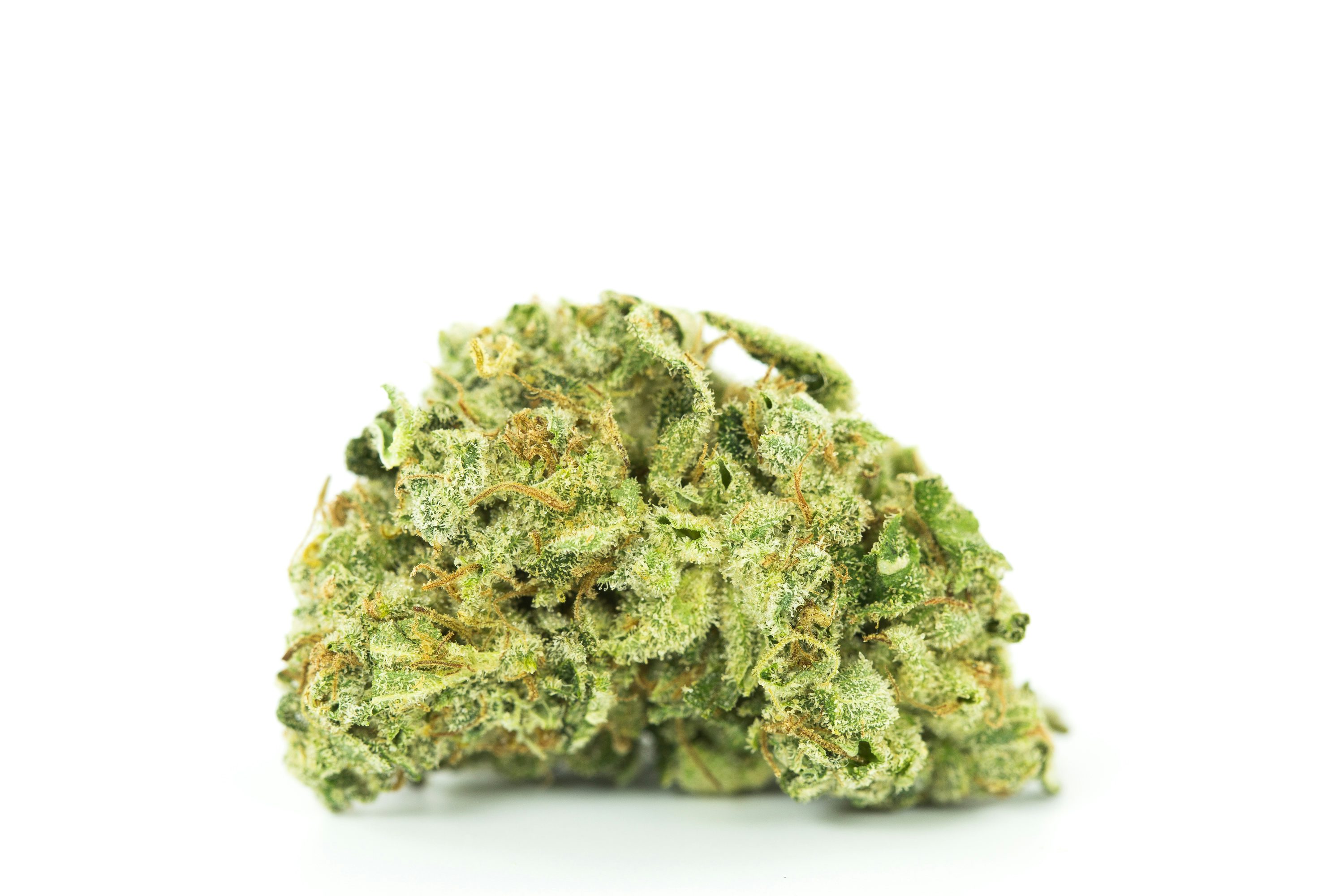 Aliens are creepy, so why not celebrate Halloween with Alien OG? Alien OG is an indica-dominant hybrid with soaring THC levels of 28 percent and features a blend of sweet lemon and citrus and pungent woodsy scents and flavors.
Alien OG delivers an out-of-this-world high, naturally, and the effects hit you out of nowhere, which is mostly cerebral and blissful but can also be body-numbing. It's the perfect bedtime strain or scary movie marathons.
The hybrid's nugs are fluffy, green, and bound in red pistils. They also have a frosty layer due to their abundance of milky white trichomes.
Durban Poison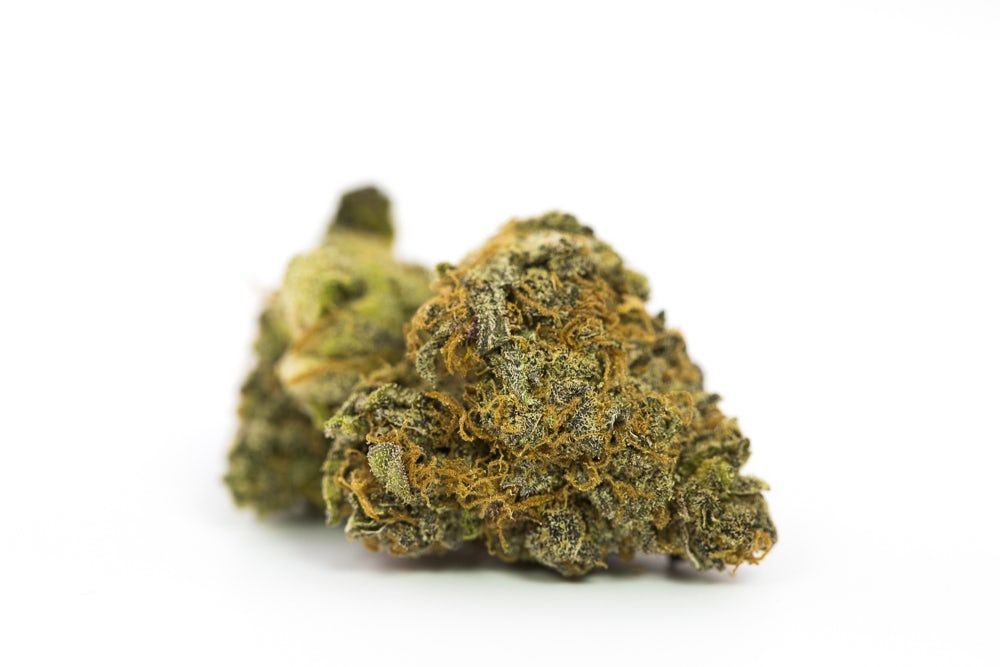 Durban Poison is a pure sativa that will have your heart pounding. It has a high THC content of around 20 percent, and its effects can be mind-altering.
This spooky sativa strain boasts sweet orange and lemon flavors with a forest-like aroma. Aside from an energizing high, Durban Poison offers a mood boost and euphoria, making it ideal for socializing and meeting new friends at Halloween parties.
The buds of Durban Poison are quite chunky. Moreover, they're caked in trichomes and orange pistils.