Subscription boxes are all the rage these days. There's a monthly gift out there for just about everything you could ever love, from junk food to books to graphic tees. Part of the fun is waiting for the mystery treasures to arrive at your door, but the real party starts the moment it's time to unbox. Every box has something new waiting to be uncovered, which is what makes subscription boxes so exhilarating. Not to mention, addicting.
To put it in a way that many of you can relate, opening up a subscription box is like getting high on a dank new strain. You don't know what to expect, but all you know is that it's going to be good. In fact, speaking of dank, there happens to be a box just for weed smokers. It goes by the name of the Glassentials Box by Hemper and comes with all kinds of smoking tools and accessories, including custom glass, wraps, lighters, and even stuff you never knew existed.
5 weed products you won't discover anywhere other than inside a Hemper Glassentials box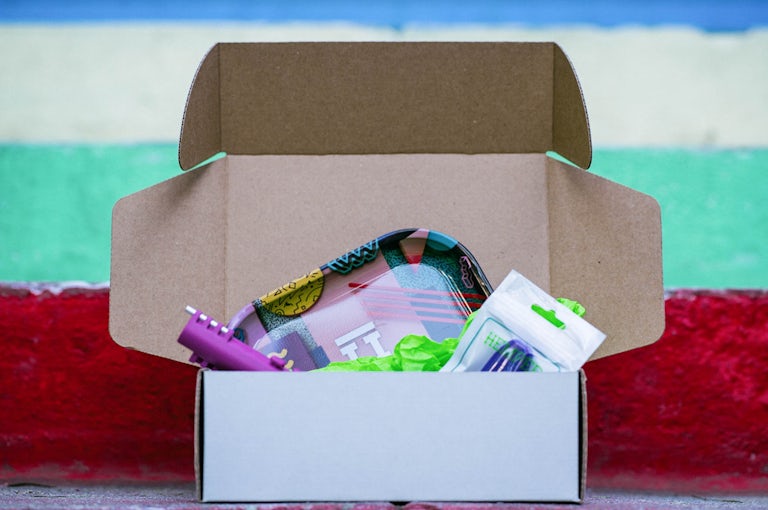 Hemper supplies you with a mix of everyday sesh essentials you're already are a fan of, like Raw papers, glass tips, and more, plus new gadgets to try out, including name brand collab items and exclusive celebrity collab products, all of which are worth over 100 combined. And if you're one to back out of a purchase because of the cost of shipping, then you'll be pleased to know that it's on Hemper, meaning you pay zilch. All you need is less than what you pay for an eighth, and you're all stocked up on smoking goodies for the whole month.
In case you're worried that your neighbor, roommate, or whoever will know that you're ordering weed things, don't sweat it. Each box from Hemper arrives discreetly in a mailer bag, without the brand's logo. No one will suspect a thing. To give you a sneak peek of the rare items to come, here are five smoking products you'll only discover with Hemper.
1. Hemper Keeper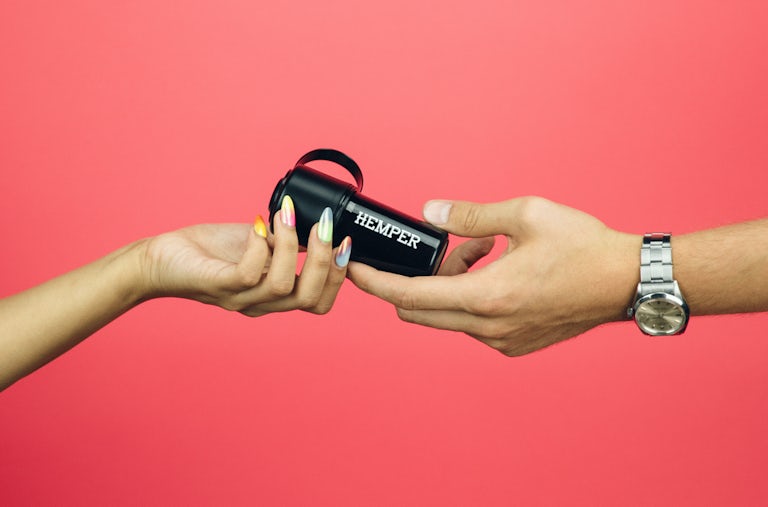 First up on the list of smoking products you can only find inside Hemper's Glassentials box is the Hemper Keeper, the best portable grinder ever. You've probably heard that one before, but the Keeper is legit. Not only does it rip the sticky icky into perfect fluffy shreds, but it also comes with two storage compartments to maintain freshness and keep your ground bud and untouched flower separate.
The Keeper is also smell-proof and water-resistant, which are two features you don't get with most grinders. And for the icing on the cake, the Keeper has a detachable and adjustable tether that lets you clip it to you your purse, pants pocket, belt, or wherever's most comfortable for you. Now that's what you call an authentic on-the-go herb shredder.
2. Hemper Caché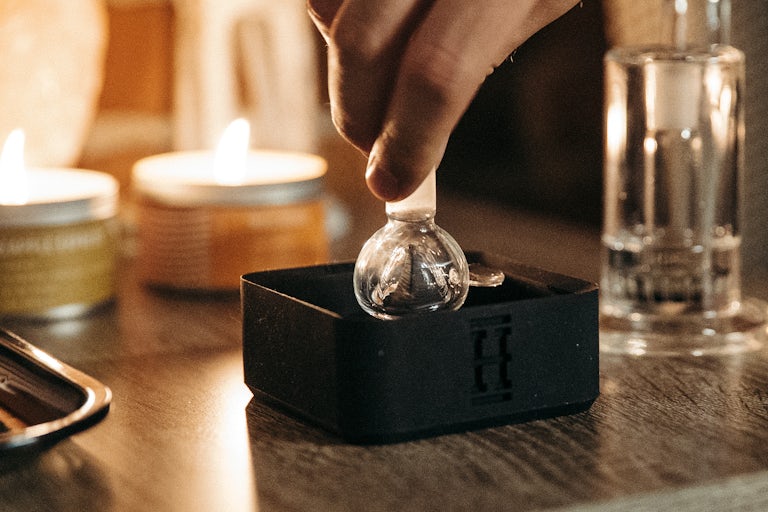 Ordinary ashtrays are underrated. That's because smokers can ash their bowls anywhere, from the ground they walk on to cups to sinks and save money while they're at it. To keep it classy and avoid shattered pieces, the Hemper Caché is worth incorporating an ashtray into your smoking routine.
The Hemper Caché isn't a regular ashtray, though, it's a debowling ashtray, the best around at that. The Caché is made for ashing burnt weed bits and features an ascending point to fit all bowls. Not to mention, it's constructed of heat-resistant non-stick medical grade silicone to avoid smelly, sticky resin buildup and melted plastic, making it a breeze to clean.
3. HemperTech Wipes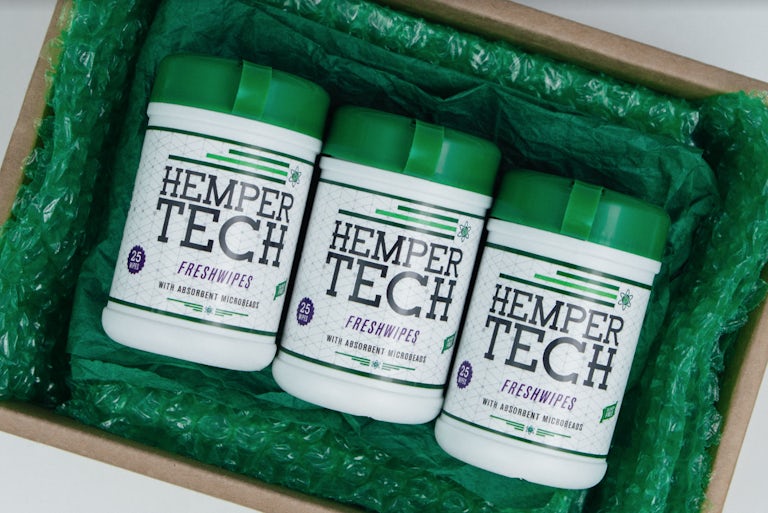 Dirty devices deliver dirty smoke. Fire up a resin-clogged bong or pipe, and you can barely taste the weed at all. Just pure nastiness and that's it. You could always give your pieces a good scrub down as often as possible, but most of us let a dirty rig sit around for too long because it's a lot of work, and it can be impossible to get rid of every glob of resin.
HemperTech alcohol wipes are the easy way to get your devices looking squeaky clean and brand new. Just grab a couple, give your apparatus a few wipes, and it'll be back to its pristine condition in no time. No additional cleaning agent necessary. Each bucket comes with 25 wipes, which is more than enough to get your entire collection clean, or at least most of it.
4. HemperTech SnapCap Alcohol Swabs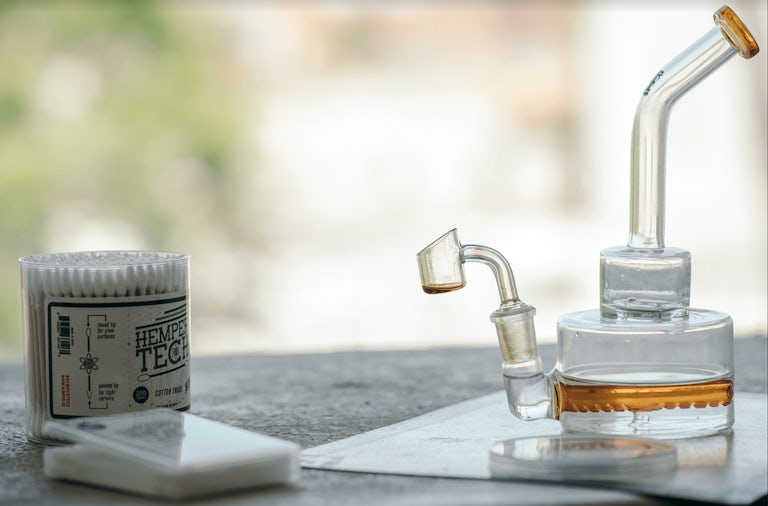 For cleaning the nooks and crannies of your favorite vape, or your quartz bangers and bowl pieces, HemperTech SnapCap Alcohol Swabs couldn't be more perfect or practical. There's always that one hard to reach spot that never gets all the way clean, but HemperTech SnapCap Alcohol Swabs provide a thorough cleaning. Unlike using regular alcohol and q-tips, there's no constant dipping or messes to clean up with these babies. By snapping the blue lined tip, isopropyl alcohol will flow right out through the cotton and onto wherever you need it to do its job. It's that simple.
5. HemperTech Plugs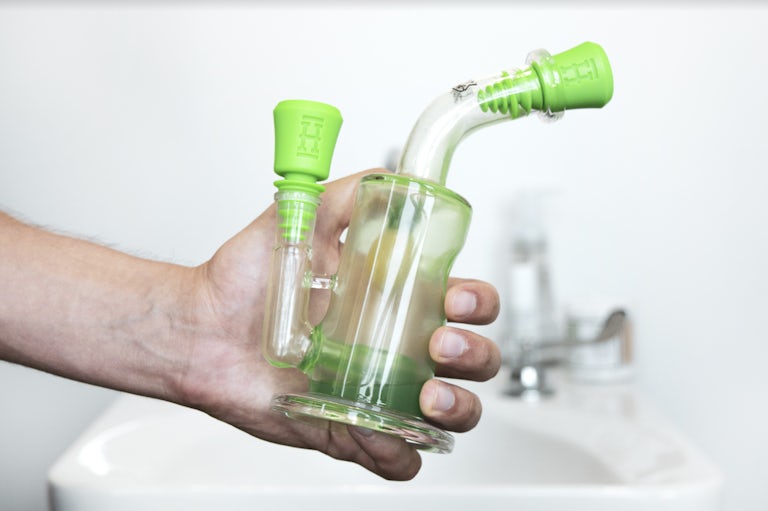 HemperTech Plugs are the bomb.com in more ways than one. For starters, they make cleaning your bong a snap. You fill your bong with your choice of cleaning solution, then add the plugs to the joint and mouthpiece, and shake. The HemperTech Plugs are universal and can fit any joint or mouthpiece. Also, they're excellent for traveling with your most beloved pieces spill-free, without needing to dump out the water beforehand.