Already, 99.99 percent pure THC distillates are hitting the markets. But, are these products worth the hype? For those hoping to take advantage of the many micronutrients found in the cannabis plant, opting for a whole bud may be preferable. Here are the deets on cannabis isolates vs. whole plant medicine and how the two compare.
Isolates vs. whole plant medicine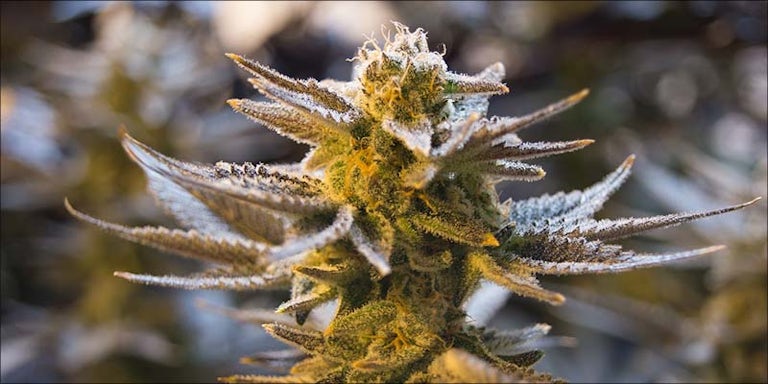 The great wide world of legal cannabis is changing rapidly. Nowadays, many consumers have access to more products than ever before. Oils infused with isolated cannabis compounds can even be purchased legally online and in stores in several different countries. Here is a brief breakdown about two primary types of cannabis extractions hitting the markets.
1. Isolates
Isolates are purified forms of cannabis compounds. Two types of isolates are most common in legal cannabis market today, isolates containing tetrahydrocannabinol (THC) and cannabidiol (CBD). THC is the primary psychoactive in the cannabis plant. It's the compound you can thank for the famous cannabis "high."
CBD is a non-psychotropic cannabis compound. It is currently being researched for its use in epilepsy and cancer, among other ailments.
Advancements in extraction technology have allowed processors to isolate individual cannabis compounds. This means that some people can now purchase purified distillates from shops and dispensaries. Pharmaceutical and supplement manufacturers can also purchase isolates to include in vapor pens, oils, and other infused products.
Isolates have a few major benefits. Some of these include:
Standardized product
Precise dosing
Smooth experience
Less sedative experience
2. Whole plant medicine
Whole plant (full extract) medicine refers to extracts and products made from the whole cannabis plant. THC and CBD are simply components in cannabis resins. Altogether, the cannabis plant is capable of producing over 400 different chemical compounds. At least 113 of which are chemicals like THC and CBD called cannabinoids.
Another 200 are aroma molecules called terpenes. Terpenes not only provide flavor and fragrance to the cannabis plant, but they have therapeutic properties on their own. In fact, terpenes may be the reason that individual strains have their unique effects.
Research suggests that as little as a 0.05% terpene concentration is pharmacologically active. This means that very small doses can have large effects.
Whole plant medicine retains as many of these terpenes as possible in the cannabis product. The whole plant approach also attempts to retain as many trace cannabinoids as possible, not just THC or CBD. This means that there are substantially more nutrients in a full extract cannabis product than there are in an isolate.
Some of the benefits of whole plant medicine include:
More flavor
More micro nutrients (terpenes and cannabinoids)
Different effects from strain to strain
How do they compare?
If you're hoping to take advantage of the rich nutrient density of the cannabis plant, whole plant medicine is the winner. Full extract cannabis oils and other whole plant products simply contain more nutrient diversity than an isolate.
However, isolates can still be extremely useful. Isolates are often used in pharmaceutical medications to better control the dosage and overall experience a consumer has with a cannabis product. While whole plant medicine is more nutrient dense, every batch of a full extract oil or product will yield different amounts of terpenes, cannabinoids, and other micronutrients.
Sometimes terpenes can be added back into isolated products. While this is perhaps preferable to isolates alone, some terpenes can be burned off simply by using certain kinds of solvents in the extraction process. Opting for extracts made with butane or ethanol may be preferable for maintaining terpene diversity.
Research on all of the various cannabis compounds and how they might interact with each other in the human body is fundamentally lacking. This fact has led many cannabis consumers to opt for full-extract products with the understanding that individual cannabis strains produce fundamentally different experiences and have different therapeutic effects.
Many cannabis compounds may be valuable to the human body in ways that are not currently understood.