Whether it's hiking, backpacking, or rafting, hardcore adventurers need a smoking device that can keep up. Doing some serious camping this year? Have no fear. The Ooze Bowser unbreakable pipe will keep you lifted through all of your summertime adventures.
Cannabis + outdoors = best combo ever
If there is any time of the year that is most enhanced by cannabis, it's summertime. The herb has a knack for inspiring focus on the present moment, allowing worries and deadlines to escape to somewhere tucked away in the far corners of the mind.
The plant is also known to heighten the senses, potentially causing colors to appear a little brighter, smells a little stronger, tastes a little sweeter and music just a little more interesting than normal. Needless to stay, taking that heightened sensory state to your favorite outdoor getaway makes for a truly exceptional natural adventure.
When it's time to put down the books and power off your laptop, there is no faster way to inspire relaxation than with a tasty bowl and some quality time enjoying the sun. However, it can be a pain to haul around your favorite breakable pieces during a day cycling and outdoor exploration. Successful smoking while out and about takes the right equipment.
Vaporizers can be a hassle to care for during a hike and joints can take some serious time and effort to roll. Neither are excellent for enjoying a little herb on the go. Yet, thankfully for all of the adventurous Herbivores out there, one company has engineered the perfect solution: an unbreakable pipe designed exclusively for an active lifestyle.
The best unbreakable pipe for all of your summertime adventures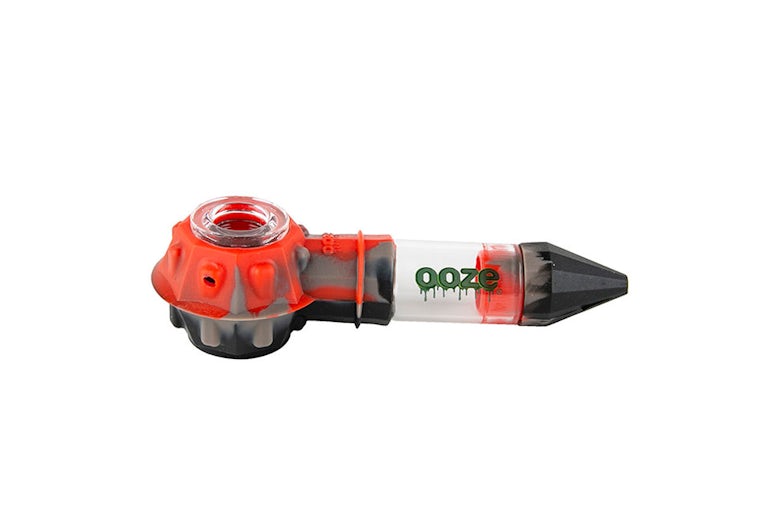 Versatile, the Ooze Bowser is a convertible piece that transforms from a smooth glass hybrid pipe to a virtually indestructible silicone traveling companion. When enjoying some tasty flower indoors, simply pop in the glass extension for an improved experience. When partaking outside, however, this travel-friendly piece can convert into an all-silicone smoking device.
Made from heat-safe polymers, this piece is virtually indestructible. The silicone safely handles shock and the overall piece is compact enough to fit into even a small pocket during a hike. The compact size also makes this piece discrete, which is useful for adventures on popular trails or camping sites.   
However, this piece isn't all action. Those who enjoy the taste and convenience of glass will also love the Bowser. Considered a Combo Pipe, this Ooze piece features removable glass pieces that can be used to customize the smoking experience. When relaxing indoors, the piece provides the comfort and familiarity of glass. The glass used in the Bowser is high-quality borosilicate, allowing consumers to experience a pure flavor without any unwanted metallic tang.
When extended, the Bowser features plenty of space for smoke to circulate before inhalation. This means that you can expect some robust clouds from this ingenious invention. When the pipe is shortened, expect shorter yet impactful inhalations and a smooth flavor. Overall, this durable piece will deliver a solid experience whenever and where ever you go, exactly what Ooze intended.
Lifted traveling just got easier
Not only is the Bowser pipe unbreakable, but it is exceptionally easy to clean and use. Afterall, just because you're out camping doesn't mean that you have to smoke from a gross-tasting pipe. Any regular herb-lover knows that sticky plant-resins begin to build up after even just a few smoke sessions.  While other pipes require alcohol and rock salt to clean, excess resin can be easily removed by soaking this pipe in hot water.
While camping or backpacking, simply place this piece in a bowl and pour heated water over the top. Before the water is completely cooled, simply give the piece a slight shake and allow it to dry. Then, you're free to load up again with a fresh-tasting bowl. For real, it's just that easy.
With the Bowser, there's no need to pack any extra cleaning tools, pokers, or charging devices for this one. Everything you need has been molded into a compact and simple silicone tool. So, when you're ready to unplug and hit the trails, this unbreakable pipe really is the perfect tool for staying lifted all season long. What's a summer without cannabis?