When California finally legalized marijuana it was reasonable to assume that a culture of free and open use would be considered normal. But Amy Hauser of Richmond, California recently discovered that her status as a medical marijuana patient has left her having to choose between her medicine and her job.
At 50 years old, Hauser is studying to become a nurse at a hospice care center and spent her time volunteering there until she was told that her marijuana use made her ineligible to help the terminally ill.
According to a report from The Cannifornian, Hauser was volunteering at a number of hospice care centers in Northern California when she had to leave her post at one company in particular, Kaiser Permanente. The news arrived in a letter reminding her that the company's mandatory drug screening meant that she couldn't volunteer. Still, this is the first time Hauser has come across issues with a hospice organization over her medicine.
"The idea that because I smoke it at night I would somehow be irresponsible during the day, it's completely illogical," Hauser told The Canniforninan, "Just like I would never show up to work drunk, I would never show up to work high,"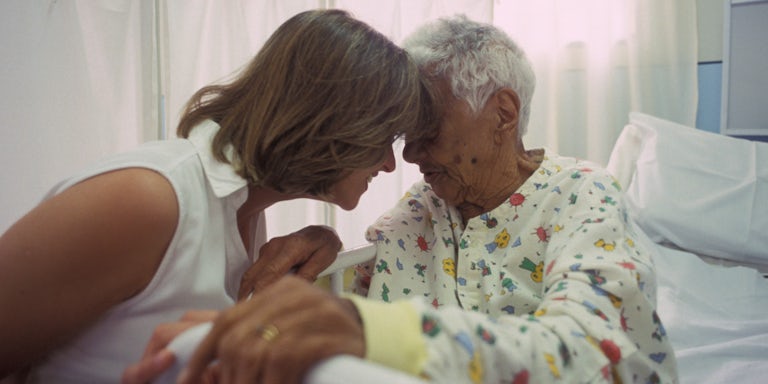 When Hauser intended to make her position with Kaiser more permanent she underwent a training program which required her to be screened for drug use. According to Hauser, she had nearly completed the training when she discovered that a drug test would be necessary and admitted to being a medical marijuana patient.
But the ban hasn't stopped her from wanting to volunteer her time. Instead, she offered to give up medical marijuana even though it treated her anxiety-induced insomnia.
"I'm not going to get the sleep I need," she said, "My anxiety is going to be significantly worse, and I'm not going to be as present for my family."
The reason Kaiser gave for not being able to accept Hauser as a volunteer is that the company maintains contracts with the federal government and, under federal law, marijuana is still listed in the highest restrictive category for banned substances.
"As a health care organization, we always abide by all applicable laws and regulations to ensure the safe provision of care for our members and patients," Mayra Suárez, a spokeswoman for Kaiser told The Cannifornian.
Medical cannabis has been legal in California since 1996, while the recreational market was just launched on January 1st. Despite this, employers can still fire their employees for failing a drug test, even if that drug is being used for medical purposes in the patient's own home.