The national day of cannabis culture is about celebrating all things marijuana. To help keep your spirits as high as your minds, East Side Games is gifting the world with another pot-centric mobile game. Trailer Park Boys: Greasy Money is available worldwide on iOS and Android today. The beloved brand has merged favorite Sunnyvale characters with a stoner-friendly aesthetic to create an idle-style game as addictive as it is hilarious. As Ricky would say, "That's like getting two birds stoned at once."
How does Trailer Park Boys translate to an even smaller screen?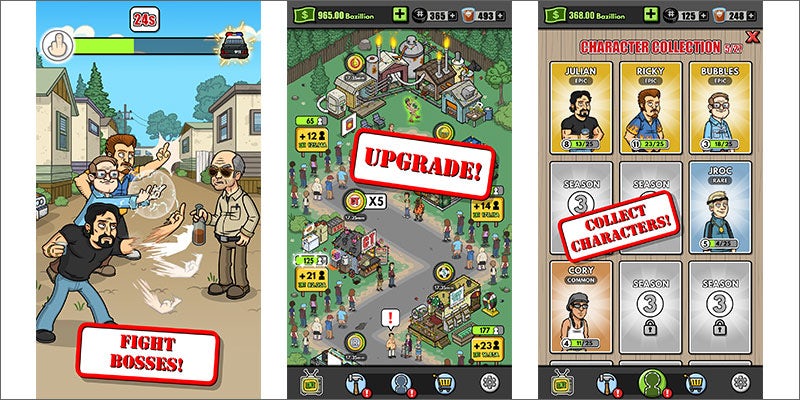 Pretty well, it turns out. Trailer Park Boys: Greasy Money sticks close to its infamous source material, delivering right-on gameplay through story-driven seasons. Grab your brainphone and play as Ricky, Julian, and Bubbles through episodic levels and quirky storylines.
Run shady schemes, try to get rich quick, get thrown in jail and save the best f**kn' trailer park in the goddamn world. Too lazy to work? That's okay! Upgrade businesses and hire Cory to run them while you're gone.
Worst case Ontario, use crowbars to bust open car trunks and unlock more characters, liquor, hashcoins and cash. Oh yeah, and you also fight bosses at the end of each season and get thrown in jail. 'Cause jail is awesome.
The best part is you can play the game with one hand and smoke a jay with the other. Decent. The team at East Side Games worked closely with the boys to make their mobile game a truly greasy experience.
Unlike similar mobile games, this one has an end (for now). Luckily, developers will be shipping more content to Sunnyvale to keep things fresher than a ripe stash of OG Kush.
Trailer Park Boys + East Side Games = A Canadian Collaboration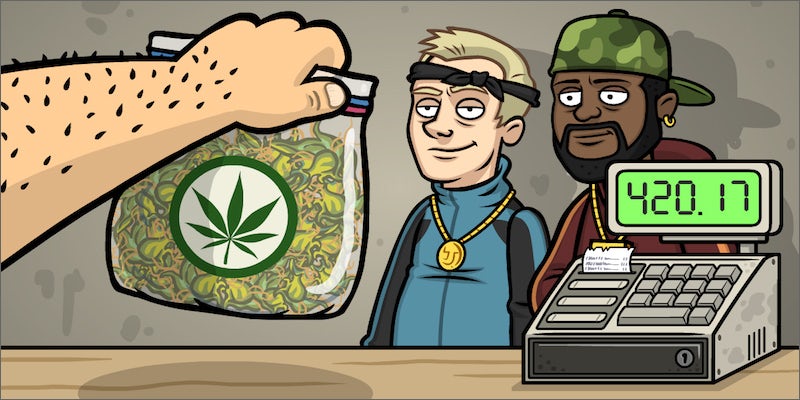 The boys are known dope fiends (they're even launching their own line of weed), so it only makes sense that they'd partner with East Side Games to create their first mobile game.
Not to mention that with hundreds of hours of community content, including weekly streams on Twitch and Facebook, ESG is no stranger to comedic screentime. The entire studio is so obsessed with Trailer Park Boys that the founder even wrapped his rally car with game graphics.
For the Vancouver-based developers who created "the world's largest cannabis community", 420 is a huge day. Pot Farm was released seven years ago on April 20th, 2010 and Pot Farm: Grass Roots was released exactly four years later on Android.
To date, more than 25 million people have played ESG's games. Ready to play Trailer Park Boys: Greasy Money? Download the game on your phone to make this 420 an all-time high – it's not rocket appliances.
Let the team know what you think of the game by downloading Trailer Park Boys: Greasy Money, reading the FAQ's and joining the community on Twitter, Facebook, and
Instagram.
For more information on the Trailer Park Boys, visit trailerparkboys.com and swearnet.com.