With the medical marijuana movement being in full speed, cannabis companies are expanding and new products are surfacing. Topicals, such as creams and balms, have become especially desired, given that they can be an effective treatment for some variations of pain. Now, cannabis companies are going even beyond that by coming out with new and more efficient products to appeal to a wide variety of medical marijuana patients.
Mary's Medicinals gets the patent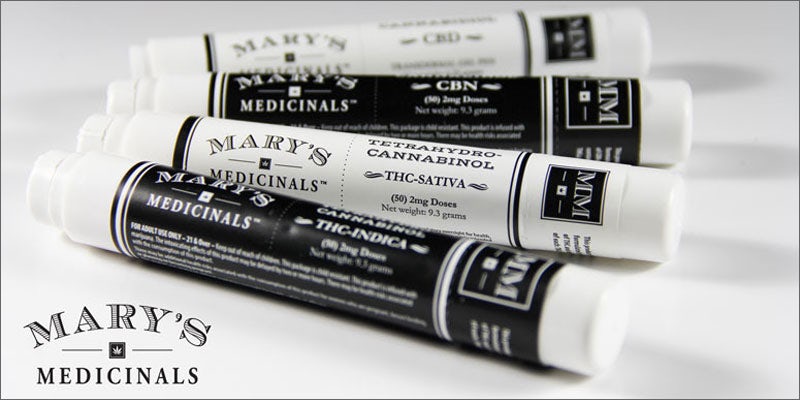 Mary's Medicinals, a line of award-winning cannabis products from Colorado, announced that they have officially received a new patent from the U.S. Patent and Trademark Office (USPTO) for its original transdermal cannabinoid gel technology.
Mary's Medicinals offers a variety of cannabis products and are mostly known for their transdermal patches, which can be worn under clothing, making it ideal for those who want a discreet method of uptake. Generally, transdermal products are more or less known for their ability to release the medication in a controlled method, as opposed to other forms of marijuana, including edibles, which, depending on the patient, could be a potential hit or miss. However, these transdermal patches are still patent pending.
Now, Mary's Medicinals new transdermal gel, which is offered in THC Indica, THC Sativa, CBN and CBD formulas, has been provided an official patent by the USPTO, and this my friends, is a pretty big deal. It's a pretty big deal because Mary's Medicinals represents the first non-pharmaceutical/government related company to have a patent for cannabinoid treatments.
Nicole Smith, founder & CEO of Mary's Medicinals is ecstatic about the progress.
"We are pleased that the Patent and Trademark Office has approved our application. The PTO has only granted an extremely limited number of cannabis-related patents, almost exclusively to major international pharmaceutical corporations, research institutions and the Federal Government.

As a small startup company, securing this protection for our intellectual property and the recognition of the uniqueness of our offerings will bolster our continued leadership in this rapidly growing industry."
This is an exciting turn of events for the cannabis industry, as it is a perfect description of just how far we've come and where we can go from here.
Mary's Medicinals & Mary's Nutritionals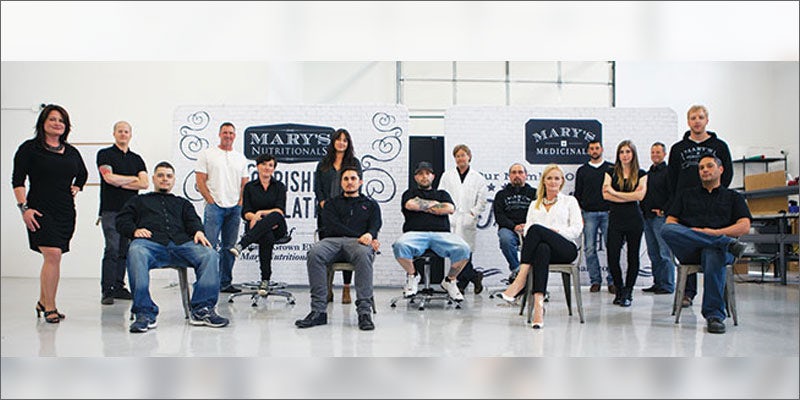 Mary's Medicinals is a lot more than just its cannabis infused transdermal gel. In fact, Mary's was the first to offer THC and CBN products and was first to discover harvesting techniques for how to isolate CBC.
The company established itself as one of the most trusted cannabis brands, with stores in Colorado, Washington, California, Oregon, Vermont and Arizona. The company also plans to expand to more states throughout this year and 2017.
But don't you worry, because if you don't happen to live in any of the above listed states, you're still in luck. Mary's Medicinals' sister company, Mary's Nutritionals, manufactures a CBD transdermal gel pen, along with various other  topicals, and ships to customers nationwide through their website, marysnutritionals.com. These products are federally legal since they have an extremely low level of THC and made under the Industrial Hemp Program in Colorado.
At the end of the day, Mary's Medicinals', along with its sister company, focus is to educate people on the benefits of medicinal cannabis and transform how people see cannabis altogether. The company wants to show patients that these cannabis infused can help improve a wide variety of conditions and there is absolutely no harm in trying it. Either way, you can't lose.
Have you tried any of Mary's Medicinal products? Let us know on social media or in the comments below.