With the Canadian government back on track to legalize recreational marijuana in the fall of 2018, its citizens could soon face some major legal troubles without ever having broken the law. That trouble could come at the US border where Customs and Border Patrol (USCBP) officers are known to deny Canadians entry for admitting to having smoked pot.
In 2014, Matthew Harvey made national headlines when he was denied entry, at the age of 37, for having admitted to smoking marijuana when he was 18. Even though recreational use had just been made legal in Washington state, Harvey was refused entry because he was crossing a national border. His admission of having smoked in the past gave border officers reason to believe he might violate the federal ban in the US.
Harvey's lifetime ban is just one of many cases immigration lawyers expect to see once Canada legalizes.
"It's a real catch 22 for people who were just honest at the border and thought nothing would come of it," says Len Saunders, a US immigration attorney who practices in the west coast border town of Blane, Washington.
Saunders has been practicing for over 15 years and says that cases like this have only gotten more frequent, rising from one or two cases a year to one or two a month when Washington legalized, and now one or two cases a week as more Canadians cross the border for the state's legal weed.
Just before Herb spoke with Saunders, he had been contacted by owners of a cannabis business who had been denied entry to the U.S., not because they were smuggling flower but because they were on a business trip to sell the trimming tools they produce.
Saunders was told by his clients that, "as they were being questioned, the officers were looking at Jeff Sessions' memo," referring to the Attorney General's January guidance which rescinded the Cole Memo. "That was their legal authority to do this."
When a Canadian is denied entry for any reason, USCBP places what is known as a TECS Hit or a lookout on their file, which demands an automatic secondary search with each subsequent crossing. But for those who are permanently denied entry, the process to re-enter the US is prohibitively long.
In order to reenter, an individual has to apply for a waiver. That waiver comes with a fee of $585 USD, a criminal record check through the Royal Canadian Mounted Police, two letters of reference, a letter of remorse, proof of current employment and all other relevant immigration forms. Then they must take those forms to a port of entry where the individual is fingerprinted and photographed. The documents are then sent to the Admissibility Review Office (ARO), which can also order a certified physician to conduct a drug screening—the results of which are not made available to the applicant.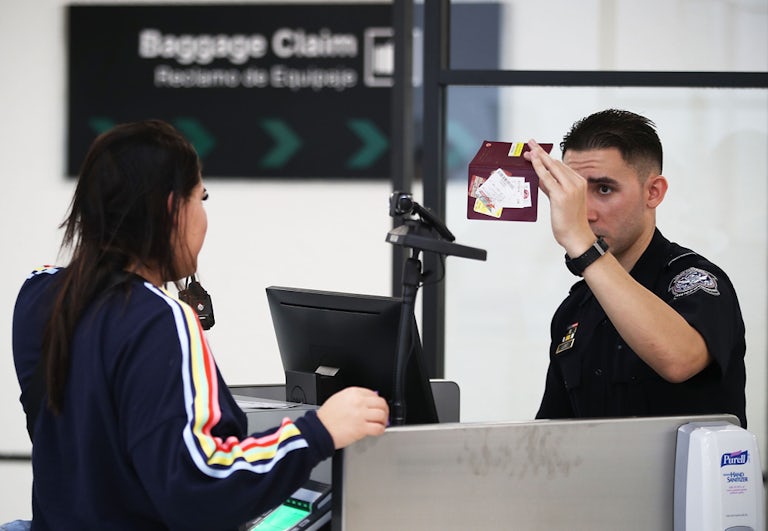 Waivers last anywhere from six months to a year with a maximum of five years, at which point, the applicant has to file again. Today, the ARO files approximately 5,000 of these cases a year, an increasing number of which are drug-related, according to Saunders.
"I've got to give credit to Trudeau for legalizing it," he says of the Canadian prime minister who has admitted to smoking even while in office. "The problem is that the federal government has opened all of these Canadians to possibly being denied entry into the US without fully explaining the ramifications."
With some analysts predicting that up to 40 percent of Canadians will consume cannabis once its legal, the issue is certainly on the radar of officials in both countries. After testifying before the Canadian Senate in March, Saunders says he was contacted by American embassy officials in Ottawa, who voiced their concerns that a large portion of the Canadian population could be denied entry to the U.S.
Still, a US Customs and Border Patrol spokesperson told Herb that not much will change on their end when Canada finally legalizes.
"Although medical and recreational marijuana may be legal in some U.S. States and Canada," the spokesperson said via email, "the sale, possession, production and distribution of marijuana all remain illegal under U.S. federal law."
The Canada Border Services Agency told Herb that they have planned a public information campaign to ensure that Canadians do not unwittingly break the law. This program will include signs at all major ports of entry, and social media ads to remind people that cannabis remains illegal in the United States.
But while it may remind citizens to clean their cars and empty their pockets before crossing, the campaign will do little for those who are denied for admitting they've smoked legally and there does not seem to be a plan to directly address the issue.
When asked about it, Public Safety Minister Ralph Goodale's office referred Herb to the minister's statements on April 13, 2017 in which he insisted that he's kept in "close touch" with the State Department, but only appears to have addressed the issue of potential smuggling.
They will expect, the minister said, "that when people present themselves to cross the border, that the experience is respectful, that it's consistent, that it's professional, and that people are not treated in any kind of a capricious way. If they are, then there are provisions whereby they can file a formal complaint with respect to their treatment that does not accord with the law."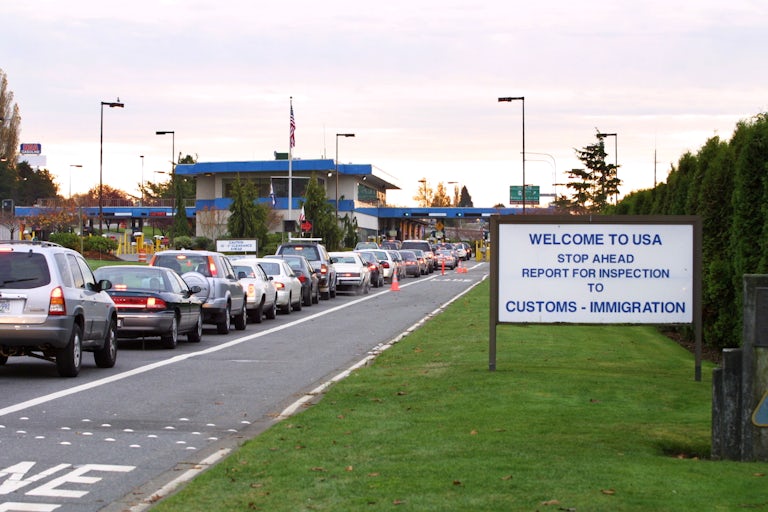 For the time being, it seems as though there isn't much of a remedy on offer. Until both countries legalize on a federal level, US border officials will be obligated to enforce the law, whether they personally agree with it or not.
In the meantime, Sonia Sidhu of Preszler Immigration Lawyers points out that the only option open to Canadians at this time is not answering the question or doing your best to avoid looking suspicious and prompting an officer to ask.
"You're not under obligation to answer the question," she says. "But you should always be prepared and maybe speak to a lawyer. Or if something like that comes up, have your lawyer on the phone so that they can address it accordingly."
Legal experts agree that you shouldn't lie. "Lying at the border is a lifetime bar," says Saunders. "However, if you don't say anything, the worst they can do is just deny you entry," which is not the same as a lifetime ban.
Saunders points out that some officers may try to scare someone into making a sworn statement, the kind which could result in a lifetime ban, by issuing threats of criminal prosecution, lie detector tests, and indefinite detention, but that an individual is not obliged to answer. "There are a lot of scare tactics that eventually grind a person down to the point where they admit to it and that's unfortunate."
Sidhu also says there are certain things you can do to avoid being asked, for example making sure that you haven't forgotten your legal weed or pipe in the car. In Harvey's case, he was questioned only after the border guard noticed a marijuana magazine in his car.
"Sadly," Sidu says, "that's how most people get caught." And until the US legalizes or border officials figure out a workaround, the onus will be on Canadian citizens to be more mindful about how they cross the border or to choose between smoking their legal weed and visiting their neighbors to the south.