Beavers, hockey, and freezing cold winters. These are the things people used to think about when Canada was brought up. Well, put your "eh's" away because this slice of land just became the first G7 country to legalize cannabis, and tourism is about to get toasty. Since weed is legal, you can start planning your cannabis tour across the country now, starting with these five major cities. Whether you fancy some bud and breakfast, heading out to enjoy some cannabis-complementary activities in the great outdoors, munching your way from coast-to-coast or kicking it with friends in the park, legalization means the best of each province is yet to be discovered. Cannabis in Canada certainly has a ring to it.
None of the hotels or activities mentioned have explicitly endorsed cannabis, so BYOW. And check out Herb's guide for where to buy legal weed in Canada.
Cannabis in Canada: where to go and what to do while high
Weed in Vancouver
Strain: Sour Diesel
Vancouver is all about getting into nature. Being surrounded by mountains and the ocean, it's nearly impossible not to think about life. This invigorating sativa-dominant ride delivers both energy and some dreamy cerebral effects, the same qualities that also make it great for blissing out in the great outdoors. The only downside is that this strain can give you cottonmouth, so bring extra water wherever you choose to wander.
Stay: The Burrard Hotel
This picture-perfect hotel is housed in an old motorhome from the 50's and has been refurbished and outfitted for the modern cannabis-lover. With a lush green courtyard, colorful lounge seats, and eye-catching art, it's ideal to wander while high. Guests can also use the free cruiser bike rentals to have a cannabis-complementary adventure offsite.
Do: Stanley Park
Take your idea of nature and turn the dial up—way up. Stanley Park is 400-hectares of a magical green oasis surrounded by views of the water, mountains, and Vancouver's famous Seawall. Hop into a horse-drawn buggy, try paddleboarding, rent a bike, check out Canada's largest aquarium, swim in the pool during summer, or order some delicious sushi and have yourself a picnic. And now, imagine doing all that while enjoying a strain that pairs perfectly with oxygen made from trees.
Eat: Cacao
Let's get this straight: this restaurant doesn't serve food, it serves art on a plate. Okay, it does serve food, but it's so beautifully created that you almost don't want to destroy it with your Godzilla mouth. Cacao is a true gem of Kitsilano, representing a progressive and fresh Latin American menu. The experience, attention to detail, and the ambiance make it worth every cent. These are dishes you won't forget, with flavors that come at you in waves, whether you're high or not.
Buy: The Village Bloomery
In typical Vancouver fashion, even getting to this dispensary is a thing of beauty. You stroll past a modern waterfall, through a tree-laden courtyard, and alongside a pyramid-like glass gallery. Wait, are we talking about Narnia or a walk to a dispensary? That's probably what you just asked. The staff, who are always friendly and extremely knowledgeable, combined with the overall vibe of this light-filled shop of green magic, make it worth the trip every time. Dispensaries in Vancouver are still operating in a grey area, so The Village Bloomery will remain a favorite for many, for as long as it's open. Those living in B.C. can legally purchase cannabis online through the B.C. Liquor Distribution Branch. 
Weed in Toronto
Strain: Sour Amnesia
Just like Toronto, if you're dozing, it will give you a swift mental kick the second you need it most. 'Wake up!' it says. 'Wake up and carpe diem!' This stain is an excellent choice for those in need of an energy boost. It's also useful for stimulating appetite, which will help while you eat your way through the city's many food neighborhoods like a really helpful and totally welcome bacteria.
Stay: The Gladstone Hotel
Behind each of the 37 guest room doors lays a uniquely decorated room, because you don't want to be like everyone else and they're totally fine to cater to that. Devour artistically crafted food right as the munchies set in or get inspired by thought-provoking art exhibitions and then go back and stare at your walls.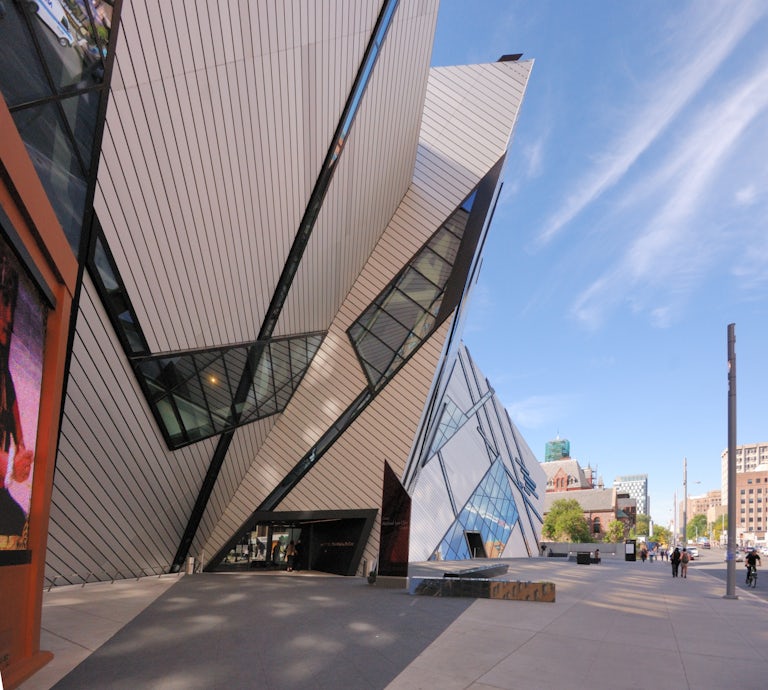 Do: The Royal Ontario Museum
That's right: art, world culture, and natural history right in Toronto, and it's not boring. Actually, it is one of the largest museums in North America and attracts more than 1 million visitors every year. But what makes this place really spectacular is it's more notable collections, including minerals, meteorites, and dinosaurs (it houses the world's largest collection of fossils with more than 150,000 specimens). Go have your mind blown.
Eat: 416 Snack Bar
This is the kind of place where you will sit down, take one look at the menu, and think, 'how did I go so long in life without this?' That's all you need to know.
Weed in Calgary
Strain: Game Changer
Calgary is known for being friendly (obviously), modern, diverse, and of course, home of The Calgary Stampede, the rightful owner of the mountains, and oil. It has a little bit of everything, including extremely cold winters. Which is why Game Changer is a perfect strain because it will keep you so relaxed all you will want to do is stay inside your rustic cabin wearing a plaid onesie and think about your existence as a tiny human living amongst rocky giants.
Stay: Hotel Arts
Hotel Arts has 185 rooms ranging from basic kings to the massive pool-view suites, each with a two-person rain-and-steam shower, and terrace overlooking the pool deck at the center of the hotel so you can people-watch. Did you catch that? Not the people-watching, the two-person rain-and-steam shower. Grab a friend, grab a joint, and stay indoors where it's safe from all those rabid beavers, also likely wearing plaid onesies.
Do: The Tea House
A 'secret' cocktail bar with dim red lights and Chinese lanterns. It's located in the basement of a famous Chinese restaurant, so you'll just need to walk through the main door and the stairs (and an alley and a rabbit hole and the depths of your own mind) to find it. But seriously, don't get too high that you get lost. That's no fun.
Eat: Wayne's Bagels
A warm bagel filled with all kinds of things you most definitely (probably) won't regret.
Buy: The government-run Quebec Cannabis Society (SQDC)
Weed in Montreal: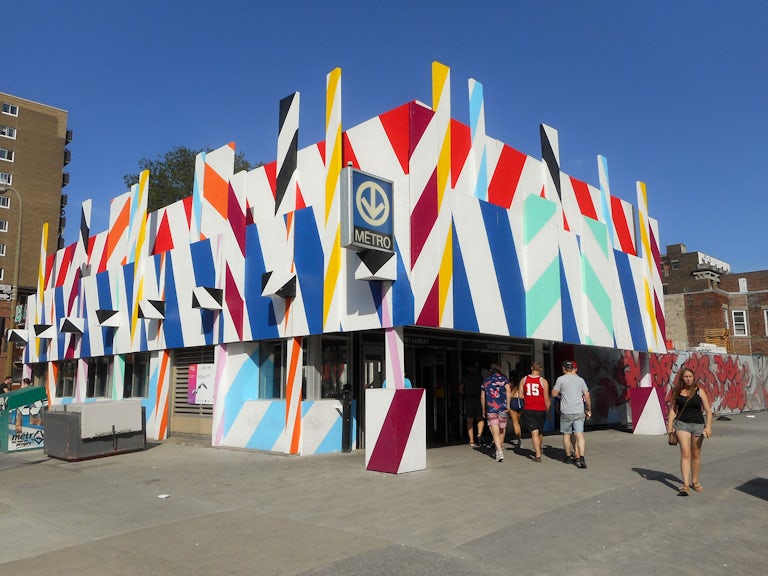 Strain: Alaskan Ice
Smoked meat, bagels, poutine, that narrow vote in 1995, and French food without having to go to France. That is what many on the outside think when they think of Quebec, at least. Beyond being a hot spot for all things food and music, Montreal is a vibrant city known for its culture. This is a place you're going to want to spend time wandering. The effects of this sativa-dominant hybrid take hold in a jiffy and will dazzle you with a thoughtful, cerebral high. Yes, dazzle.
Stay: Hotel 10
The rooms are plush and come with free WiFi (shouldn't they all?), have fancy bathrooms with glass showers, and beautiful views of the city.
Do: Le Royal
Be transported back in time to a sophisticated French bistro and old-fashioned speakeasy. With chic decor and a roaring 20's attitude, this is a cocktail lover's dream. It's also the type of place that will make you lose track of time, feel prone to role-play, and sit in a booth wondering if maybe you were born in the wrong era. But you'll do it all with a smile on your face (and euphoria in your heart) because Alaskan Ice is really that good.
Eat: Joe's Panini
The beloved 24hr eatery is always open to match your munchies. The paninis are the real stars, and at only $5.50 each, you can have more than one. Realistically, like five.
Buy: The government-run Quebec Cannabis Society (SQDC)
Weed in Ottawa:
Strain: Red Congolese
Ottawa is the seventh coldest capital in the world. That's a fact and there's nothing more to say about it. With more than 14 museums, this is a history buff's dream. The best strain for a visit to this city is something that will keep your brain buzzing. Red Congolese is a truly stimulating sativa that will get the enthusiast up and moving (which will also keep you from freezing to a park bench). Just kidding, visit Canada!

Stay: Swiss Hotel
The Swiss Hotel occupies a historic building, which gives it the kind of embedded charm that only comes with the passage of time. The rooms are modern with bold walls and graphic art, providing a great contrast to your boring bedroom at home.
Do: Andrew Hayden Park
If you want to make the most of a beautiful evening outdoors, this is the place to do it. Set up a picnic blanket to catch a sunset, walk along the water, or take in the views near the lighthouse.
Eat: Atari
The Pac-Man-90s video game design theme will have your eyes spinning and giddy laughter bubbling up in your chest. Homages to The Simpsons, Super Mario, and, of course, Atari, line the eatery. Try a few of the popular menu items, like truffle fries and deep-fried Oreos. Both of those are actual food groups.
Buy: OSC