It's not until you clean your bong for the first time that you truly appreciate the flavor of your favorite flower. Smoking on a filthy rig with dirty bong water for too long will make you forget. When you finally get up the nerve to rinse the thing out, it's like a breath of fresh air. That God awful resinous bite washes away and you can taste the weed again, just like you did when your bong was fresh off the shelf. Even better, you don't have to use all of your chest strength to take a rip anymore.
The Best Bong Cleaners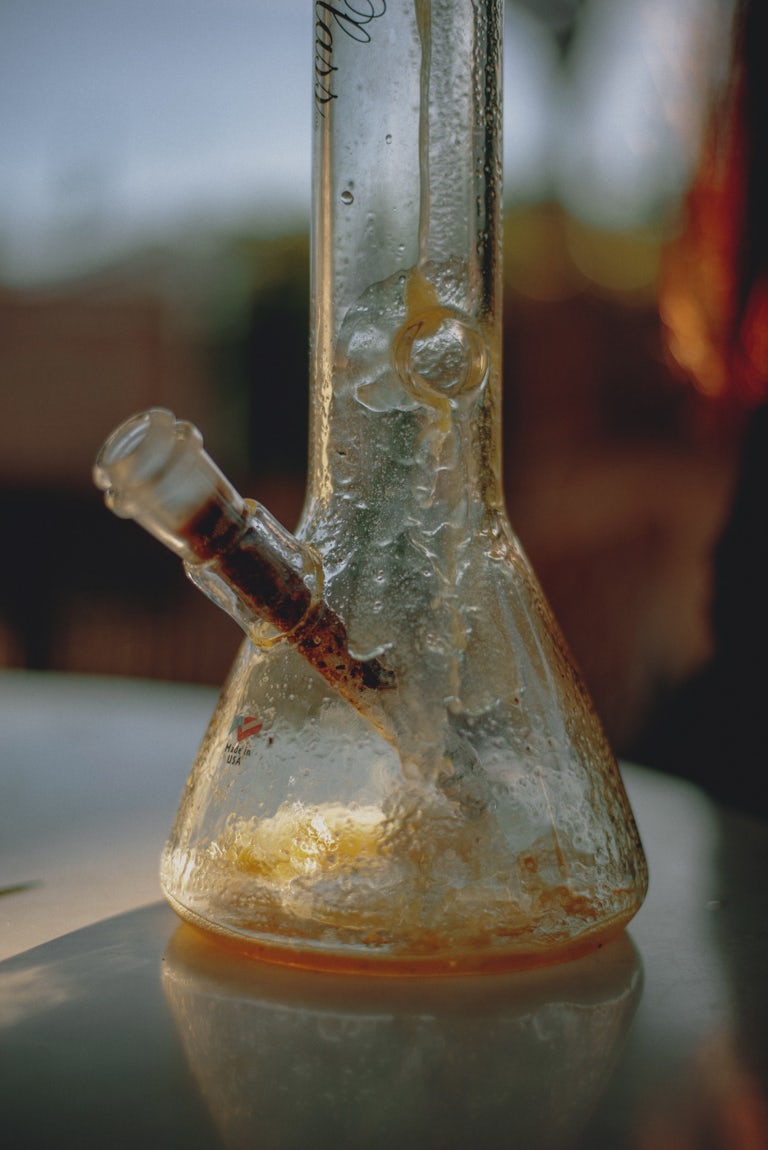 Giving your bong a quick soak here and there alone makes a world of difference in how clean it rips. But if you really want your weapon to shine, then it deserves a little more TLC than that. Bong cleaners, in addition to weekly rinses, will keep your rig glistening for longer. Plus, the time and effort spent giving your bong a good scrub down will cut back on future cleanings. The less we have to polish our pieces, and the more we get to use them, the better.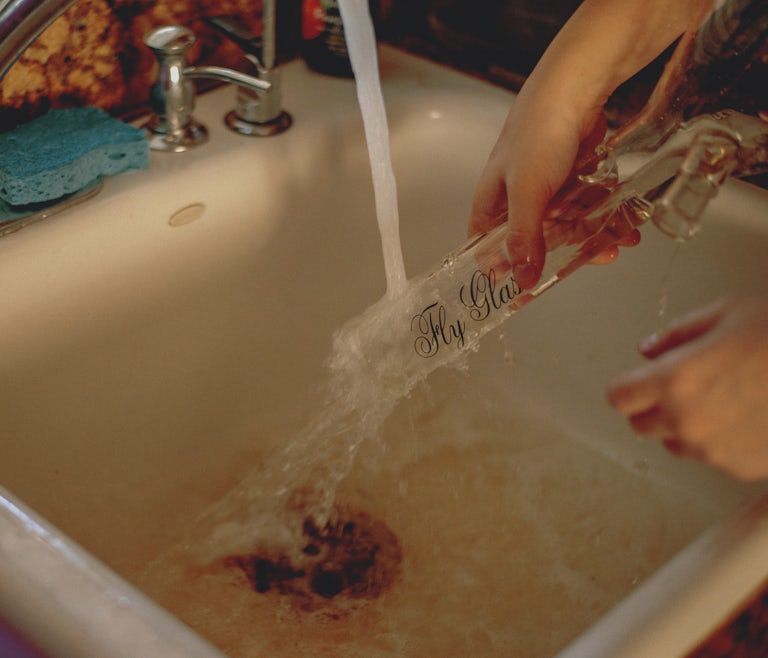 As a proud owner of six beautiful bongs, I'm always looking for the next best way to keep them looking and acting brand new. A dirty device doesn't exactly add a nice touch to a neat room, and certainly can't perform well. I've tried cleaning products and homemade solutions. You name it, I've tried it. Here are some of my favorite bong cleaners for preserving the quality of my pieces, as well as a list of ingredients you can use to make your own, right from the casa:
Best Bong Cleaner Kit: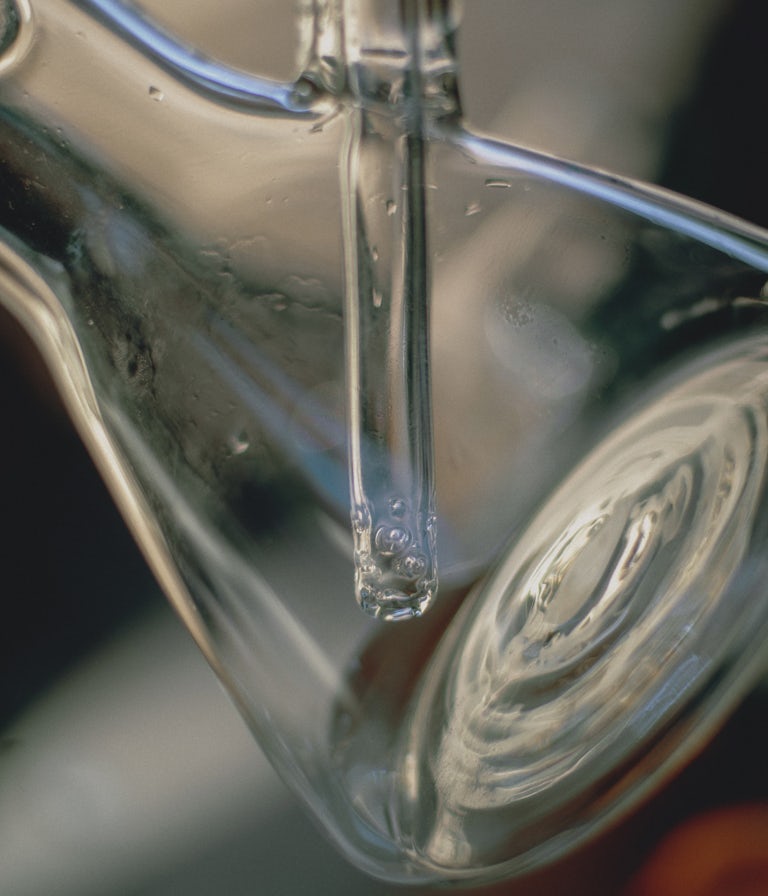 For transforming severely neglected bongs into pristine pieces, my favorite kit comes from Resolution. Their Res Gel, along with their famous Res Caps, can tackle glass, metal, and stone bongs of pretty much all sizes. Best of all, they make wiping away tough, built-up resin a breeze. You fill your rig with the solution, attach the caps to its open parts, then give it a couple of shakes and let it sit for a few. That's all there is to it. Afterward, rinse everything out with water and viola, your bong is spotless and pretty again.
If your bong is filthy-filthy, then it might take a few additional rinses to get it looking good as new. Nevertheless, it's much less work than the soap and hot water method, and it soaks up those hard to reach areas as well. Even if you don't like the Res Gel and prefer to use your own cleaner, the Res Caps are worth getting by themselves just because they make cleaning easier and less messy. Speaking of which, they can also be used for traveling and transporting your bong leak-free — no more bong water spills in your backseat.
Best Bong Cleaner: Amazon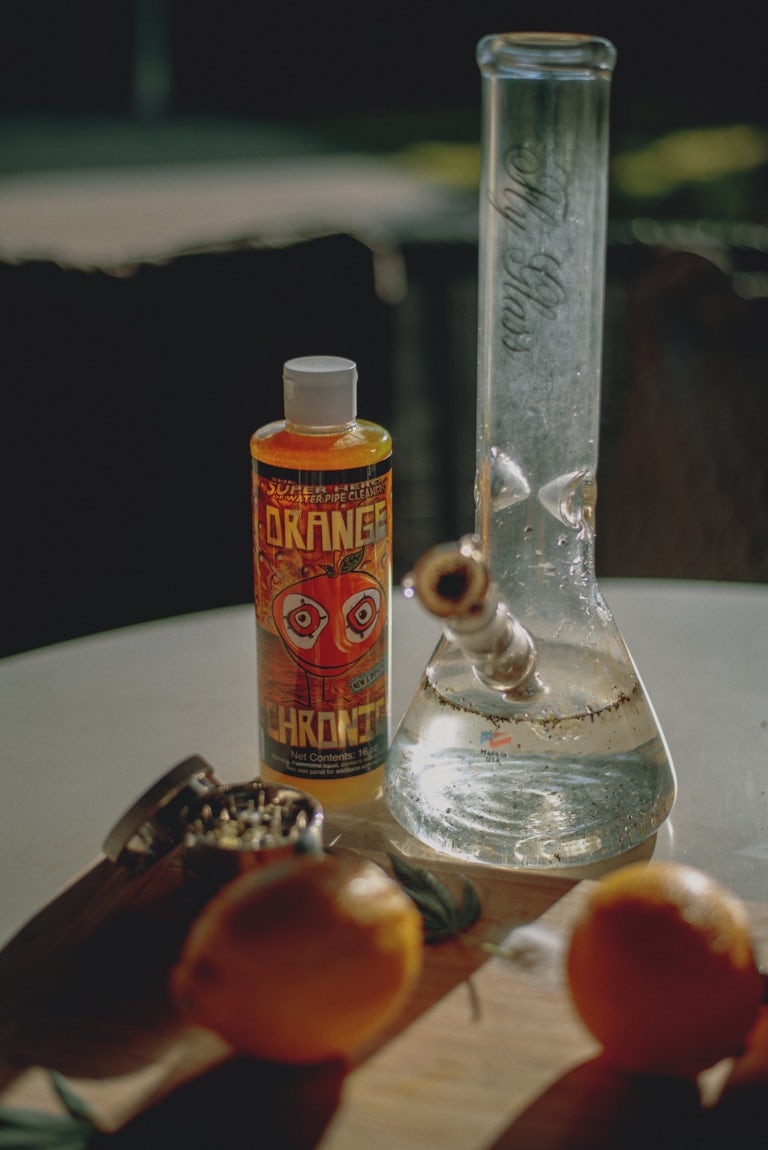 Amazon is your one-stop shop for everything, including bong cleaners. If you're a fan of orange cleaners and want your glass or metal bong smelling fresh but not fruity, then the Orange Chronic Cleaner is the perfect product. This all-natural cleaner, when poured into your piece, given a firm shake, and rinsed, delivers instant results, and it doesn't take much at all. Resin and other stubborn gunk slides off like magic, no need to grab a brush for extra scrubbing. The Orange Chronic Cleaner also smells pleasant and doesn't leave behind any aroma or taste to interlope with your weed, only the natural smell of clean.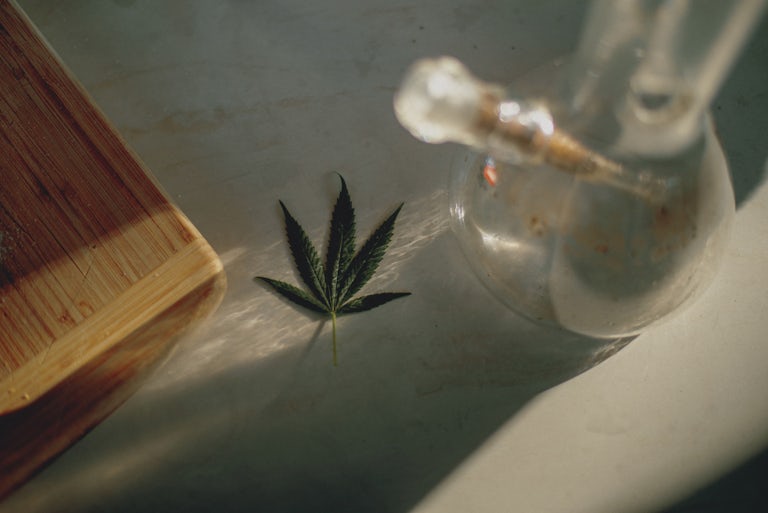 Another fast-acting bong cleaning solution you can find on Amazon is Formula 420. It's also a mostly hands-free ceramic, glass, and metal bong cleaner, which is a godsend when you can't stand the nasty smell you get on your fingertips after bathing your bong. That's because it's so powerful and doesn't need any help getting your piece in immaculate condition. Even the bowl, which is always the toughest. Put your bong in one bag, and your pipe parts in another, add in the formula, and in just one minute, the whole fam will be speckless.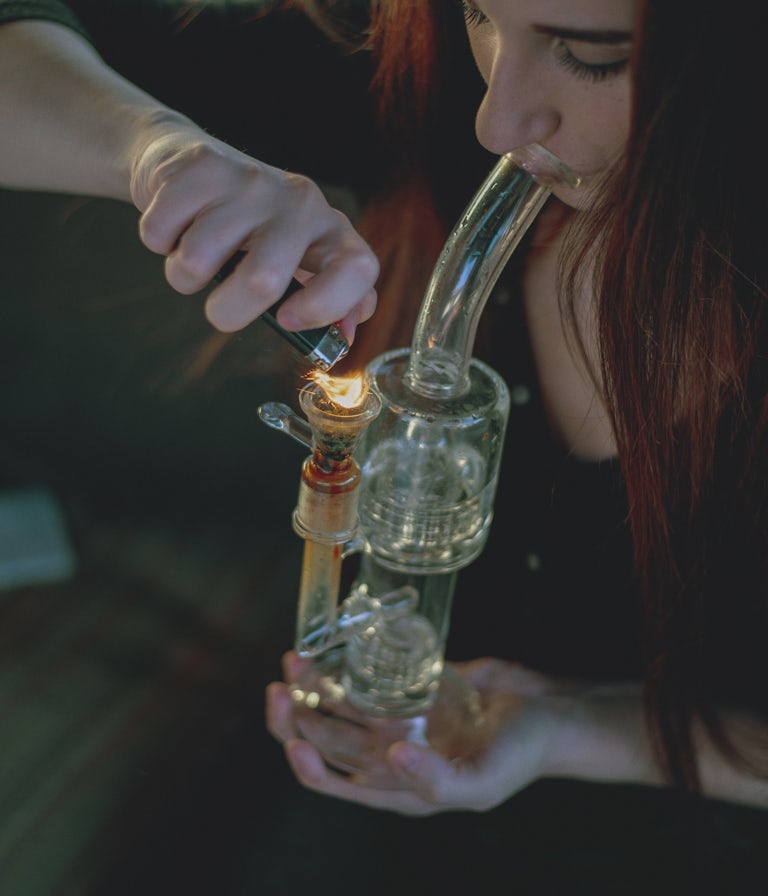 For strictly gorgeous glass, Grunge Off is a super soaker. Designed for wiping away sticky build up with ease, Grunge Off is highly recommended for devices that have gone a long while without a bath. The downside is that there's a waiting period. Grunge Off works the best when left to soak in your piece overnight, but the wait is well worth the sparkling results. Besides, that eliminates having to shake the shit out of it. You can just let the solution work its sorcery and return in the morning to a practically brand new rig, once you've rinsed out the funk of course.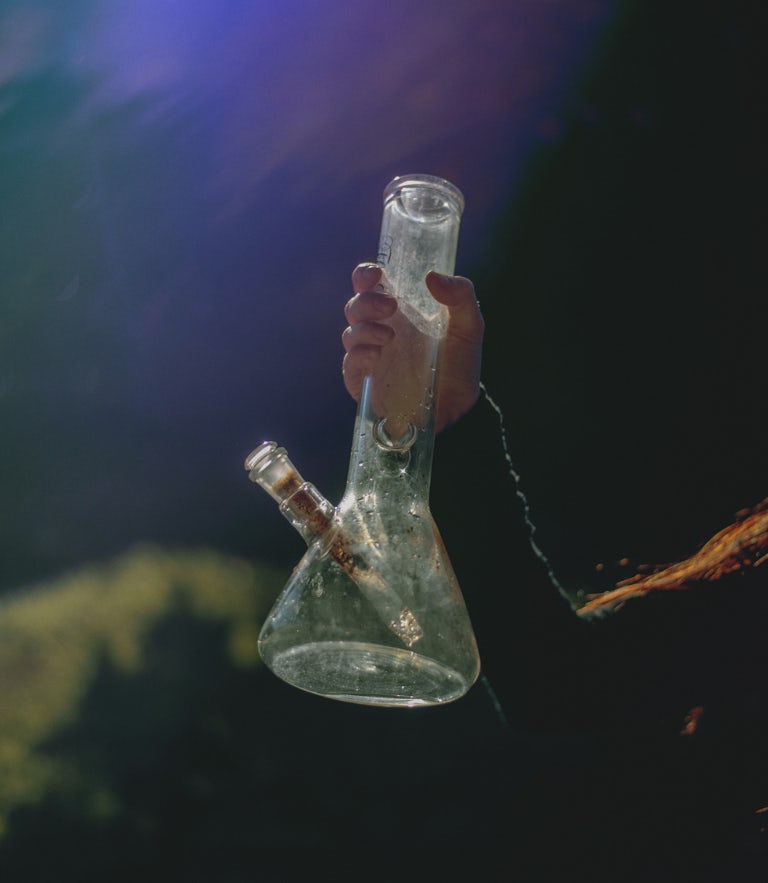 If the other pipe cleaners on Amazon aren't delivering the results you want, then try Randy's Black Label, a solution for getting glass, metal, and ceramic pieces back to being flawless. It's another shake-and-wait type of product, but it's left very few bong smokers disappointed. In fact, most turn to Randy when other products have failed them. Some even say it's the next best thing to the isopropyl alcohol and salt method, so you might as well save those two for other things and leave it to Randy to remove the grime. A little goes a long way with Randy's Black Label regardless of the size of your rig, and no pipe cleaners or other tools are necessary.
Best Glass Bong Cleaner: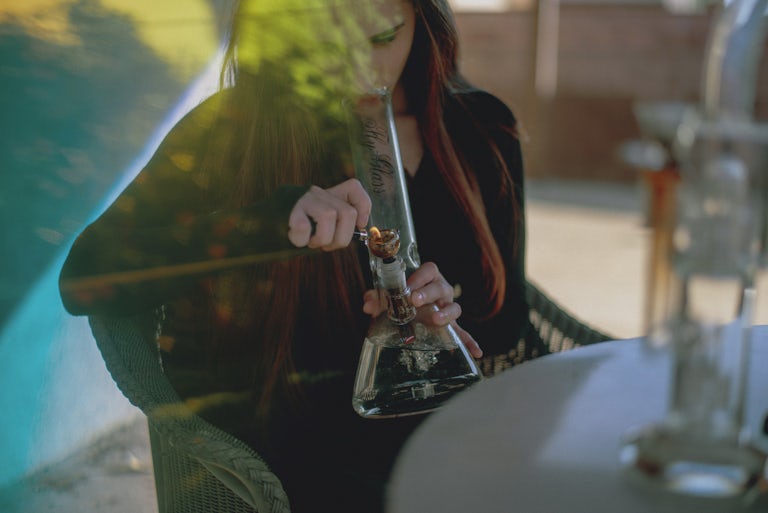 For a multi-purpose cleaner to use on not just dab rigs, beaker bongs, and other glass pieces, but also extraction tubes, jeans, and more, the Klear Kryptonite Original Formula is the best all around. It even comes in a bong-shaped container, which is pretty badass if we do say so ourselves. What makes Kryptonite more of a standout product is that it's the only bong cleaner approved by the Colorado Health and Safety Board, and it's used in dispensaries all across the US too. Unlike alcohol, which is 100% VOC (volatile organic compounds), Kryptonite is less than 3% VOC and therefore lacks a chemical odor and doesn't leave behind any residue. Plus, how cool is it that you can use the stuff on your clothes to lift stains, including pen and ash marks?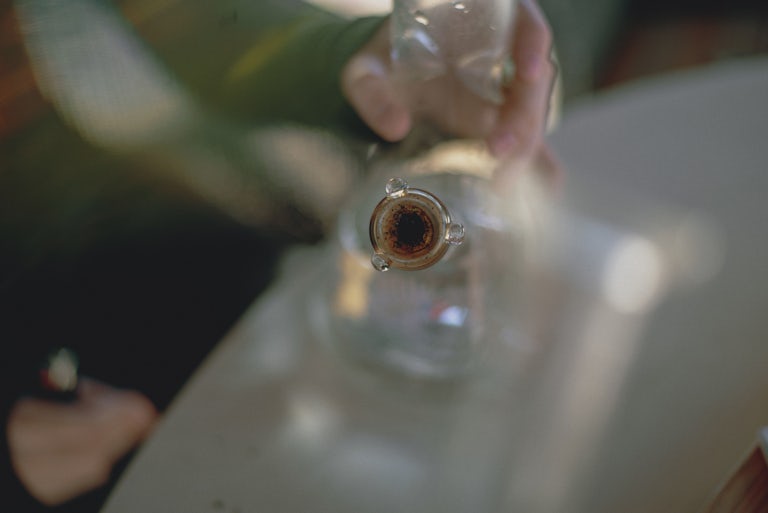 RezBlock maintains beautiful, spotless bongs by preventing filth in the first place. Add two drops into your bong water, and this nifty tincture will ensure that resin winds up in the water and not on the walls of your glass, making your rig a rinse away from a brand spanking new state at all times. RezBlock won't affect the taste of your smoke either. Its primary purpose is to make rips smoother and cleaner, not worse. Just remember to rinse your rig regularly as it can only keep but so much crud away without your help.
The Best Homemade Bong Cleaner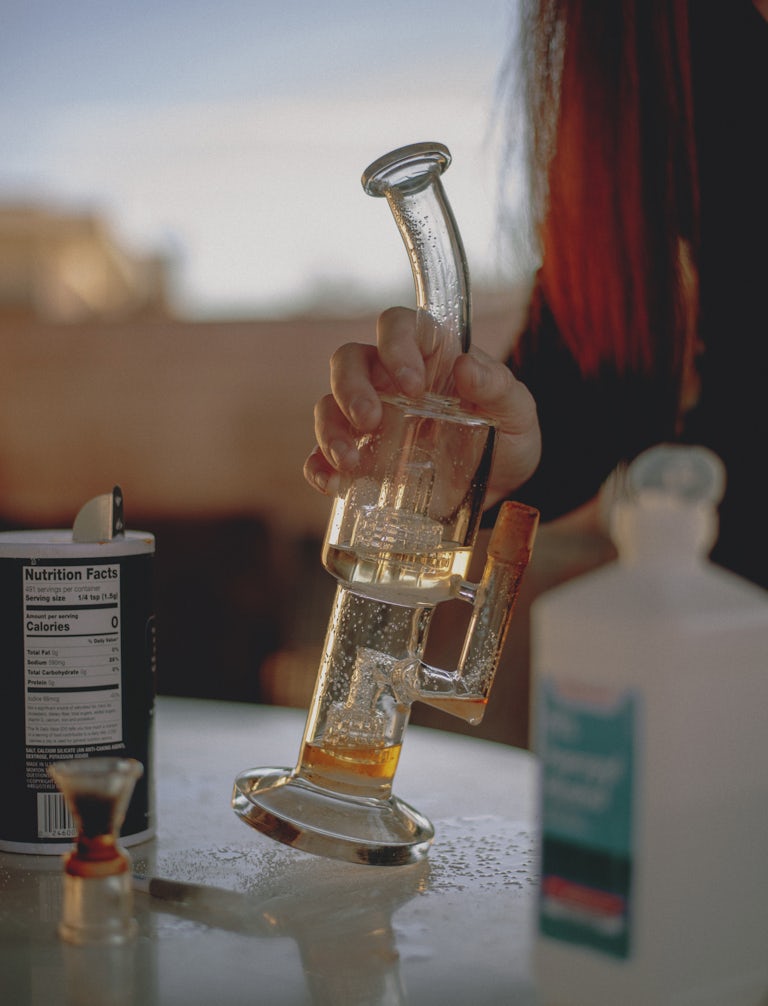 Of course, if money's tight or you're the DIY type, then you can throw a few at-home ingredients together to clean your bong as thoroughly as you can with something store bought. Sometimes, it's just nice to hang on to those ingredients for other purposes, but if you don't mind, then have at it. One mix that works amazingly, as mentioned above, is isopropyl alcohol and salt. However, you'll also need other tools like twist-ties to get in between the crevices, as well as small pieces of cloth to plug up the open areas, and rubber bands or hair ties to secure them, so keep that in mind.
For all the best and easiest ways to make your bong sparkly and shiny again using supplies at home, check out our step-by-step guide on how to clean a bong or pipe. You'll find more than just the alcohol and salt method there, and videos to help guide you through the steps if you need further instruction. Or, you can see if your town has a bong cleaning service nearby that will come to your house and clean your bong for you. Yes, that's a thing.