The weed drinkables market is exploding. From weed water and soda to weed coffee and tea, companies are adding THC and CBD to just about every drink you can imagine. But what about beer?. Typically, when you think of an adult beverage, you think Bud Light, Corona, or just beer in general. As it turns out, they're infusing beer with weed too, and it's nothing like it sounds. Think of them as a new, healthier version of a regular adult bevy
Does Weed Beer And CBD Beer Actually Contain Alcohol?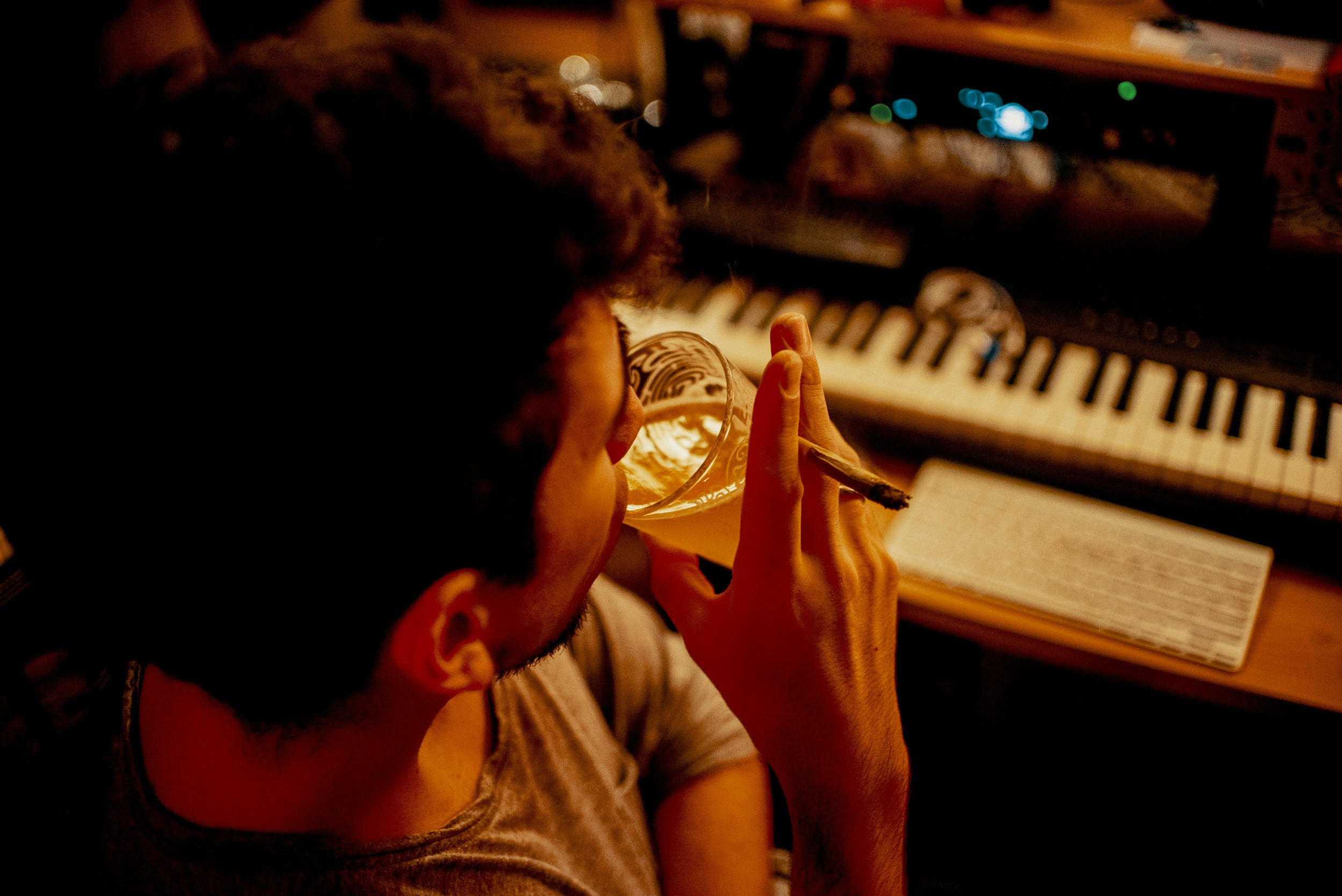 Weed beer hasn't been around nearly as long as other drinkables like elixirs and sparkling sodas, but the industry is growing like a weed, no pun intended. However, the idea of combining a harmful substance with a helpful one into a single beverage has more than a few people confused. We've all heard the dangers of crossfading, aka mixing weed and alcohol, so why are big brands like Heineken taking such a keen interest in cannabis beer?
The thing is, most weed and CBD beer are non-alcoholic. Before you close the laptop, that's actually what makes these products so exciting. The beer is brewed with parts of the stalks, stems, and roots of the marijuana plant, and the alcohol is removed in the process. Either that, or it's brewed from barley and infused with cannabis oil. Either way, you still get that crisp, refreshing beer flavor, but without the actual booze. That's because hops and cannabis are close cousins and share similar medicinal properties, as well as aromas and taste.
Some brands, though they're very few and far between, are producing cannabis beer that does contain alcohol, like Coalition Brewing. Their CBD beer, Two Flowers IPA, combines both CBD and a west coast IPA. For those who like to have their cake and eat it.
Does Weed And CBD Beer Get You High?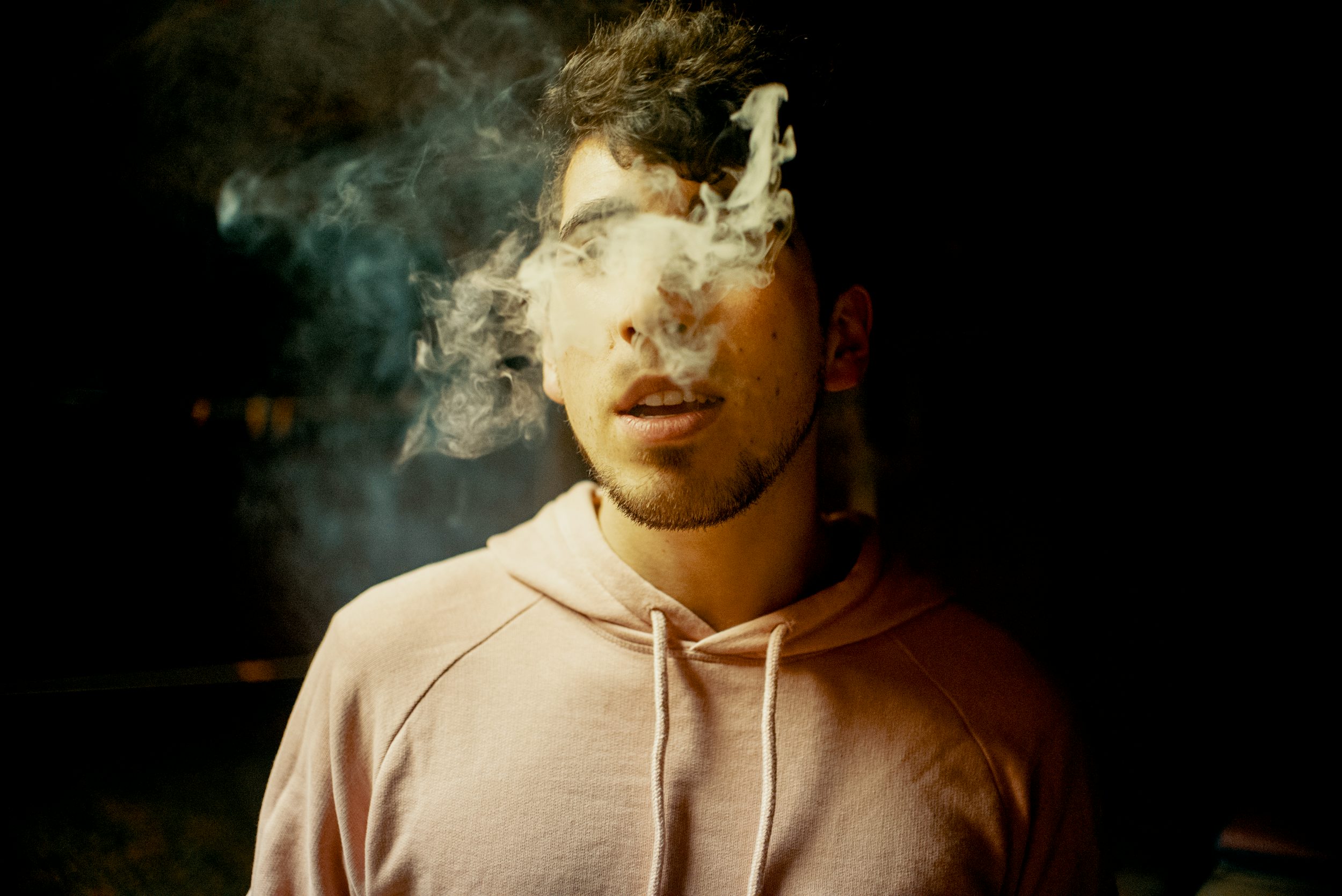 Alcohol or not, will weed or CBD beer get you stoned? CBD, of course, will not get you high as it's non-psychoactive. THC, on the other hand, most certainly can. Most weed beers, however, generally won't include too much THC. That way, you can crack open and enjoy a couple without getting completely fried. Not to mention that its illegal to put alcohol and THC in the same drink, so for the moment, you won't be sipping on an "authentic" alcoholic weed beer.
Besides, the effects of weed drinks, including weed beer, kick in far faster than an edible, so it's a little easier to monitor your buzz and keep yourself from getting wasted. Moderation is, as always, the key.
Will Weed And CBD Beer Give You A Hangover?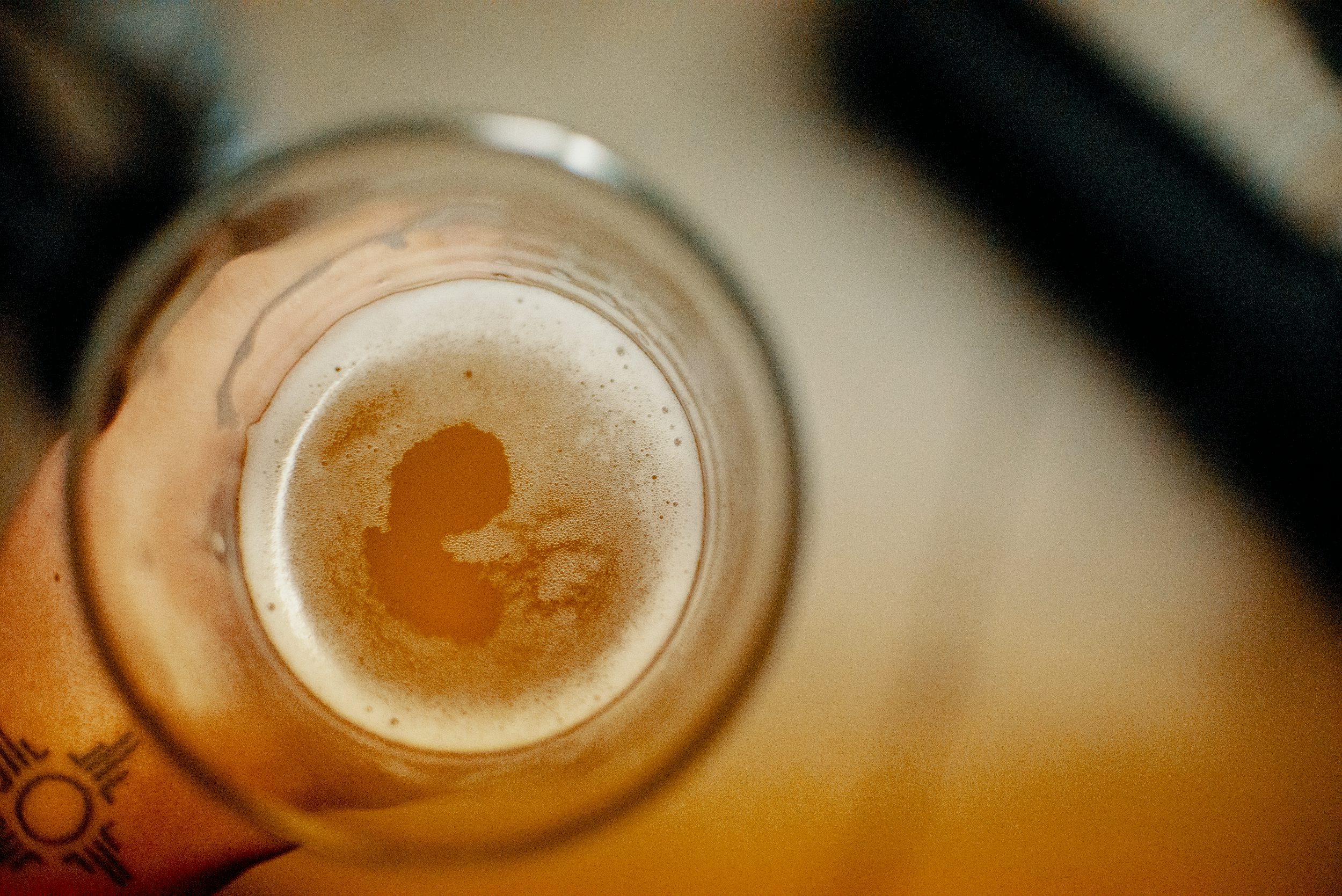 No alcohol means no hangover from these cannabis-infused beers. Hallelujah! Yet another reason why they're going to be trendy before long. Plus, being infused with marijuana give these drinks that extra defense against hangovers, being that weed is the ultimate hangover cure. You can kick back, relax, and sip on without regret.
Best Weed Beer And CBD Beer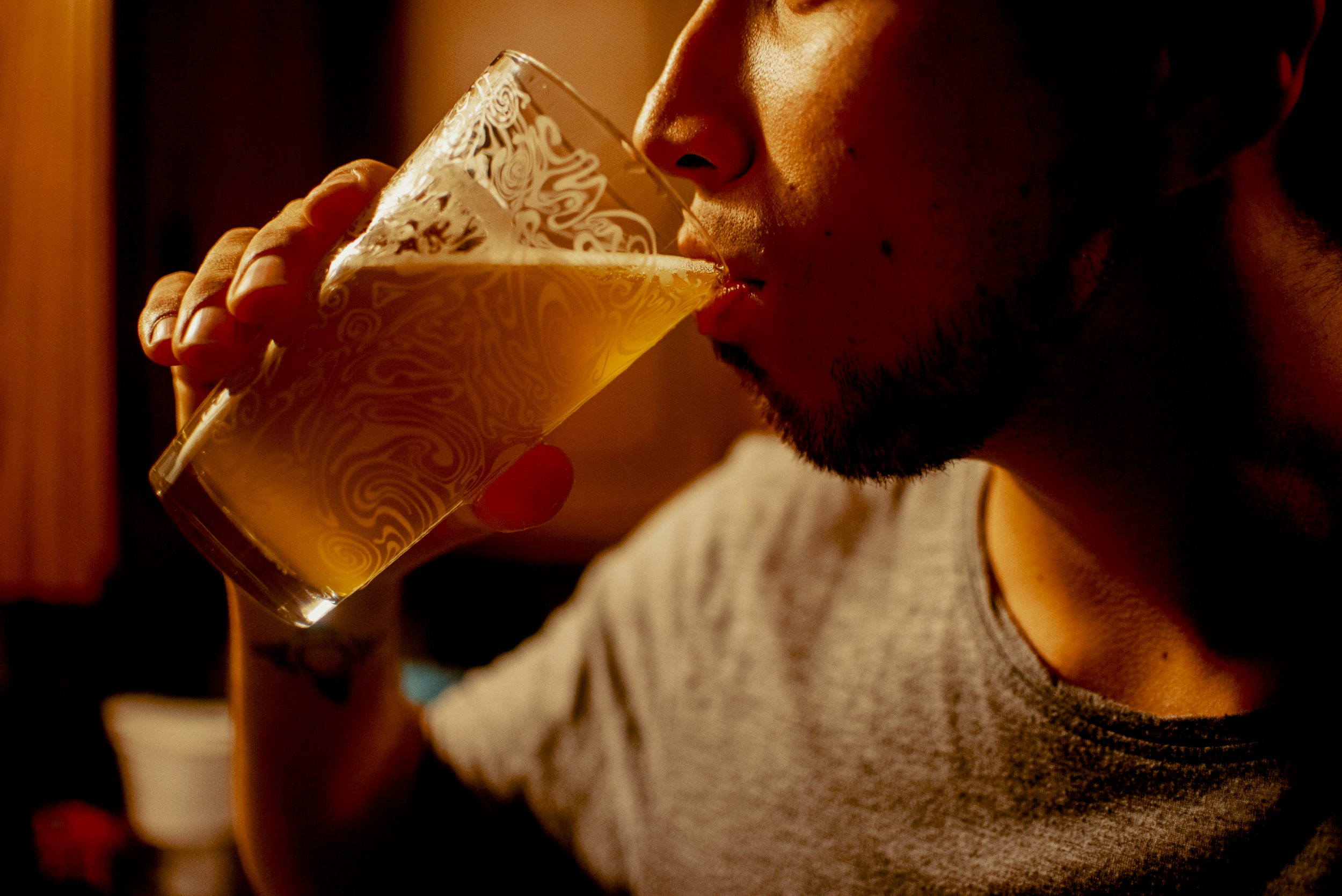 So, where do you find such a blast in glass? Again, you won't see too many weed and CBD beers as the concept is relatively fresh, for now. But there are a few cannabis-infused adult bevys you should be keeping an eye out for in these early days. Here is the best weed beer and CBD beer today: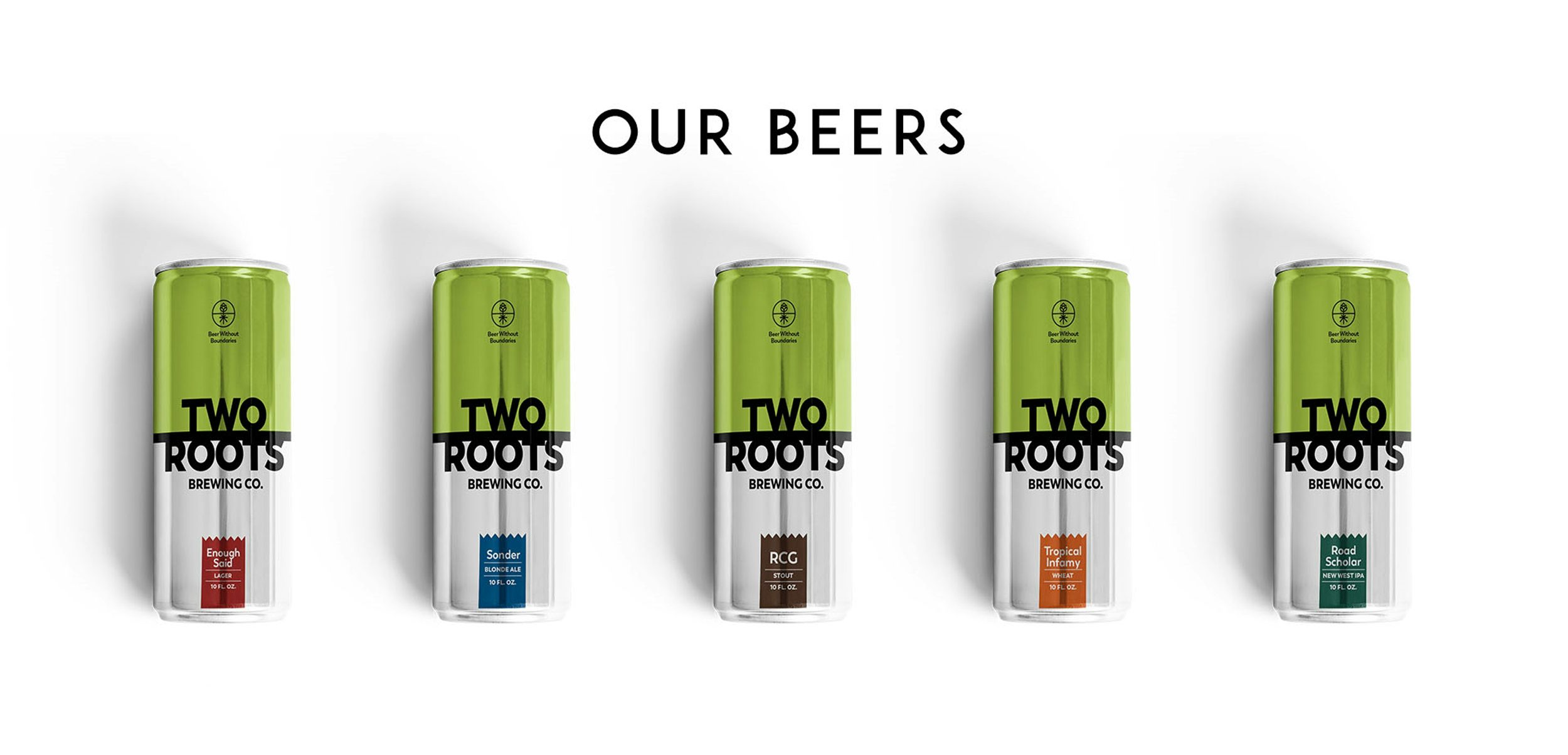 Two Roots is best one of the non-alcoholic, THC- and CBD-infused craft beers available. It comes in a convenient green and white pop-top can in your choice of Stout, Lager, New West IPA, Blonde Ale, and Wheat.  Two Roots Brewing calls it "a healthy alcoholic beverage alternative." All types of Two Roots beers are responsibly dosed, and filled with electrolytes and carbohydrates, making it more of a sports drink than a beer, perfect for cracking open on a hot summer day during a game of beach volleyball.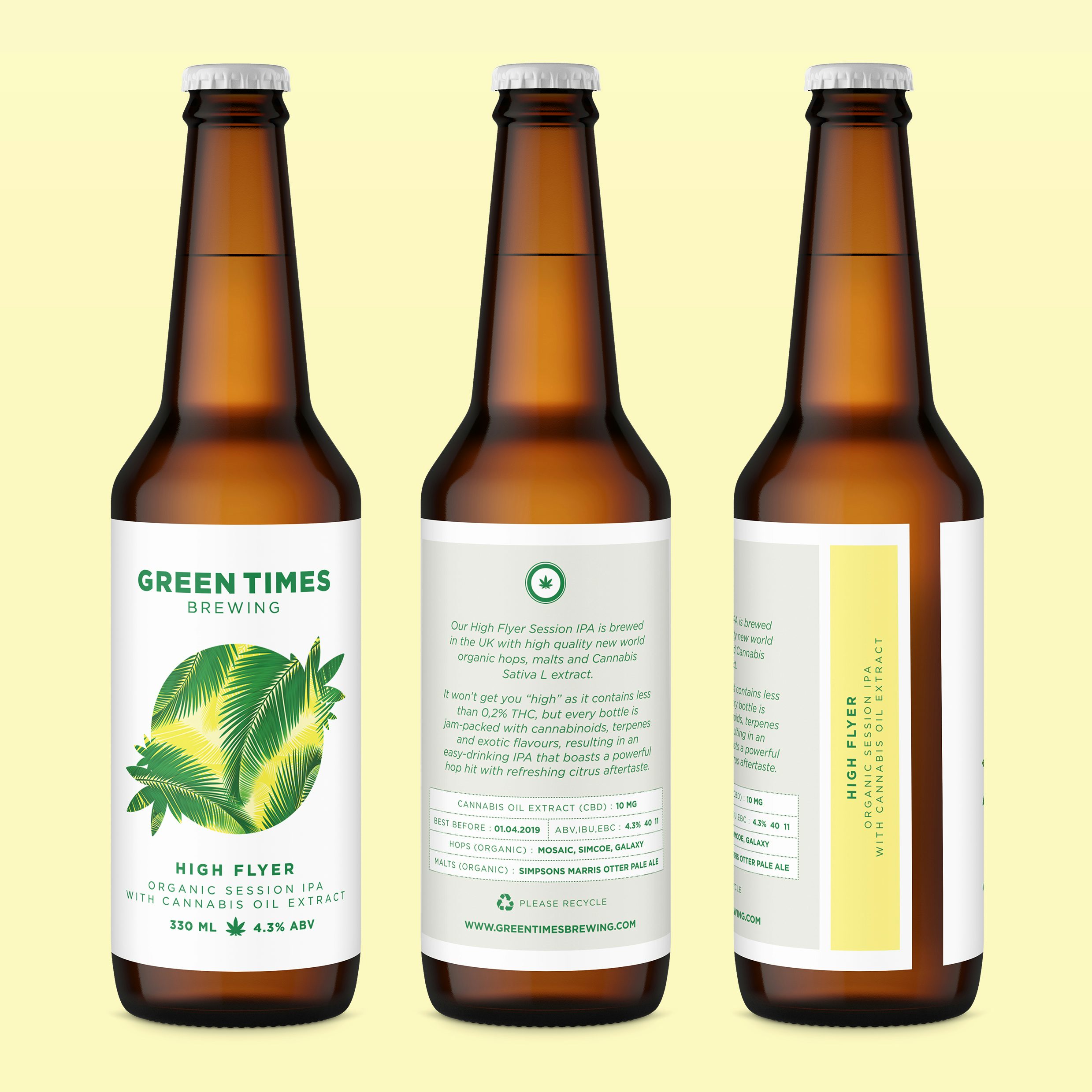 Notably, the High Flyer Session IPA by Green Times Brewing was the UK's first-ever craft beer infused with cannabis oil. There's alcohol, but that's okay because the less than 0.2% THC content makes it light, refreshing, and easy to drink. That, and it's exotic flavors, hoppiness, and citrusy aftertaste. The High Flyer Session IPA has 10 mg of full spectrum organic CBD, so it won't get you high, but you'll be feeling great after a few sips.
Poison Cannabis IPA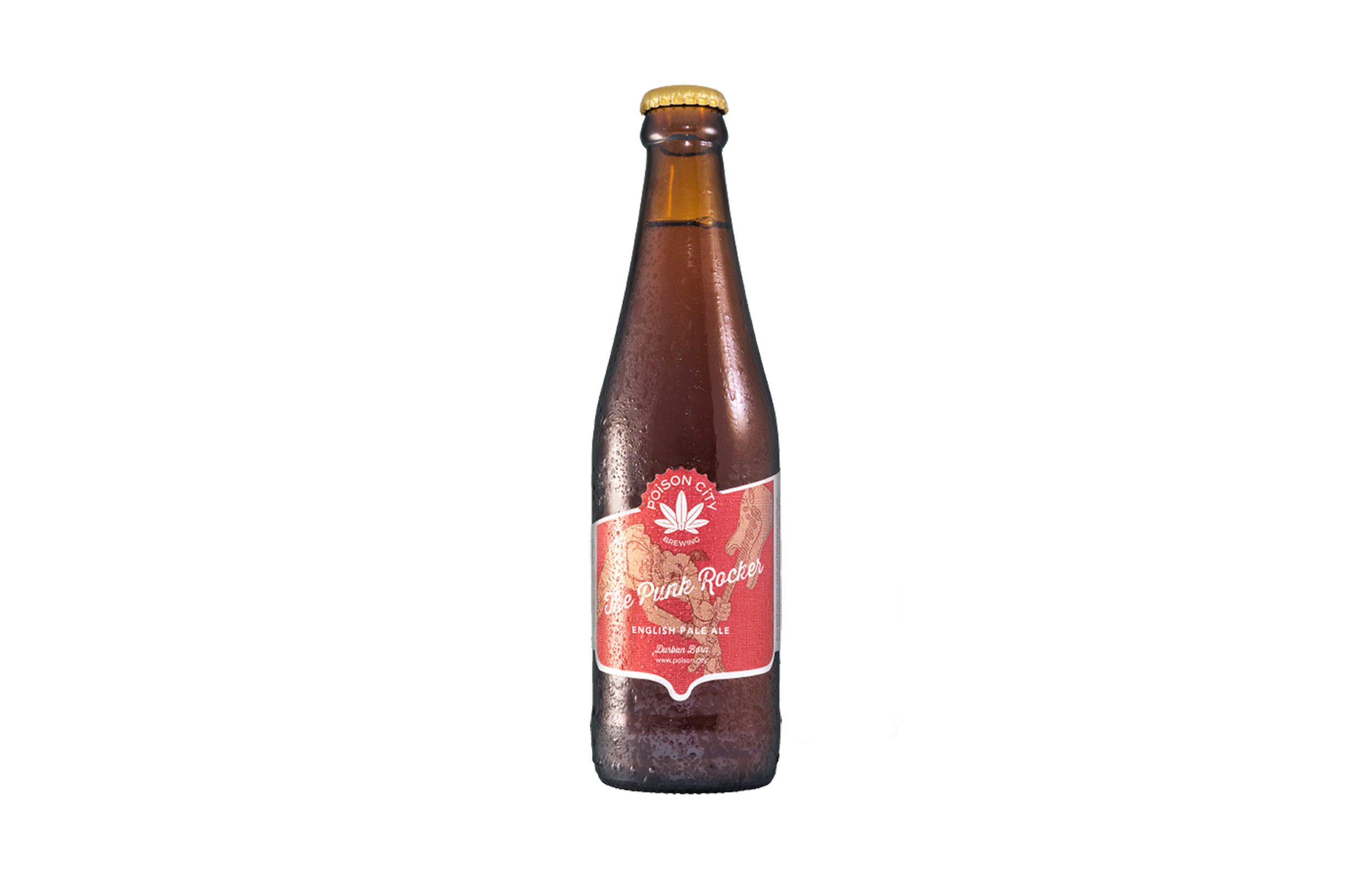 The Poison Cannabis IPA is one brew from Poison City Brewing that's both cannabis inspired and infused. In true American IPA fashion, it's bitter but balanced, aromatic, and flavorful. While tipping back the Poison Cannabis IPA, you might catch a hint of the hemp infusion, which makes each swig smooth, mellow, and all the tastier. It's a fine cannabis beer for unwinding after a long day at the office and enjoying from the comfort of your favorite recliner.
Durban Poison Cannabis Lager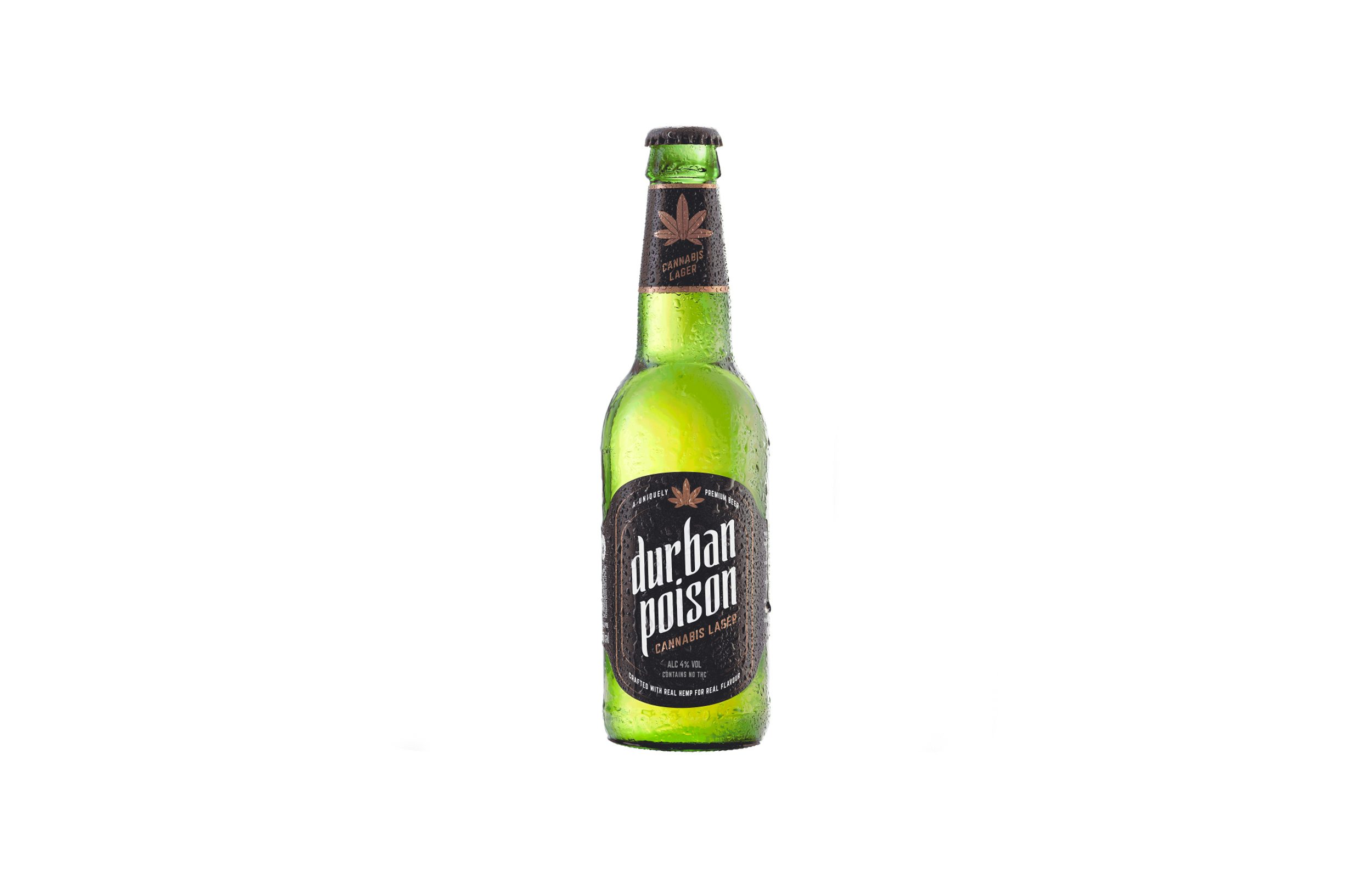 If you ever get the taste for a good lager, then you'll fancy Poison City Brewing's second cannabis beer, the Durban Poison Cannabis Lager, a nod to the world-famous strain. Similarly to Poison City's other brew, there's no THC, and it's clean and smooth. The lager's flavor is slightly crisper, with a sweet and zippy finish. If you're going to day-drink, then this is your best companion. It's light and lively and will keep you on your toes.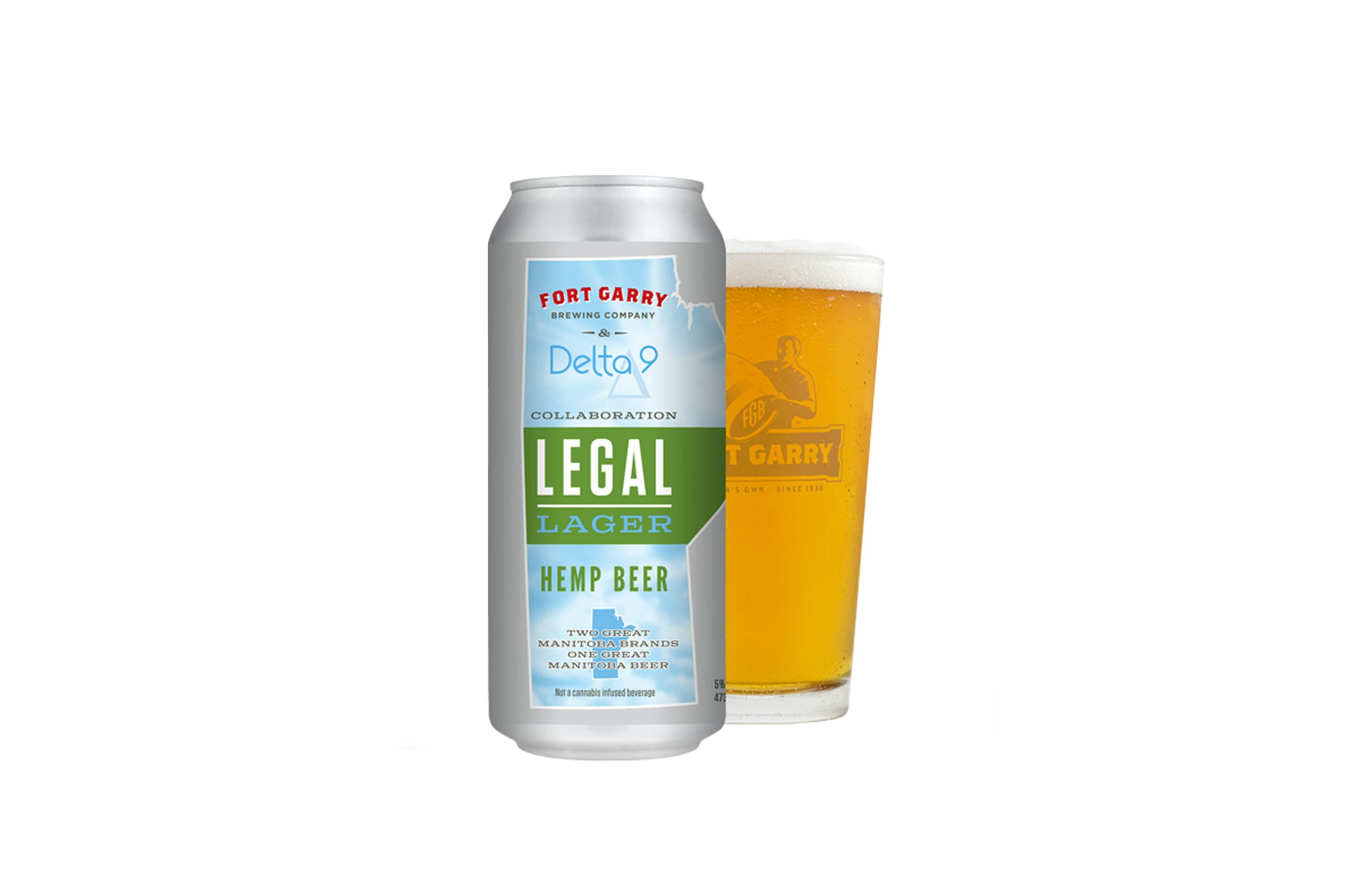 Delta 9 Legal Lager isn't technically a cannabis beer. However, this hemp-based beer was the first to be developed by a brewery, Fort Garry Brewing, and a legal cannabis company, Delta 9, in cahoots. The success has even motivated the two to work together again to produce a non-alcoholic THC beer, coming soon. The Legal Lager is an alcoholic golden rye lager, infused with material from hemp seeds, so there is no trace of cannabis whatsoever, hence its name. It's light on the alcohol and won't give you a hangover.
George Washington's Secret Stash IPA is the OG of CBD beer, created by Dad & Dudes Brewery & Pizzeria. When it was released in 2015, it officially became the world's first cannabis-infused craft beer, and it's been leading the charge for the alcohol industry's forays into the cannabis scene ever since. This India Pale Ale is fizzy like a Sprite, with a malty caramel sweetness, dry finish, and a "resinous kiss." Next time you're in Aurora, Colorado, stop in Dad & Dudes for a tall one and a slice of pizza.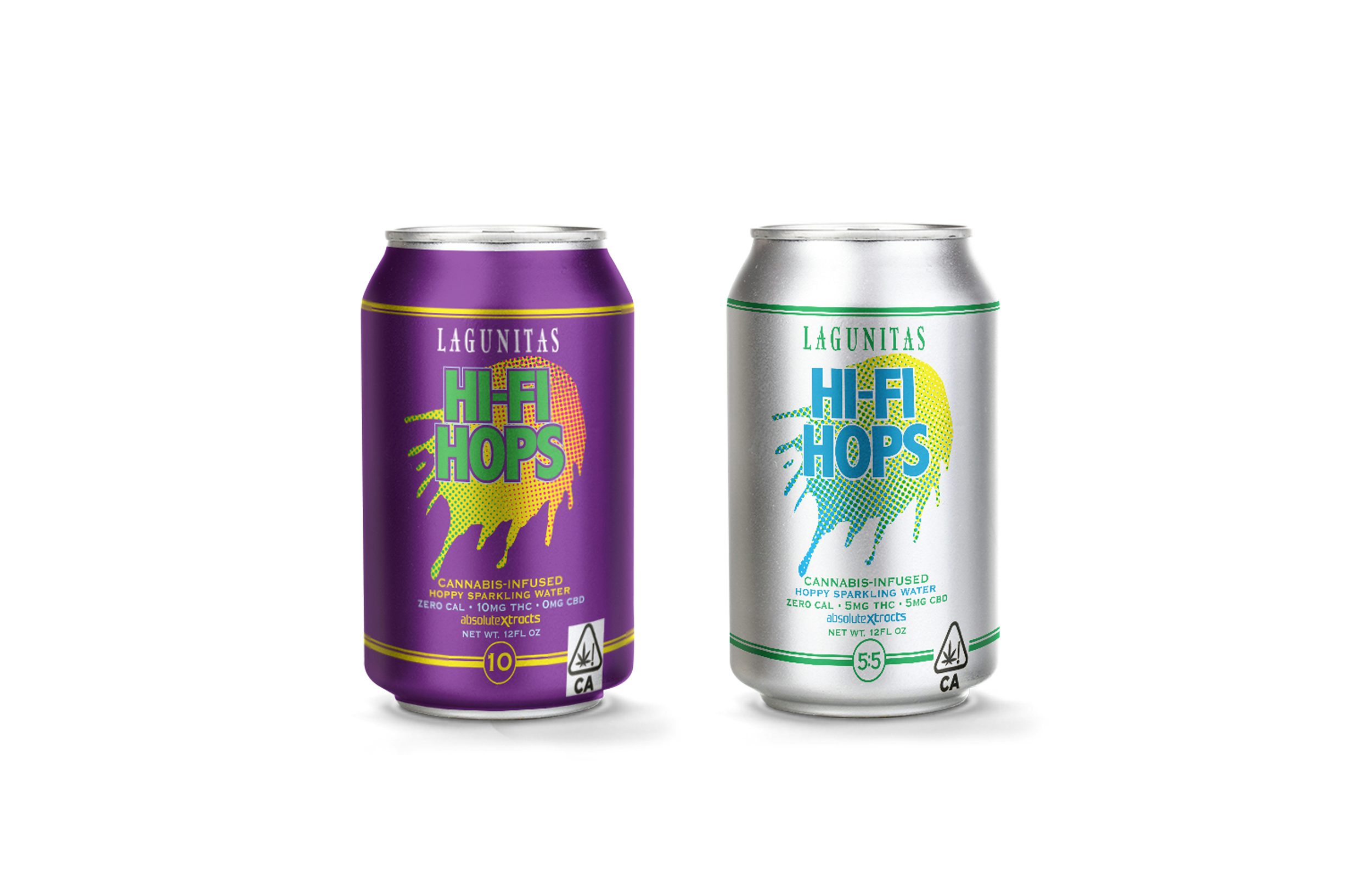 When Googling "weed beer," you're bound to come across Lagunitas' HifiHops. It might look like a beer, and it sure sounds like a beer but here's the kicker—it isn't a beer at all. It's THC and CBD-infused, calorie and carb-free sparkling water, inspired by an IPA, and happens to be a product of Heineken. HifiHops mimics the experience of drinking a regular IPA with its flavor and hops. You also get the buzzy effect, but it's easier to handle thanks to the two low dose varieties- 5 mg CBD and 5 mg THC or 10 mg THC. Plus, it comes in a pop top can so you still get that "shh" sound, just like you get when you crack open a can of "Bud Heavy."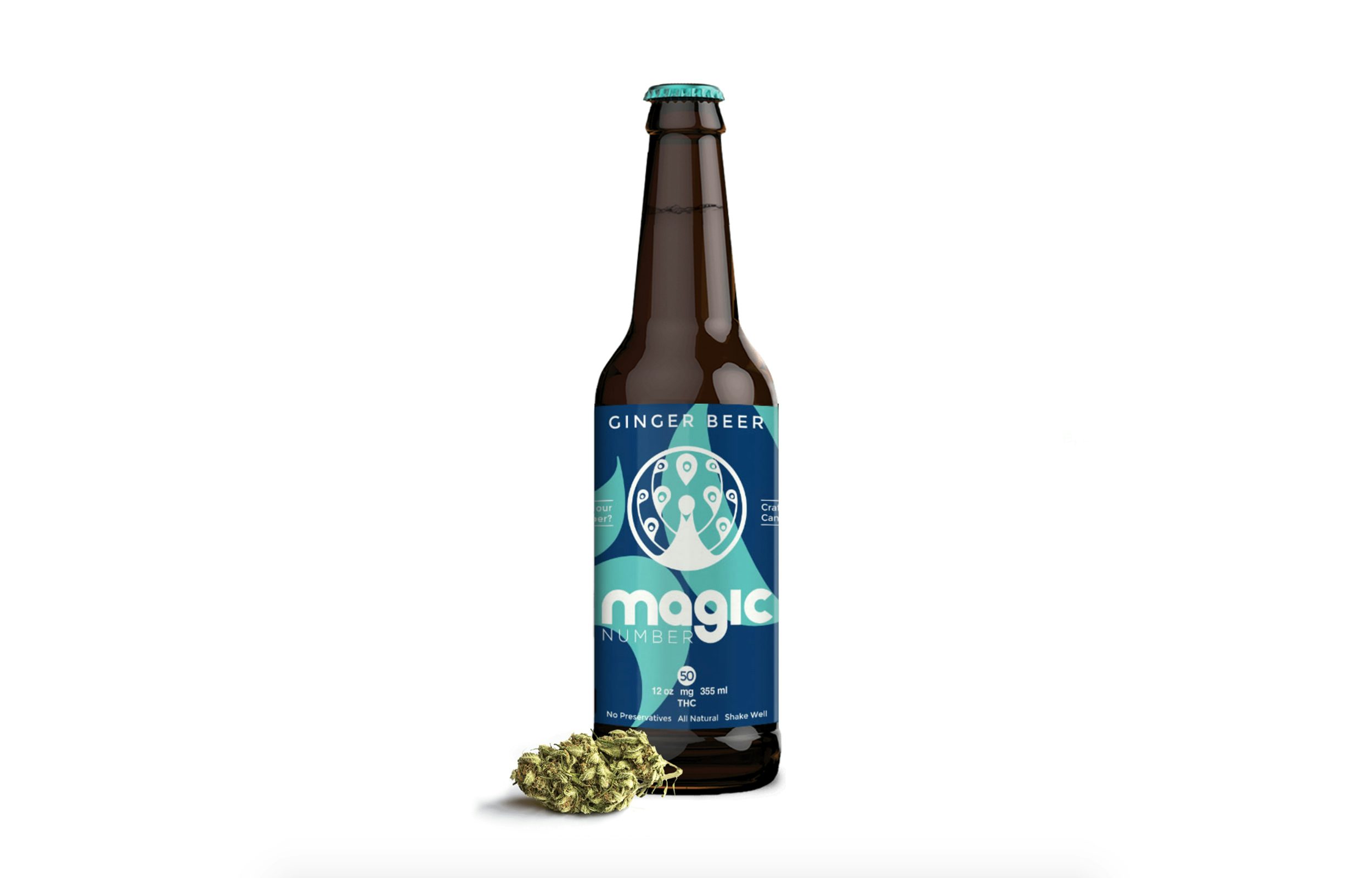 Magic Number isn't a weed beer either. In fact, it isn't even inspired by weed. But, if you're looking to ditch the alcohol for a while in exchange for a healthier bevy that will get you lifted, then Magic Number is the best replacement. Magic Number is a ginger beer infused with various amounts of THC, anywhere from 3 mg all the way up to 50. It's poured into a twist top bottle, so it feels the same in the hands as a beer, and because you get to pick your THC content, you can customize your buzz. Whether you're planning a backyard BBQ or a camping trip, Magic Number is perfect to bring along for good vibes.
More Cannabis Beers Coming Soon!
In the future, stay tuned for more weed beer and CBD beer to hit the cannabis scene. Again, there are some top dogs in the alcohol industry that want in, so it's only a matter of time before this whole weed beer thing takes off. In fact, weed beverages as a whole are expected to make up 20% of the edibles market by 2020, according to Canaccord Genuity.
Heineken has already embraced the cannabis industry with their California beer brand Lagunitas, and Molson Coors has teamed up with The Hydropothecary Corporation to produce a weed beer that's alcohol-free. Then, there's CERIA Brewing Co, the same brewmaster behind Blue Moon, who has a THC-infused Grainwave Belgian-Style White Ale in the works, which will launch sometime in December of 2018 in Colorado. Ontario's Lost Craft Beer and Province Brands Of Canada is also developing a non-alcoholic cannabis-brewed craft beer, the first ever, in fact. So as you can see, weed beer and CBD beer is about to become a huge thing.
Catch A Faster Buzz With A Weed Beer Bong!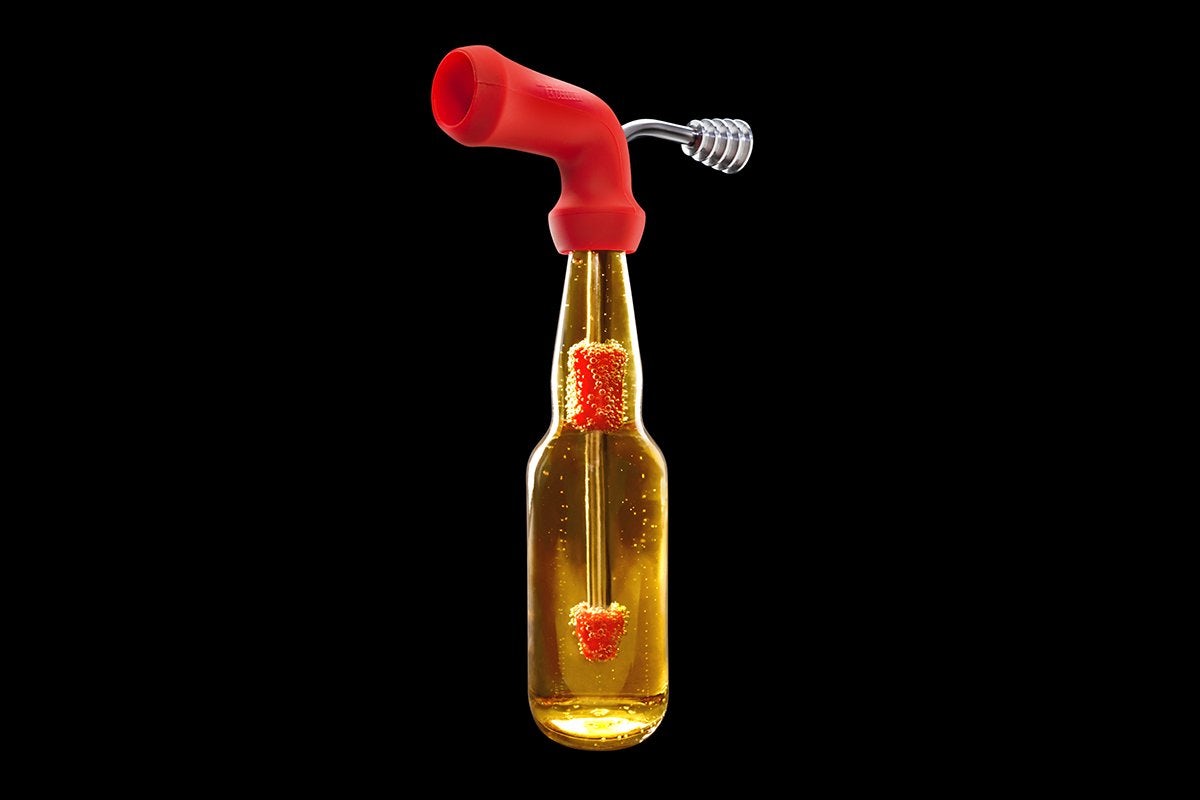 If the goal is to get hammered on weed beer or CBD beer, then it's going to take some effort. But not if you embrace the Knockout. The Knockout is a ridiculous device that lets you chug beer and smoke weed at the same time. Should you do it? Probably not. But if it's been a really hellacious day, or you're just trying to go from sober to lit and quick, then hey, knock yourself out.