CBD has an incredible amount of potential to help people of all ages live a higher quality of life. A growing number of doctors are becoming passionate about CBD, which they recognize can provide significant wellness benefits, from relieving inflammation to enhancing productivity, but without the mind-altering effects of THC. 
From providing an extra boost of alertness before clocking into your daily 9 to 5, to quick relief from an early morning workout, CBD deserves a place in your medicine cabinet as much as any other supplement or vitamin.
There are also loads of ways to consume CBD, from capsules to oils to sublingual sprays, but these options don't appeal to every type of consumer. Some prefer to use CBD discreetly, while others are intimidated by the size of the capsules. That's why Empire Wellness CBD Relaxation Syrup created a convenient and low-key way to reap all the benefits of CBD. All you have to do is mix the substance with liquids, such as tea or water, to create a delicious and nutritious drink.
CBD (or cannabidiol) is one of over 100 compounds found in the cannabis plant. Although THC comes from cannabis as well, CBD and THC are by no means the same. Because CBD is non-psychoactive, it does not alter your state of mind any more than a cup of coffee. THC, on the other hand, can and will get you high.
Again, there are multiple methods for ingesting CBD, one of the most common being CBD oil. But for some, the earthy taste of CBD oil isn't all that pleasant. Empire Wellness CBD Relaxation Syrup by Empire Extracts, in particular, is perfect for people who find CBD hard to swallow. It may look like cough medicine, but don't be fooled: this relaxation syrup is tasty.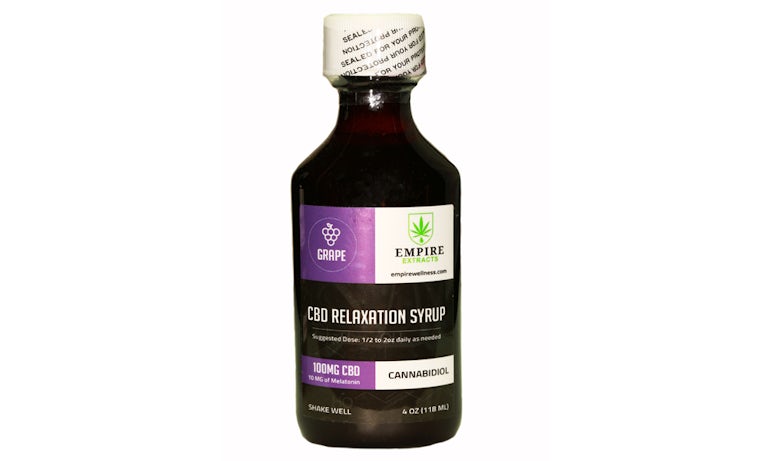 CBD's potential for wellness is undeniable. Numerous studies have revealed that CBD has a wide range of possible medical applications. For example, early research suggests that CBD can be used to treat everything from chronic pain to arthritis pain, seizures, muscle spasms, paranoia, psychosis and even fear of public speaking.
But CBD's potential doesn't stop there. CBD is also shown to have anti-inflammatory and anti-anxiety effects. For individuals in the wellness world looking to escape harmful NSAIDs and Benzodiazepines, CBD is a safer and far more natural alternative.
Empire Wellness CBD Relaxation Syrup can be poured and mixed with any drink, including tea, soda, and even water.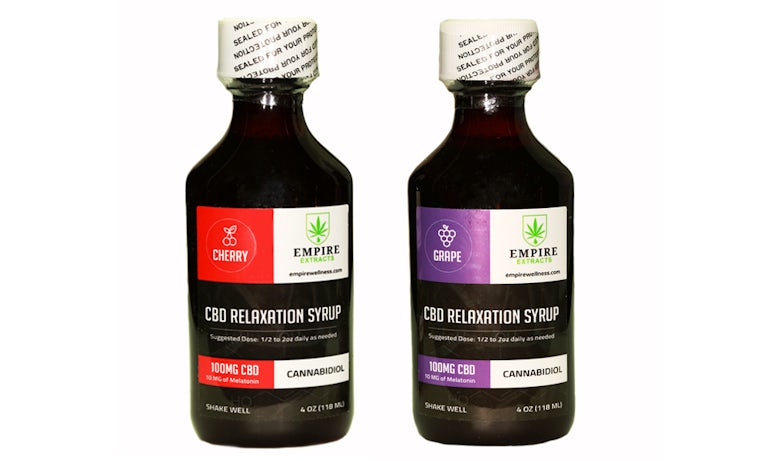 The syrup also comes in two different flavors—grape and cherry—and contains four ounces of 100mg CBD syrup, which is enough to make about two-four drinks.
Along with CBD, the Empire Wellness CBD Relaxation Syrup contains the highest quality flavoring ingredients, one of them being melatonin. Each bottle consists of precisely 10mg of melatonin, which is scientifically proven to promote extra relaxation. In addition to providing a better night's sleep, melatonin can ease the symptoms of PMS, and even manage migraines.
To ensure 99% CBD purity and safety, Empire Extracts puts their Relaxation Syrup through rigorous testing, including third-party testing. The third-party lab test includes cannabinoid and terpenoid profiling, mold, mildew and fungus screening, and residual solvent testing.
The Empire Wellness CBD Relaxation Syrup is also 100% legal on a federal level as the CBD is extracted from hemp, not marijuana. This means that the product can be shipped to all 50 states in the U.S., and even internationally. However, individuals outside of the U.S. should keep in mind that Empire Extracts is not responsible for any country's customs, shipping procedures or regulations.
If you're ready to change the way you consume CBD, luckily, it won't cost a ton to make the switch. Each bottle of Empire Wellness CBD Relaxation Syrup costs only 45 dollars. To see for yourself just how much of a difference Empire Extracts' products can make, head over to their website and order your delicious CBD-infused syrup today.