The sun is shining, the temperature is warming up, and the flowers are starting to blossom. Spring is here at last stoners. And you know what that means, outdoor smoke sessions are about to become a thing again. Aside from putting up the coats and scarves in exchange for a whole new wardrobe, it's high time to ditch the hot water bong hits for something more cool and refreshing.
Spring weather may be perfect for burning your favorite herb in the great outdoors, but it's not so ideal for delicate glass pieces, primarily because they're prone to shattering. Even if you're merely on the front porch swinging and blazing, it doesn't take much effort or altitude to break a glass bong. So instead of lugging around your expensive and highly fragile glass apparatus, ruining it, and killing every bit of your Springtime vibes, why not celebrate Spring with an ice bong?
Eyce Mold 2.0: An ice bong that stays clean and functional all season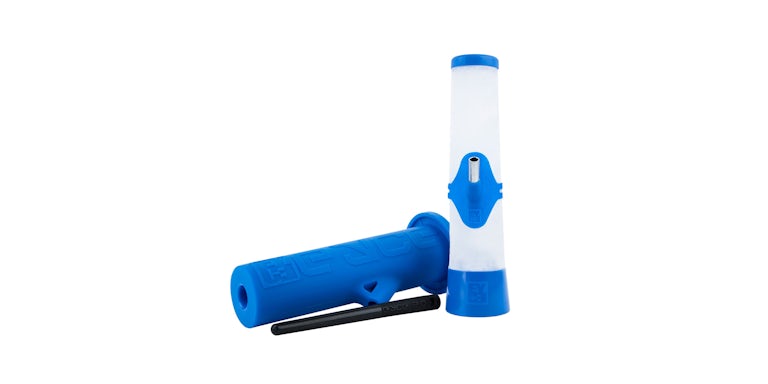 Ice bongs, like the Eyce Mold 2.0, aren't shatter-proof, obviously, but don't let that fool you into thinking that crafting an ice sculpture for the purpose of smoking weed is a gimmick. The Eyce Mold 2.0 retails for less than $100 and is a better outdoor sesh companion than your favorite glass bong, which you definitely don't want slipping out of your hands.
So why replace one breakable bong with another? Well, unlike a glass bong, ice bongs, including the Eyce Mold 2.0, are made not only to be broken but also to be remade. That means despite enduring fracture after fracture, they can still be reused. Being that you can mold an ice bong right from the comfort of your own kitchen, that also means consecutive trips to your local head shop for a replacement apparatus are no longer necessary. And you get to keep the extra Benjamin Franklins in your wallet to boot.
Aside from saving cash, the Eyce Mold 2.0 also saves you time on cleaning. The only parts that require a scrub down are the mouthpiece and the down stem, both of which are included. For consistent tokers that know how to burn through some tree, it's easy to wind up with a gunky piece. By using the Eyce Mold 2.0 for your outdoor Springtime sessions, that's at least one less member of the collection that you have to worry about giving a rigorous bath.
Have a chill Spring with icy, refreshing bong rips from Eyce Mold 2.0
Although smoking from an ice bong sounds as comfortable as sitting on a block of ice, the Eyce Mold 2.0 offers an incredibly smooth and clean experience. In fact, the Eyce Mold 2.0 can produce smoke as chilly as -3 degrees Celsius to not only eliminate the harsher elements found in smoke but also to unleash the pure, unadulterated flavors of your beloved herbs.
Lacking experience in ice-sculpting? Don't stress. The Eyce Mold 2.0's kit is easy-to-use and comes with everything you need to build your ice bong from the bottom up.
Regardless of your Springtime agenda, the Eyce Mold 2.0 is an ideal ice bong for any outdoor activity. Besides cooling you off on unpredictably humid days, the Eyce Mold 2.0 constructs a bong that's more portable than glass. You can bring it along on all your backyard adventures with barely any hassle and merely head back to the house when it's time to remake and freeze another. All the while, you'll still have that one favorite glass bong to satisfy your herbal cravings from inside the crib.