For the heady highs, and clean, pure herbal flavors, cannabis connoisseurs are increasingly opting for dabs over flower. Concentrates annihilate undesirable material like resin, which is commonly ingested while burning plant matter, rolling papers or blunt wraps leaving you with the clearest expression of the plant it was derived from. However, the blowtorching process involved with dabbing is a big turnoff for many people. That's why Puffco created the latest disruptive innovation in the cannabis world, one that could take dabbing into the mainstream.
Puffco created the Peak, what is now the most intelligent rig in the world. Regardless if you're a first-time dabber, or you're already a dabbing veteran, the Puffco Peak is bringing everyone a more enjoyable and convenient dabbing experience in more ways than one.
The Puffco Peak is convenient and delivers quality flavor in seconds
Preparing to dab can be a timely process. Before you can medicate, you have to whip out a torch and add significant heat to your rig for at least three minutes. With the Peak, invented by Puffco, there's no need for a blowtorch. Just load your waxes, oils, or concentrates cold and press the button. In twenty-seconds, the world's smartest rig will heat up to the proper temperature for dabbing. And with gentle light pulses and vibrations, the device will let you know once it's ready to be used.
Whether you're looking to achieve substantial cloudage or maximum flavor, the Puffco Peak even provides four unique user heat settings. That way, you can customize your experience based on your personal preference and the size of your dabs. Sesh-mode, for example, extends your session, making it perfect for socializing and medicating at the same time.
Thanks to its intelligent temperature calibration feature, it can maintain the same consistent temperature throughout the entire session. That means you and your buddies can pass around the rig and all share the same experience each time.
The Peak by Puffco is completely electronic, meaning that you'll never have to go through the trouble of traveling with a blowtorch on airplanes
When it comes to traveling, the Puffco Peak couldn't be more perfect. All you need to dab on-the-go is the device itself and your concentrates. No extras. And unlike most dabbing devices, the Puffco Peak is discreet, compact and convenient enough to take with you wherever you go.
The Peak has an outstanding battery life, too. On a full charge, you can get about 30 dabs in. And once its fresh out of juice, all it takes is around two hours to bring it back to life when you use the supercharger, which is included in its box.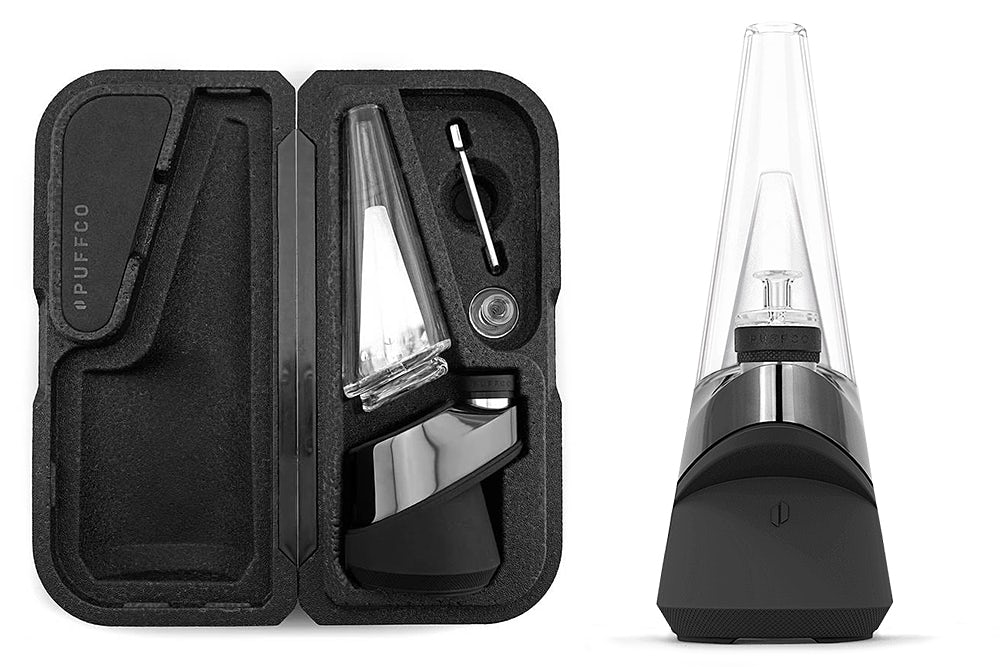 Along with the micro USB cable supercharger, here's what else comes complimentary with each Puffco Peak rig:
Carrying Case

Extra Ceramic Bowl

Loading Tool

Carb Cap

USB Cable

Charger
The Peak itself consists of hand blown glass and was both designed & engineered in-house in Brooklyn, NY.  To perfect its design it took a year of molding, designing, revising, and creating the software to formulate the smartest rig on the plant.
In addition to making your dabbing experience faster and easier through innovative technology, the Peak unleashes the true power of concentrates by delivering the purest flavors, the highest potency, and the full effects of cannabis. For a dab rig, $379.99 seems a little steep. But when it comes to getting the best dabbing experience possible, there is no topping the Puffco Peak.
Interested in investing in a dab rig yourself? Check out the Herb Shop.