One of the hottest topics in Japan is cannabis cultivation. However, the country's Cannabis Control Law prohibits purchasing, trading, and growing the herb. Although this may be true, it's not stopping people from spreading the knowledge. In fact, Japan now has their first-ever cannabis mascot character that does just that. Without further ado, it's time to meet Asamiko-Chan, the Hemp Shrine Maiden. 
Asamiko-Chan: the Hemp Shrine Maiden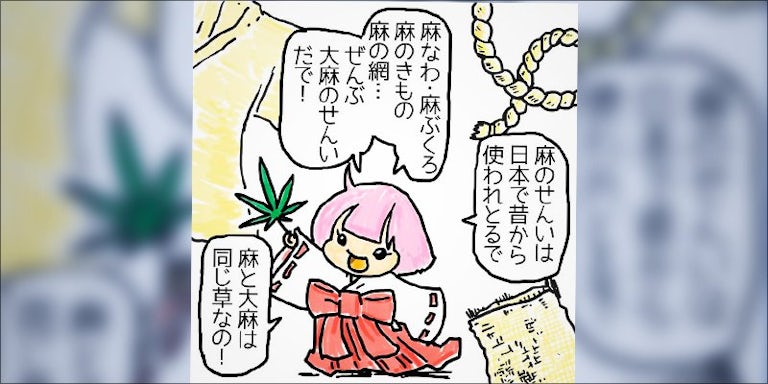 After Japan's first lady Akie Abe spoke up in support of bringing the country's hemp culture back to life, individuals want the use of hemp products to become more mainstream.
In fact, a town in Tottori Prefecture is aiming to promote these products by introducing the country's first-ever cannabis mascot called Asamiko. In translation, Asamiko means "Hemp Shrine Maiden."
According to her Twitter account, Asamiko-Chan is a Hemp Sprite and lives in a hemp field in Chizu. Not only does she want to remind the people of Japan about the country's history of hemp cultivation, but she also aims to inform individuals of the many benefits and uses that associate.
In the photo above, she reminds people of the connection between hemp and the country's ancient Shinto culture. In fact, hemp plays a key role in Shinto's purification rituals. Not to mention, it's used traditionally to create sacred shimenawa (enclosing rope) and suzunawa (bell ropes).
Do you know what hemp is?
Asamiko-Chan tells everyone that Japan has used hemp since ancient times. Specifically, to create products like rope, bags, textiles, and kimono. In fact, her Twitter account features quite a few photos of her promoting the hemp.
Moreover, the adorable pink-haired mascot has her own bio, which includes various facts about her.
First, her favorite food, which is onigiri rice balls with hemp miso paste flavoring. Second, her specialty, which is curing tired people. Third, her favorite phrase is "Do you know what hemp is?". And last, but certainly not least, her goal: to fill Japan with hemp farms.
As a matter of fact, her birthday is May 2nd, which just so happens to be the day that cultivation bounced back on the farm after a 60-year absence. And following that absence, a post-war ruling that put a stop to its production in the area.
Hachijuhachiya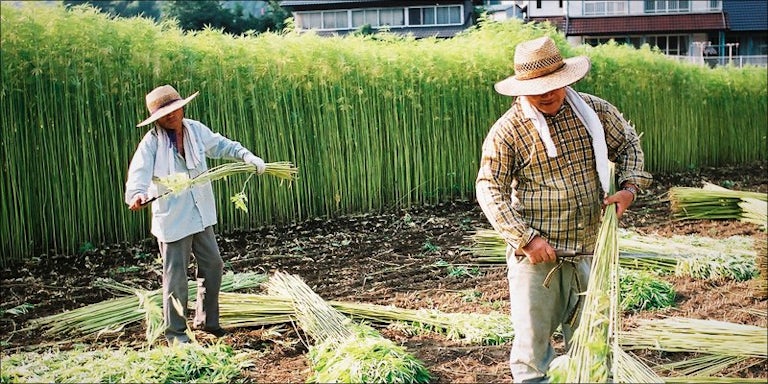 Behind the project is farm Hachijuhachiya (88th night), also known as "8108ya". Specifically, their goal is to increase public knowledge of hemp by using the cute mascot Asamiko.
Not only is this farm the largest amongst Japan's 33 hemp farms, but they also continue to cultivate industrial hemp with zero psychoactive effects right there on the farm.
Currently, the farm produces roughly 500 kilos of hemp each year. In addition to using the stems for textiles, deodorants, and food products, they roast and press the seeds to make highly nutritional foods.
Aside from helping to promote the use of hemp throughout the entire country, the company creates jobs to restore the economy in Tottori, Japan's least congested prefecture.
And if you're interested in their products or simply want to learn more about the farm, you can visit their online store.
Are you happy to hear that Japan is embracing hemp? What do you think of their cannabis mascot? Share with us on Facebook, Twitter, or in the comments below. We would love to hear from you.