Seven years ago, Amy Anonymous, a cannabis activist and dispensary owner in Toronto, was walking to work when she noticed a homeless man, freezing cold. She struck up a conversation with him and she quickly realized she needed to do something to help.
"I got a little pack together for him," she says, "and I thought, 'why don't I do this for a bunch of people?'"
At the time that just meant reaching out to friends to ask for donations. Anonymous estimates she just gave out about 15 care packages to people on the streets the first time she did it.
"That first year, we only gave out small gift bags with hats, gloves, and a little bit of cannabis." But, seven years later, Toronto-based Milk Cookies and Cannabis For The Homeless is still going strong.
Now, the small parcels have grown into massive duffle bags. This year, Anonymous and her team helped pass them out to over 150 people. "The cannabis community in Canada has really come together for this," she says.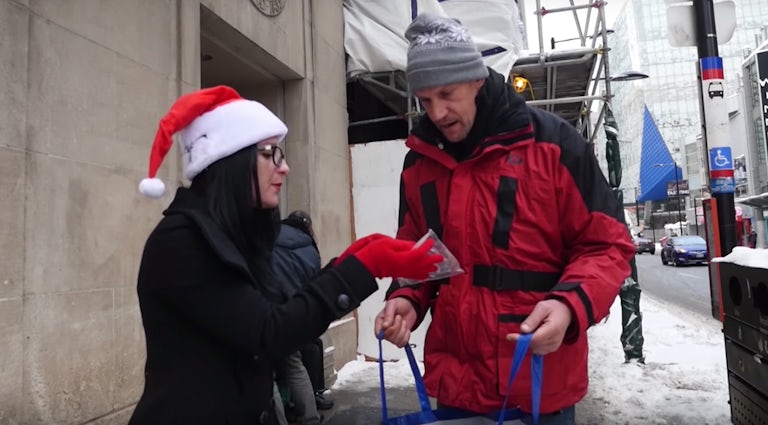 They begin organizing and collecting donations two months prior to the giveaway. This past year, the bags included hats, scarves, hand warmers, gift cards for Tim Hortons and McDonalds, a toque, a few pairs of socks, toiletries and a winter coat. For homeless women, the team filled donated purses with feminine products, as well as some luxury items like nail polish. People with pets got blankets and dog food. And then, of course, there was the cannabis. Each bag had some flower, rolling papers, and a grinder.
With recreational weed sales starting in Canada this July, Anonymous hopes the project will grow even more.
"With legalization coming, I really hope companies will want to take part in this," Anonymous says. So far, all of the donations for Milk Cookies and Cannabis For The Homeless have come from individuals or small businesses like dispensaries and edible companies.
Even without larger corporate support, Anonymous hopes to continue Milk Cookies and Cannabis for The Homeless for years to come.
Ultimately, though, the goal of the project is just to show the most vulnerable people that during darkest and coldest months others are thinking about them.
"We just want people to know we care. And we do care," Anonymous said. "We're not just lazy stoners."