Are you a big fan of Kush cannabis varieties? Orange Kush has been around for a while, but this flower is worthy of a taste. Not only does this hybrid feature a delightful orange peel aroma, but it provides a gently sedative experience that can make it easy to kick back and relax. If you're hoping for something tasty and practical, this upbeat bud is the way to go.
The Orange Kush marijuana strain is a powerful Indica hybrid with sedative and pain-fighting qualities. While considered an evening flower, the sleepy experience this strain provides is complemented by a happy and rewarding euphoria.
Orange Kush Experience
Orange Kush is a happy yet powerful Hybrid from Green Devil Genetics. Indica-dominant, this strain packs a narcotic punch. Marijuana fans tend to report a powerful, body-numbing high with plenty of sedative effects. This marijuana strain is also known to bring about a bad case of the munchies, making it great for those who struggle with a lack of appetite.
Some may find that it produces a bit of a sleepy experience and is often recommended for a lazy afternoon or the evening time. Perfect for winding down at the end of the day, the aroma of this flower alone can bring a smile to your face.
It's recommended for novice consumers to stick to Orange Kush samples with under 15 percent THC. When your dose is too high, you might experience some negative side effects like dizziness and paranoia. Those prone to THC-induced anxiety may want to start slow with this strain, testing out a puff or two before diving in further.
For some, the experience this strain offers may start with a head-centered elevation. Heavy-bodied effects tend to creep up, relaxing the muscles and easing the body into a calm relaxation. Save this cannabis strain for a meditative and low-key experience.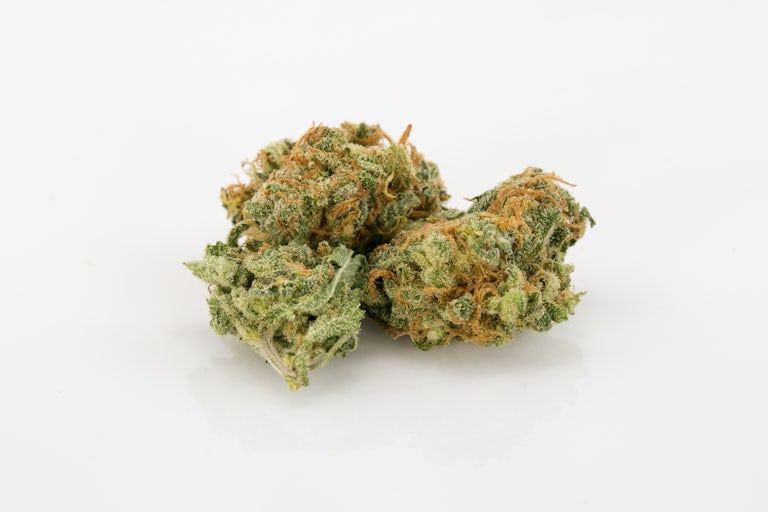 Traits of Orange Kush and Orange Kush Seeds
This marijuana strain is the flavorful lovechild of Orange Bud and OG Kush. Decadent and powerful, this Indica hybrid has a distinct citrus aroma with plenty of hop-like pungency and spice.
While Orange Kush certainly doesn't have the reputation of its more famous parent strain, OG Kush, this bud tends to be one of the most beloved on the shelf. It is a moderately potent flower that tends to produce between 13 and 24 percent THC. When grown with expert care, Orange Kush can get quite strong.
Perhaps taking strongly after Orange Bud, this flower tends to produce a sweet and fruity aroma. As the name suggests, Orange Kush expresses notes of citrus and fresh-peeled oranges. Like many Kushes, however, this strain can also feature some pungency and a base of tilled earth and wood.
When grown well, THC levels can reach about 22 percent. A well-grown plant will have dense buds covered with plenty of bright orange hairs.
Easy to grow, this marijuana strain is naturally resistant to many molds and mildews. These flowers feature heavy trichome production and the weed expresses broadleaf Indica characteristics.
Why do people use Orange Kush?
Orange Kush would be an excellent strain to bring a long while watching a sporting event. This strain is great for enjoying leisure activities that don't require a lot of get up and go. Still, something like an easy hike or flat bike ride would likely be enjoyable after a little taste. Though, don't be surprised if you find yourself ready to curl up on the couch and call it a day.
Medical cannabis users pick up Orange Kush for two primary reasons: stress relief and help to fall asleep. Orange Kush is a way to find quick relief after a difficult day and many may find it helpful for letting go of night-time worries. This strain is also popular for relief from mild to moderate aches and pains, especially those that keep you up at night.
Medical Benefits of Orange Kush
Anyone who is looking to relax after a stressful day will find a friend in this strain. Perfect for a rainy afternoon, medical marijuana patients can expect a low-key experience from this strain.
Pain management, insomnia, and appetite stimulation are three of the most common reasons medical cannabis patients seek out this strain.

Those who struggle with cramping and mood swings related to PMS may appreciate the strong physical and mental relief this strain provides.

This medical cannabis strain is sometimes used for relief from stress conditions like post-traumatic stress (PTSD) and to ease hyperactivity.