Who doesn't love to enjoy a pina colada with some sea breeze on the side? Well, prepare yourself for one of our favorite strains with the name of one of the best places to vacation in.
We are talking about Hawaiian Haze. This beautiful strain is mostly a sativa with high CBD content that will let you relax and enjoy the beachside with big surfing waves. 
Fruity, citrusy, and tropical, this bud has a powerful terpene mix (myrcene, humulene, and caryophyllene) and flavor profile that will help anyone looking to unwind get rid of stress or even treat some pain. This ERB (Early Resin Berry) and DC Haze cross have a mostly CBD yield, with a total of 15% of cannabinoids: 13.3% of CBD and less than 0.3% of THC.
Let's talk a little about this strains' terpenes, effects, genetics, and mostly if the island vacation feeling is true or not.
Hawaiian Haze Review
There is no better place to relax than Hawaii. And this mostly sativa strain will provide you with one of the greatest relaxation times. Its airy buds will help you get rid of any stress from work or daily life while still having a clear head.
This flower has barely any THC content, so expect a mind and body buzz, away from side effects like paranoia.
Hawaiian haze is also really helpful with chronic pain and aches. Great buzz, easy to smoke with delicious tropical and fruity notes, this flower will take you to a tropical paradise in no time.
The Botany Farm's Hawaiian Haze is one of our favorites because of its mellow, pineapple, and tart flavors that mix very well with the earthy notes that humulene and myrcene provide. 
Hawaiian Haze Terpenes
This bud is popular due to its delicious terpene profile. It is high in myrcene with an approximate 0.26% content. It also has caryophyllene and humulene, making it smell close to Hawaiian flowers. The terpene profile is fruity, floral and will take you away to a warm, sunny island with each hit.
Effects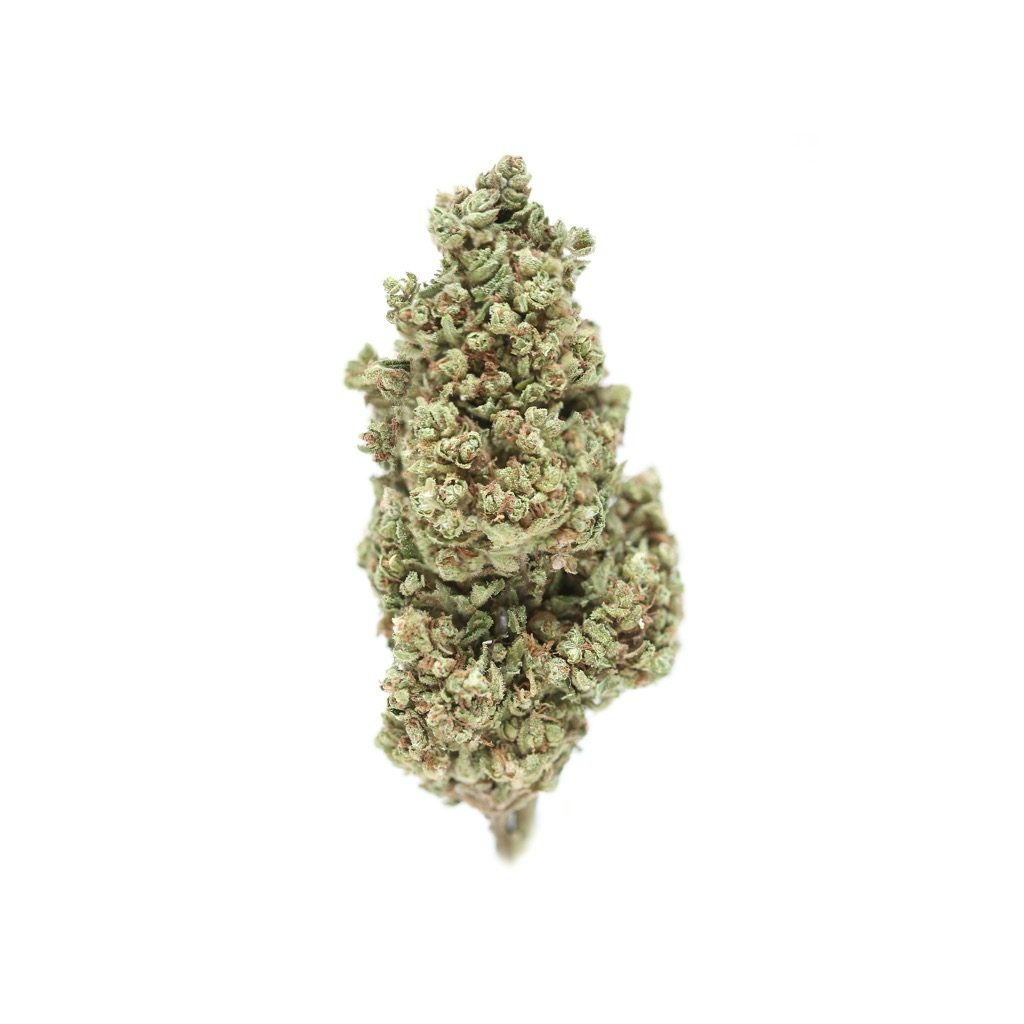 The Hawaiian Haze strain is amazing for regular stress and tiredness. This powerful sativa-based strain has over 13% of CBD content, which means that after a few hits, it will melt all your worries away. It also promises to make you feel uplifted and energetic mind-wise, which sometimes leads to amazing talks and creative conversations at social events.
Some users have also reported feeling calm and sleepy after a high dose of this flower. Because of this, you can also use this strain to unwind your body and mind after a long day. It has also helped with different ailments like anxiety or nausea.
The unique terpene profile of Hawaiian Haze makes the effect hit stronger. Myrcene has some sedative effects that mix with anti-inflammatory properties.
Another terpene combo that accentuates this effect is the humulene-caryophyllene mix. Besides making the anti-inflammatory effect stronger, it provides analgesic effects and has been noted to work in some cancer treatments. 
Genetics
This unique strain results from a cross between the known DC Haze and Early Resin Berry, also commonly known as ERB. Co-bred by Oregon CBD, this cross strain was created to have one of the highest-yielding CBD plants in the market. This is also why the Hawaiian Haze has an inherited berry-citrusy flavor, with an incredible range of effects.
Lineage
Let's talk a little bit about ERB (Early Resin Berry). This hemp flower creates high yield CBD strains, with a 20:1 CBD to THC ratio. The strain is a great choice for people looking to get all the CBD goodness without dealing with intoxicating effects. It is also used by people who look to ail discomforts, chronicle pain, anxiety, or stress.
Even though there is not much information about DC Haze, it is a Haze strain that provides sativa flowers. Most Haze strains are flowers that provide about 15% THC content and are usually associated with energetic, euphoric, and creative highs. It can help you boost your mood and help with anxiety or day-to-day stress.
Grow Info
The Hawaiian Haze is a tall hemp strain with beautiful long leaves and pistils. The flowers produced by this plan are pretty light and general, and easy to extract compared to other strains, so they are a delight to grow for beginner farmers. However, one thing to say is that this plant has a higher yield than most hemp plants, and it's evident in its recollection. 
Flowering Time
Approximately 14 weeks. This bud isn't suitable for climates with early winters since it's prone to frost easily.
Yield
 This strain tends to yield 350 grams per square meter, bigger than most CBD buds.
Last Words
If you're looking for a high-yielding CBD bud with tropical, earthy, and fruity notes, Hawaiian Haze is for you. This strain is great to get a soft, decompressing high that will take you away from your day-to-day problems or can even be used in higher quantities for chronic pain and to help other ailments. 
It's great for social occasions, having a toke at the beach, or just after a long day. Hawaiian Haze is an incredible sativa-dominant strain that promises to melt your worries away with some tropical punch.
Be sure to check Botany Farms' Hawaiian Haze if you feel like trying this vacation getaway that is just a smoke sesh away.