Despite the ever-growing variety of delicious edibles that have been released over the years, good old fashion weed brownies are still one of the most classic cherished treats. For some, weed brownies are chewy, fudgy squares of nostalgia. After all, they've been around for forever, and for many of us, our love for cannabis sprang from our very first bite.
Nowadays, enjoying that sneaky and intense weed brownie high is easier than ever. While you can always bake your own, you now have other options. Instead, you can go pick up a couple from your local dispensary. There are more than just traditional chocolate fudge brownies too—you can find all sorts of flavors, from s'mores to mint chocolate chip. You actually know what's in them now too, thanks to proper labeling. Weed brownies sure have come a long way since the 70s.
Weed Brownies: Price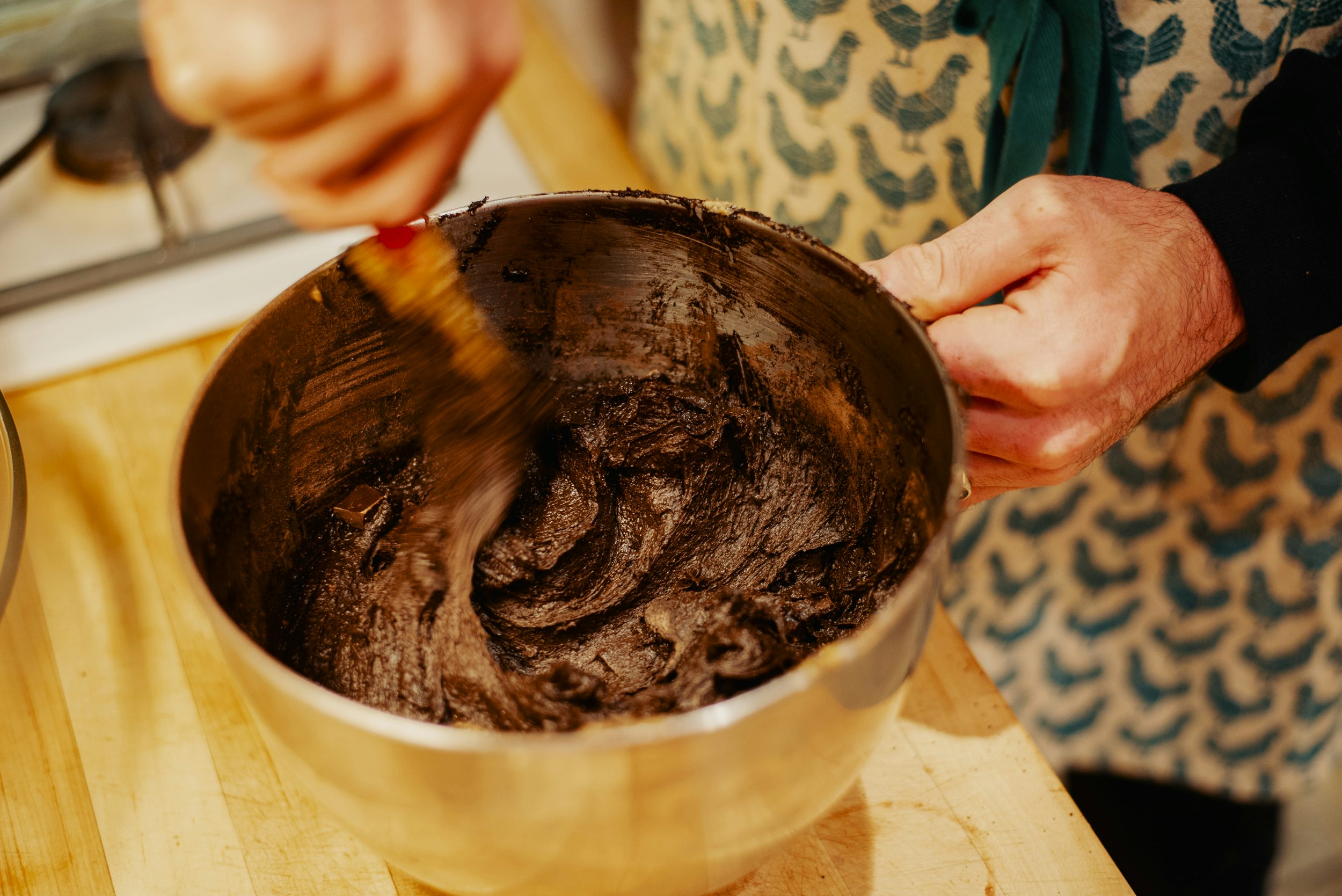 If you've never shopped for weed brownies, then you probably want to know how much they cost. The price of a weed brownie depends on two things: the potency and the quality. The higher the THC content and the better the brand, the more you'll pay, typically. You can find weed brownies as cheap as five bucks a pop, but don't be surprised if they cost an upwards of $20.
Making weed brownies from scratch is much cheaper than purchasing them from a shop, but it's also a double-edged sword. If you know what you're doing, then you can whip up treats that outshine anything you'll find at a dispensary. But for someone with no experience in the edible baking department, you could wind up wasting weed and having an ineffective batch of brownies to show for it. In that case, why not buy them pre-made and save the disappointment.
Weed Brownies: Side Effects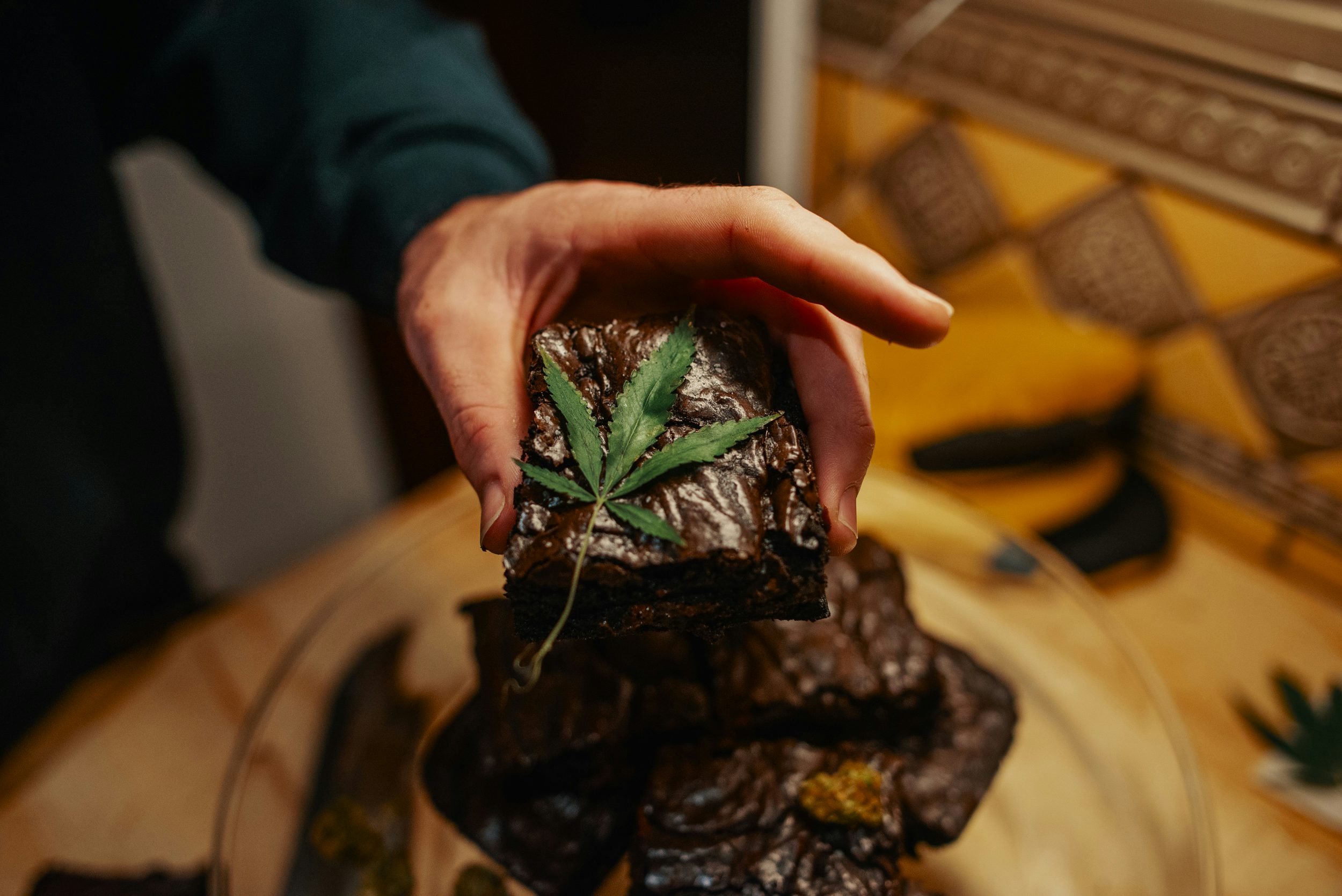 When you eat a weed brownie that's been made right, it's unlike anything you've experienced from a bowl pack. Part of the thrill is waiting for it to hit you. It can take anywhere from half an hour to two hours before you feel anything. But when you do, you feel it from head to toe, and it's magical. If you've got a good batch, and know how much you've taken, that is.
Too much weed brownie will have you staring at yourself in the mirror wondering who you even are, or worse, begging for a ride to the hospital. Your heart races, your head gets foggy, and sometimes, you get nauseous. Unless you know how much THC is in the brownie, there's no way of knowing how much weed brownie is too much, or too little for that matter. With an actual pre-made product, at least the dose is noted and easier to control. As a rule of thumb, always start small and don't eat more until you feel something. Again, edibles can take a while to kick in, but they will eventually, and that's a promise.
Do Weed Brownies Go Bad?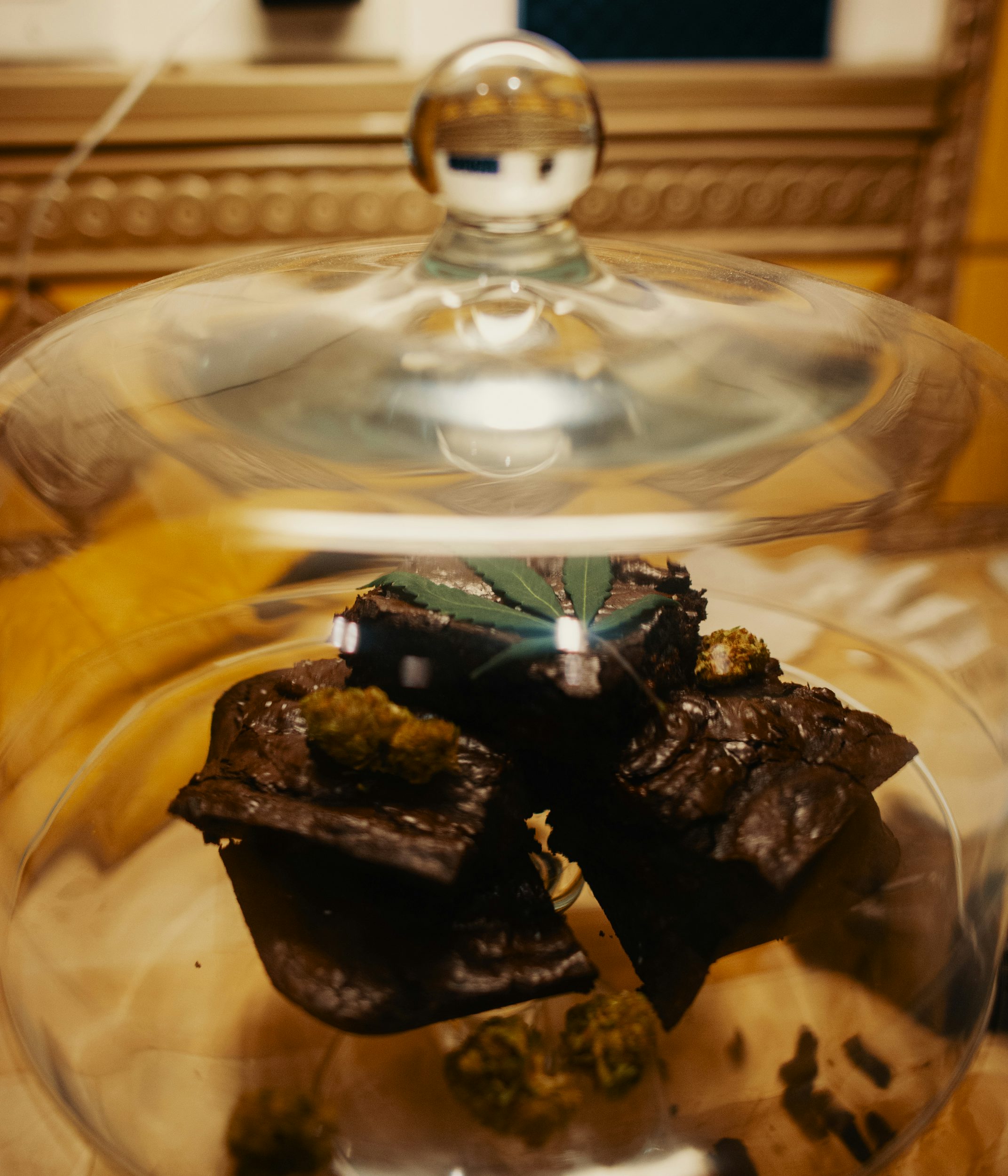 Once you buy yourself some weed brownies, you might wonder how long you have to eat them. Or, you could forget you even bought them, it happens. Usually, you shouldn't wait more than 5 to 7 days to eat a weed brownie when stored in a refrigerator. However, wrapping them up and placing them in a freezer could extend their life by a few months.
Technically, if the brownies contain dairy products like eggs or milk, then you should consume them as soon as possible. Then again, it's your gut. Plenty of people have devoured a week old weed brownie they had left out and lived to tell the tale. It might be stale and not taste the greatest, but many say they're surprisingly still potent, though you'll also hear that their potency degrades over time. To be on the safe side, eat the brownies when you buy them, or store them properly until you're ready.
Do Weed Brownies Smell?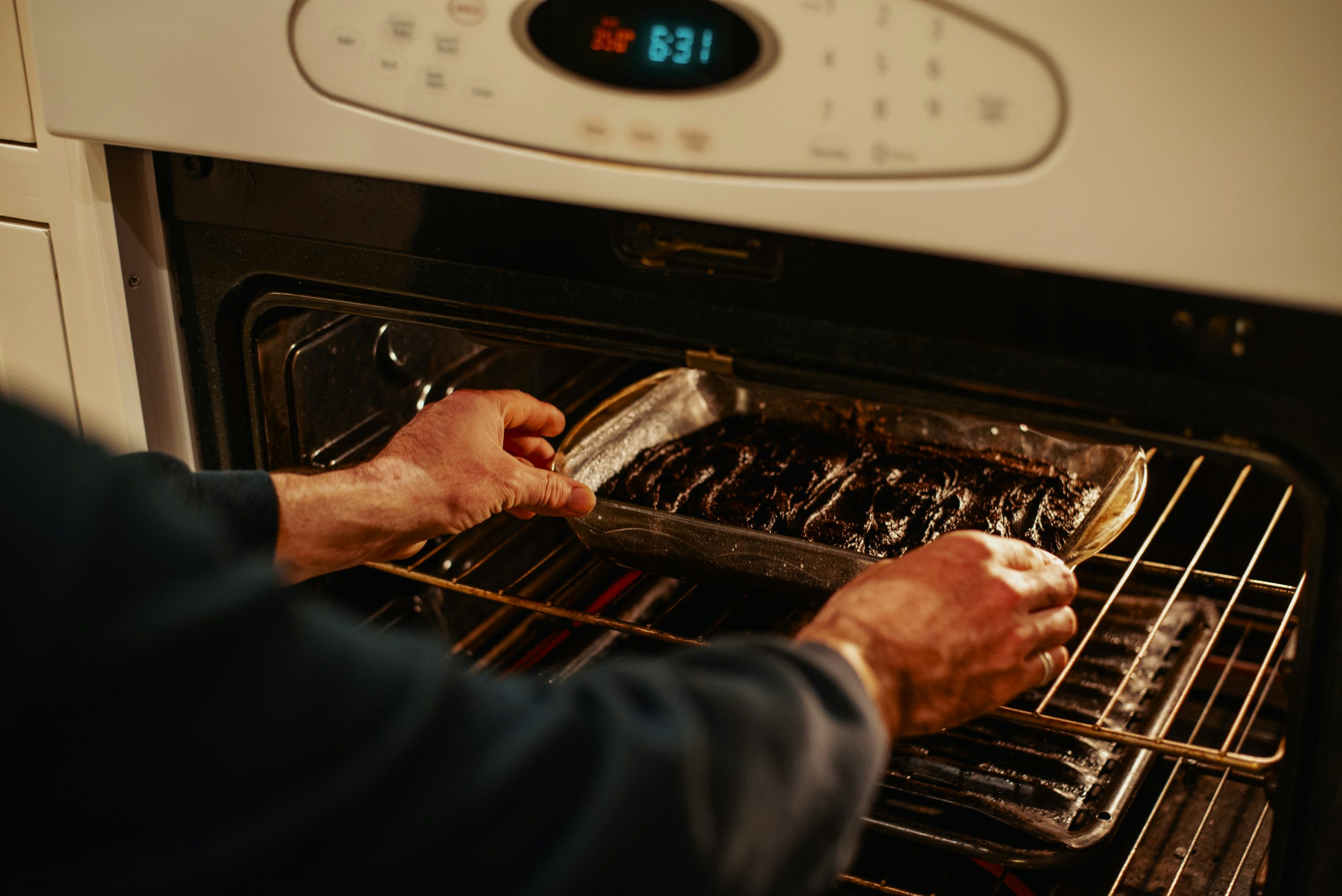 One of the most asked questions about weed brownies is do they smell? The answer to that is sort of because there is a slight weedy aroma. But it's not like holding a bag of Blue Dream. You can pack a weed brownie in your lunch box without the smell of dank seeping through, or toss it in your purse and go all around town if you want. Baking brownies is a different story.
The Best Weed Brownies You Can Buy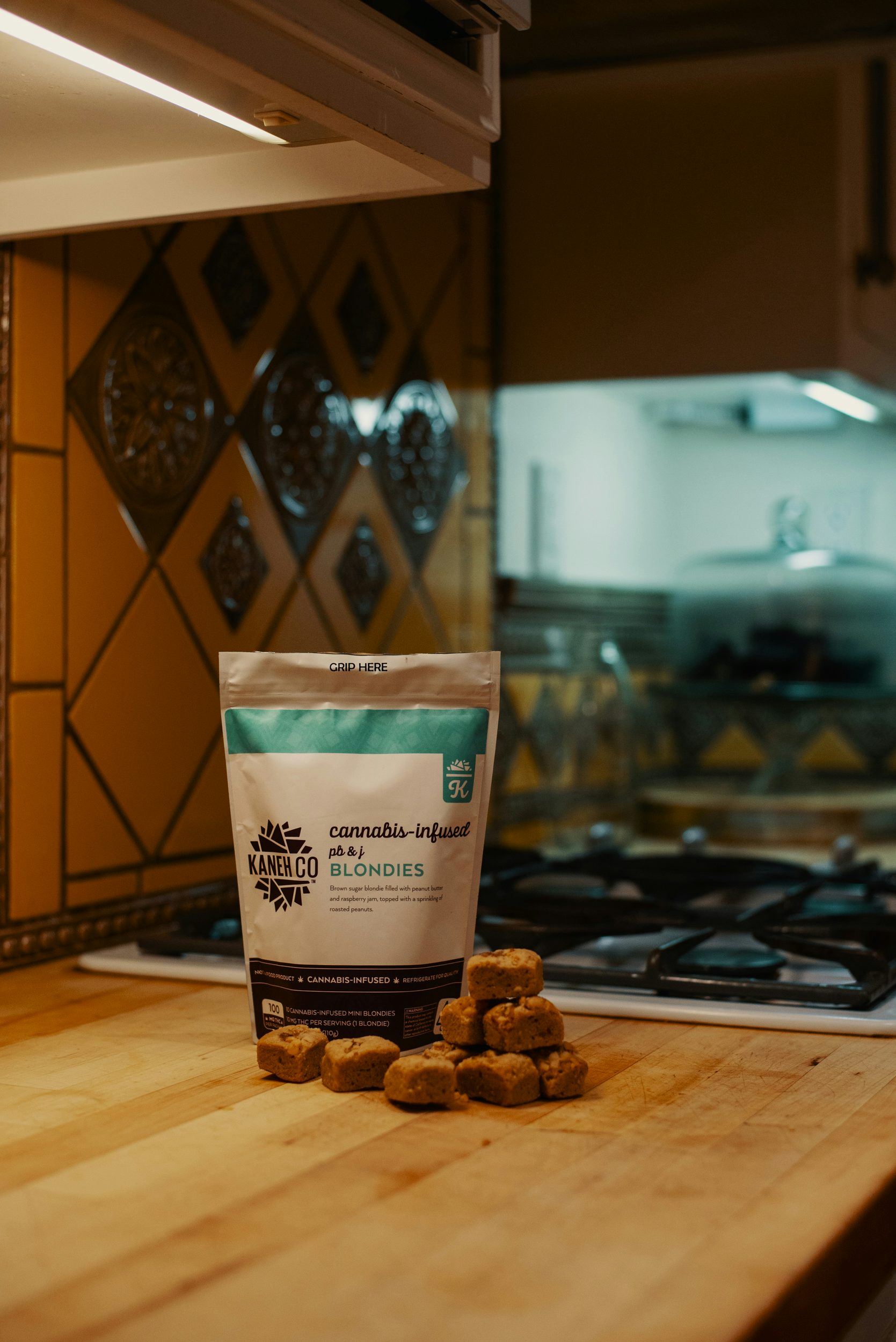 Surprise surprise, the selection of weed brownies are endless. That includes flavors and doses. There are even brownie bites, which contain smaller amounts of THC, making it easier to dodge a lousy trip, as well as vegan alternatives. For those who love the timeless treat that is the weed brownie but want to explore new twists, here are a few of the best weed brownies today:
Milf N Cookies Slutty Brownie Bites
For the ultimate mouthgasm, you need the sexy and irresistible Milf N Cookies Slutty Brownie Bites. In between the fudge brownie and chocolate chip cookie crust, there's an Oreo. You get three of the tastiest treats on earth with one bite, along with 10 mg of THC. In each pretty polka-dotted bag, there are a total of ten brownies, equalling 100 mg a package. If by some slim chance you don't destroy the batch at once, the pouch is resealable so that you can save your mini confections for later.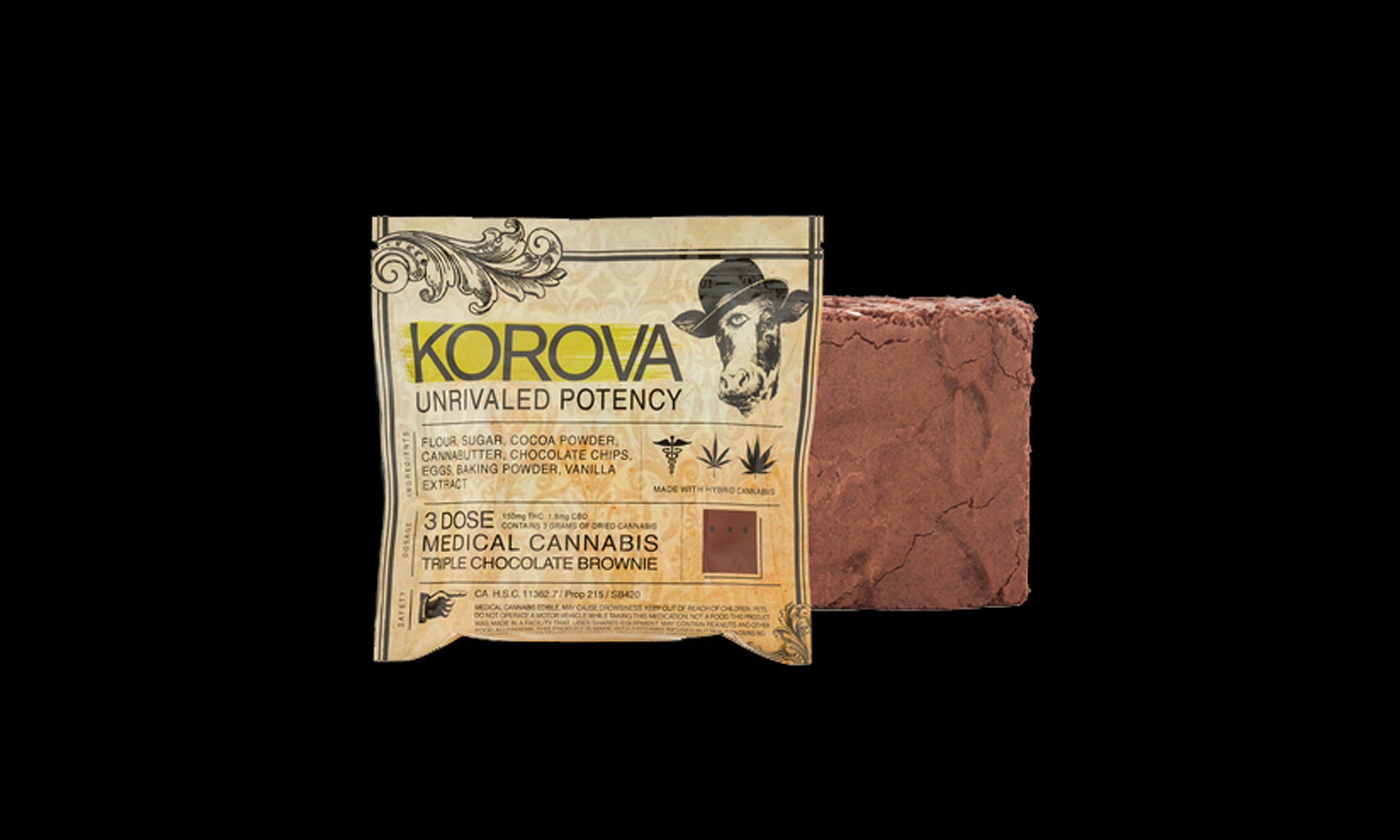 Infused with 150 mg THC and 1.8 mg CBD, the Korova Triple Chocolate Brownie contains 3 grams of dried hybrid cannabis, in addition to delectable chocolate chips, cocoa powder, and other fine ingredients. The Korova Triple Chocolate Brownie, baked to serve in three doses, comes single and ready to mingle. Though the clear and detailed packaging only has one weed brownie to accompany it, for the average canna-indulger that one decadent dessert is more than enough to last up to 72 hours. For chronic cannabis consumers, you'll have a swell buzz for the day.
Kaneh Co Holiday Edition Mini Chunk Brownies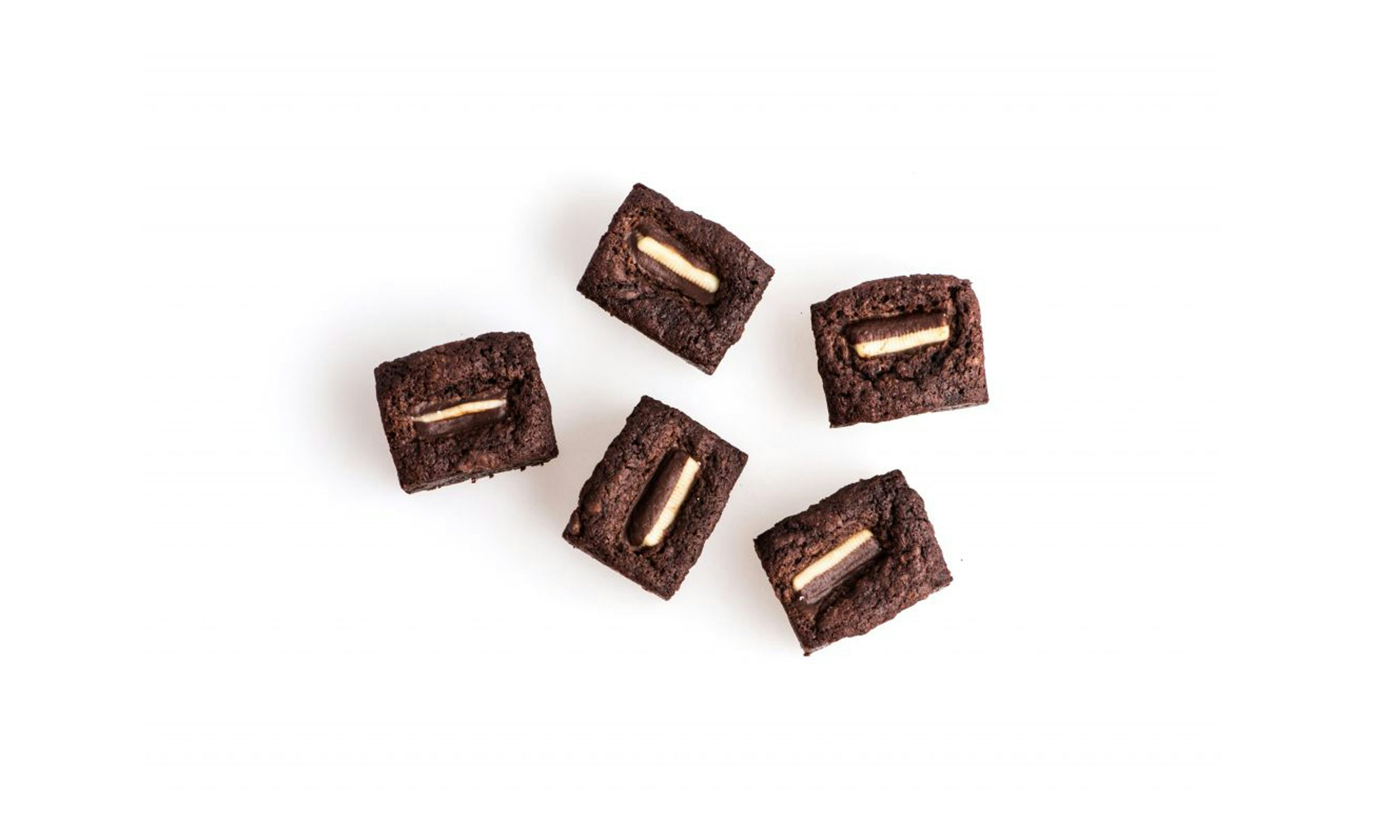 Holiday season or not, Kaneh Co Mint Chunk Brownies are a sweet ganja gift year-round. Treating yourself to a dark, chocolatey brownie with a minty center and a cold glass of milk on the side is a real delicacy, especially since there's 10 mg of THC in every bite. You get ten in every resealable package, so if you don't overindulge on your own, you can share the love with a friend.   
Good Co-Op Brownie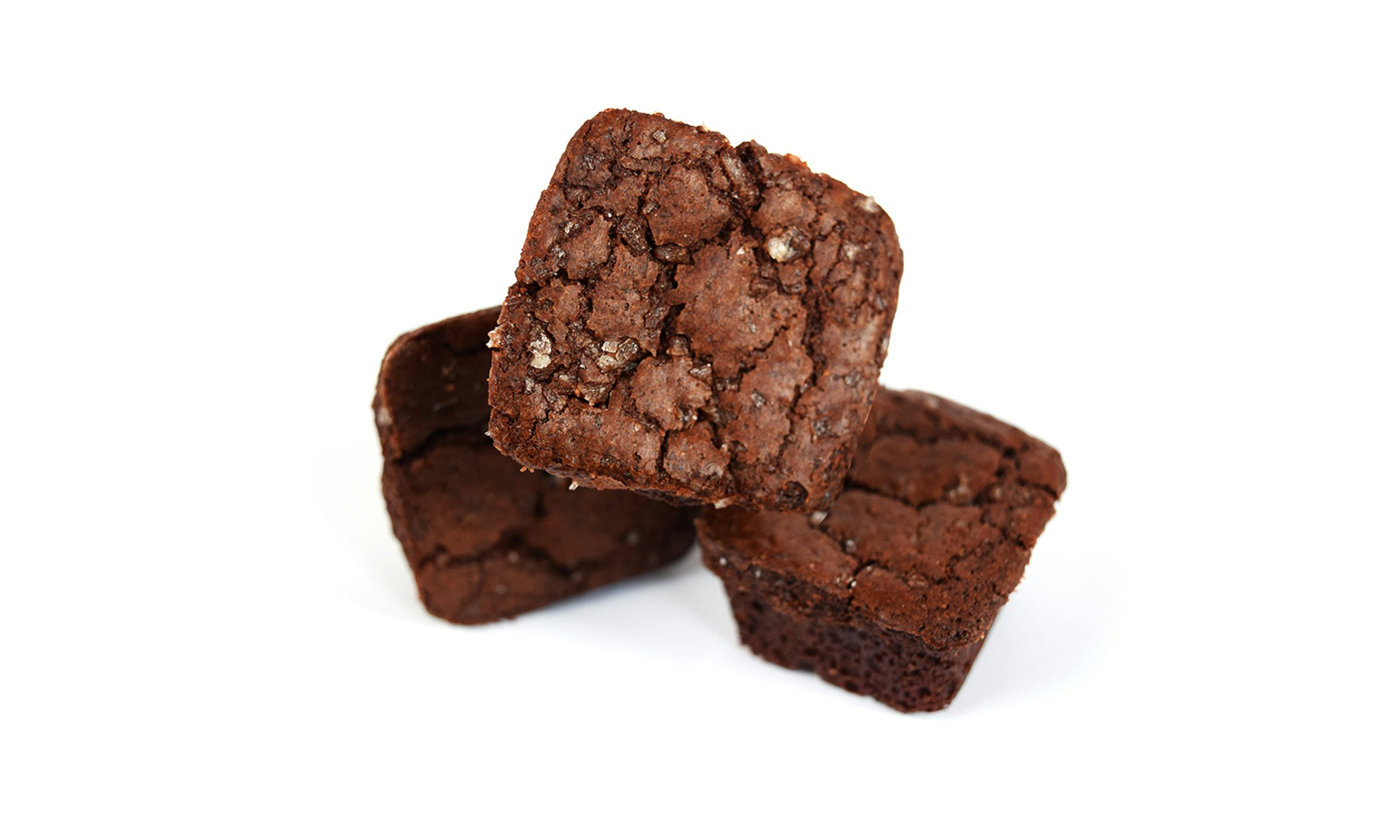 Not sure if you're going to be about the weed brownie life? If that's the case, then you can start super small with a box of Good Co-Op dark chocolate brownies. Each box comes with just three brownies with a low 10 mg dose of THC, making controlling your buzz a snap. These weed brownies, infused with Humboldt grass-fed cannabutter, are also perfect for regular consumers looking for a gentle daytime lift. Plus, they're lightly sprinkled with sea salt to give them an extra bite and don't contain additives, preservatives, or anything scary.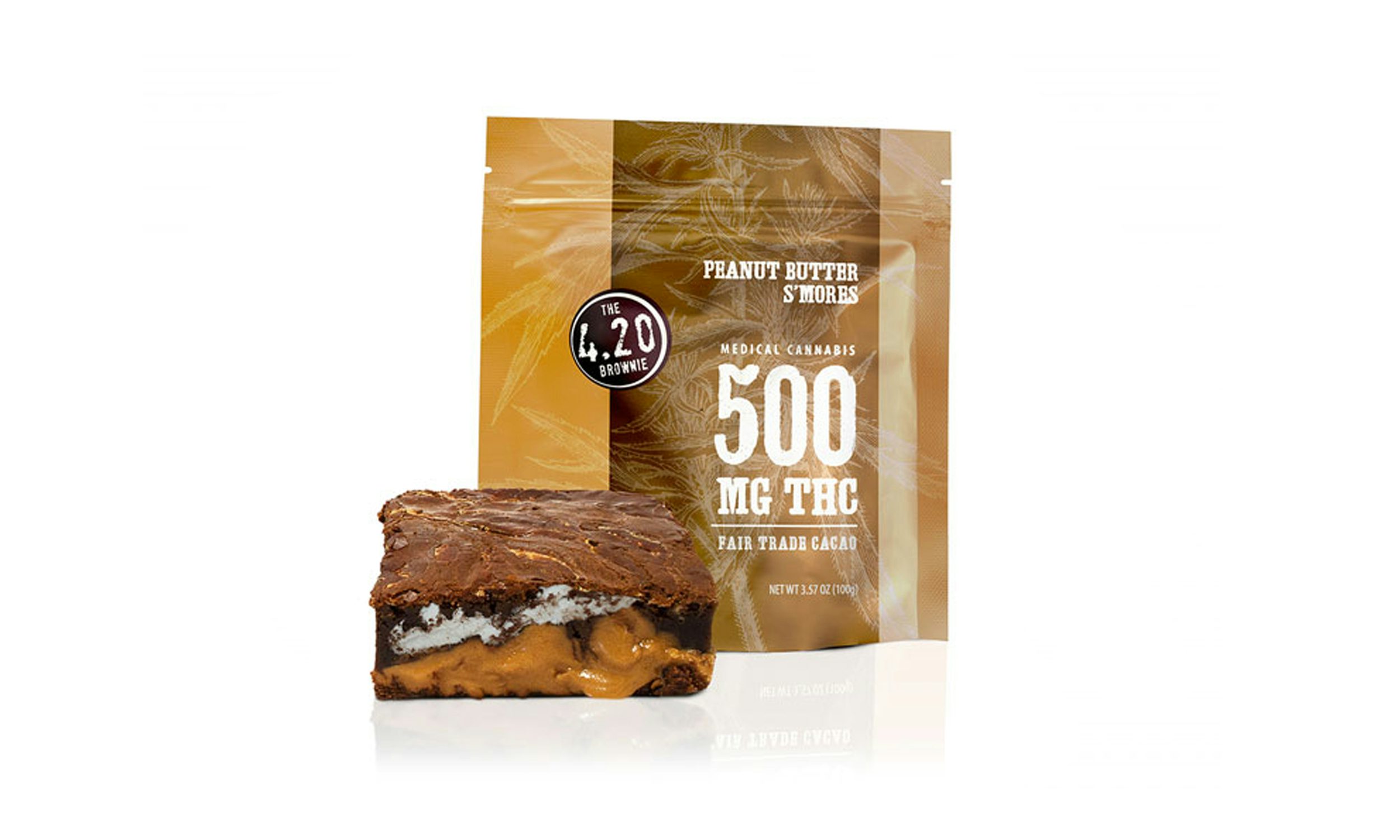 Weed brownies with minuscule THC doses are sweet and all, but sometimes, it's nice to chow down on a real monster. The Peanut Butter S'Mores 4.20 Brownie is the beast of weed brownies. It contains 500 mg of THC and other tantalizing ingredients, including chocolate, peanut butter, and marshmallow fluff. The smart choice would be to start with a sugar cube-size square and wait two hours for the effects to kick in. But if you can't resist a fat and chewy brownie oozing with peanut butter marshmallow goodness, then good luck with that.
Best Vegan Weed Brownies
Do you fancy a weed brownie with no eggs, no dairy, and no problems? If so, then lucky for you, they come vegan-friendly. Here are two all-natural and delicious weed brownie options for vegans:
Lifted Superfood Brownie Bites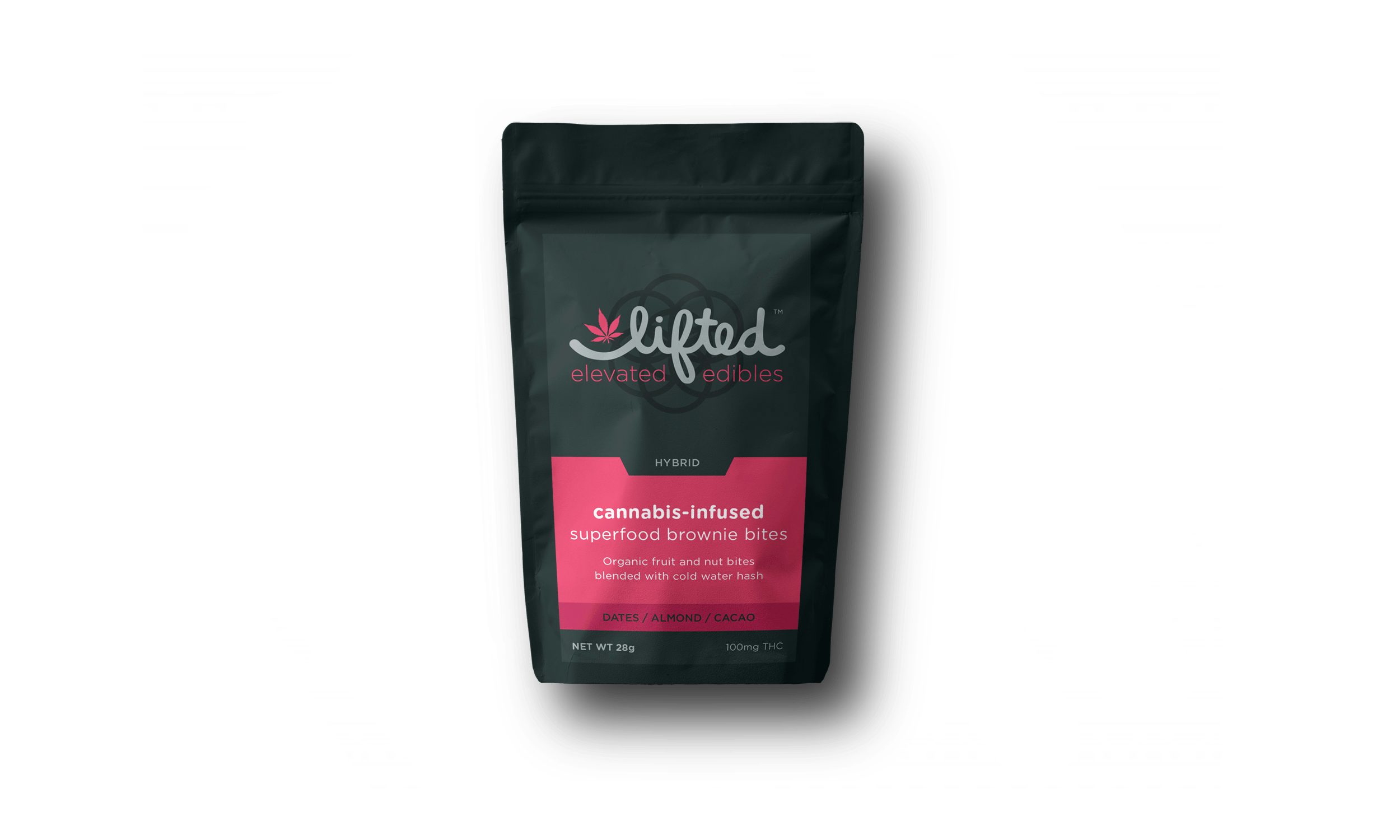 If you think that a weed brownie can't be a superfood, then think again, vegans. Lifted Edibles Superfood Brownie Bites are a superfood and a dessert to snack on combined. Each bite offers a blend of almonds, dates, cacao, cashews, papayas, vanilla, and cranberries, all of which are vegan, gluten-free, and organic. They're like wholesome brownie truffles, but don't let them fool you, these bites are powerful. With every resealable bag, you get four 25 mg brownie bites infused with cold water hash, a concentrate that's pure, solventless, and highly potent. Eat all four in one sitting, and you'll be seated on a first class flight to buzz town.   
Goodship Double Fudge Brownie
Another fantastic, guilt-free weed brownie option for vegans is the Goodship Double Fudge Brownie. Each rich and gooey piece is made using all-natural and sustainable, locally-sourced flour and non-GMO corn syrup and canola oil. Per box, there are six brownies topped with chocolate chips infused with a delicate 10 mg dose of THC. Having such a low dose, they provide a balanced experience that's meant to be enjoyed. Isn't that what it's all about anyway?