Tis the season for giving. If you're debating what to get a loved one this year, we say this: weed is all you need. You can never go wrong with a weed-friendly gift, no matter how big or how small. Not only will the herb get your friends and family extra lifted this holiday season, it can also cure your holiday blues, something all too real this time of year. To help you get inspired, we proudly present Herb's holiday gift guide with all sorts of infused gifts for him, her, and everyone you adore, plus a few DIY ideas, because nothing says I appreciate you like a gift put together by you.
Weed Gift Ideas
Whether you're feeling extra giving this season or want to take the simple approach, there's an infused present to match every budget. To spark those creative juices and kick off the gift guide, here are some weed gift ideas that are guaranteed to be the most lit presents under the tree:
Bake Weed-Infused Treats From Home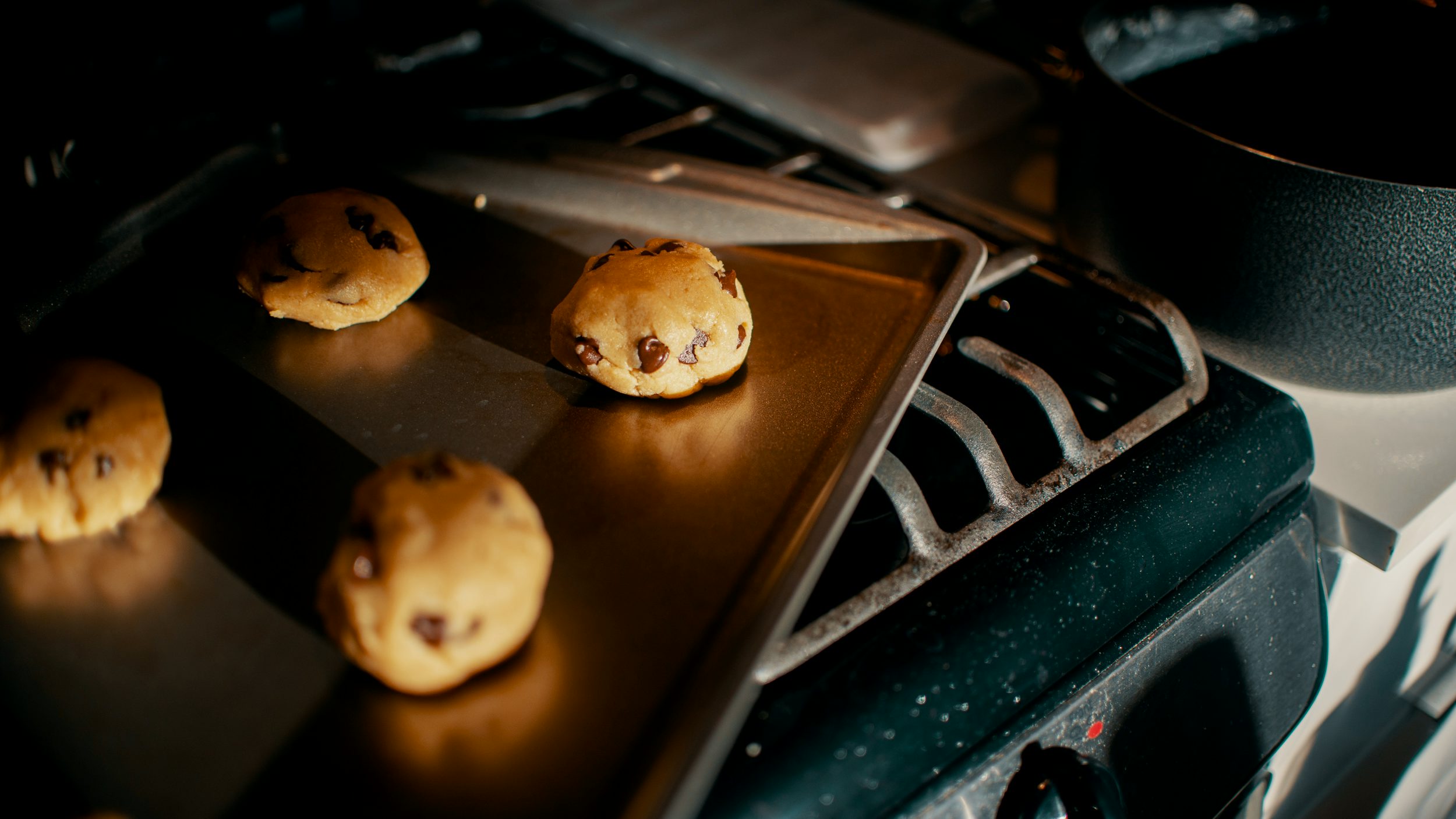 Don't feel like dealing with all those holiday shoppers this year, but still want to show that special someone you care? You don't have to leave the house to do all that. Instead, you can bake a batch of weed cookies, brownies, a cake, or whatever your loved one's favorite dessert is right from the kitchen. They'll get a sweet treat and a buzz from the same gift, and you'll win all the brownie points. Speaking of brownies, check out our Easy-Peasy Pot Brownies recipe that even the worst cook can whip up.
Keep It Basic, But Dank With A Kushkard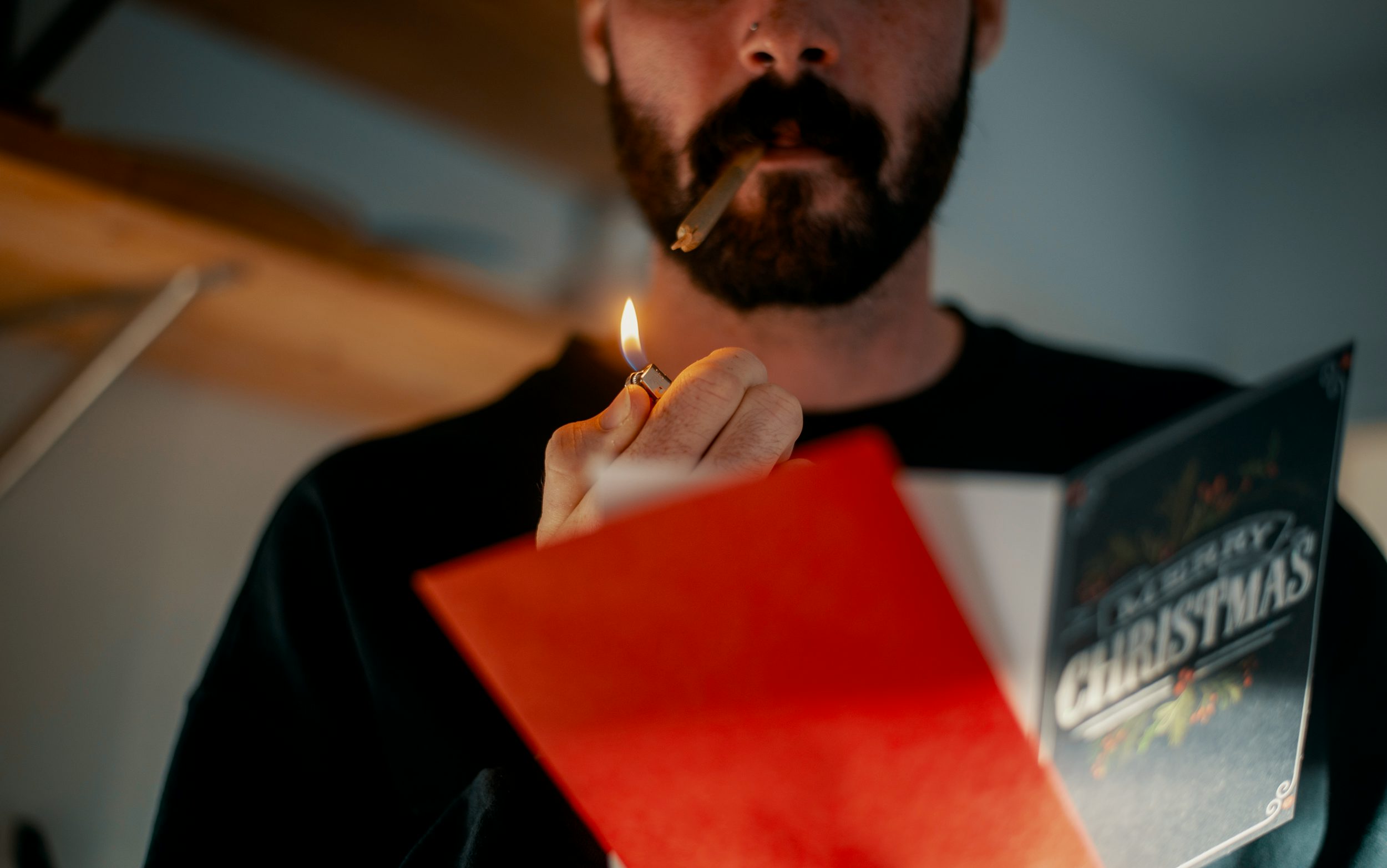 No more will card givers be looked down upon; thanks to Kushkards, you might even win Christmas. Kushkards are fun and inexpensive cards that come with a short message that your friend or family member won't have to spend too much time pretending to read. If you really want to show some love, they include a slot for a pre-rolled joint and a match striker at the bottom. That way, the receiver gets to smoke their treat right away. It's the one gift they don't have to put together to enjoy, which makes it that much sweeter.
Subscription Box For Weed Lovers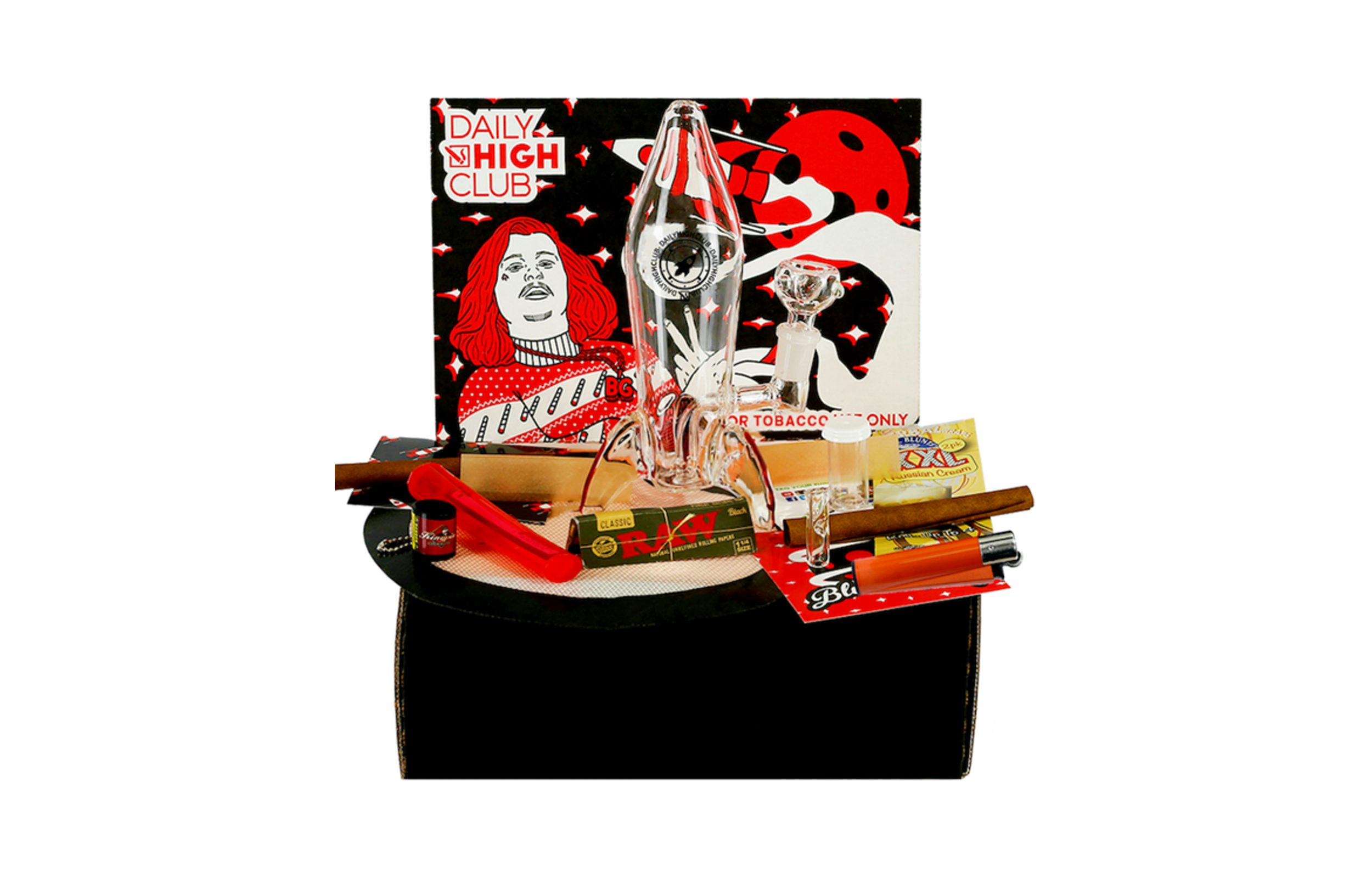 Can't decide between gifting a grinder, papers or a lighter? Why choose? For a weed gift that comes with a little of everything, except the weed, a subscription box like Daily High Club is a great gift idea. These boxes deliver a variety of smoking tools to your door every month, from papers to tips to grinders and even custom glass. You get more than what you pay for, and even if you don't use up all your goodies in a month, you can stock up. You never know when you might need the essentials. Plus, they keep you from having to go out and buy them everytime you run out.
Paid For Trip To A Legal State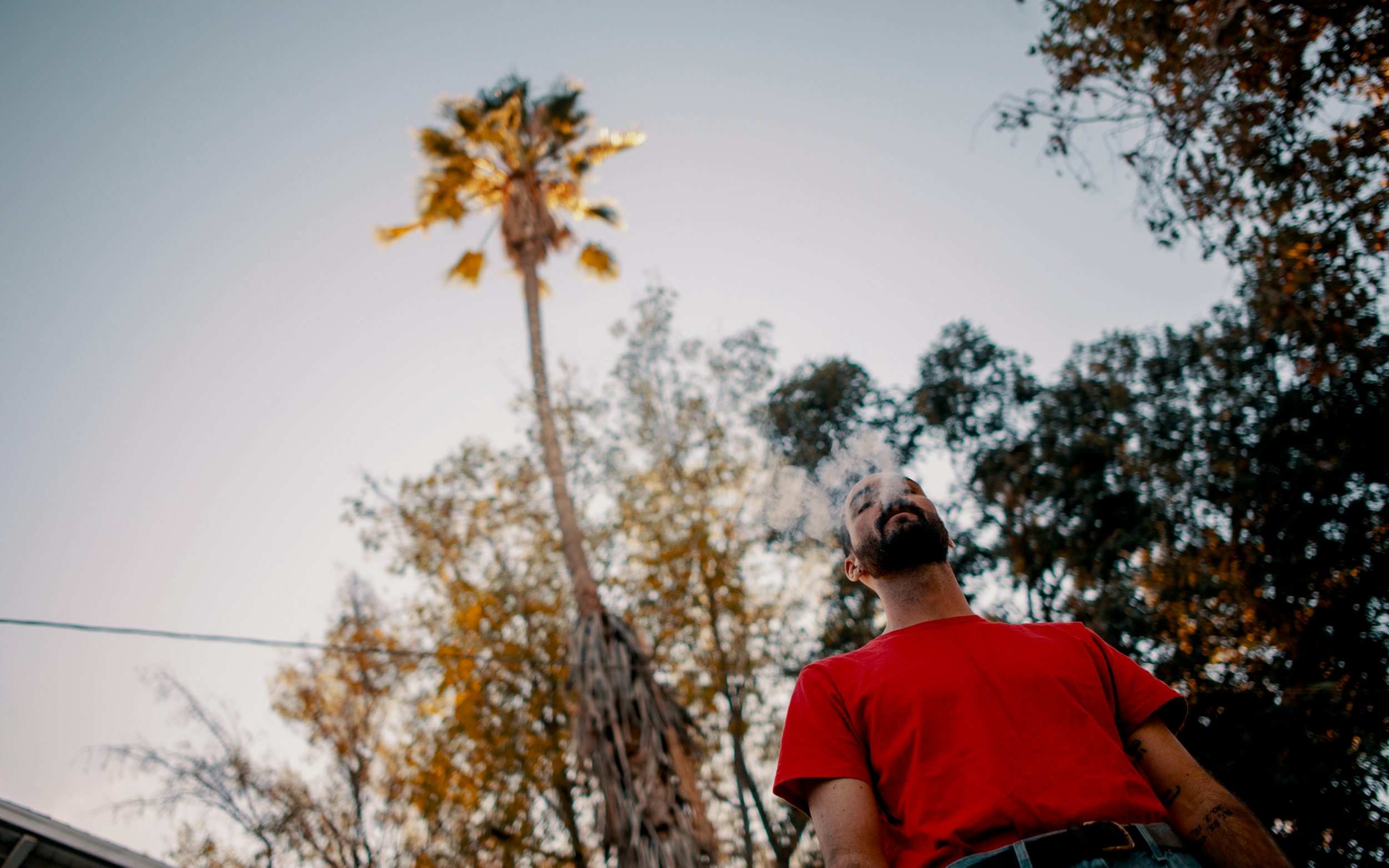 Isn't it everyone's dream to travel to a state where there's legal weed? If you're in the mood to spoil someone, then an all expenses paid trip to somewhere like Colorado or California is the way to do it. While definitely not the cheapest option, your trip doesn't have to drain your bank account entirely. There are plenty of affordable and smoke-friendly places where you can make reservations, like Bud and Breakfast properties. Some of them will even provide the cannabis. What says "Merry Christmas" like being welcomed by a joint resting on your pillow?
Personalized Pipe And Grinder Combo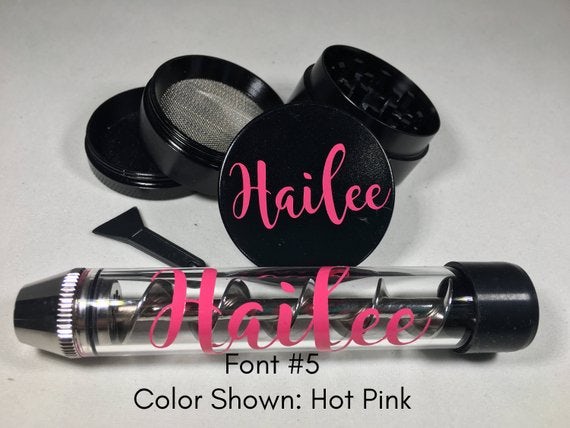 There's something about getting a gift with your name on it that makes you feel so special. To make the weed enthusiast in your life feel that much more important, slip a personalized glass blunt and grinder in their stocking. You can pick out their favorite color and what name you want on each device, whether it's their birth name or their nickname. For less than 50 bucks, they get something to smoke and grind their weed with, customized just for them. How thoughtful.
CBD Gifts
CBD is all the rage. If you can't a weed gift, then a CBD gift is the next best thing to give to your favorite person. CBD comes with loads of benefits and is non-psychoactive. It will have you feeling jolly alright, but won't make you high. Here are the best CBD gifts: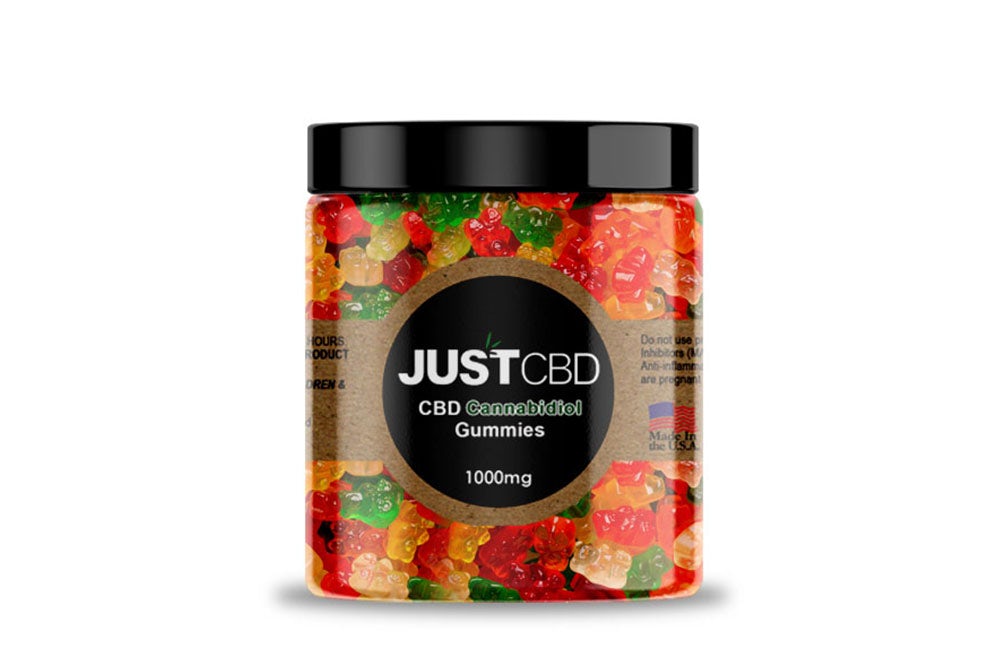 Remember the joy of getting a pack of gummy bears from the grocery store? Those tasty little bears have gotten a lot sweeter since then, but not thanks to any added sugar. With JustCBD's CBD gummies, you can combine your love for your favorite childhood snack with your love for your favorite cannabinoid. Getting your daily dose of CBD has never been such a treat.
Each jar comes with 1000 mg worth of colorful CBD gummies. They're a quick and easy remedy for pain, and they're not a bad snack either. You can grab a handful to take on the road to work, pack them in your lunchbox to save for a later hour, or merely have them as a guilt-free candy to go with your breakfast. There's no wrong way to enjoy these gummies.
If you're curious about how they taste, then know Just CBD's gummy bears are reminiscent of a good old-fashioned bag of Haribo Goldbears, but with a little bit of tang to go with their sweetness. There's no unpleasant herbal flavor whatsoever. It helps that their jar's screwtop, airtight lid preserves their flavor and freshness. It also makes it suitable to take with you on-the-go.
Edibles like these CBD gummies from Just CBD are popular for a reason. They're discreet, natural to ingest, and smoke-free. Plus, there's nothing to them, no bowl to pack, no button to press, and best of all no parts to clean. All you have to do is scarf them down and go about your day as usual while they work their magic. If you're a busybody, that makes CBD-infused gummies super convenient. They can fit into any schedule, regardless of how tight it is.
Peppermint Latte CBD Bath Bomb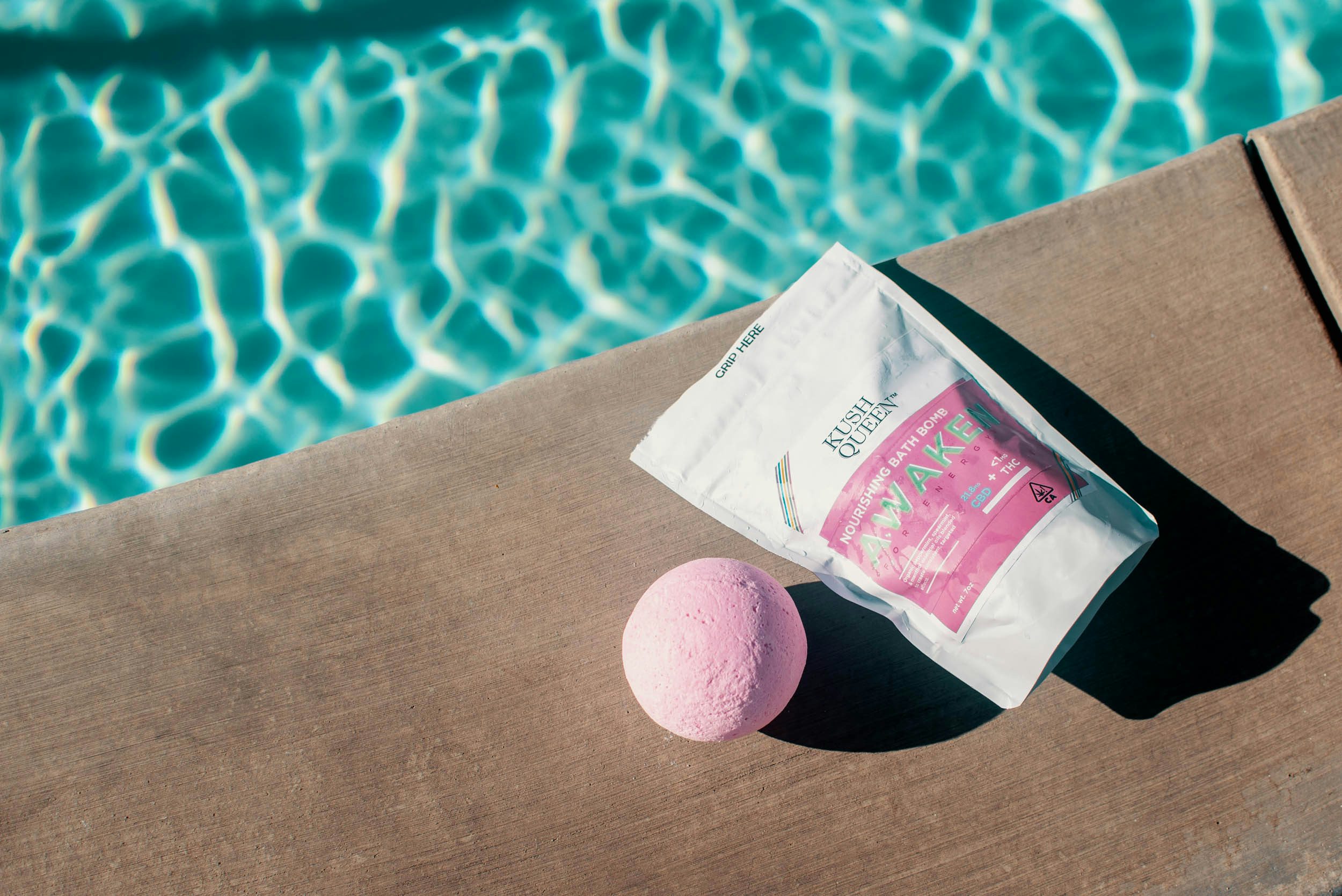 Bath bombs are simple gifts, but they're so, so fun. Plus, they do great things for the body and soul. On top of relaxing your limbs and soothing dry skin, they help to melt away stress. Drop a Peppermint Latte CBD Bath Bomb from Kush Queens into a loved one's stocking so that they can go on a mini vacation after all the holiday madness is over. It has a candy cane-like aroma, is infused with 25 mg of CBD. It's like soaking in a winter wonderland.
Black Cherry CBD Chocolate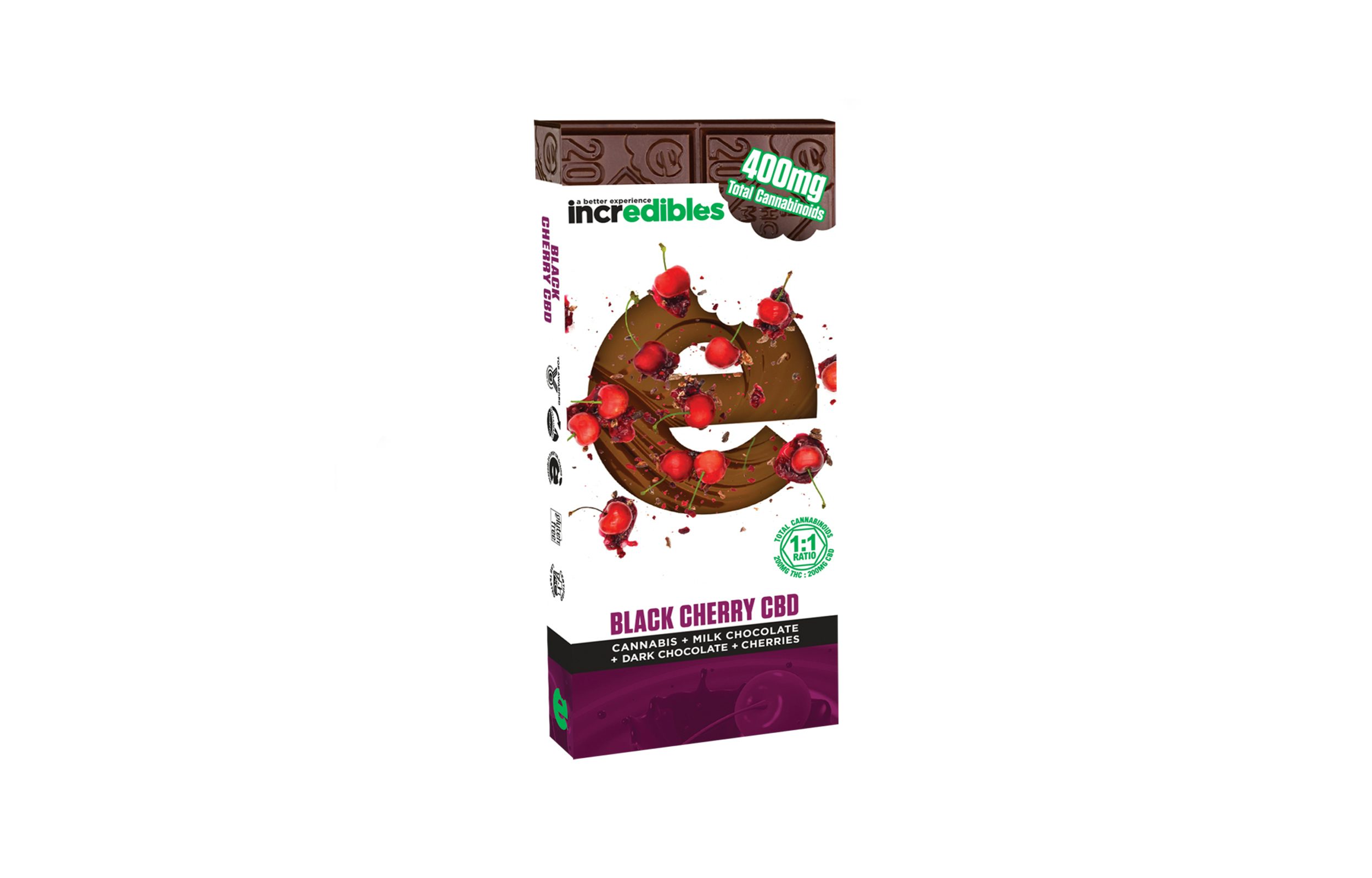 Chocolate covered cherries have nothing on the delectable Black Cherry CBD chocolate bar from incredibles. Though it comes in a variety of strengths that include THC, which is psychoactive and not legal everywhere, the 10 mg THC, 100 mg CBD bar will only provide a slight buzz. It also contains zero gluten or GMO, making it that much more of a guilt-free pleasure.
Cannuka Beauty & Health Collection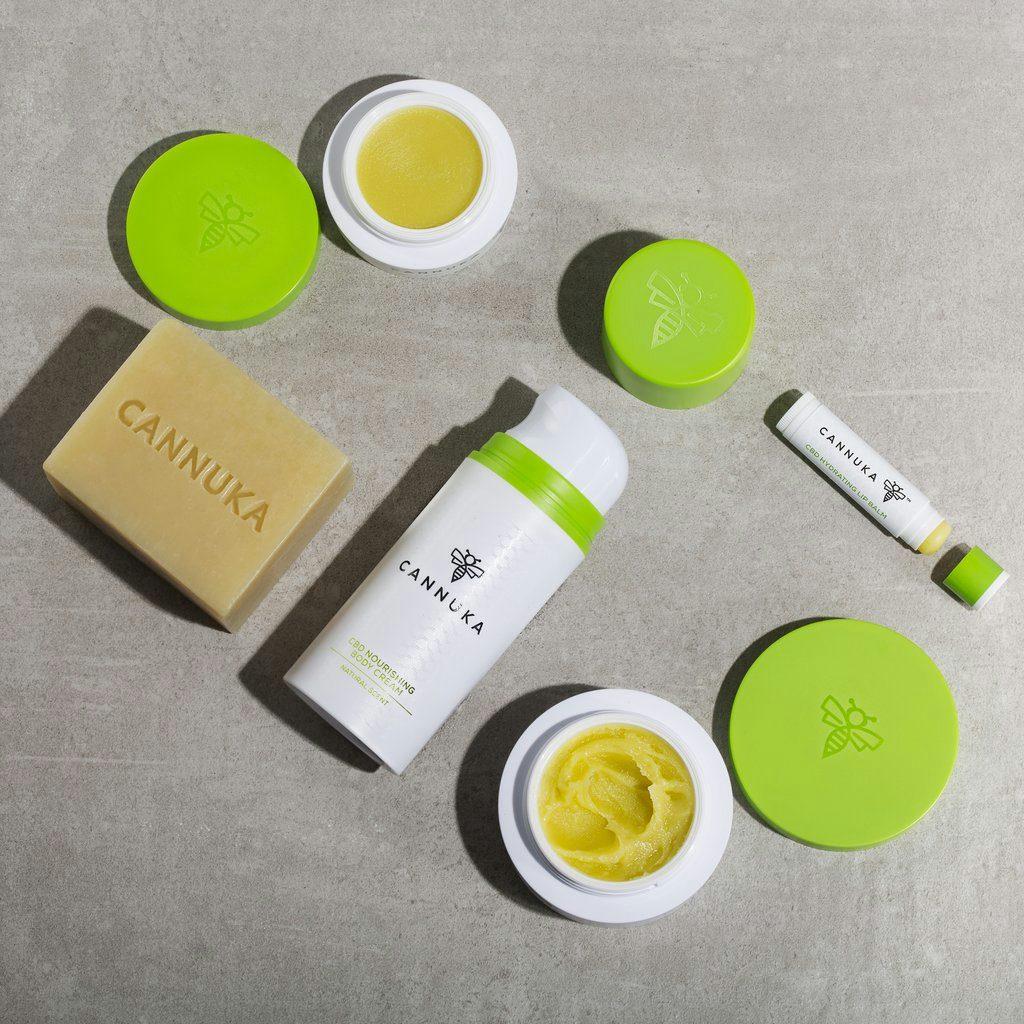 During the winter months, your skin can become unusually dry and irritated. You can help a buddy or relative's skin survive the cold snap by gifting them with the entire Cannuka Beauty & Health Collection. From soap to body cream to lip balm to skin balm to under eye balm, these hemp-derived CBD-infused topicals will ensure their skin stays refreshed, repaired, and protected through the harshest, blistering cold season. Use that under eye balm on sleep-deprived days and say goodbye to dark circles.
High CBD All-Natural Holiday Gumdrops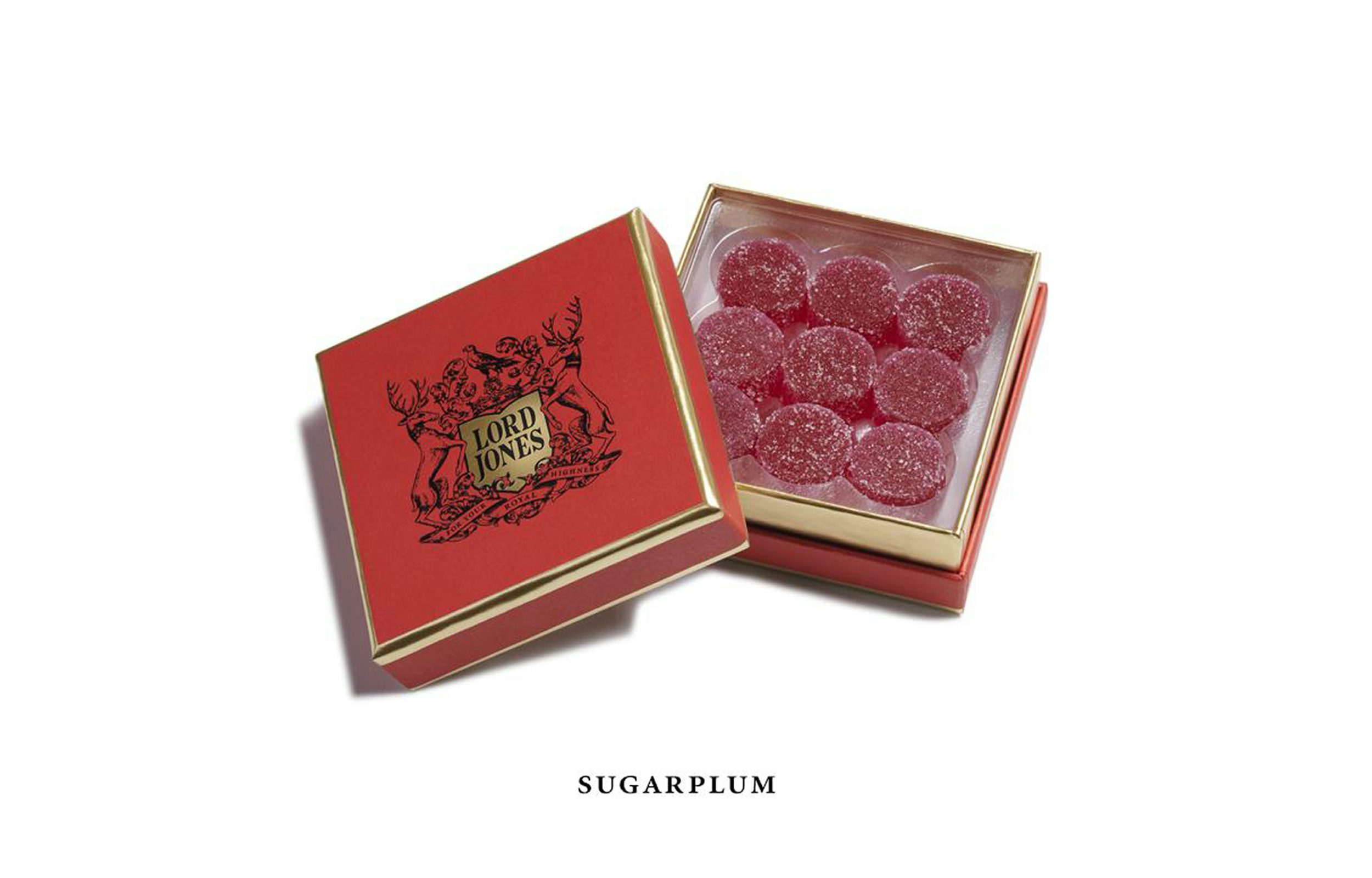 Lord Jones' All Natural Holiday Gumdrops already come in a lovely box. Just add wrapping paper, and there you have it, a delicious gift. The Sugar Plum flavor is fruity and light, but you can go sweet and spicy with the Mango Chili flavor if you prefer. Each gumdrop contains 20 mg of CBD and is free of gluten, artificial flavors and colors, and THC.
Monk Drinking Botanicals Sampler Box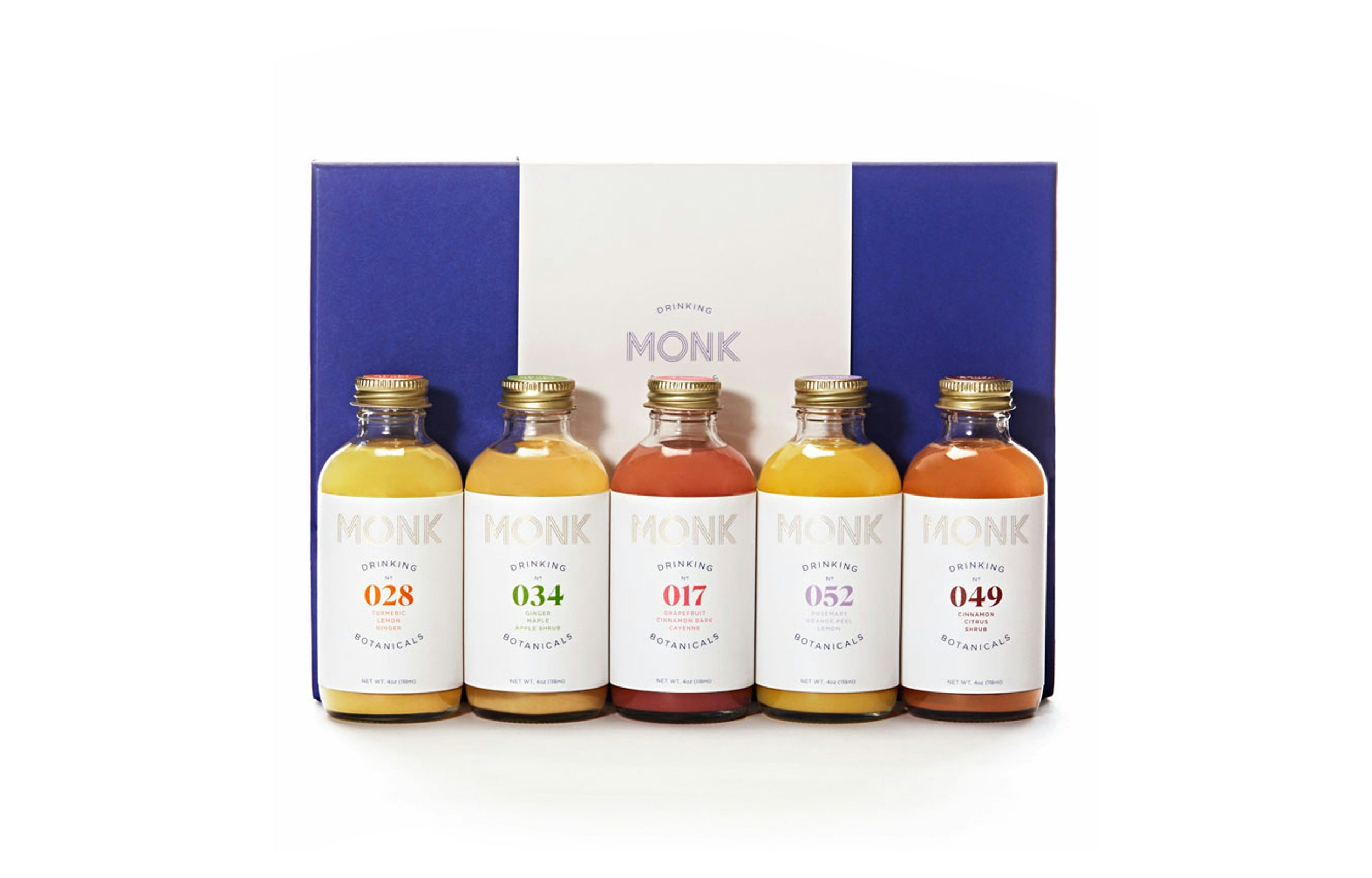 Relief is a sip away with Monk Drinking Botanicals. Treat someone to the whole kit n' caboodle with their sampler box. It comes with five tasty CBD-infused beverages, including Rosemary Orange Peel, Ginger Maple Scrub, Cinnamon Citrus Scrub, Turmeric Lemon, and Grapefruit Cayenne, all of which are refreshing and go down smooth as silk.
Cute Weed Gift Ideas
DIY "Weed" Stocking For Dogs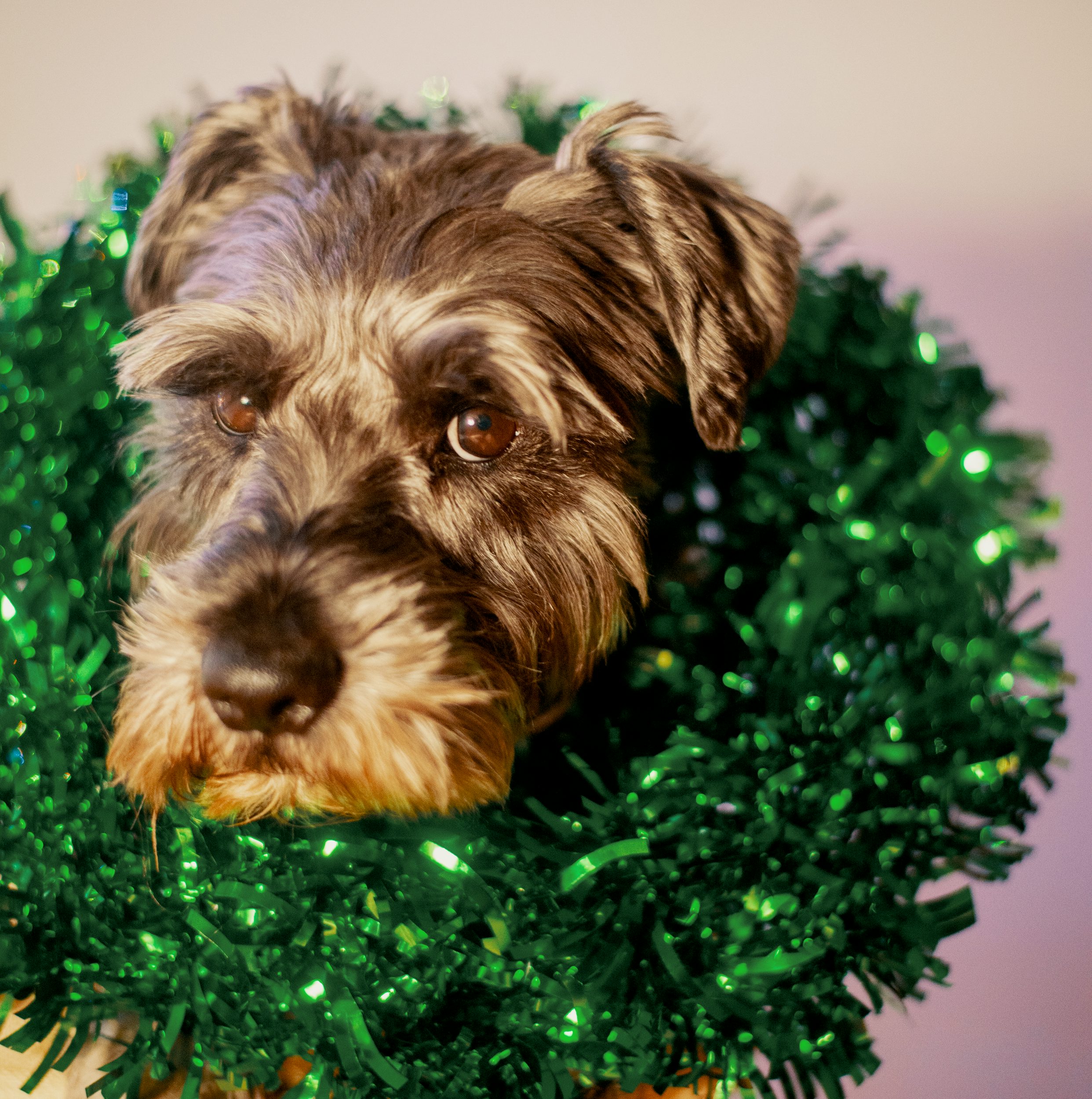 Pups need love during the holidays too. Make your beloved pup super happy and fill up their stocking with CBD-infused dog treats, especially if they've been a good boy or girl this year. While you're at, throw in a cute bandana covered in weed and Snoop Dogg, some CBD oil to keep them chill and content, and of course, a plush hemp toy for playtime. These might be the only gifts they enjoy more than playing with the wrapping paper.
DIY Cozy Stoner Kit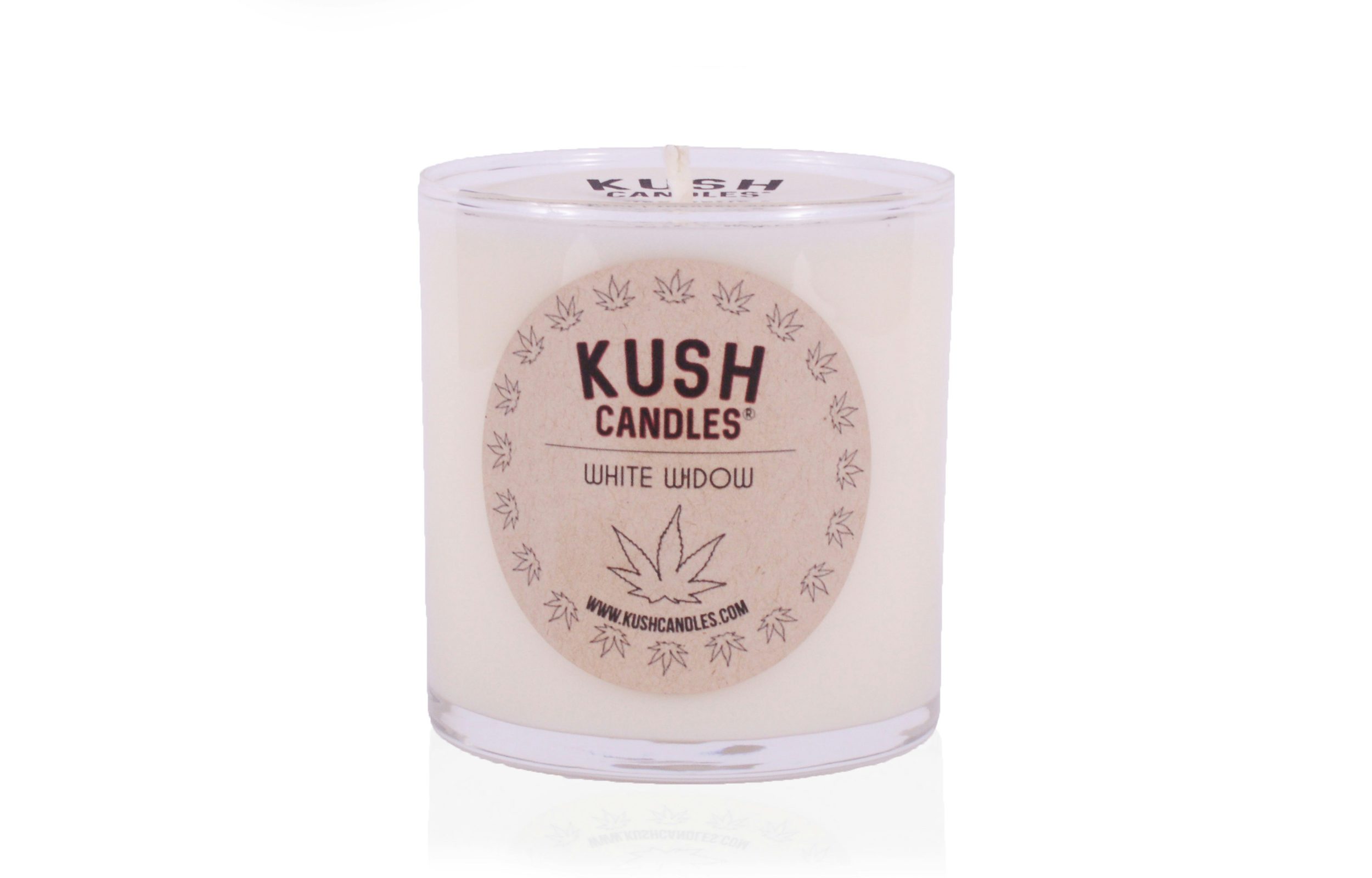 Have you ever seen those kits that come with all the cozy essentials like hot cocoa, socks, and a candle? They seem like a nice gift right? The only way it could be better was if you made it weed friendly. You can supply your homebody pals with infused munchies, like Yummi Karma chips, a classic stoner film, like as Pineapple Express, weed hot chocolate mix, a Kush candle, and HUF weed socks. Talk about the most creative and comforting gift ever.
DIY Weed Popcorn Tin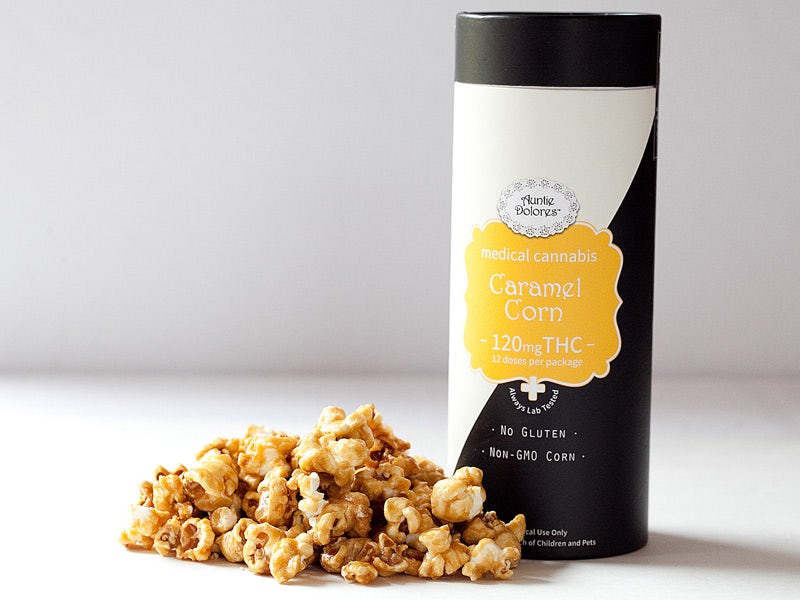 While some people complain, the truth is this—those tins you get every Christmas that come filled with three different flavors of popcorn are the bomb. But you can make them even better by buying a tin and three flavors of weed-infused popcorn. No one will bitch about white cheddar popcorn with 300 mg of THC, caramel corn with 120 mg of THC, or buttered popcorn with 30 mg of THC, that's for sure. Their spirits will be way too lifted to even think about it.
Winter Wonderland Macaroons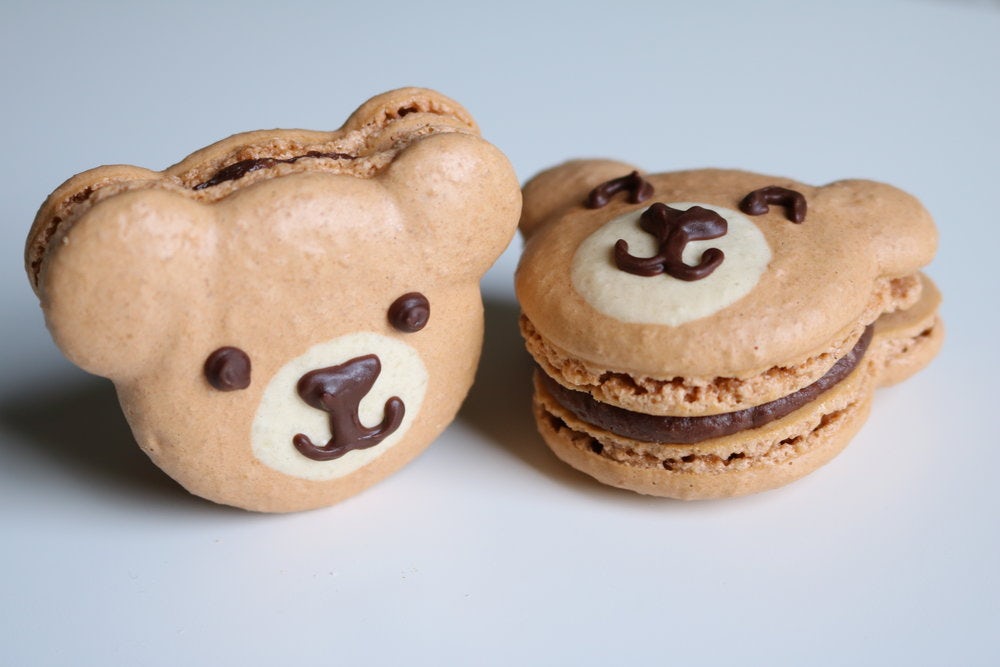 Madame Munchie makes adorable holiday macaroons infused 20 mg of THC per pop. If you want to cure someone's sweet tooth for Christmas and get them high with charming treats, a box of tasty macaroons is the best munchie. They will swoon over the precious snowmen, snowflakes, and teddy bears and their delicious flavors.
Holographic Kawaii Design Rolling Tray Set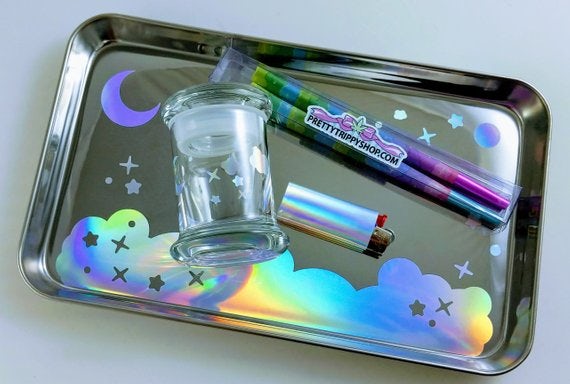 A Christmas gift can get no cuter or trippier than this Holographic Kawaii Design Rolling Tray Set. In addition to a holographic lighter, it comes with a gorgeous glass jar for storing your beloved buds, two lovely unicorn-inspired cones, and a spacious tray for rolling on. It's easy to clean, and you can slide it out from under your bed when you want to smoke, and just as smoothly slip it back under after you're done.
Weed Gifts For Him
Men are the hardest to shop for, but thankfully, most aren't that picky. You could probably roll your guy a couple of joints or blunts, and he'd be happy. But it's the holidays, so you should treat him to something nicer, but maybe still throw in those paper airplanes and Ls too. Here are the best weed gifts for him:
The DoobTool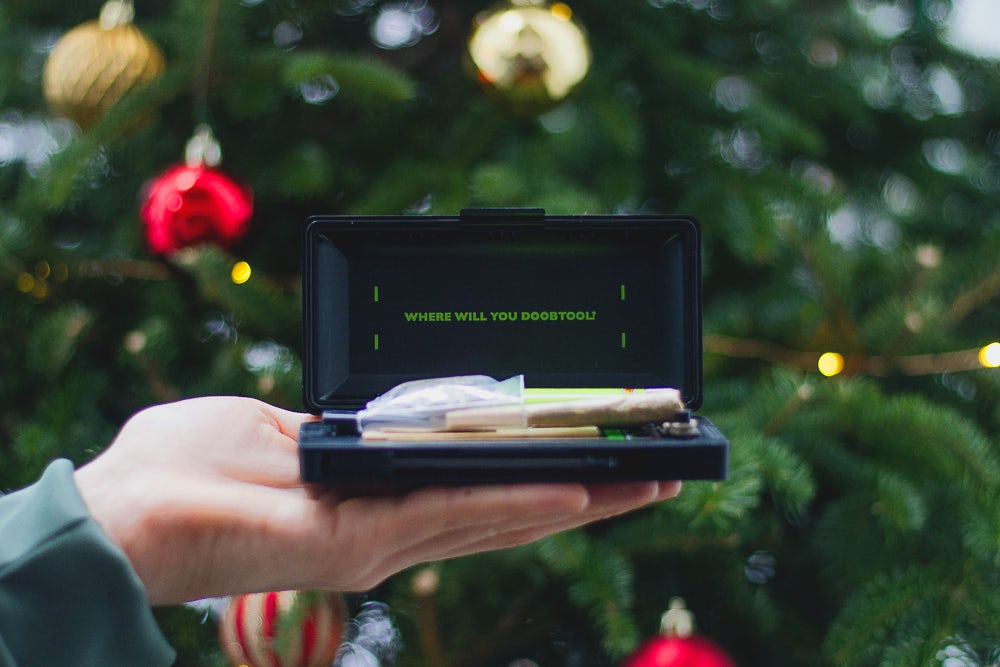 Smoking weed on the go has always been in some way shape or form a hassle, but with the DoobTool, prepping for a sweet smoke sesh away from home is as convenient as ever. The DoobTool is the ultimate toolbox for active consumers. Whether you're taking a break from an intense trail run, relaxing by the ocean, or gallivanting around the city, the DoobTool has all the essentials you need to get toking. There's a grinder card for busting down small nugs and a pair of fold-out scissors for cutting papers or wraps. Plus, a top cover tray for rolling doobies, a roach clip that allows you to smoke your joints and blunts down to the tip, and an herbal brush for cleaning or collecting. Not only that, but you get a dabbing tool, a double-sided poker tool, a front clip, and hemp wick spool pins, all in a portable smell-proof case.
Tailgator Pro Pullover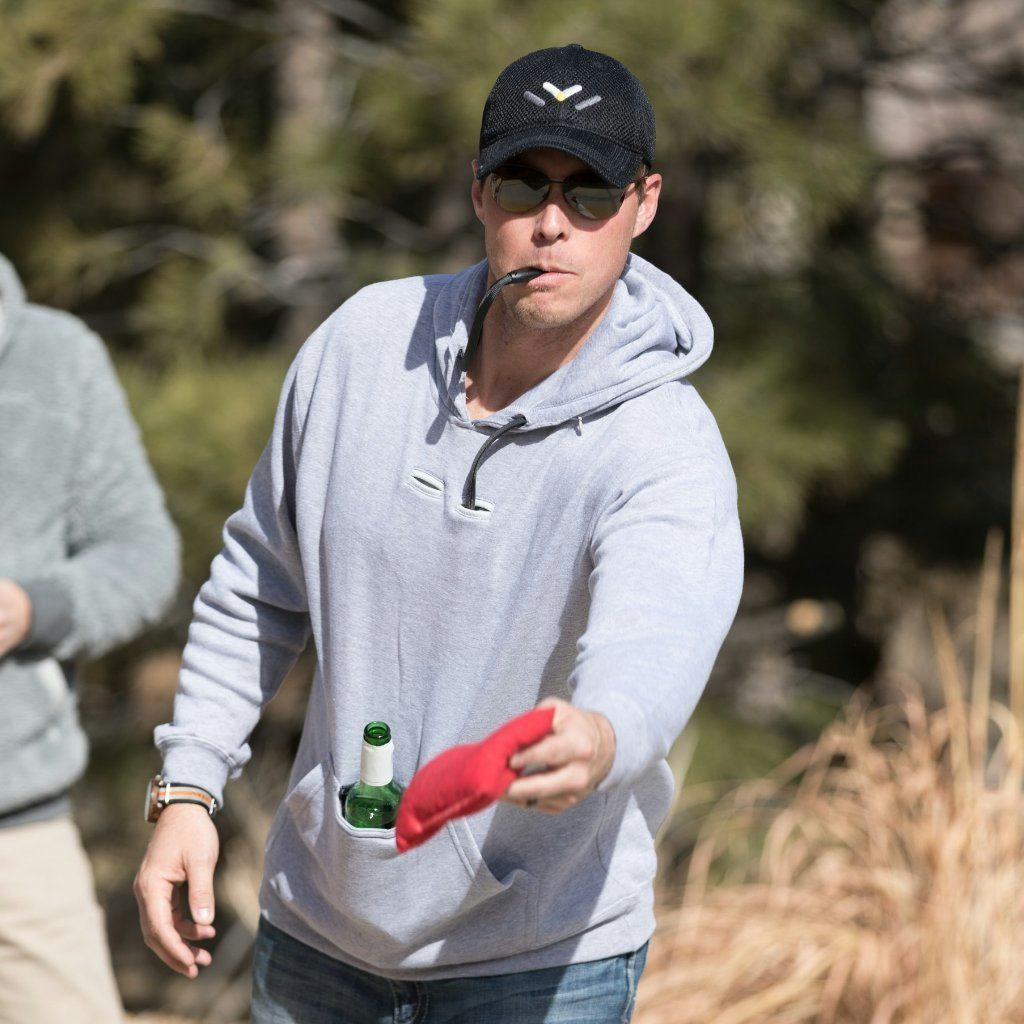 It's not just the holiday season; it's football season. If your guy is obsessed with football, here is a hoodie that will hold his beer and his smoke, perfect for tailgating. The Tailgater Pro Pullover by Vaprwear comes with a built-in koozie and features an integrated vapor delivery system. To have a puff, all he has to do is slip a drawstring into his mouth. And to top it off, he has a spot to keep his beer cold, and even a bottle or can opener to make it that much more convenient.
Skunk Bags
Does the man in your life like to travel, sightsee, or simply stay active? Make it easier for him to bring his favorite herb on all his adventures with a Skunk Bag. Skunk Bags are odor-proof and water-proof, making them fit for any activity, from kayaking to hiking. Some of the bags are even designed for specific sports, like the Nomad backpack. The Nomad features secure skateboard straps so that you can buckle up your board and transport it with ease. They also have bags that you can lock up for double the safety and protection. Skunk has a ton of other styles and sizes to choose from too, including duffle bags, crossbodies, and more.
DaVinci Ascent Vaporizer Bundle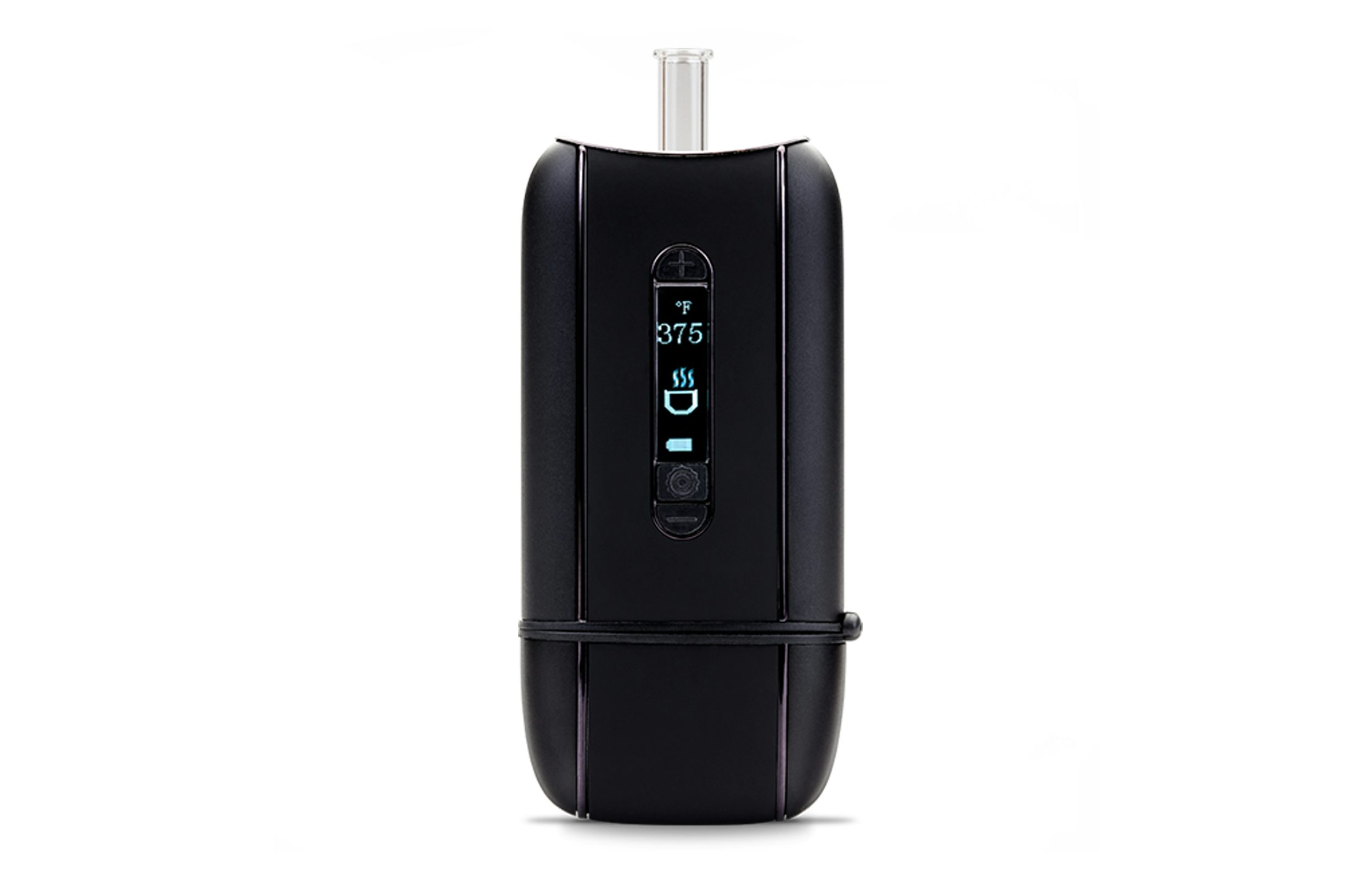 If your dad, uncle, cousin, friend, partner, or whomever is a vaper, then surprise them with a portable, top-of-the-line device like the DaVinci Ascent.It's an easy vape to use and features a plus and minus button to control the temp settings and a power button for turning the device on and off. It's also equipped with a decent battery, with a full charge giving you three hours of use.  On top of that, you can customize the Ascent yourself from the ground up for the ultimate personalized gift. Moreover, it has an all-glass vapor path and is compatible with flowers and oils, giving him the best of both worlds.
Original Black Rolling Box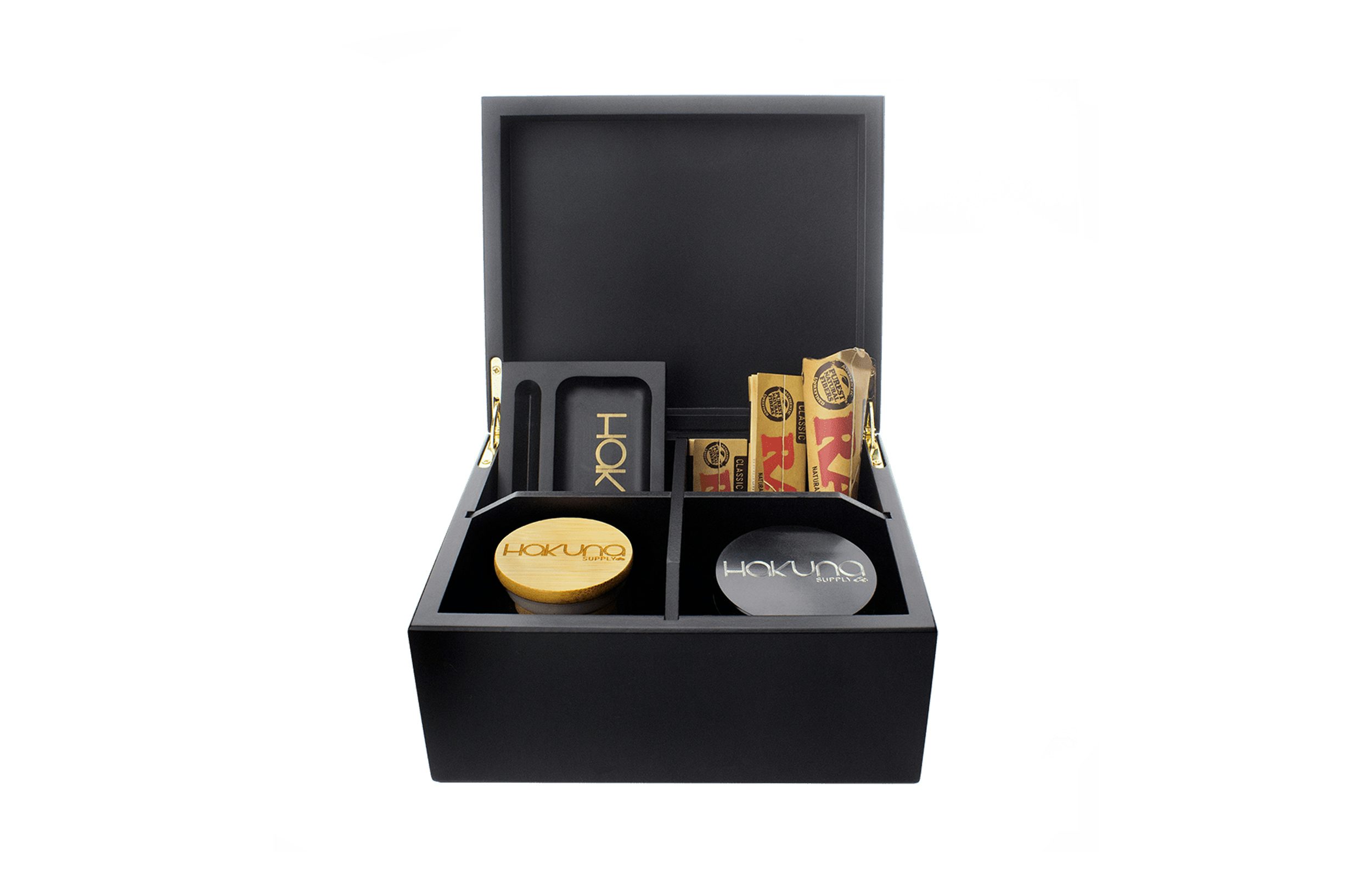 To keep his papers and weed organized all in one box, get your guy friend or family member his very own rolling station, like the Original Black Rolling Box Bundle from Hakuna Supply. In addition to a stash jar for keeping the ganja fresh, it includes Raw cones, papers, and tips, as well as a four piece grinder, and a rolling tray. The box is plenty spacious for other smoking tools too, like a bowl or vape. Whenever he is ready for a smoke sesh, all he has to do is pull out the box, and everything he needs is right in front of him.
Get Jack'd Package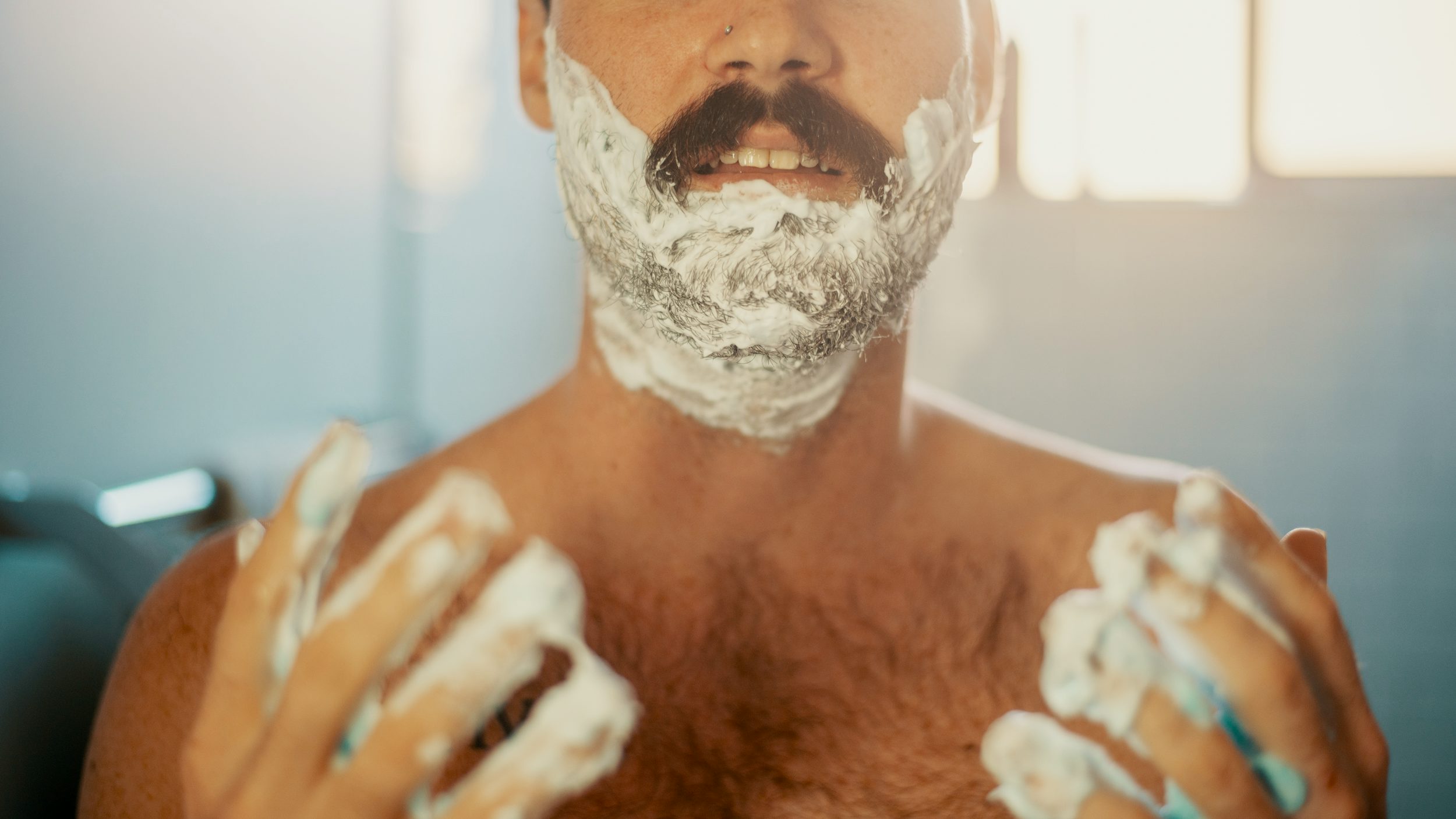 The Get Jack'd Package by Products By Jack is the ultimate gift for the man that takes care of himself. Not only is there Beard Builder to make beards soft and fluffy but also 'Stache Cement to keep mustaches groomed, SPF sun cream, body wash, and lube for sex, all infused with CBD. What more could a guy need?  
Weed Gifts For Her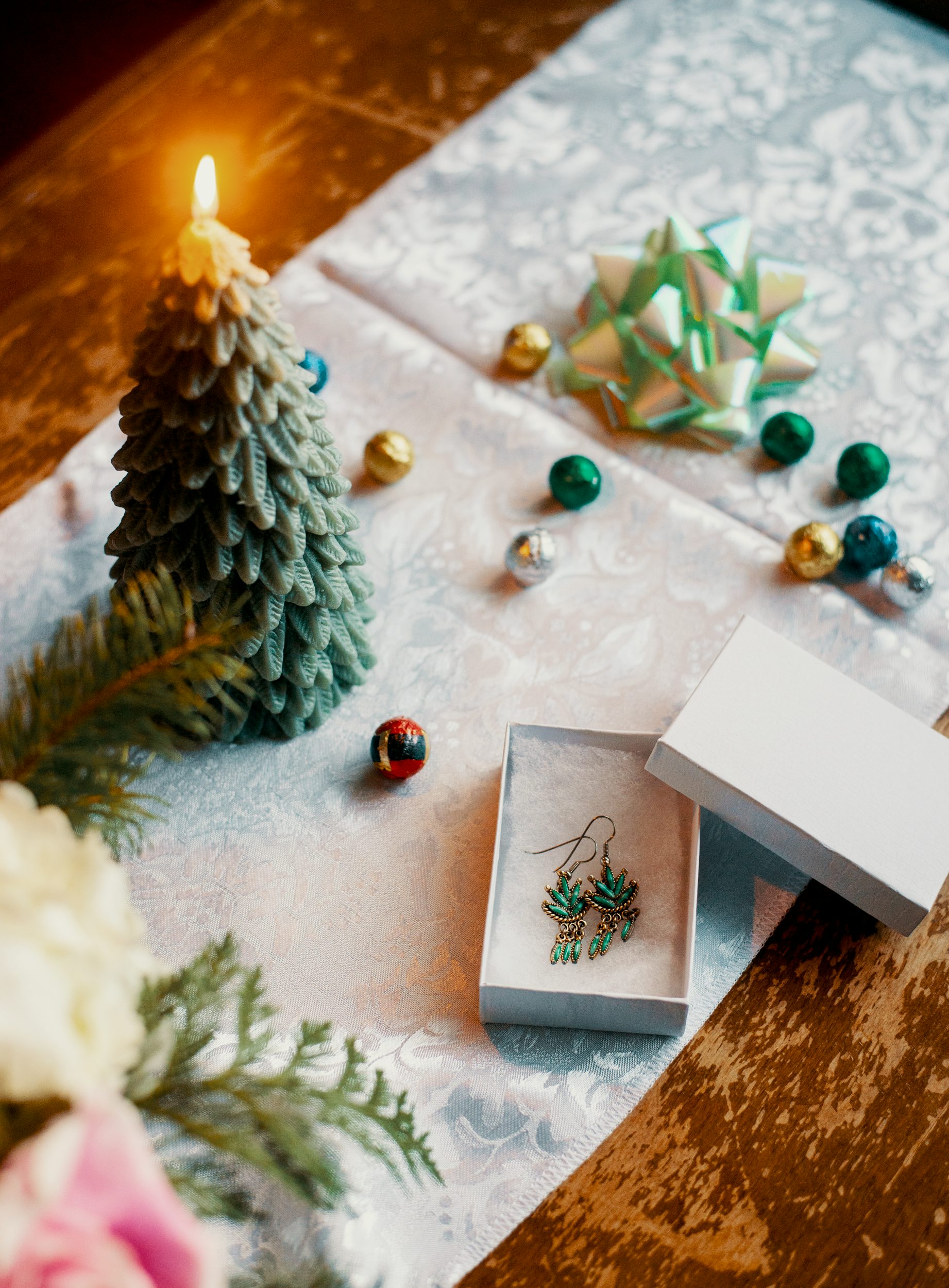 When shopping for a gift for a woman, you think jewelry, handbags, and Bath and Body Works lotions. But why not get her all the things she loves, all while skipping the mall? She'll appreciate these weed-infused present more anyway. Here are the best weed gifts for her:
My Bud Vase
A lady could always use a new bong. If the woman you know and love has been wanting a girly new device, then she will adore a My Bud Vase bong. My Bud Vase bongs are fully functional and aesthetically beautiful. There are so many designs and colors to fall in love with, each including a faux flower poker tool for cleaning. When she's not taking rips, she can set it anywhere in the house and use it as decor—a My Bud Vase is as pretty on display as it is in action.
High Gorgeous Infused Lotions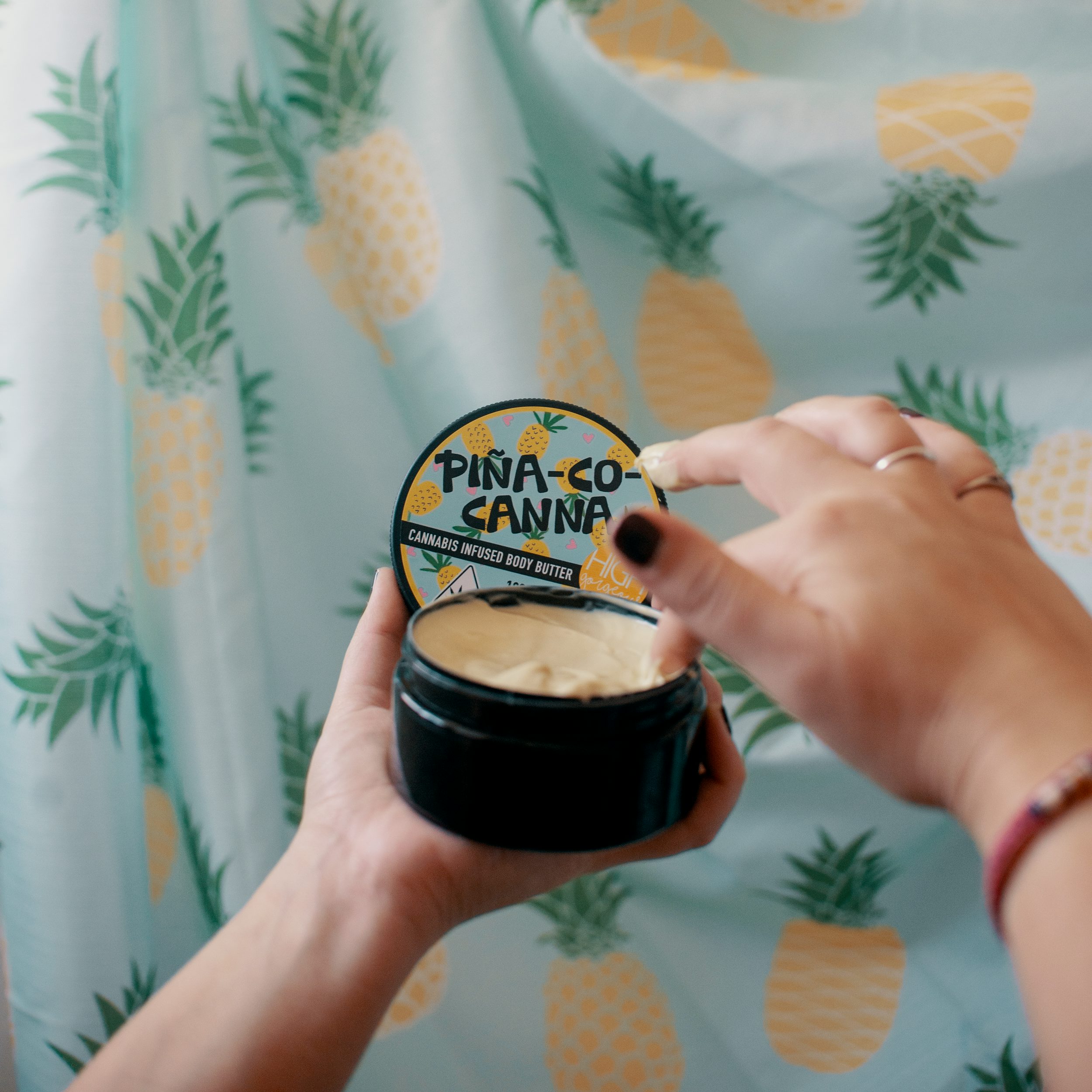 Another thing the lady in your life could always use is more lotion. What she probably doesn't have, is a THC or CBD-infused scent in her collection. High Gorgeous has a line of weed topicals that smell even better than anything from Bath and Body Works, including Sugar High, a vanilla almond-scented body lotion that moisturizes the skin and relieves pain on top of making it smell good. Other flavors include Pina-Co-Canna, a body butter with a tropical paradise aroma that wipes away stress. Then, you have the In Your Dreams lavender chamomile lotion, for healing dryness and reducing pain, and Plain Jane, a non-scented CBD lotion for treating skin conditions and taking care of new tatts.
CHiLLCAP BUNDLE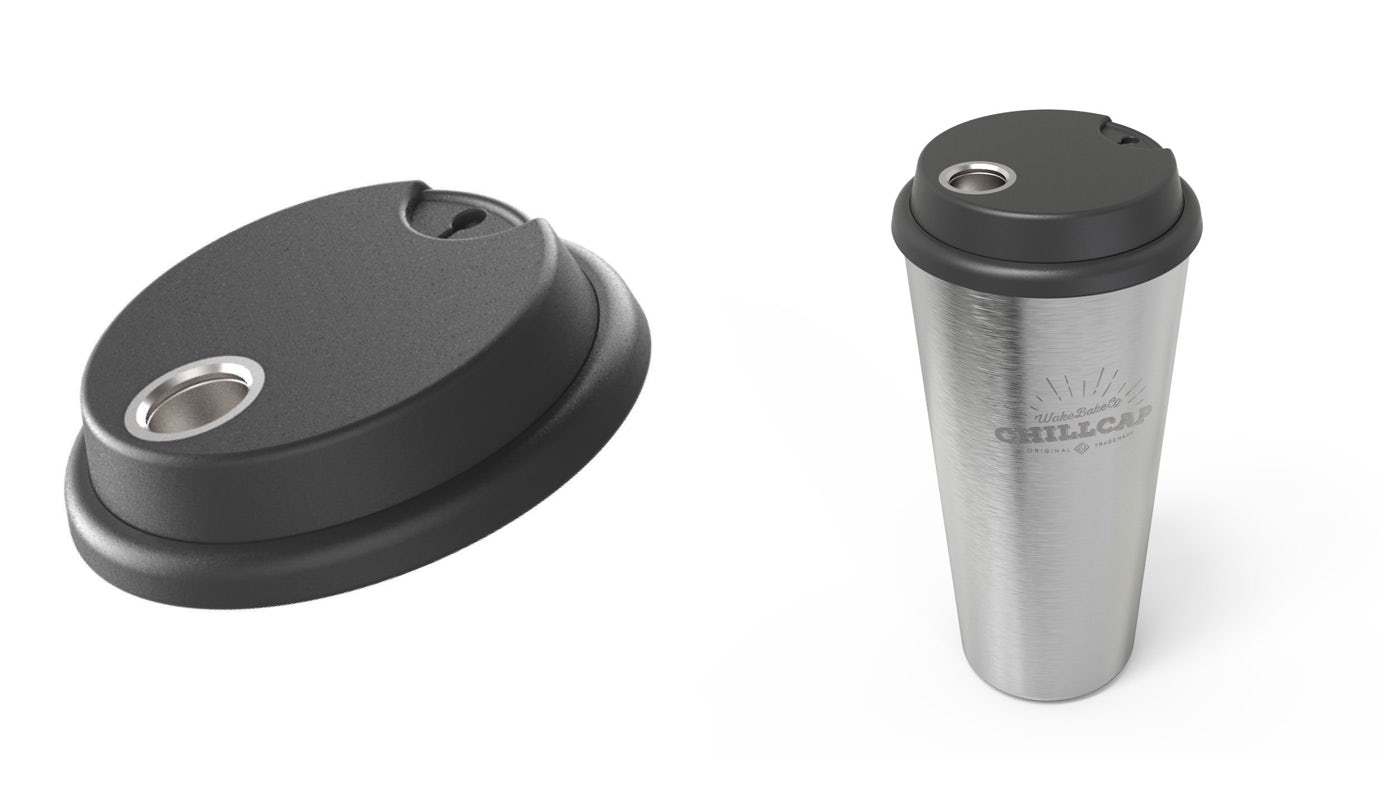 For the women that love to wake and bake and simply cannot go without a cup of coffee in the morning, the CHiLLCAP BUNDLE from WAKEBAKE Co. is the best mug you could gift. Available in pretty Rose Pink, Surfer Blue, and the classic Stainless Steel, the CHiLLCAP BUNDLE includes the tumbler and a lid with a built-in bowl. The coffee spout and bowl stay separate to eliminate any taste cross-contamination, and to hide the bowl, you twist the top, and it disappears. Starbucks who?
AnnaBis Stash Bag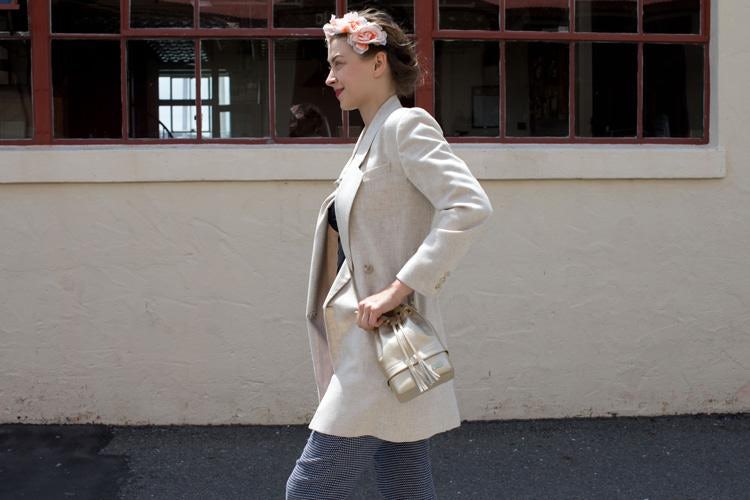 An AnnaBis stash bag might be the only suitable substitute for a Coach or Gucci bag, so if you're looking to make a woman happy without dropping hundreds on a purse she will only use for a few months, AnnaBis is the one. AnnaBis bags look and feel high-end and are odor-proof. For storing your weed, keys, and other items in one place, an AnnaBis bag is as clean and stylish as it gets. Along with a special compartment for storing herb and tools, there's separate storage for all the other items. That way, everything she owns doesn't come out reeking of dank.
Genifer M Jewelry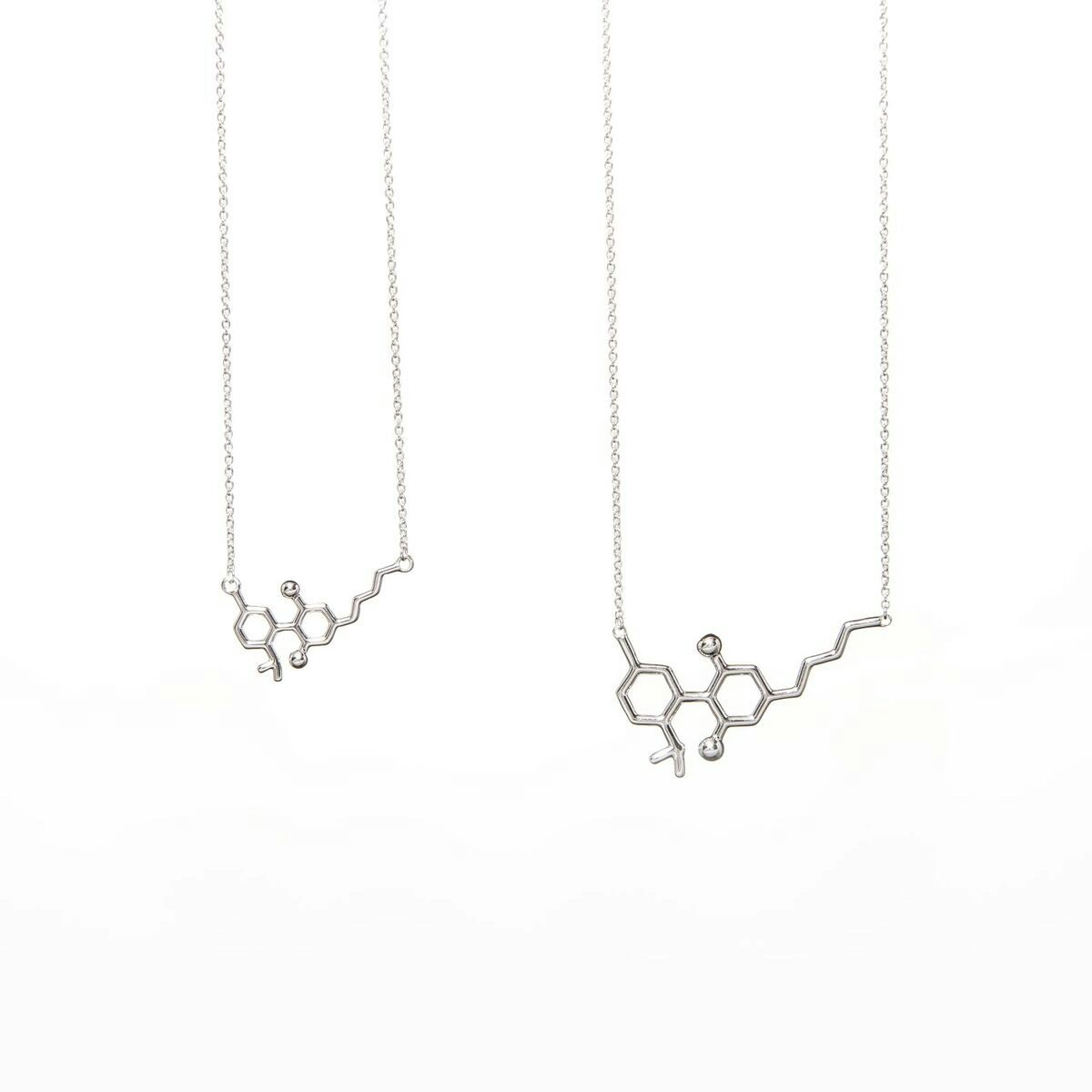 Diamonds might be a girl's best friend, but some girls feel that way about weed too. For the woman who loves both, Genifer M is a company that sells beautiful gold necklaces, earrings, and more paved with diamonds. From THC and CBD molecule necklaces to pot leaf earrings, Genifer M's pieces are the most elegant way for a lady to flaunt her love for cannabis. All of their jewellry is affordable, but you wouldn't know it by looking at it—these pieces look lux AF. She will feel like an absolute queen.
Weed Christmas Sweaters
Ugly sweaters rule. If there's a time to gift someone with their first stoner-esque Christmas sweater, it's  during the holidays. Here are some weed Christmas sweaters that are festive and especially perfect for ugly sweater parties:
Mens Get Lit Sweater with LED Light Up
Make someone a show off this year with this Get Lit Sweater that lights up. This Christmas sweater, featuring a pot leaf wreath with LEDs, will stay lit for up to ten hours. How could they not be the star of the ugly sweater party in this? The sweater plus a joint in the mouth equals the best holiday photo ever.
Merry Cannabis Sweater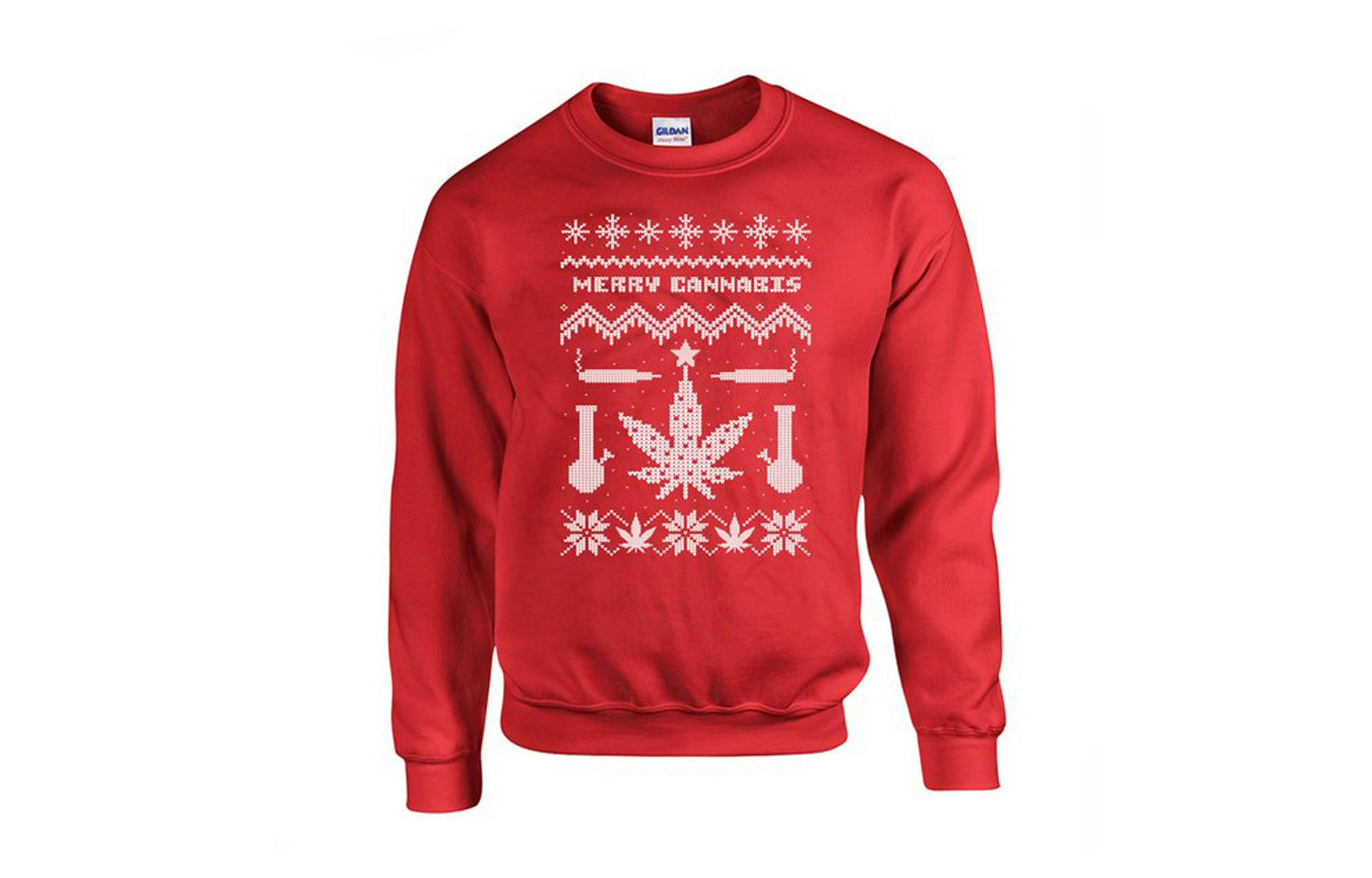 Tis the season to be high. Merry cannabis. This weed Christmas sweater will send all the right vibes and spread good cheer.
Smoke Weed Every Ugly Christmas Sweater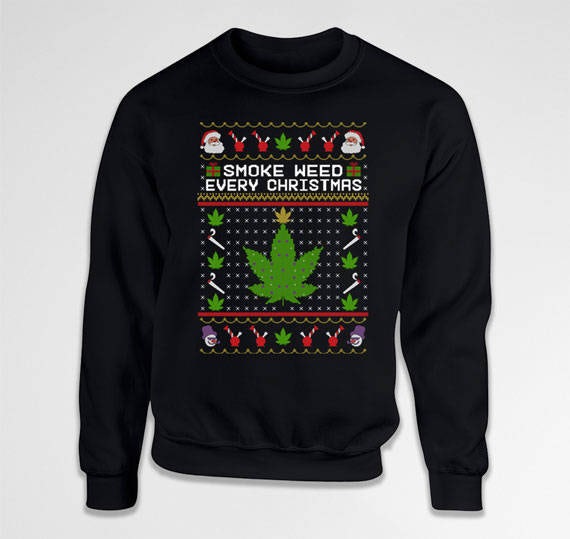 A huge pot leaf in the center decorated with ornaments, lit joints, candy cane bongs, and stoned snowmen and Santa Clauses? Now that's what you call a proper ugly weed Christmas sweater.
Ugly Holiday Sweater Smoke Weed Every Christmas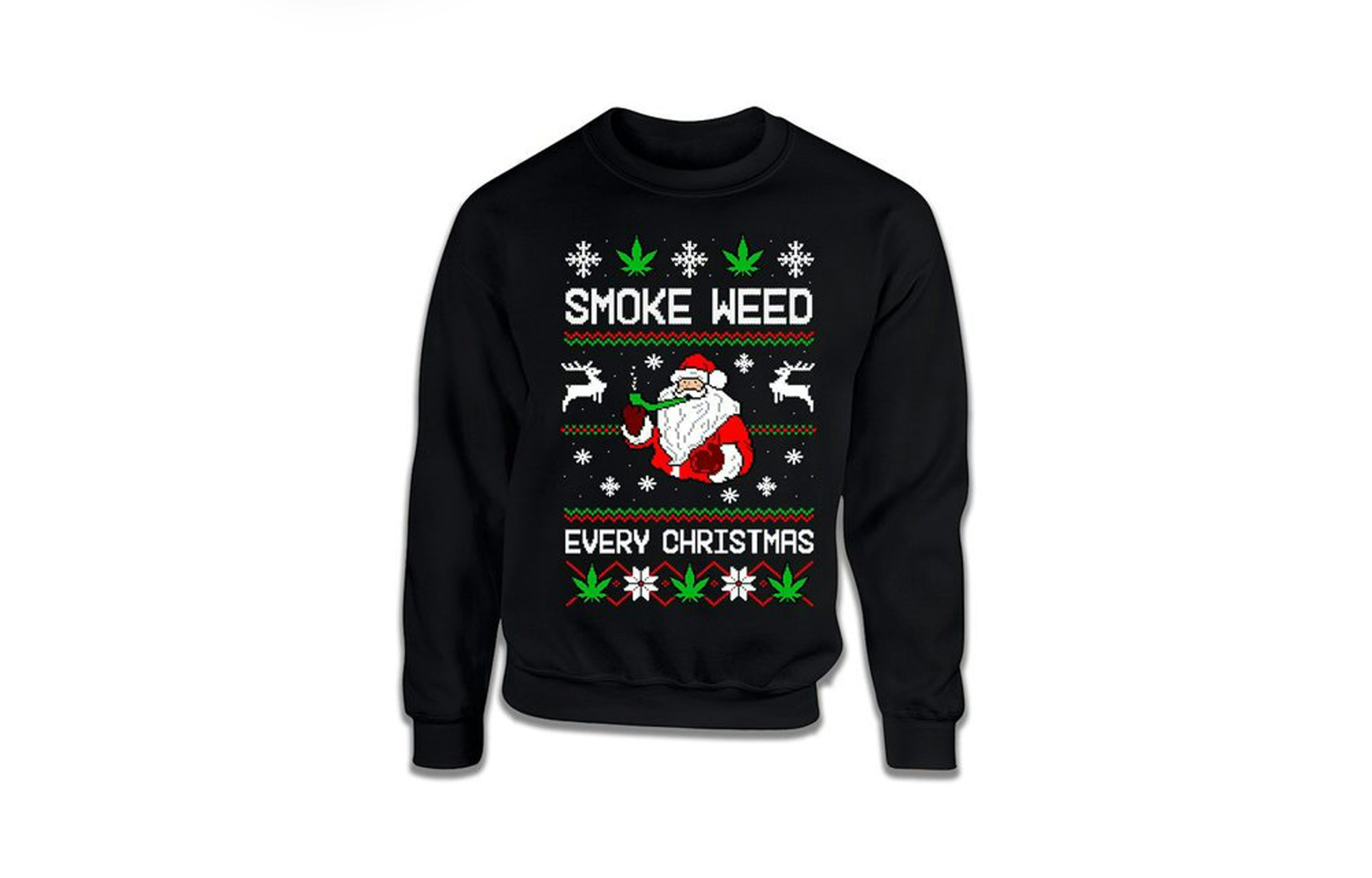 Here's a weed Christmas sweater sort of like the last one, except this one, in particular, features Santa puffing on a pipe and two reindeer eager for a hit. How else do you think they'll fly high?
Let's Get Baked Happy Gingerbread Ugly Sweater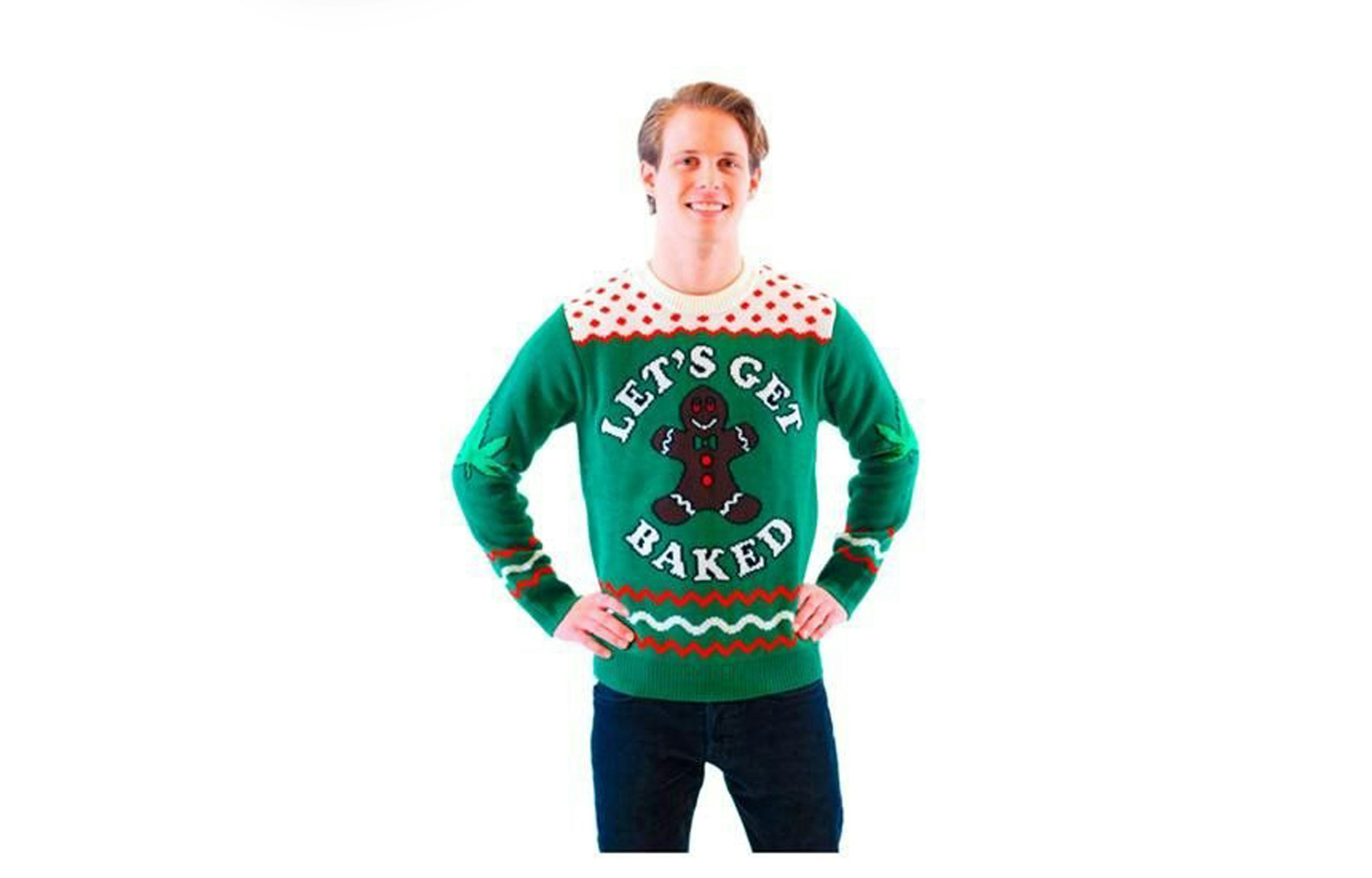 For a more discreet ugly weed Christmas sweater, gift that one family member that smokes weed on the low-low with this cheerful sweater. Everyone in the room will think it's so cute when they open it and show it off, but you and your cousin or whoever it may be will know what time it really is.